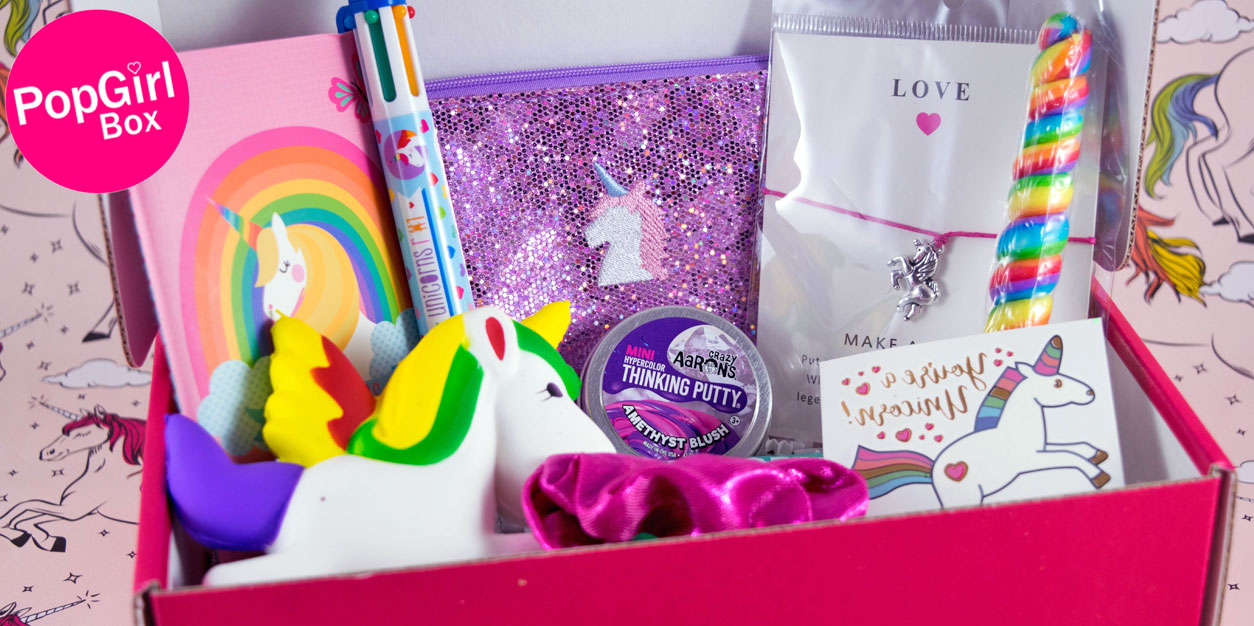 The March PopGirl Box is Jam Packed with Unicorn Magic
Note: We received this box for free from PopGirl Box in exchange for a fair and honest review. All opinions are our own; we were under no obligation to give a positive review.
Last month we told you guys all about the PopGirl Box, a new subscription box created by a passionate mom and daughter team who love to celebrate the things girls love! The PopGirl Box is delivered monthly, each with a new theme and a fun mix of items that let you show off your unique personality and love for all things awesome.
The first box debuted last month and had a Pop Star theme. The theme for March is Unicorn, and it's just as sparkly and magical as we hoped it would be! Keep on reading for a peek at what we found inside and be sure to read all the way to the bottom for our special coupon code!
PopGirl Box Unboxing – Unicorn:
As always, the first thing you'll find inside your PopGirl Box is a quote encouraging you to be bold, courageous, and most importantly, yourself. This month's quote ties in perfectly with the unicorn theme, "Be a unicorn in a field of horses." Why blend in when you can stand out?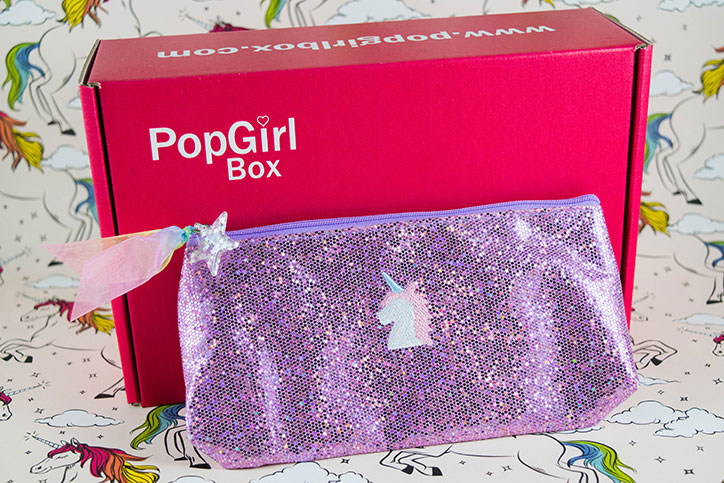 Unicorn Pencil Pouch:
We all know that unicorns and glitter are pretty much a match made in heaven, which is why this sequinned unicorn pencil pouch is a dream come true. The sequins shimmer lovely shades of pink and purple while keeping your pens, pencils, and makeup stash safe inside. Our favorite part, though? The glittery star and tulle zipper pull looks just like a shooting star!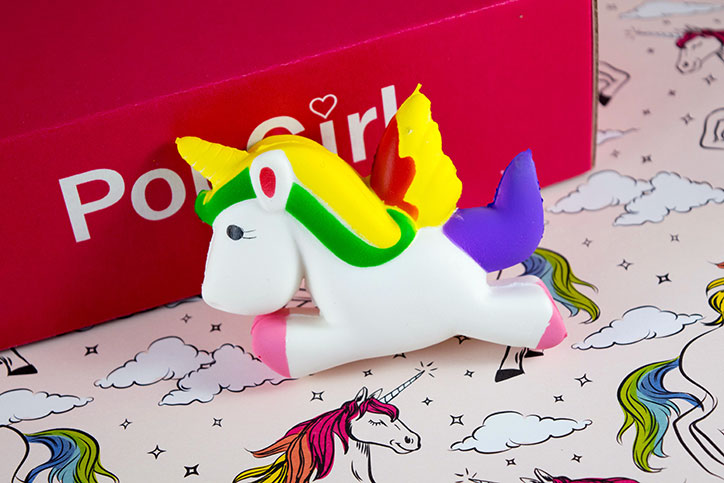 Unicorn Squishy:
We're all about squishies right now, so we were super excited to add this scented unicorn squishy to our collection. It's colorful, soft, slow-rising, and cute! Plus, it has a subtly sweet scent, similar to a vanilla or a freshly baked cupcake.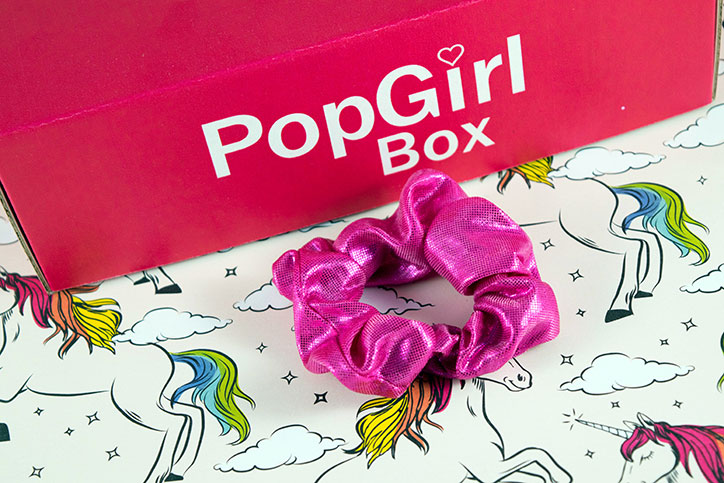 Pink Metallic Scrunchie:
Fashion from the 80's and 90's has been coming back in full force over the last few years, and we are TOTALLY here for it. Scrunchies were one of our favorite hair accessories to rock back in the day, and this one looks like it was pulled out of long-lost Caboodle just for us. It's shimmery, metallic, and a gorgeous shade of pink that'll add a bold pop of color to any ordinary outfit!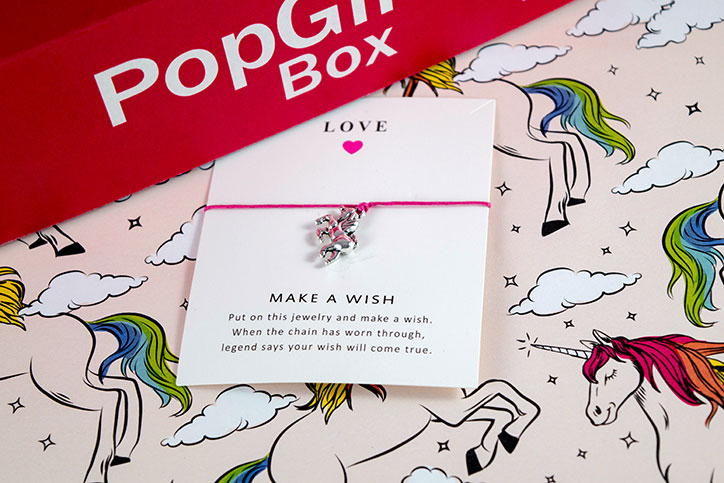 Unicorn Ankle Bracelet:
This isn't your ordinary ankle bracelet – it's a wish bracelet with an adorable unicorn charm. Don't get too attached, though. The point of a wish bracelet is for you to wear it out until it breaks! Make a wish when you put it on for the very first time and then wear it until the chain wears through. When the bracelet falls off, your wish will be granted.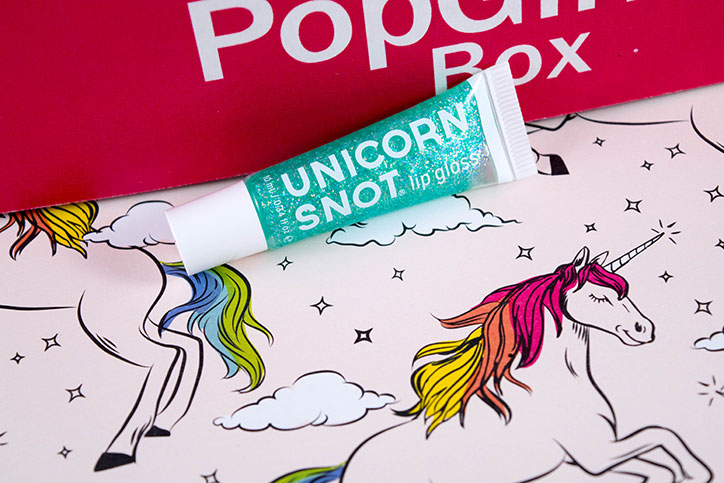 Unicorn Snot Lip Gloss:
We were so excited to find this item! Unicorn Snot is one of our FAV brands for all things sparkle! Plus it has one of the most fun names – who wouldn't want to rock something called Unicorn Snot?! The one we received in our box was a shimmery shade of teal with a cotton candy scent!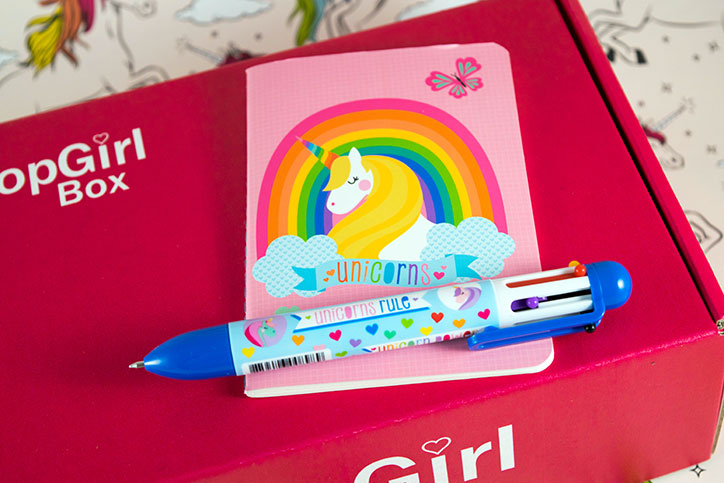 Unicorn Pocket Notebook and Multi-Color Pen:
We're pretty convinced that Ooly makes some of the best school supplies and stationery products on the planet, and finding this pretty unicorn notebook and pen inside our PopGirl Box truly confirmed our theory. We just love how gorgeous the art is on these two items and are super psyched to do lots of YAYOMG! planning using our cute new stuff. Stash 'em in your new sequinned pencil pouch to really make a magical statement.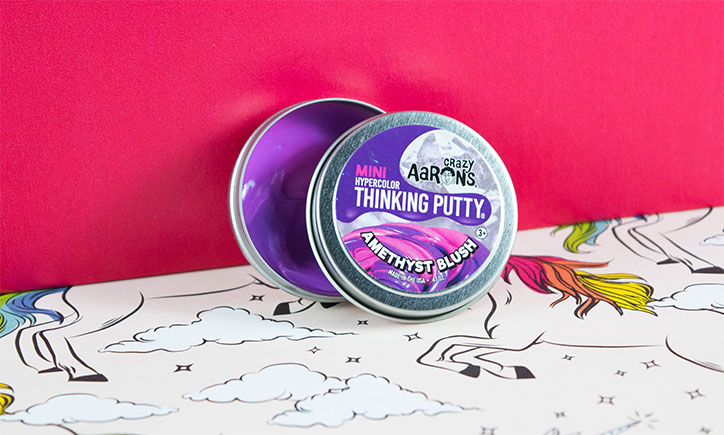 Crazy Aaron's Amethyst Unicorn Putty:
This one is perfect for kids who love pulling, stretching, smooshing, and otherwise fidgeting with their toys. This tactile putty is perfect for channeling your thoughts while doing your homework or working on a big assignment. As you play with it, the heat from your fingers will turn the color from purple to pink, using science that's as magic as mythical as a unicorn!
"You're a Unicorn" Temporary Tattoo:
We love temporary tattoos, but this one is extra special. Parts of the tattoo are made with a metallic foil that'll help you sparkle like a unicorn while you rock it! It's a great way to turn your look from ordinary to extraordinary!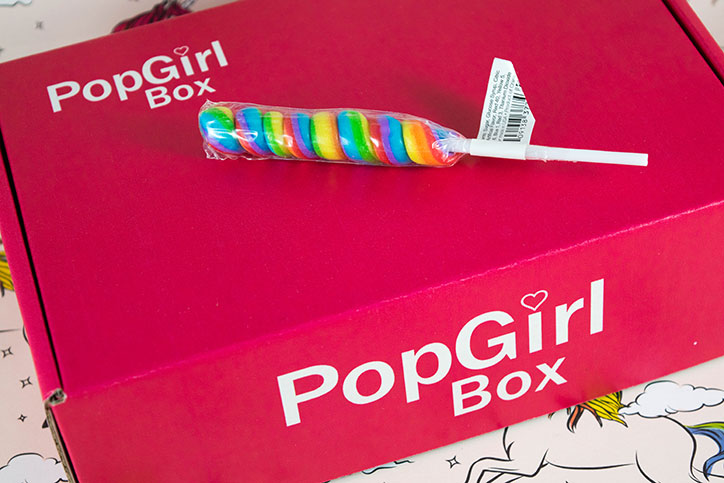 Unicorn Horn Lollipop:
Get your sugar rush on unicorn style! This swirly, rainbow treat is super sweet, just like you.
We're loving the mix of stuff we've received in the PopGirl Box so far. It's an excellent mix of useful, cute, and just generally awesome stuff that's great for pretty much every type of girl. We're really excited by this subscription box and can't wait to see what's to come!
How to Subscribe:
Grab an adult and head to popgirlbox.com
Use our code YAYOMG when you check out for $5 off your first box!
Cost Per Box: $29.00 + S/H. The boxes ship out monthly, and you can cancel at any time.
What Do You Get?: Each month you'll receive a new box with a new theme. Each box contains 6-8 surprise items worth over $50 in value! According to the website, items can be anything including: "jewelry, hair accessories, beauty products, school supplies, sweet treats, and the latest swag for young girls!"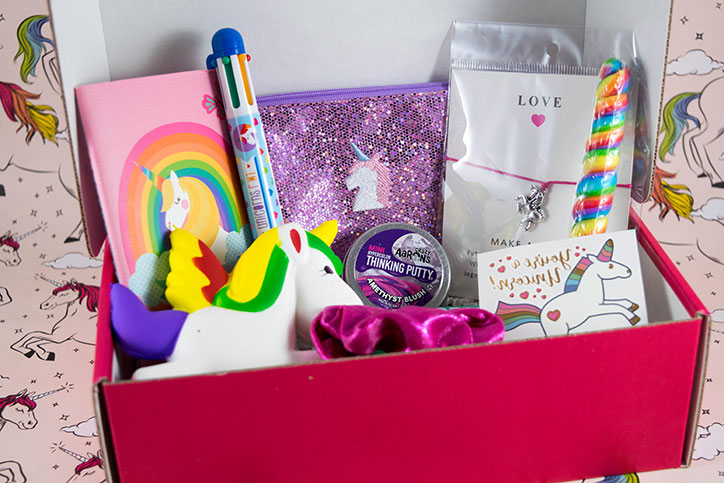 The theme for April is "Sweet Treats," which sounds adorably delicious. So excited to get our hands on it. Be sure to subscribe by March 25th to get your hands on the next super sweet PopGirl Box!
Want to see what we found in the first PopGirl Box? Click here!