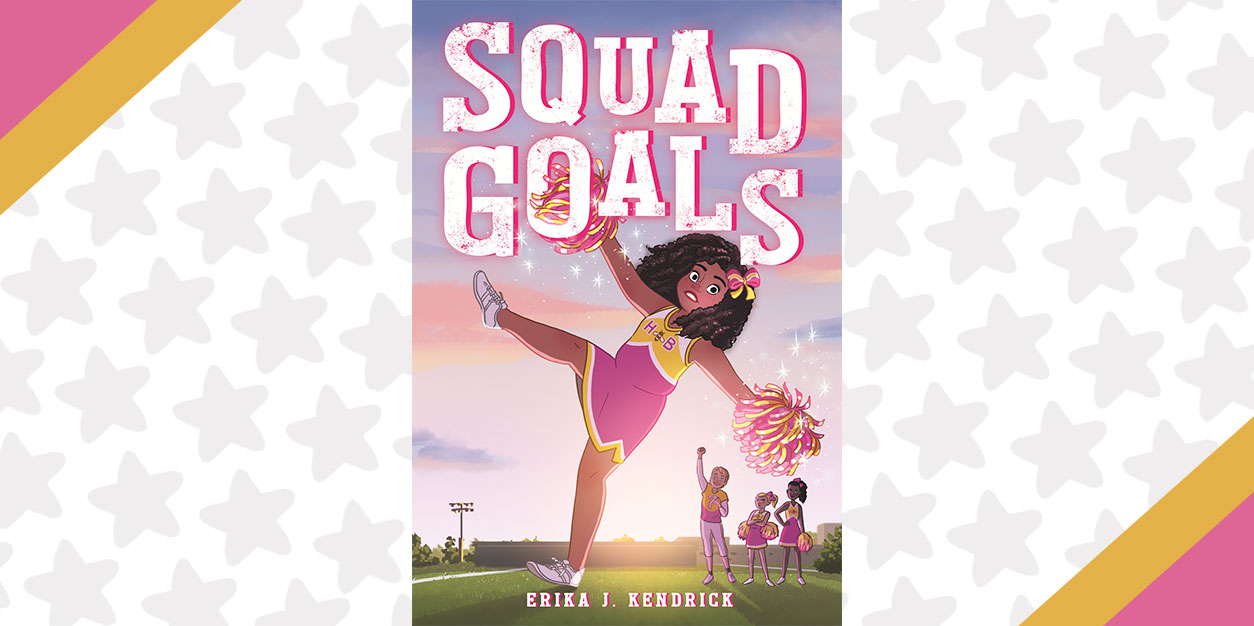 Secret Crushes & Girl Power Favs: Get to Know Magic and the StumbleBees from Squad Goals
Magic Olive Poindexter dreams of becoming a cheerleader, just like the rest of the amazing women in her family. Her grandmother was the first-ever Black cheerleader on Valentine Middle School's HoneyBee squad, her mom and older sister were both Laker Girls, and her dad is an NBA legend. You'd think cheering, dancing, and athletics would come naturally to Magic, and that they'd be begging for her to join the HoneyBees at her middle school – but despite her cheer-filled dreams, Magic is a bit awkward and uncoordinated, never having a lesson in her life.
Despite these setbacks, she's determined to make her dreams a reality, even if it means a summer full of mean girls and a totally terrible nickname at Planet Pom Poms cheer camp. Magic convinces her BFF Cappie to come along for support, but even she gets sucked into the drama, dropping Tragic Magic for the popular girls.
Will Magic be able to survive the summer and become the cheerleading hero she's always dreamed she could be? You'll have to read the book to find out – but we do have something special to share!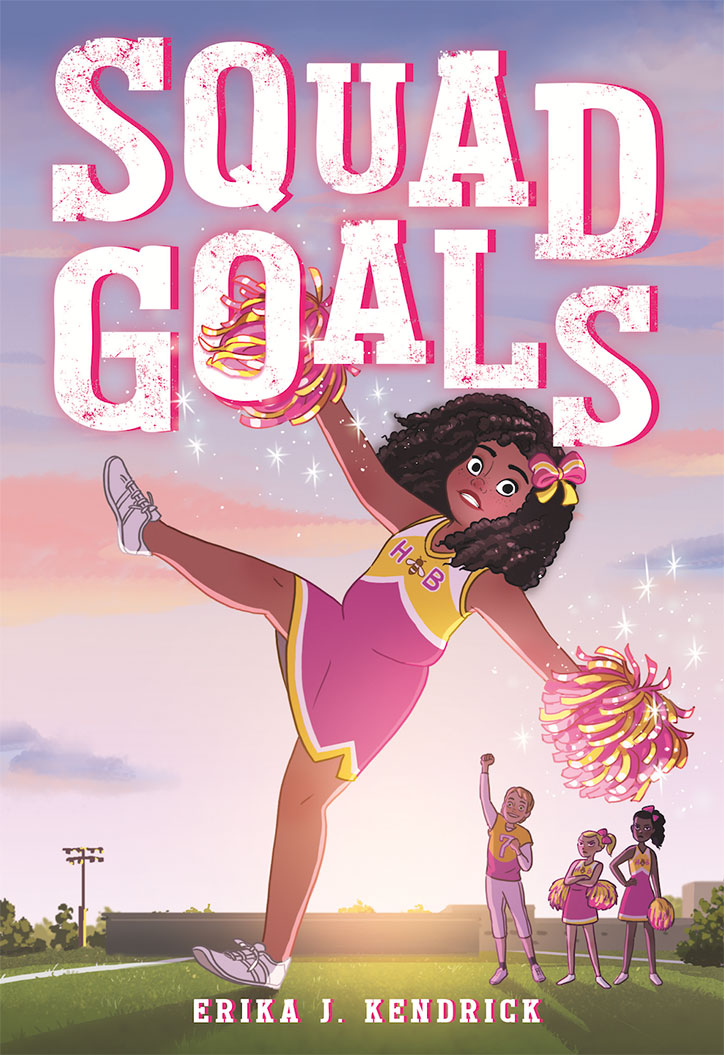 Camp is in session in this cheer-tastic middle-grade novel about making new friends, finding your place, and learning to embrace your inner Magic.
Magic Olive Poindexter has big shoes to fill. Her mother was a professional cheerleader, her father is a retired NBA legend, her big sister is the new face of the oh-so-glamorous Laker Girls, and her grandmother was the first black cheerleader ever on Valentine Middle School's HoneyBee cheer squad. Magic wants nothing more than to follow in their footsteps. But first, she has to survive Planet Pom Poms, the summer cheer camp where she'll audition for a spot on the HoneyBee squad. But with zero athletic ability and a group of mean girls who have her number, Tragic Magic is a long way from becoming the toe-touching cheerleader heroine she dreams of being.
Things start to look up when her best friend Cappie joins her at camp–until Cappie gets bitten by the popularity bug, that is. To make matters worse, Magic's crushing hard on football star Dallas Chase. Luckily, Magic's not alone: with the help of a new crew of fabulous fellow misfits and her Grammy Mae's vintage pom poms by her side, Tragic Magic might just survive–and even thrive–at cheer camp.
Squad Goals
AUTHOR: Erika J. Kendrick
PUBLISHER: Little, Brown Books for Young Readers
DATE: April 6, 2021
Author Erika J. Kendrick is about to give you an exclusive sneak peek into Magic's world at Planet Pom Poms! Being a former Chicago Bulls cheerleader herself (as well as an inspiring mental health advocate and national speaker), Erika knows a thing or two about what it means to be a cheerleader – and being a mean girl is totally NOT it.
Keep on reading below for a glimpse into Magic's first-ever pajama jam where she and the StumbleBees are swapping secrets and gabbing all night long, all penned by the author herself!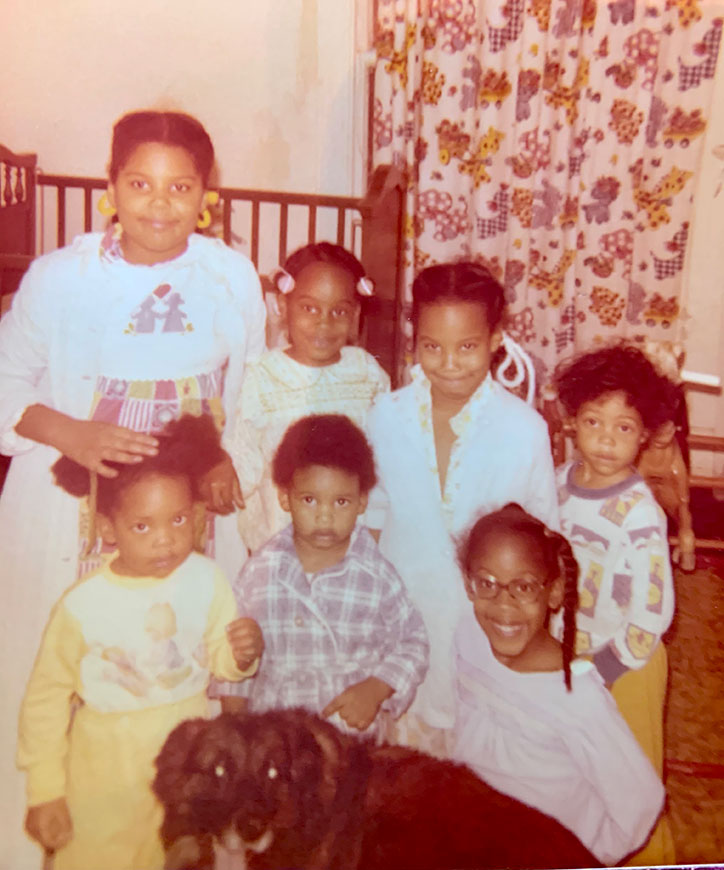 I remember my first pajama jam (here's a cute pic for ya… that's me in the bottom left corner with my two afro puffs). It was with my cousins who were mostly older than me. Cake and ice cream were involved and tons of storytelling with the most adorbs old school jammies. Talk about cuteness overload.
Magic's first pajama jam happened for her at twelve. She missed out on lots of overnighters making friendship bracelets and singing karaoke way into the night. But it's never too late for her first time – and who better to have it with than the StumbleBees! 
Here are five fun facts about Magic and some of the juicy stuff that didn't make the page during the QUESTIONS game at the end of the night.
5 Fun Facts About Magic's First Pajama Jam: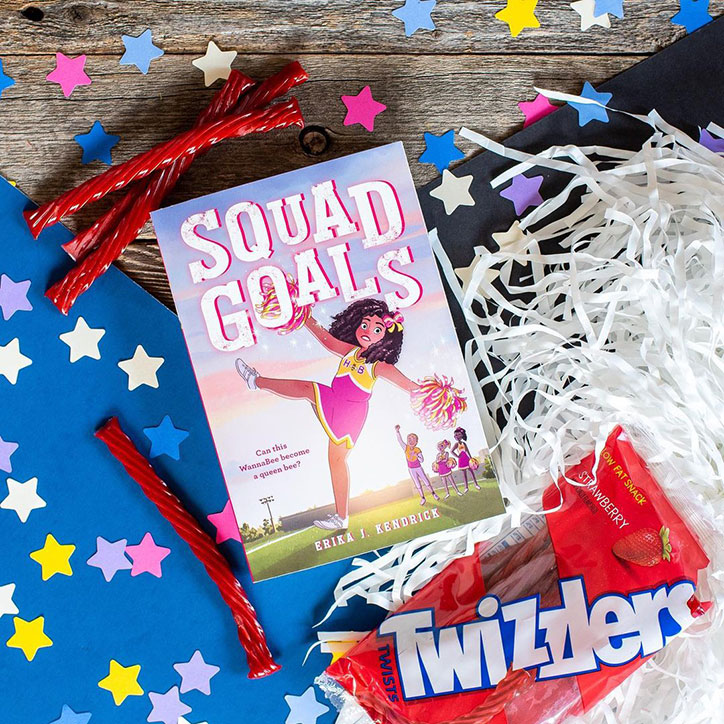 Who is your secret crush?

The entire planet knows Magic is crushing hard on Dallas "Boy Wonder" Chase. And seriously, can we blame her? Dallas is beyond ca-yoot, yes, but he's also a great listener and crazy supportive – more than any boy Magic has ever met. When Dallas helps Magic learn how to work out and get her fitness groove going, even I swooned. Then he took a big risk on their friendship and shared a gigantic secret with her. C'mon, how could anyone not be crushing on him after that?

BONUS ANSWER:

Winnie laughed so hard at this question that she almost choked on her Hot Cheetos. This is one girl who thinks boys are dumb. There's no other way to really say it but… d-u-m-b. She hates the way they pick their noses and then flick their snot demons across the classroom. She also thinks they're super smelly and is grossed out that they don't flush the toilet or put the seat down. Her dad is still guilty of that mega offense and he has a driver's license, for crying out loud.
Who is your favorite person in the world?

Magic didn't hesitate to answer this one. Her Grammy Mae tops that list. And for good reason. Magic told the girls that she never felt more seen and understood than when she and Grammy Mae were together watching game shows and eating pie. I get it – Grammy Mae makes me think of my Grammy Gert who made the best biscuits in Chicago and was always there when I needed to talk to someone about how unfair my mom was being. Plus, she always took my side – so there's that!
Who is your fav superstar?

Magic struggled with this question, and not because she couldn't think of anyone. More so because she's got a lonnng list, and who can blame her when girl power is dominating the entire planet. Speaking of Girl Power, they're her fave band and everybody knows it, so she decided on Yara Shahidi because she's talented and smart. Then she topped it off with Vice President Kamala Harris (for obvi reasons – first Black and Asian VP of our United States of America! We see you, Madame Harris, opening doors for political girl power!).

BONUS ANSWER:

Brooklyn picked Kylie Kardashian and told the squad that it was because Kylie used her family's rep to start a global billion-dollar biz and then she sold it for a ga-ZILLION dollars. Who can argue with that being superstar status? Only the haters.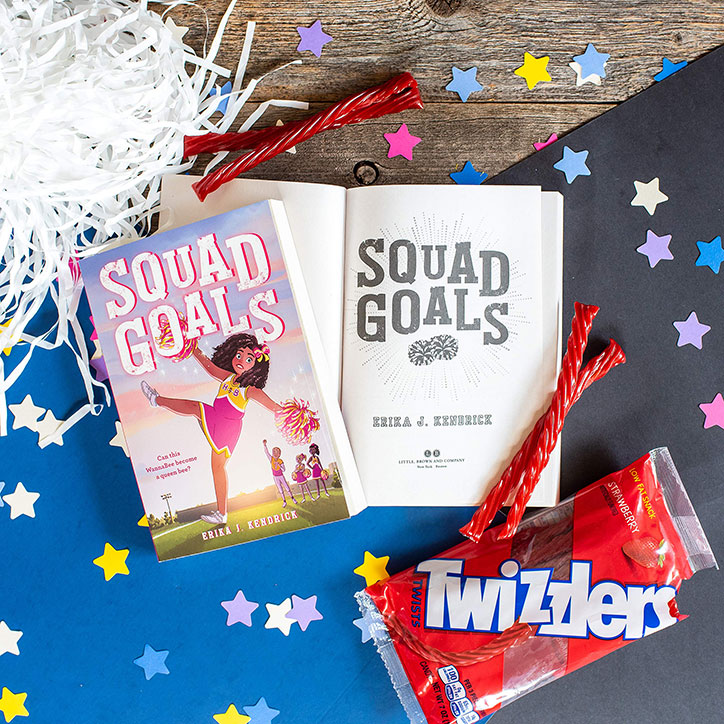 What is your biggest insecurity?

Magic was really embarrassed to answer this one. She had already been so vulnerable around her new friends, but she finally admitted that it was not being as good a dancer as everyone else. The entire room went silent, mostly because they totes understood. They even made a secret pact to write inspirational notes for each other every day for the rest of camp. Bestest friends ever. I wish I had someone to write me motivational Post-Its. I'd stick them on my bathroom mirror so I could see them every time I brushed my teeth.

BONUS ANSWER:

LuLu said her biggest insecurity wasn't being partially deaf; she'd pretty much conquered that bear. But she was worried about growing up without both her parents because of the D-word: divorce. She didn't know how she was going to deal with her dad not being there to tuck her in at night or sing her to sleep. Plus, how was her mom ever going to find love again when she cried herself to sleep every night? And did that mean Lu wasn't going to ever find love either? Talk about a Kleenex moment. I heart LuLu and I know for a fact that she's going to be okay; c'mon, she's super lovable.
Most embarrassing moment?

Magic almost didn't tell the StumbleBees because she was still reeling from it. But she gave in, only after they promised to share too. It happened before camp even started, when their bus landed at Planet Pom Poms and she fell down the steps of the bus—face forward, straight into the dirt and gravel, right in front of her biggest crush: Dallas "Boy Wonder" Chase. Be still my heart. I wish I could rewind time for our girl and have her float down the bus steps and delicately land on the grass—with sparkles and twinkle lights circling her head because, let's face it, our girl is the definition of magical.
Okay, those are all the secrets the StumbleBees are allowing me to share. They're keeping the rest close to the vest (read: all to themselves!). So that means our Pajama Jam gossip sesh is over… until next time.
But for now, let's pinky swear to look fear in the face and go MAKE MAGIC HAPPEN! I love you – and I don't have to know you to love you! XO – Erika
Love empowering stories about amazing girls finding their way? We think you'll love Serena Says!