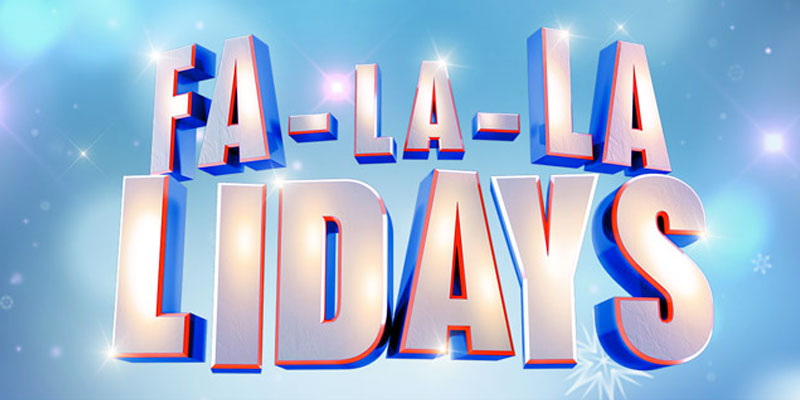 Disney Channel's Fa-la-la-lidays 2015 Lineup
Ho, ho, ho! If you're like us, you've been (im)patiently awaiting the announcement of Disney Channel's Fa-la-la-lidays Holiday Lineup! Disney Channel always has such great holiday specials of all their shows that help keep everyone in the holiday spirit from Thanksgiving til Christmas. Santa Mickey must have heard all of our wishing, because the Fa-la-la-lidays 2015 Lineup is finally here! Don your ugliest sweater and get to watching!
Fa-la-la-lidays 2015 Lineup:

The lineup kicks off on November 29th, right around when we've finally all finished digesting our delicious Thanksgiving dinners. Frozen Fever will air (during a re-play of Descendants, in case you needed an excuse to re-watch it yet again!) for the very first time on TV. Frozen Fever, if you haven't seen it, features all your favorite characters from Frozen as they try to celebrate Anna's birthday. The dresses are amazing, the antics are hilarious, and it's the perfect watch to get you all warm and fuzzy for the holiday season.
December 4th is the next big day of Fa-la-la-lidays. There's new holiday episodes of both BUNK'D and Girl Meets World, as well as the Radio Disney Family Holiday special.

BUNK'D – "Secret Santa":
Emma and Lou are determined to hold a holiday gift exchange, but when Ravi gives them advice, it doesn't quite work out as planned. When Zuri, Xander, Jorge, and Tiffany run into a man they think is the real Santa, they need to work together to cheer him up and save Christmas.

Girl Meets World – "Girl Meets the New Year"
This episode is going to be HUGE for Lucaya shippers, because Maya and Lucas finally kiss. But will their kiss be as meaningful as we all hope it will be when they do it just to make Josh jealous? Rumor has it both Lucas and Maya are shocked by the way they feel after the big kiss. Farkle tells Riley that she has until midnight to tell everyone she's been lying about her feelings for Lucas, so this is going to be an episode that will give us all feels as dramatic and crazy as Girl Meets Texas.
Radio Disney Family Holiday Special:
This musical holiday special will be hosted by Sabrina Carpenter. There will be performances by Jacob Whitesides, Andy Grammer, Charlie Puth, Forever in Your Mind, Mickey Guyton, and of course, Sabrina Carpenter. There will also be special appearances by popular Disney Channel favs, like Sofia Carson and lots of other exciting surprises!
Next up is December 6th, only a few short days after we've all recovered from the anxiety and excitement of Girl Meets the New Year. The 3rd and final day of Fa-la-la-lidays brings us K.C. Undercover, Best Friends Whenever, Austin & Ally, and Liv and Maddie.

K.C. Undercover – "Twas the Fight Before Christmas"
K.C. plans to give her dad the most perfect christmas gift of all, a surprise visit from his dad. When he arrives, she's the one who ends up surprised. It turns out that Craig and Poppa Earl not only don't get along very well, he also has no idea that they are all spies.

Best Friends Whenever – "The Girls of Christmas Past"
When Cyd travels back to the Christmas the year before to try and figure out the perfect gift for Shelby, things get a little crazy. Barry and Naldo's Winter Wonderland experiment ends up sparking a war between elves that they need to help fix.

Austin & Ally – "Santas & Surprises"
The very last Austin & Ally holiday special! Hold this one dear to your hearts!
One of Austin & Ally's music students is upset about spending Christmas away from her father, so the gang does everything they can to try and make her happy and realize that they're her family too.

Liv and Maddie – "Joy-To-A-Rooney"
Liv invites the director and crew of "Voltage" over for the Rooney's annual Christmas Eve dinner, but ends up needing to enlist Artie's help to prepare the meal and make sure things go perfectly. Maddie and Willow's gift exchange takes a strange turn.
Fa-la-la-lidays isn't just about the TV shows, but the movies too. Here's what you can expect in terms of movies:


Toy Story that Time Forgot – December 5th
Frosty's Winter Wonderland – December 5th
Bob's Broken Sleigh – December 11th
Ice Age: Dawn of the Dinosaurs – December 20th
The Year Without a Santa Claus – December 21st
Rudolph's Shiny New Year – December 21st
Sounds like we're in for a super festive and exciting Fa-la-la-lidays 2015 lineup this year!