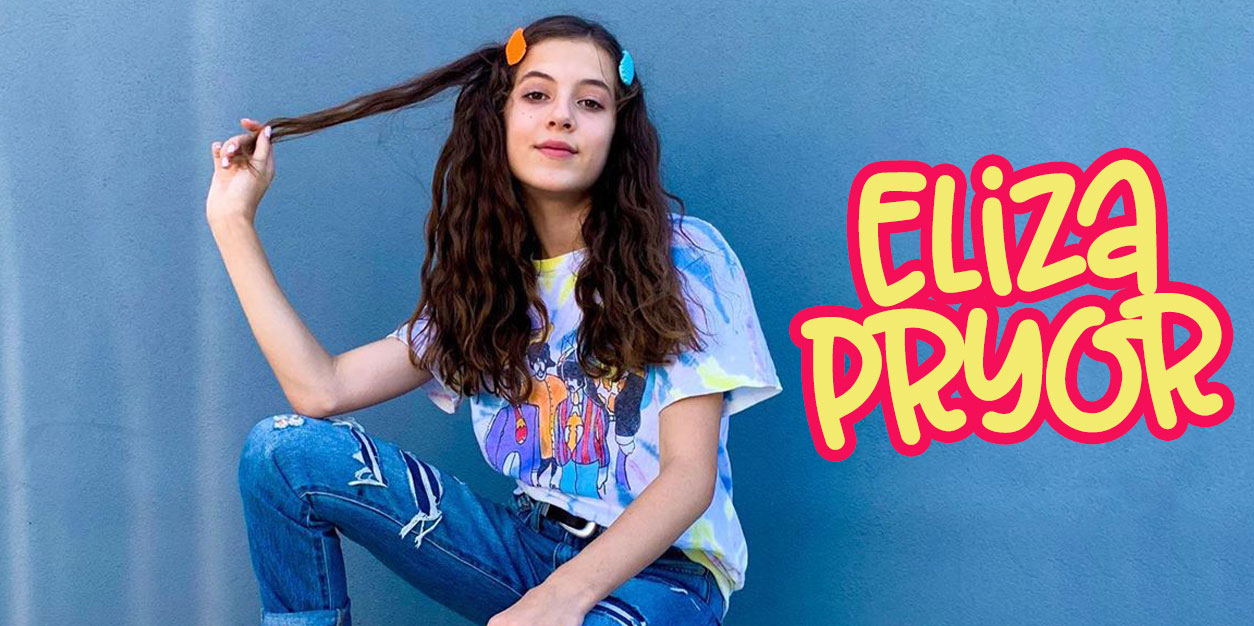 Eliza Pryor Dishes on Team Kaylie and her Perfect Day
Get excited! We're catching up with Eliza Pryor from the new Netflix series, Team Kaylie!
Team Kaylie is all about Kaylie Konrad, a wealthy teen celeb sentenced to lead a middle school wilderness club after a run-in with the law. Eliza stars as Valeria, a member of the wilderness club who's edgy style and witchy aspirations make her stand out from the crowd. Eliza and Valeria may not have much in common, but she stands out in her own way. From her random love of Bob Ross videos to the way she expresses herself through fashion, we think this young star shines bright. Plus, she has a lovely singing voice she's hoping to turn into a music career!
Get to know Eliza Pryor as she chats about all things Team Kaylie, her biggest dreams, and how she'd plan a perfect day!
Get to Know Eliza Pryor:
Tell us a little about your new show, Team Kaylie! What can fans expect to see?

ELIZA PRYOR: It's a hilarious comedy about a girl named Kaylie who is a big TV reality star. She gets in trouble and is ordered by a judge to volunteer at a middle school as the leader of the Wilderness Club. The other kids in the club, including my character, Valeria, are all a little different or special in their own way. You never know what adventures are ahead with Kaylie leading the way!
What can you share about your character, Valeria? Do you share any similarities with her?

ELIZA: Valeria is so much fun to portray and I think it's because we are so different. She is definitely different than really anyone at her middle school and she really wants to be taken seriously as a witch. I wouldn't say she is always super successful though at trying her magic. Still though, she is super confident in who she is and I love that about her.
Earlier this year, you had a pretty cool opportunity to do motion capture for Resident Evil 2. Tell us a little bit about that experience.

ELIZA: For video games, the creators need to record your body's movements along with your voice. Every day I got to put on this really cool body suit that was connected to computers to pick up all of my movements. There was also a camera and microphone that I wore on my head to record my voice and facial movements. It was cool and I felt like some awesome superhero. The cast and crew were all amazing and were so nice to me. It was such a special experience.
How did you first discover your love of acting?

ELIZA: It really started with finding a love of performing through my singing. I have been fortunate to sing at a lot of cool venues and I love having that connection to fans. Once I was in the industry, I was introduced to acting through friends and teachers. After being introduced to an app called Scenebot and doing well, I really fell in love with acting. That's when I began traveling out to LA more and more.
Who are a few of your female role models and how do they inspire you?

ELIZA: I admire Millie Bobby Brown and Zendaya. Millie is a phenomenal actress and I also love her sense of style. Zendaya has proven she can do it all: comedy, musical and drama.
What are your go-to's that you find yourself coming back to over and over?

ELIZA: I love Glee, and I have watched all of the episodes over and over. I never get tired of it! I also love Once Upon a Time.

I also have a playlist of powerful soulful female singers that I love to listen to.
If you were planning the perfect day, what are a few things you would do?

ELIZA: Sleep in! My schedule is so hectic that I really crave more sleep. I would wake up and go to my aerial silks class. I love fashion, so shopping would definitely be a part of the plan. I would be shopping for something fun to wear to the Ariana Grande concert I would be going to later that night. She is one of my favorites to watch perform. After that, more sleep!
What is your biggest dream for the future?

ELIZA: Because I love singing and acting, I really have two big dreams; one is to star in a leading role in a major motion picture and the second one is to have a music career where I can tour and entertain fans.
Do you have any advice you'd like to share with your fans?

ELIZA: Be yourself, love who you are because you are amazing, and stay true to who you are. Don't give bullies power. Stand up for yourself. Most of the time they are bullying you to make themselves feel better. Be kind!
Now that you're in the know about all things Eliza, get to know Ellarose Kaylor from the amazing new dance film, Next Level!