Unbox Winter Magic with the Disney Treasures Snowflake Mountain Box
The latest box on the Funko Disney Treasures subscription journey takes Disney lovers to Snowflake Mountain. Coincidentally, it's snowing like crazy here in Philly as we type this and we're sipping on hot chocolate, so we're absolutely in the right mindset for this unboxing.
This is by far our favorite Disney Treasures box of the five that have been released. The Snowflake Mountain box is filled with a great variety of items that celebrate the magic of iconic winter moments in Disney history and includes a range of characters that we love.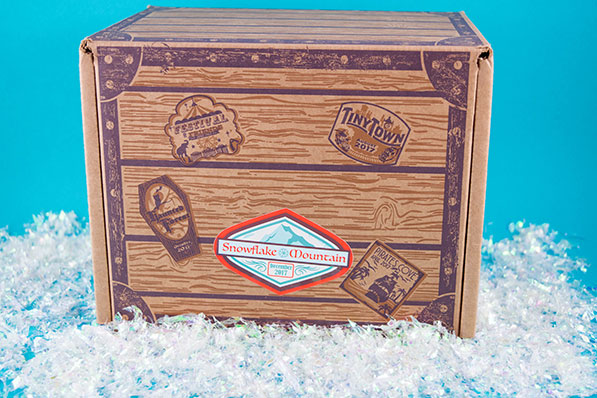 Anyway, enough of our rambling, we're sure you're ready to see what's inside this magical treasure chest box, and we're ready to show you! Bundle up and adventure alongside us to the magical Snowflake Mountain.
Funko Disney Treasures Snowflake Mountain Unboxing: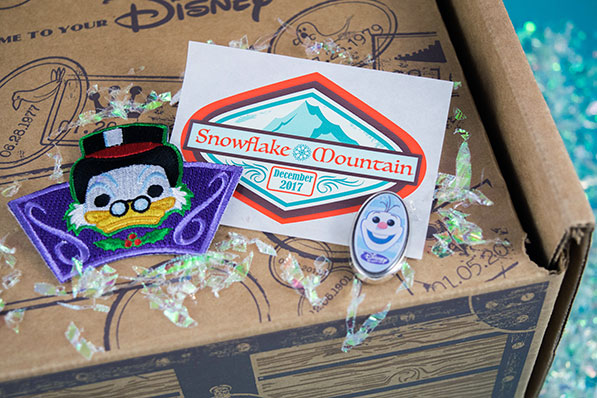 As expected, the first three items in the box are the pin, patch, and sticker that are always included. This month we find an Olaf pin, a Scrooge McDuck patch, and of course, the Snowflake Mountain passport sticker.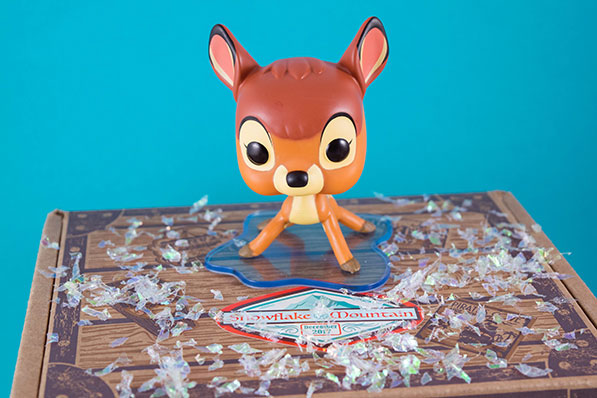 The exclusive POP! in this month's Disney Treasures box shouldn't be a surprise to most, as Funko has been teasing it for awhile. However, it's even cuter in person than we could have ever imagined. The figure features Bambi slipping on the ice, straight of the iconic scene from the movie. It's so darn cute and definitely our favorite exclusive POP! so far.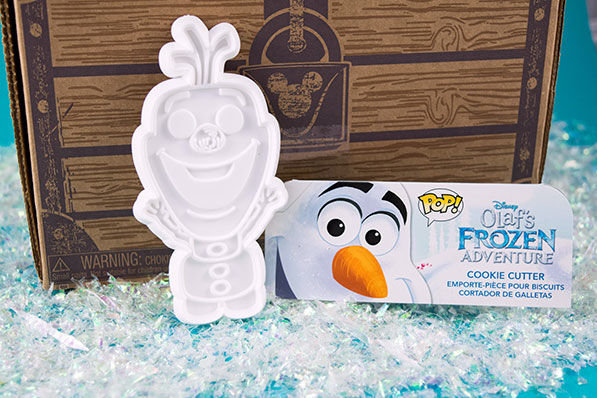 Continuing through the box of magical goodies, you'll find an Olaf's Frozen Adventure inspired cookie cutter. We can't wake to make Olaf cookies to warm our hearts and gift to our friends that are worth melting for.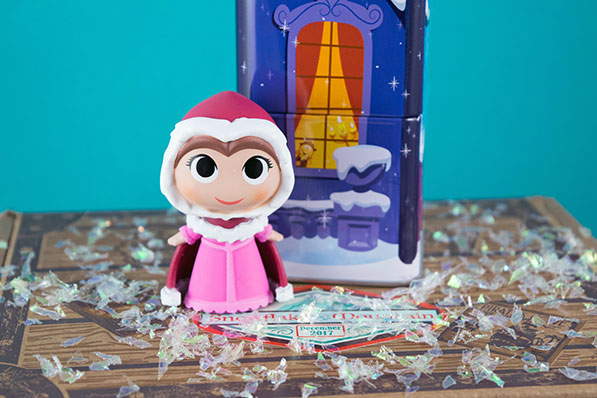 Next up is another item we're totally crazy for, the Belle Disney Mystery Mini Tin. The tin itself is covered in gorgeous wintery scenes from around Beast's castle, and the winter Belle figure is wearing the fluffy pink coat from her snowball fight with the Beast. A perfect addition to any shelf full of holiday collectibles.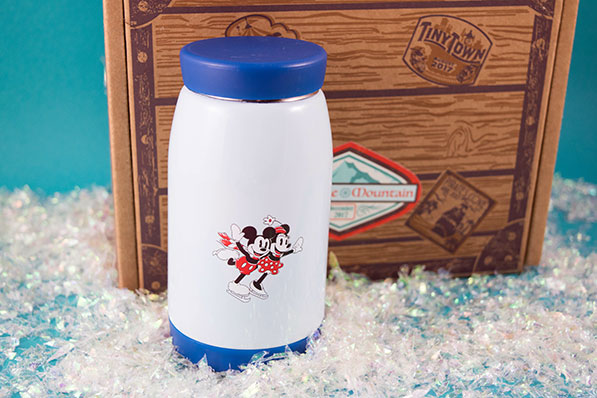 The next surprise is a Mickey and Minnie Thermos. The thermos surprisingly doesn't use the POP! style version of the characters, but instead a more retro 30's style Mickey and Minnie. While some might be disappointed that this item isn't 100% Funko-fied, we're totally loving it and will definitely be using it to keep our beverages and soups toasty this winter.
The fifth and final item is one we begged for after the Haunted Forest box back in October. It's a pair of wintry Nightmare Before Christmas socks, complete with Snowman Jack! We were so delighted to see the box embrace the fact that Nightmare is perfect for both Halloween AND Christmas. Now if only Disney would explore all those other holiday doors in the forest, we'd be able to have Nightmare Before Christmas items for every single holiday.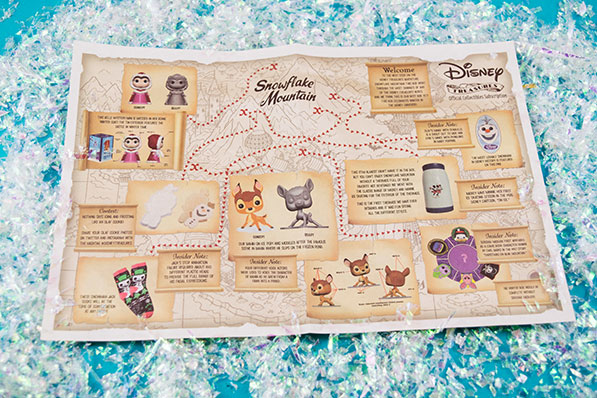 The map included in this box is the smallest one yet because our first year of adventures is nearly complete. Even though it's smaller, it's still covered in fun facts about the classic Disney films and characters featured in this box and some behind the scenes info about the toys.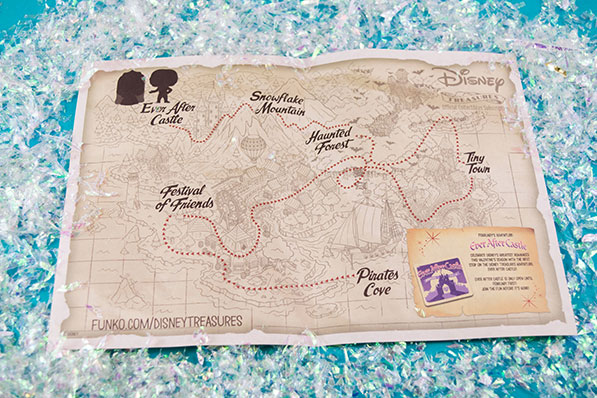 So where is the Funko Disney Treasures subscription headed next? There's only one more box headed our way to complete this year-long journey, and the theme is Ever After Castle. According to the treasures map, February's adventure is a celebration of Disney's greatest romances. It's pretty safe to bet we'll be seeing a good dose of Disney Princesses in the next box.
Aside from the Belle mini tin in this box, we haven't seen ANY Disney Princess items in this subscription so far, so maybe they've been saving them to cap off their final box of the year. There's no romance more iconic than the tale as old as time, which is why Funko has already teased a Beauty and the Beast POP! for this upcoming box.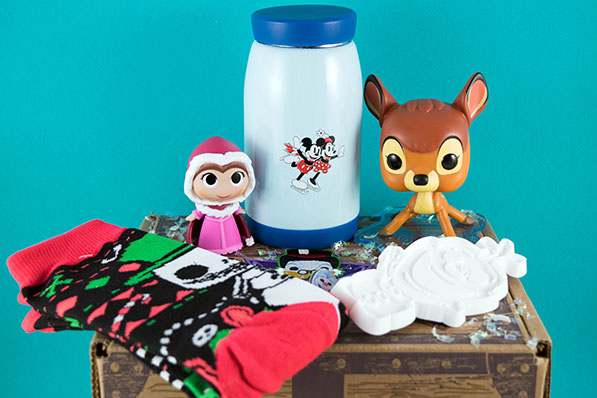 The Ever After Castle box is available to purchase now and it will ship out in February 2018. Funko recently switched up the way subscribing works to be more in line with how their customers like to buy. They're now doing only a per-box subscription, meaning you'll pay $30 + S/H for each box you want and skip the ones you don't. If you're like us an already have an annual or semi-annual subscription, don't worry, you've already been automatically switched over to the new per-box model. You can subscribe by clicking here, don't forget to ask a parent for permission!
Want to see the boxes you've missed? Click here for all of our past Funko Disney Treasures unboxings!