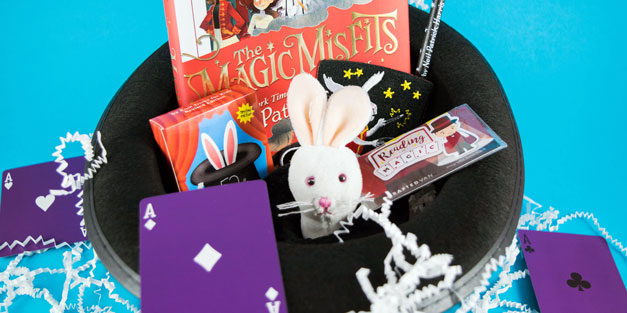 Dazzle and Amaze with the December OwlCrate Jr. Box
Note: As OwlCrate Jr. Reps, we received this box for free in exchange for a fair and honest review. All opinions are our own.
OwlCrate Jr. wrapped up 2017 with a big, magical bang! Like an epic fireworks display on New Year's Eve, December 2017's Abracadabra box was nothing less than pure magic. Inside you'll find a dazzling read about a band of misfit magicians. It's exciting, magical, and full of friendship, adventure, and surprises. Since every good magician needs an assistant, and OwlCrate Jr. provides lots of goodies to assist you in your newfound love of magic tricks. A magician never reveals their tricks, but we're about to reveal what came inside the Abracadabra box!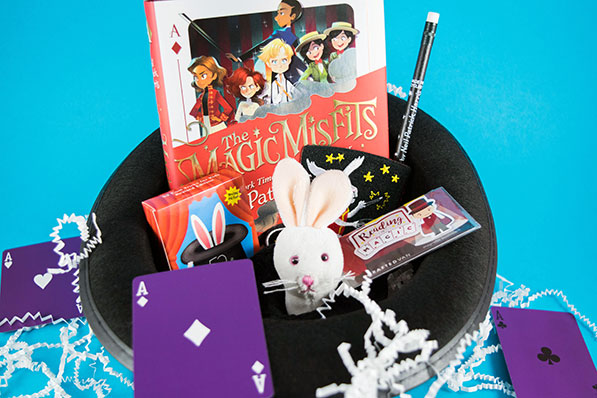 Grab a deck of cards and a magic wand; you're going to need them! Before we get started on our unboxing, we just wanted to thank OwlCrate Jr. for selecting us as reps for another three months! Sharing this box with middle-grade lovers and book-hungry kids has been one of the highlights of our year, and we can't wait to help share what you've cooked up in your January, February, and March boxes! To our YAYOMG!ers, our discount code has changed. It is now OMG10, and can be used for a 10% discount for both OwlCrate Jr. and OwlCrate subscriptions.
OwlCrate Jr. Unboxing – Abracadabra – December 2017 Unboxing: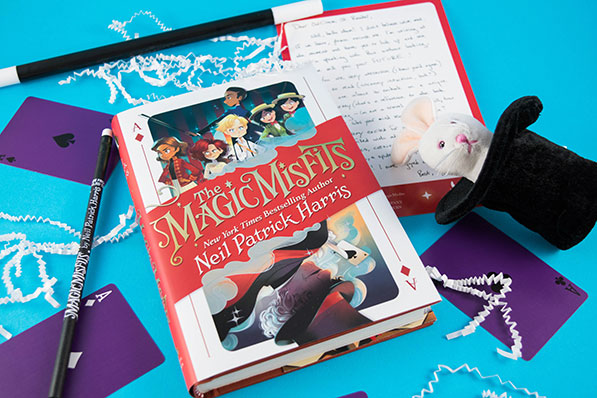 Book of the Month: The Magic Misfits by Neil Patrick Harris:
Yes, this book is written by THAT Neil Patrick Harris. The one who plays Count Olaf in A Series of Unfortunate Events, the voice of Prince Gumball on Adventure Time, and of course, Steve the monkey in the Cloudy with a Chance of Meatballs movies!
About the Book:
"When street magician Carter runs away, he never expects to find friends and magic in a sleepy New England town. But like any good trick, things change instantly as greedy B.B. Bosso and his crew of crooked carnies arrive to steal anything and everything they can get their sticky fingers on.
After a fateful encounter with the local purveyor of illusion, Dante Vernon, Carter teams up with five other like-minded kids. Together, using both teamwork and magic, they'll set out to save the town of Mineral Wells from Bosso's villainous clutches. These six Magic Misfits will soon discover adventure, friendship, and their own self-worth in this delightful new series."
This book is signed by the author in a magical golden marker! In addition to the new read, the author has included a hand-written letter and a spectacular magic wand pencil!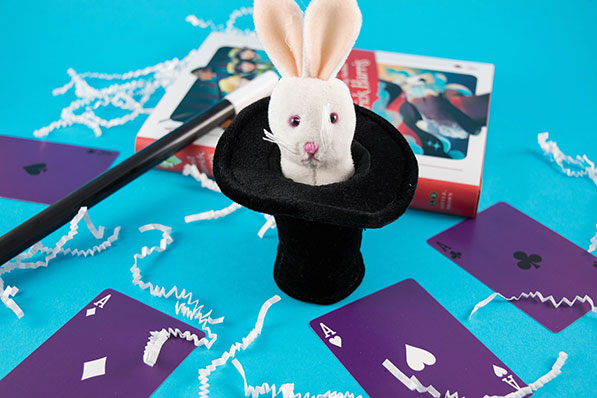 Rabbit in a Hat Finger Puppet by Folkmanis:
Presto chango! This may look like an ordinary top hat, but it's just an illusion. Stick your finger inside and out pops an adorably fluffy rabbit that makes a perfect addition to your next magic show.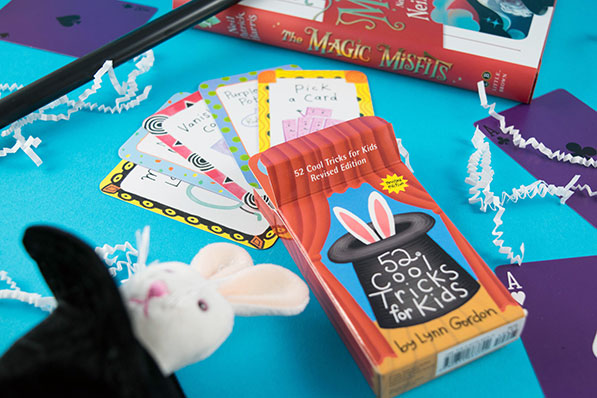 52 Cool Tricks for Kids Cards from Chronicle Books:
Whether you're an expert illusionist, a magical misfit, or someone just starting out in the magic world, this deck of cards is a handy item to keep in your back pocket. Each card features a different trick with instructions on how to do it so you can impress your next captivated audience.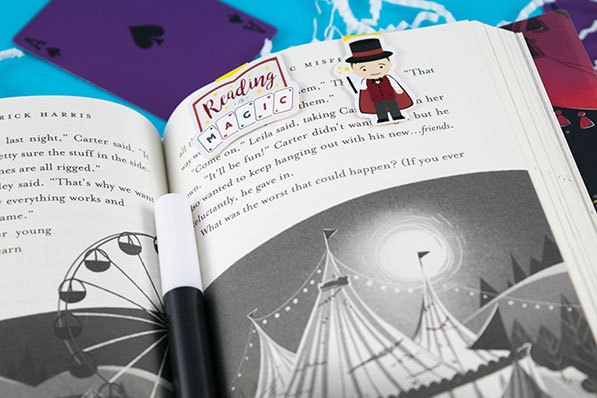 Magically Magnetic Bookmarks by Crafted Van:
Never lose your place in this book or any other OwlCrate Jr. reads by using these magician themed magnetic bookmarks. They'll hold your place so next time you curl up with your book, just wave your magic wand and "magically" know exactly where you left off.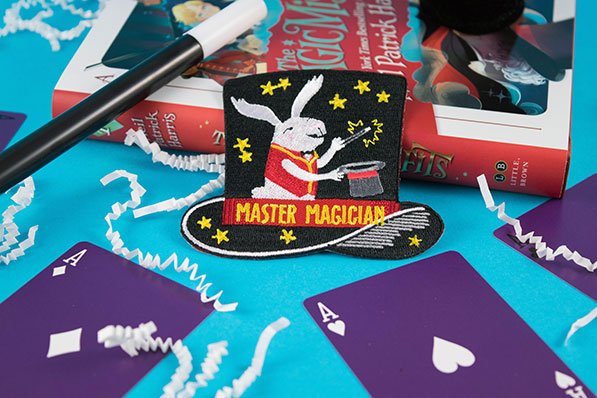 Master Magician Merit Badge Patch by Erin Gibbs:
Once you've read The Magic Misfits and mastered all the tricks inside this box, it's time to iron this super cute Master Magician patch. You've earned it!
How will OwlCrate Jr. be kicking off the new year? In completely delicious style. The January 2018 theme is Sugar and Spice, so we're anticipating a baking themed read and a box full of goodies to get you in the culinary spirit!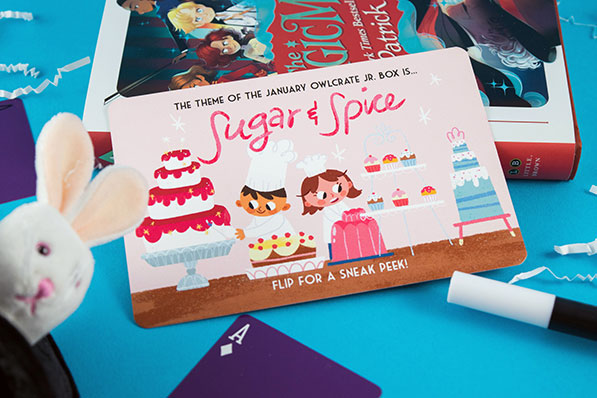 From the card insert:
"We've mixed up something truly delicious to kick off the new year, perfect for readers and bakers alike! Recipe for January: 1/2 cup family, 1/2 cup friendship, a heaping teaspoon of magic, a pinch of trouble. Mix thoroughly for a wonderful new story full of diversity and heart. Serve with a warm mug of cocoa."
Consider us intrigued! We've got our cocoa ready for sipping when this box arrives in mid-January. Ready for a little Sugar and Spice? Grab a parent and head to the OwlCrate Jr. website! Don't forget to use our code OMG10 for a 10% discount. Happy reading!
Want to know what other subscriptions we love to unbox? Click here!