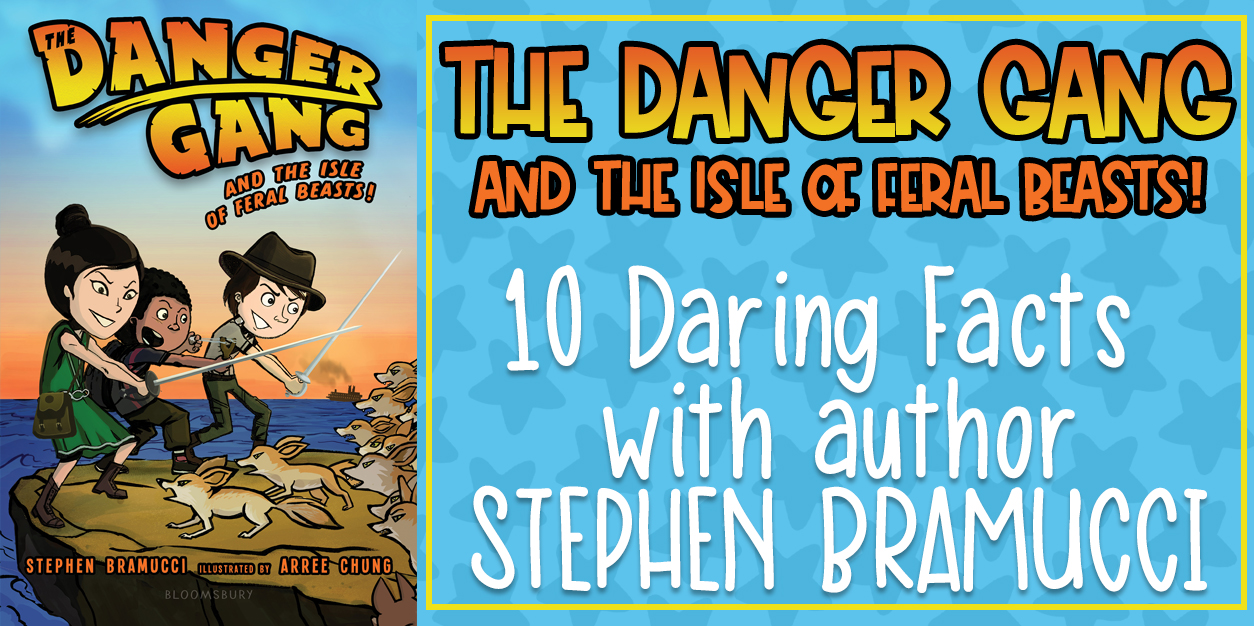 10 Daring Facts About The Danger Gang and the Isle of Feral Beasts
Put on your explorer hat and get ready! The Danger Gang are headed out on their second adventure, and it's even bigger and more mysterious than the last! The Danger Gang and the Isle of Feral Beasts is the second book in the series and sees Ronald, Julianne, and Jeeves facing off against nefarious foes in a story complete with kidnapping, high-stakes, intrigue, and laugh out loud funny moments.
Ronald Zupan and the rest of the Danger Gang are back for their second rip-roaring adventure, perfect for fans of Indiana Jones and Lemony Snicket, fully illustrated by Arree Chung.
Ronald Zupan, his quick-witted fencing partner Julianne Sato, and his trusty butler Jeeves are off on another adventure. This time, they're trying to rescue the movie star Josh Brigand–who was kidnapped from his latest film premiere by the dreaded Liars' Club.
As the Danger Gang races to save their friend, they face off with a poisoning poet, a band of Roman candle-wielding thugs, and thousands of feral foxes. When their skills of deduction are put to the ultimate test, will Ronald and his pals be able to stick together long enough to rescue Josh and defeat the Liar's Club once and for all?
Fully illustrated by picture book talent Arree Chung, this hilarious, high-action series is a must-have for all adventurers.
THE DANGER GANG AND THE ISLE OF FERAL BEASTS!
AUTHOR: Stephen Bramucci
ILLUSTRATOR: Arree Chung
PUBLISHER: Bloomsbury Children's Books
DATE: October 23, 2018
We're so excited to celebrate the new Danger Gang book with author Stephen Bramucci! Get to know the series and characters better than ever as he shares 10 Daring Facts about The Danger Gang and the Isle of Feral Beasts!
The Danger Gang and the Isle of Feral Beasts – Fun Facts with Author Stephen Bramucci:
FACT #1:

Ronald Zupan has a pet cobra because I only ever had pet reptiles when I was a kid. I was allergic to cats, hamsters, guinea pigs, etc.

In fact, my dad used to bring me into the woods and say, "whatever you catch is your next pet." I had garter snakes, fence lizards, frogs, and even a rough-skinned newt. Those newts have a very powerful toxin in their skin, which I'm sure my dad didn't know. Somehow, I lucked out and never got sick!

FACT #2:

The island in The Danger Gang and the Isle of Feral Beasts is based on Catalina Island, off the coast of California. On the real Catalina Island, wild buffalos roam — they were left there after a movie shoot. In my version, it's Fennec Foxes that the film crew leaves behind. I picked them because they're cute but can also be ferocious. I guess buffalo can be ferocious too, but they're almost never cute.
FACT #3:

In this book, the sequel to The Danger Gang and the Pirates of Borneo!, our heroes rescue the movie star Josh Brigand. He was based on the real-life movie star Josh Brolin, who was really nice to me once when I interviewed him for a magazine. Brolin also starred in The Goonies, which is one of my favorite movies and a story that the Danger Gang series is often compared to.

FACT #4:

Ronald and Julianne belong to the Capo Ferro Fencing Academy. Ridolfo Capo Ferro was a real Italian fencing master who came from the same part of Italy as my grandpa, but the actual reason that I choose him is that his name is mentioned in my favorite movie, The Princess Bride.
FACT #5:

In the first Danger Gang book, The Danger Gang and the Pirates of Borneo!, Ronald Zupan gets confused when his mom tells him that the "most interesting people are carnivorous readers," so he ends up eating a rare collection of plays by William Shakespeare. For the whole rest of the series, he is "digesting" and "regurgitating" Shakespeare.

He says more than 100 jumbled Shakespeare quotes throughout the series, but you'd have to really be looking for them to notice! Last year, a librarian in Wichita, Kansas told me that she'd found 63 Shakespeare quotes in Ronald's dialogue.

FACT #6:

In Italy, where my family is from, my dad was always called "La Barba," which means "the beard." When I was growing up, his beard always seemed incredibly bold and adventurous to me.

Ronald admires facial hair too! That's why he wears a fake mustache in the Danger Gang series.

FACT #7:

The Brasher Doubloon, which is featured heavily in The Danger Gang and the Isle of Feral Beasts!, is a real coin that is seriously valuable. The last time it changed hands, it sold for 7.4 MILLION dollars. No wonder Ronald and his friends try so hard to get it back from the dastardly FIB.

FACT #8:

The villains in The Danger Gang and the Isle of Feral Beasts! are part of an organization called "FIB." FIB is an acronym that sounds like the FBI — the Federal Bureau of Investigation — which is the United States' biggest national law enforcement agency. But it also spells "fib," which means "to lie." So, it's no surprise that FIB is actually a branch of the infamous Liars' Club, which kidnapped Ronald's parents in The Danger Gang and the Pirates of Borneo!
FACT #9:

This is my first time working as an illustrator… sort of. Arree Chung, the author of Mixed: A Colorful Story, did the real illustrations but I did the handwriting and drawings that go in Ronald's famous adventure journal.
FACT #10:

I invented the game of Scorpion Poker, which is played in a VERY IMPORTANT scene in this book. If you play the game (with some friends or family) and send me the picture (while holding my book!), I'll send you one of these cool Danger Gang patches!
The Danger Gang and the Isle of Feral Beasts is available now from Bloomsbury Children's Books! Pick it up at your favorite bookstore or library, and while you're at it, grab a copy of the first book, Pirates of Borneo!
If you can't get enough adventure in your books, we think you'll love Charlie Hernández and the League of Shadows!