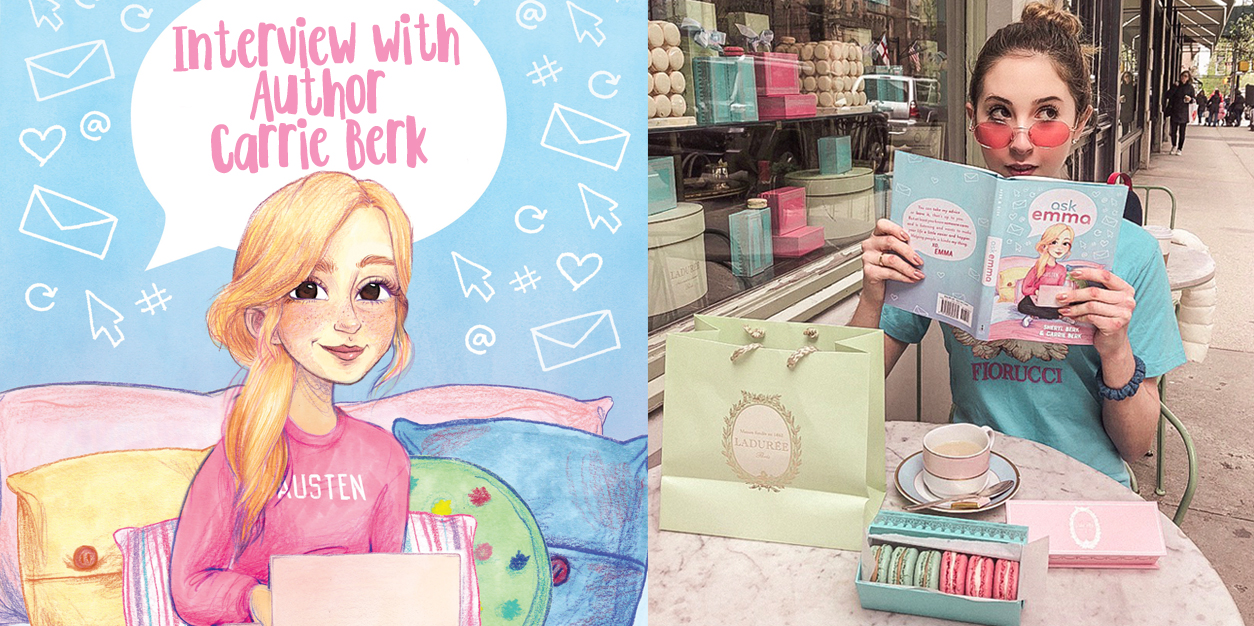 Carrie Berk Shares the Inspiration Behind Ask Emma, Overcoming Bullying, and Inspiring Others
At just 15, Carrie Berk is a lifestyle blogger, co-author of three book series, and an influencer on the rise. She has also dabbled in playwriting, modeling, dancing, singing, and acting. Ask Emma is a new series Carrie wrote alongside her mother, Sheryl Berk (best-selling author and celebrity ghostwriter) that tackles cyberbullying and middle school struggles head-on.
Channeling Carrie's personal experience with cyberbullying, her and her mom crafted a story that truly resonates with the struggles kids are facing both in-person and online today.
Emma Woods knows just how to fix all her peers' problems-or so she thinks-in this first book in the brand-new middle grade series Ask Emma, from the bestselling creators behind the Cupcake Club series!
When 13-year-old Emma Woods gets that tingling feeling in her fingertips, she knows she's on to a great idea-and starting an advice blog for her classmates at Austen Middle may be one of her most brilliant ones yet! Who better to give advice on friendship, style, school, and even crushes than someone who's going through it too?
But when Ask Emma goes live, she quickly realizes not everyone sees it that way. Suddenly, Emma is bombarded with peers asking her to help them postpone quizzes, get out of detention, and cut gym class short. This wasn't exactly what she had in mind. . . .What's worse, someone is posting hurtful comments, telling her to mind her own business. Despite her good intentions, Emma's blog seems to only be getting her-and her friends–deeper and deeper into trouble.
Will Ask Emma come to an end before it's really begun? Or can Emma find her voice, write what's in her heart, and truly stand up for what she believes in?
AUTHORS: Sheryl Berk and Carrie Berk
PUBLISHER: Yellow Jacket
DATE: May 1, 2018
Since October is National Bullying Prevention Month, we chatted with Carrie about the inspirations behind the Ask Emma series, her own experience with bullying, and how she hopes to inspire her readers!
Ask Emma – Interview with Author Carrie Berk:
Tell us a little about the Ask Emma book series! What inspired you to bring Emma's story to life?

CARRIE BERK: When I was 12-years-old, I was cyberbullied on social media. A few times, when I was feeling proud of a photo I posted on my Instagram feed, someone tried to knock me down with mean comments, writing "You're ugly" and "You're not talented" for everyone to see. Around the same time, I watched the movie Clueless for the first time with my mom. As the credits rolled, I told my mom how I really loved the film but thought it was a little outdated. In today's world, I could envision Cher as an advice blogger.

My mom loves Jane Austen's Emma (which Clueless is based on), so we decided to combine our interests into Ask Emma, about a middle school advice blogger who wants to fix her peers' problems but winds up facing online bullies. The words are written straight from my heart and soul, which is why I feel that tweens and teens can relate so much to Emma.
What three words would you use to describe Emma?

CARRIE: Fearless. Quirky. Compassionate.

Emma's story helps teach a bit about the harmful effects of cyberbullying and also includes some resources kids can turn to if they are being bullied themselves. How did you handle your own bullying experience?

CARRIE: Overcoming bullies was certainly a process–a difficult one. But the day I beat bullying was when I realized that those cruel comments had no power and could not define me. As long as I continue to stay true to myself, I believe that are many genuine people out there who will respect and appreciate me for who I am. These are the people you want to surround yourself with. Everyone else you should ignore, block and delete.
View this post on Instagram
If you had to write words of wisdom to put inside a fortune cookie, what would they be?

CARRIE: Own who you are—there's nothing more beautiful than that!

Like Emma, you also have a blog. Tell us a little about Carrie's Chronicles.

CARRIE: Carrie's Chronicles is a style empowerment website that celebrates unapologetic individuality. I hope that the articles I write inspire others to embrace their uniqueness through fashion, beauty, food, fitness, and more. As someone who was called out in middle school for having a fashion sense that is "too out there," I've come to realize that my style is my superpower. Embracing what makes you you is what will help you soar.

In addition to your blog and the books you co-author with your mom, you're also a contributing writer to Girls Life. What challenges have you faced as such a young writer?

CARRIE: People often doubt my writing skills because of my age, and that's often caused me to doubt myself. I am so lucky to have my mom by my side to constantly lift me up and make me feel like I have boundless potential. She is my biggest cheerleader as well as an incredible writing coach, and I'm so grateful to have her in my life.

What inspires your best ideas? Do you have a writing routine you like to follow?

CARRIE: There's no specific strategy for how I draw inspiration. Some days, I'm just walking down the street and an idea screams at me. But I do recommend that if inspiration hits, even if it's in your sleep (this especially happens to me), jot it down immediately before you forget it. Additionally, if you ever find yourself with writer's block, don't force the words on the page. The best writing is true writing, so as long as you are patient, ideas will eventually come to you.
View this post on Instagram
With so many amazing opportunities, you must be super busy! How do you strike a balance between school, work, and your personal life?

CARRIE: I balance work in the nooks and crannies of my daily life. For example, at a free period at school or in the back of a taxi, I'm writing my next blog post! In terms of my personal life, I'm so lucky to have a group of great friends that cheer me on and attend all the events I do for Carrie's Chronicles to show their support.

Speaking of your personal life – what are some things you like to do for fun?

CARRIE: I've been dancing for 14 years and I can't seem to give it up. There's something about doing a pirouette or leaping across the floor that makes me feel free. I've also started to become quite the frequent boxer; with all the stress of being a junior in high school, it feels amazing to punch a bag!

What advice would you like to share with your readers and fans?

CARRIE: Don't let anyone tell you how to do you. Always remember that what makes you different is what makes you beautiful!
Ask Emma is available now at your favorite bookstore or library, and there's more on the way! The second book in the series, titled Frenemies, releases this January from Yellow Jacket.
Looking for more great reads? Check out our latest YAYBOOKS! Roundup for even more books to add to your collection!