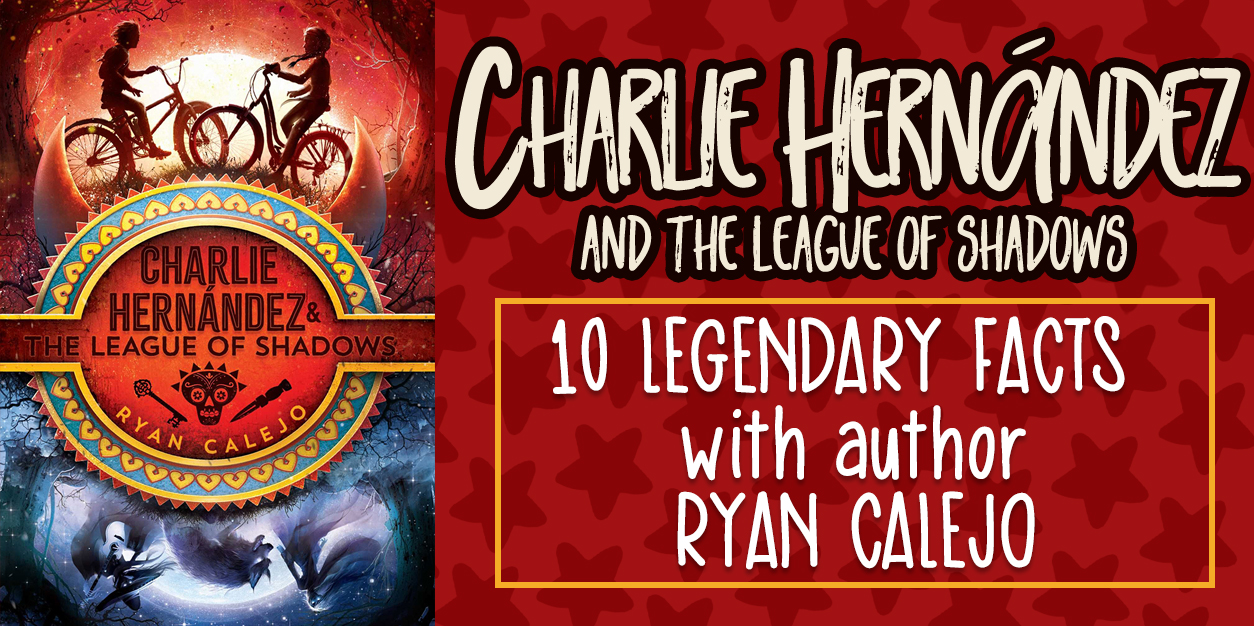 10 Legendary Facts About Charlie Hernández and the League of Shadows with Author Ryan Calejo
What would you do if you started sprouting horns and feathers? Charlie Hernández is about to find out and come face to face with the biggest adventure of his life! If you're someone who likes your fantasy adventures steeped in mythology, diversity, and magic like the Percy Jackson and Aru Shah series, then you'll absolutely LOVE Charlie Hernández and the League of Shadows by Ryan Calejo. This fast-paced, mysterious story is full of excitement, humor, and is inspired by iconic Hispanic folklore, myths, and legends that have been passed down for generations.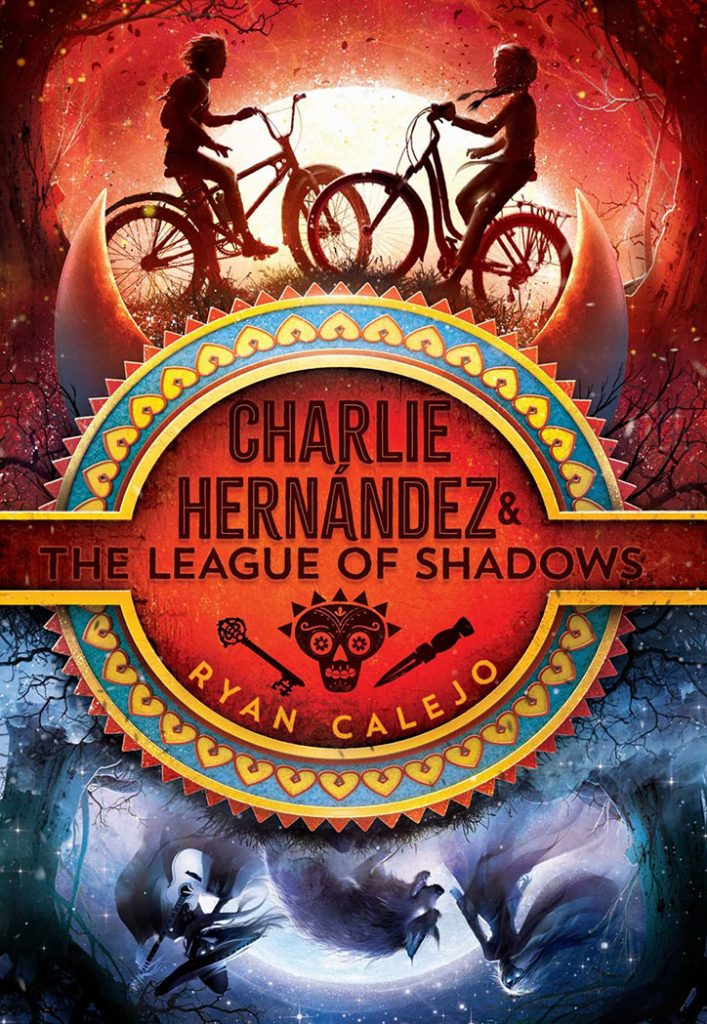 The Lightning Thief meets the Story Thieves series in this middle grade fantasy inspired by Hispanic folklore, legends, and myths from the Iberian Peninsula and Central and South America.
Charlie Hernández has always been proud of his Latin American heritage. He loves the culture, the art, and especially the myths. Thanks to his abuela's stories, Charlie possesses an almost encyclopedic knowledge of the monsters and ghouls who have spent the last five hundred years haunting the imaginations of children all across the Iberian Peninsula, as well as Central and South America. And even though his grandmother sometimes hinted that the tales might be more than mere myth, Charlie's always been a pragmatist. Even barely out of diapers, he knew the stories were just make-believe—nothing more than intricately woven fables meant to keep little kids from misbehaving.
But when Charlie begins to experience freaky bodily manifestations—ones all too similar to those described by his grandma in his favorite legend—he is suddenly swept up in a world where the mythical beings he's spent his entire life hearing about seem to be walking straight out of the pages of Hispanic folklore and into his life. And even stranger, they seem to know more about him than he knows about himself.
Soon, Charlie finds himself in the middle of an ancient battle between La Liga, a secret society of legendary mythological beings sworn to protect the Land of the Living, and La Mano Negra (a.k.a. the Black Hand), a cabal of evil spirits determined to rule mankind. With only the help of his lifelong crush, Violet Rey, and his grandmother's stories to guide him, Charlie must navigate a world where monsters and brujas rule and things he couldn't possibly imagine go bump in the night. That is, if he has any hope of discovering what's happening to him and saving his missing parents (oh, and maybe even the world).
No pressure, muchacho.
AUTHOR: Ryan Calejo
PUBLISHER: Aladdin
DATE: October 23, 2018
The book hits shelves on October 23rd from Aladdin, but in honor of Hispanic Heritage Month, author Ryan Calejo is giving YAYOMG! readers an early peek into the story. Read on as he shares 10 Legendary Facts about Charlie Hernández and the League of Shadows as well as the Hispanic culture and legends that inspired him to write the story.
10 Legendary Facts About Charlie Hernández and the League of Shadows with Author Ryan Calejo:
FACT #1:

Charlie Hernández and the League of Shadows is set in Miami, Florida. Miami is often called "the capital of Latin America," and I honestly can't think of a better place to play host to some of the coolest and spookiest mythological creatures/beings from all over the Spanish-speaking world! Plus, it's my hometown, so YAY!

FACT #2:

My abuelas taught me all the same myths and legends that Charlie's abuela taught him! Well, maybe not that many—but it's close! In Hispanic and Latino cultures, abuelas (that's Spanish for grandmothers) play a HUGE role in the lives of their grandchildren, which is why I wanted Charlie's abuela to play a big role in his.

FACT #3:

Spanish was my first language. And it's awesome! Which is why I included some in the book. Can't read Spanish? No worries . . . all the Spanish is easy to understand, and the best part is you'll be speaking Spanglish in no time!
FACT #4:

Violet Rey, Charlie's lifelong crush and the other half of our dynamic mystery-solving duo, is not only the editor in chief of their school's newspaper and an investigative journalist with detective skills on par with Sherlock Holmes. She's also a bicycle aficionado! Take a peek at my personal bike collection above. (J/K – that's the showroom of SOMI Bike—my favorite bicycle shop.)
FACT #5:

Like Charlie, I'm a sucker for traditional Hispanic/Latin cuisine. One of my favorite dishes is called Ropa Vieja, which translates into old clothes. (Don't worry—it's shredded beef, not the chef's ratty t-shirt.) And it's the national dish of Cuba!
FACT #6 :

Charlie's the lead guitarist in a Latin rock band! Latin rock has always been one of my favorite genres of music, because it puts a modern twist on the traditional Latin sounds and rhythms. Sort of like what I tried to do in this story.

FACT #7:

Legendary characters and mythological creatures from over seventeen different Hispanic/Latin countries appear in the book!
FACT # 8:

My dog helped inspire the description of one of the characters. Bet you can't guess which one! (Hint: the character's name is an anagram of ANJU.)

FACT #9 :

If you're ever walking near a river or a stream at night and hear someone weeping—RUN!!! One of the scariest and most popular mythological beings in the book is La Llorona, which is Spanish for the Weeping Woman. She's been haunting Central America since the early 1500's, but don't let her age fool you—she can really move when she has to!
FACT #10 :

The legend of El Cadejo is one of my all time favorites! El Cadejo is sort of a guardian angel that takes the form of an enormous white dog. It protects children and lost travelers.
Want to meet the author and learn even more about the story? Ryan Calejo will be at the following events, meeting fans, signing books, and giving an even closer look at Charlie Hernández.
10/13 – Tweens Read, Houston, TX
10/27 – Texas Book Festival, Austin, TX
11/17 – Miami Book Fair, Miami, FL
Looking for even more books to add to your shelf? Here are all the brand new books and graphic novels releasing this month!