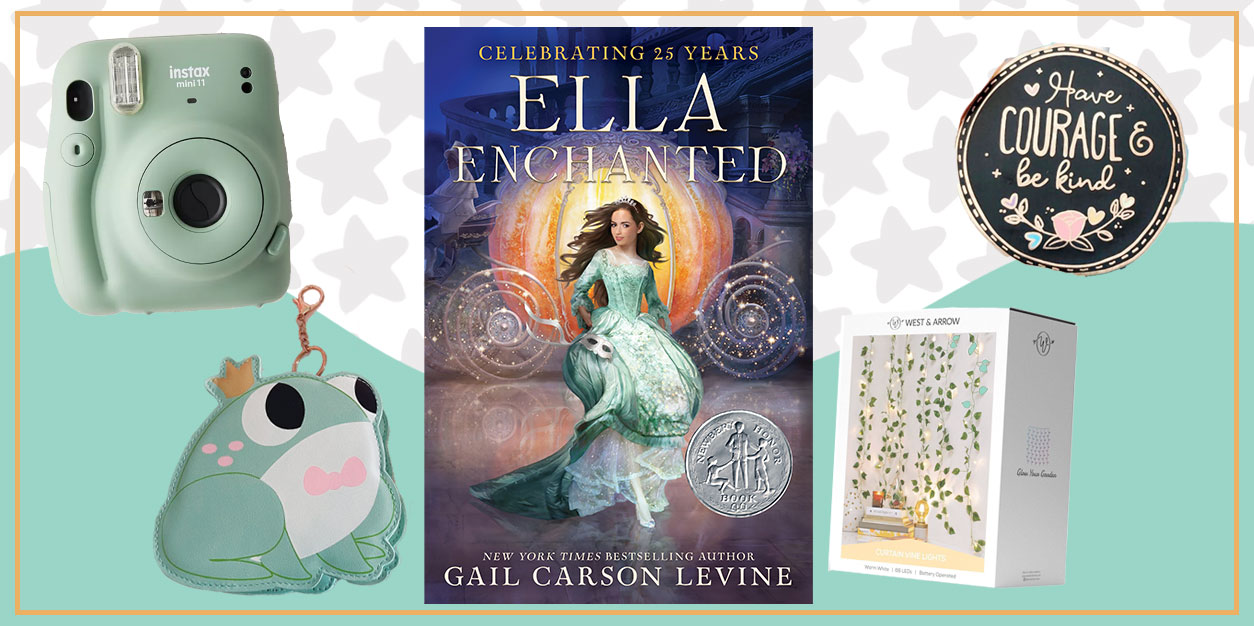 Break the Curse and Celebrate the 25th Anniversary of Ella Enchanted + GIVEAWAY!
NOTE: This post is sponsored by HarperCollins.
Ella Enchanted is celebrating its 25th anniversary, and we couldn't be more excited to honor Gail Carson Levine's iconic (and totally fierce) retelling of Cinderella with a seriously enchanting giveaway!
Whether your copy of Ella Enchanted is worn around the edges or you're about to crack open this spirited fairytale for the very first time, let us dish the deets you need to know:
When Ella is born in the land of Kyrria, she receives a visitor – a well-meaning fairy named Lucinda who blesses her with the gift of obedience. Anything that Ella is told to do, she must obey – even if it's dangerous or something she doesn't agree with. As she grows up under the protection of her mother, things aren't so bad. Her "gift" is more of an inconvenience than anything, but after her mother passes away and her dad sends her to finishing school with her soon-to-be evil stepsisters, Hattie and Olive, Ella realizes the true burden of the curse and is determined to break it.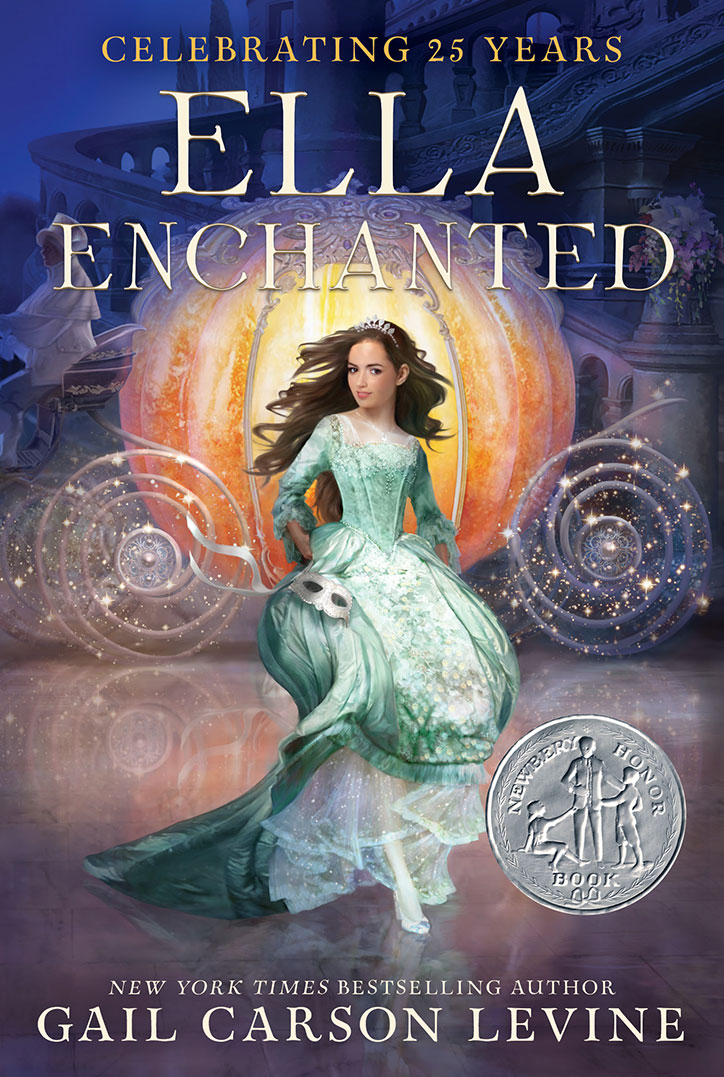 This beloved Newbery Honor-winning story about a feisty heroine is sure to enchant readers new and old.
At her birth, Ella of Frell receives a foolish fairy's gift—the "gift" of obedience. Ella must obey any order, whether it's to hop on one foot for a day and a half, or to chop off her own head! But strong-willed Ella does not accept her fate…
Against a bold backdrop of princes, ogres, giants, wicked stepsisters, and fairy godmothers, Ella goes on a quest to break the curse forever.
A tween favorite for 25 years—now shared with today's young readers by moms, teachers, and other adults who remember the pleasure of discovering this fun fairy-tale retelling themselves!
Ella Enchanted (25th Anniversary Edition)
AUTHOR: Gail Carson Levine
PUBLISHER: Quill Tree Books
DATE: June 21, 2022 (Originally Published July 16, 1998)
Despite the enchantment, Ella has never really been the obedient type. She's feisty and ambitious, a smart girl determined to forge her own path in life. After Hattie and Olive learn they can control Ella, they start using it to their advantage, taking her beloved necklace, depriving her of food, and forcing her to ditch her only friend. In need of a way out, Ella runs away from school and sets out on a journey to find Lucinda and ask her to reverse the spell – but when Lucinda doesn't help her, she has to find another way.
Ella's journey is filled with swoon-worthy princes, friendly elves, hungry ogres, and glass slippers, but it's no ordinary fairytale. As Ella fights to break the curse and falls in love with Char, she truly discovers her confidence and her voice, and once her happily ever after is threatened, she takes a stand that changes everything forever.
If you love your fictional heroines sassy and independent and your fairytale endings with a twist – Ella Enchanted should def be at the top of your TBR this summer. This classic story is turning 25 and we've teamed up with our besties at HarperCollins for a giveaway that will inspire all your own enchanted adventures!
Ella Enchanted Giveaway: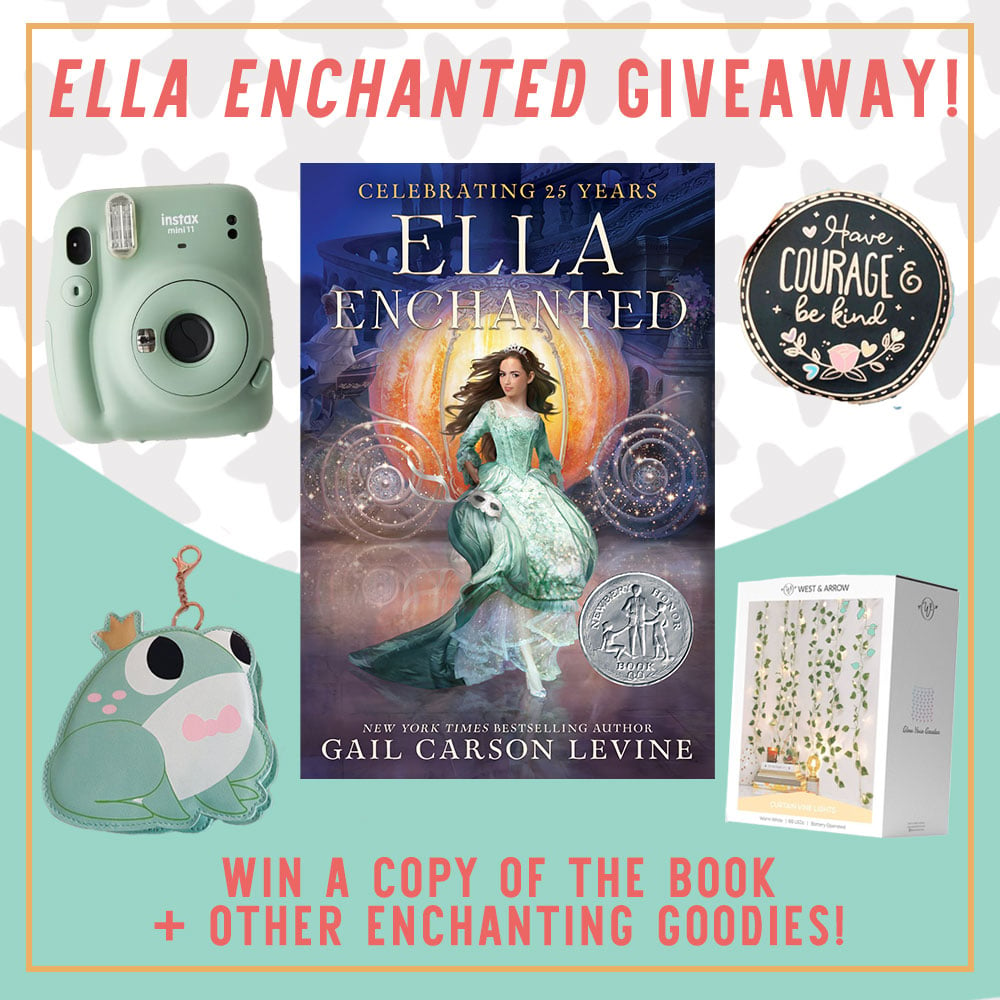 WHAT DO I WIN?:
ONE lucky winner will receive an Ella Enchanted Prize Pack that includes:
– ONE (1) copy of Ella Enchanted (25th Anniversary Edition) by Gail Carson Levine
– ONE (1) Instax Mini 11 (Sage) from Fujifilm
– ONE (1) set of Cascading Vine String Lights from West & Arrow
– ONE (1) Frog Prince Coin Purse
– ONE (1) Have Courage & Be Kind Enamel Pin
*Prizes provided by HarperCollins & YAYOMG!
HOW DO I ENTER?:
Grab a parent or guardian and have them fill out the form below by December 16, 2022 at 11:59pm ET.
Giveaway runs from 06/21/22 at 10:00 am ET through 12/16/22 at 11:59 pm. Open to US residents ONLY. Be sure to read the fully detailed rules HERE before entering.
THIS GIVEAWAY HAS ENDED AND THE WINNER HAS BEEN CONTACTED.
You must be 18 or older to enter. Please, only ONE entry per person. If selected as a winner, we will provide your parent/guardian with an affidavit to confirm that you are a valid winner who has permission to win. They will be REQUIRED to sign and return the affidavit to YAYOMG! to claim your prize. Prizes will not be mailed out without signed parental consent.
Ready for an enchanting fairytale adventure? The 25th-anniversary edition of Ella Enchanted is out now from HarperCollins!