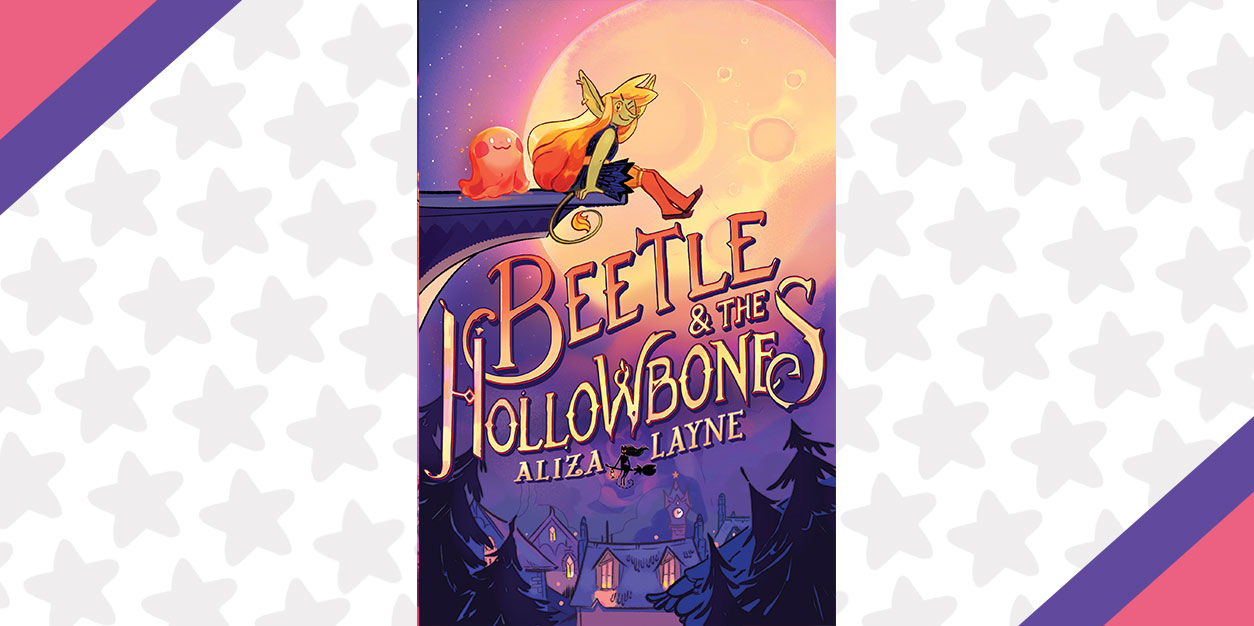 Explore the Magical World of Beetle and the Hollowbones With These Fun Facts
What do you get when you mix teen feels and mall hangs with sorcery, ghosties, and eerie vibes? The cozy and enchanting world of Beetle and the Hollowbones!
Beetle is a homeschooled goblin studying magic under her grandmother, but she often pushes her studies aside for other things. She would rather focus on watching anime and trying to figure out why her BFF Blob Ghost is forced to haunt the mall. When her old friend Kat comes back to town, Beetle begins feels a little insecure. Kat is effortlessly cool, super pretty, and amazing at magic – all the things Beetle wishes she could be. When Beetle discovers that Kat's aunt has a nefarious plan to destroy the mall, she'll do anything to rescue Blob Ghost – including pushing herself to perfect the magic skills she's been ignoring.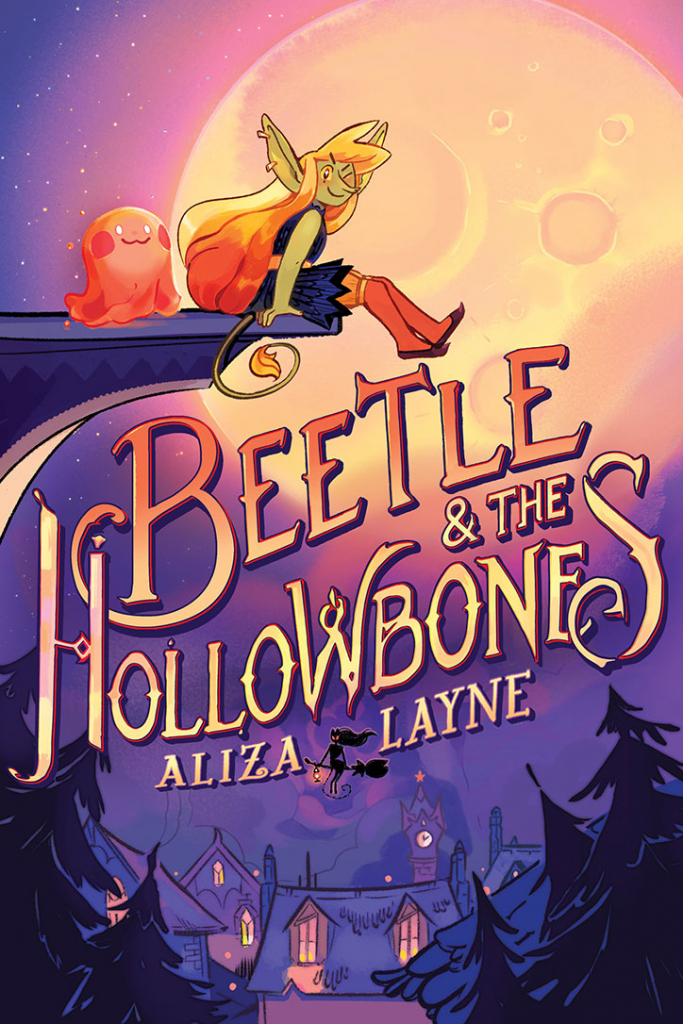 An enchanting, riotous, and playfully illustrated debut graphic novel following a young goblin trying to save her best friend from the haunted mall—perfect for fans of Steven Universe and Adventure Time.
In the eerie town of 'Allows, some people get to be magical sorceresses, while other people have their spirits trapped in the mall for all ghastly eternity.
Then there's twelve-year-old goblin-witch Beetle, who's caught in between. She'd rather skip being homeschooled completely and spend time with her best friend, Blob Ghost. But the mall is getting boring, and B.G. is cursed to haunt it, tethered there by some unseen force. And now Beetle's old best friend, Kat, is back in town for a sorcery apprenticeship with her Aunt Hollowbone. Kat is everything Beetle wants to be: beautiful, cool, great at magic, and kind of famous online. Beetle's quickly being left in the dust.
But Kat's mentor has set her own vile scheme in motion. If Blob Ghost doesn't escape the mall soon, their afterlife might be coming to a very sticky end. Now, Beetle has less than a week to rescue her best ghost, encourage Kat to stand up for herself, and confront the magic she's been avoiding for far too long. And hopefully ride a broom without crashing.
Beetle and the Hollowbones
AUTHOR: Aliza Layne
PUBLISHER: Atheneum Books for Young Readers
DATE: August 4, 2020
This supernatural graphic novel perfectly blends magical fantasy and reality into a soft story about friendship and growing up. Every page is beautifully illustrated, and the colors give every page a dreamy feel, like the glow of the moon on Halloween night.
We're so excited to share that author Aliza Layne is taking you beyond the pages of Beetle and the Hollowbones and dishing out 5 fun facts about the book!
Author Aliza Layne Shares 5 Fun Facts About Beetle & The Hollowbones:
Bloody Origins:

This book isn't the first story where Beetle and friends have appeared! They originally showed up in a short comic I wrote back in 2014, except Blob Ghost was Blood Ghost back then and Beetle's name was just Goblin Witch!

Originally, I had an idea that goblins don't use their names except in very special circumstances, but that just didn't work for a long book. But there IS still a goblin whose true name is a secret…!
Goblins Everywhere

Speaking of Goblins, did you know you can find comparable folklore to the goblin all over the world? From the Wôpanâak Puk-Wudjie to the Bolivian Muki to the South Korean Dokkaebi! Beetle's pages are full of creatures from around the world too, but one notable example is Mrs. Gashadokuro, who is herself a gashadokuro, a Japanese yōkai. Our world is full of fun and interesting stories about monsters! You should look some up for yourself!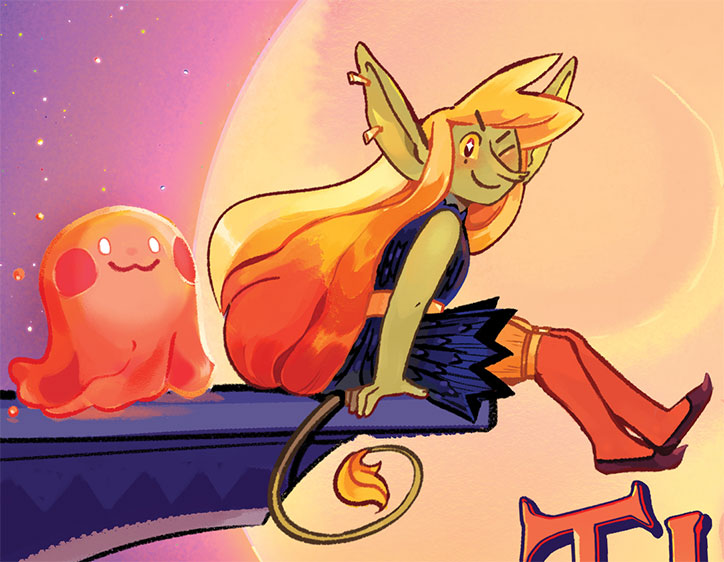 Rustling Leaves:

The nature in 'Allows is based on my hometown on the east coast of the United States! I wanted to fill 'Allows with the feeling of early fall, the still-hot time of year as we approach true fall. Of course there are pumpkin patches to go to, but there are also ripe red rosehips (the fruit of a rose bush!), black walnuts on the ground that burst when you step on them, late corn, maple seed pods (helicopters!), spiky sweet gum balls and other weird seed pods, and dusty weird little apples with crinkly leaves. So much of the story takes place inside, so I wanted the outdoors to feel both magical and real!
Masquerade Book

A bunch of the background characters in Beetle and the Hollowbones are my friends in their Halloween costumes! I asked a bunch of my friends what they wanted to be for Halloween. For example, look out for a clown frog, a Dracula mouse, a ghost chicken, a snail mom and a giant purple moth!
Spider Desires:

At Beetle's house, her family has a cat-sized spider as a pet. This has been a dream of mine for my whole life! My parents let me have two snakes when I was a kid, but they drew the line at getting a tarantula. Now that I'm thinking about this, I should probably look into getting a pet tarantula, huh?
Despite the spooky vibes, Beetle's relatable adventure won't give you nightmares. It's filled with lots of laughs, pop culture references, and life lessons that'll have you begging for a sequel! Want a peek inside the story? Check out the preview pages above! (Click the images to get closer look.)
In the mood for even more stories featuring amazing girls with awesome abilities? We think you'll love Primer, a brand new superhero with paint based powers!