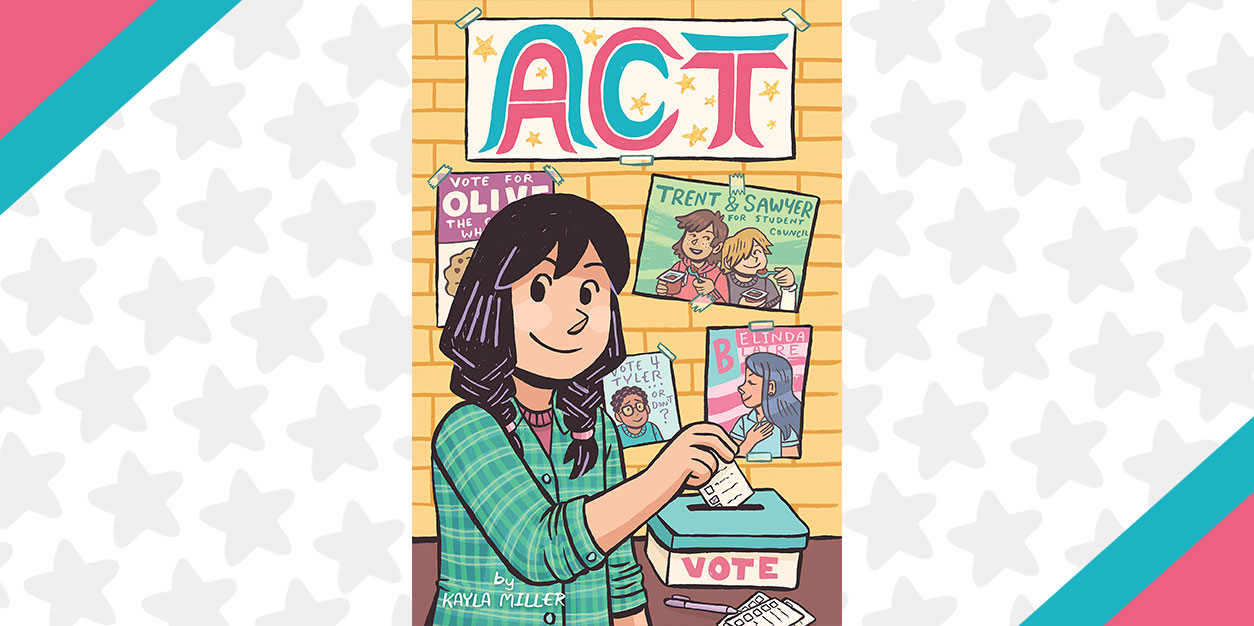 Kayla Miller Shares 5 Fun Facts About ACT + GIVEAWAY!
NOTE: We teamed up with Kayla Miller for this ACT Signed Book Giveaway. All opinions are our own; we were under no obligation to give a positive review. Giveaway prize provided by Kayla Miller.
The third book in the CLICK series has finally arrived! In ACT, Olive is excited about the upcoming school field trip. What could be better making memories in the city and seeing a play surrounded by all your friends and classmates?
But, when they return to school the next day, Olive discovers that some of the students weren't allowed to go on the trip due to an unfair school policy. This injustice empowers her to bring attention to the issue, research peaceful protests throughout history, and run for student council! Olive may be just one voice, but that doesn't stop her from standing up for what's right!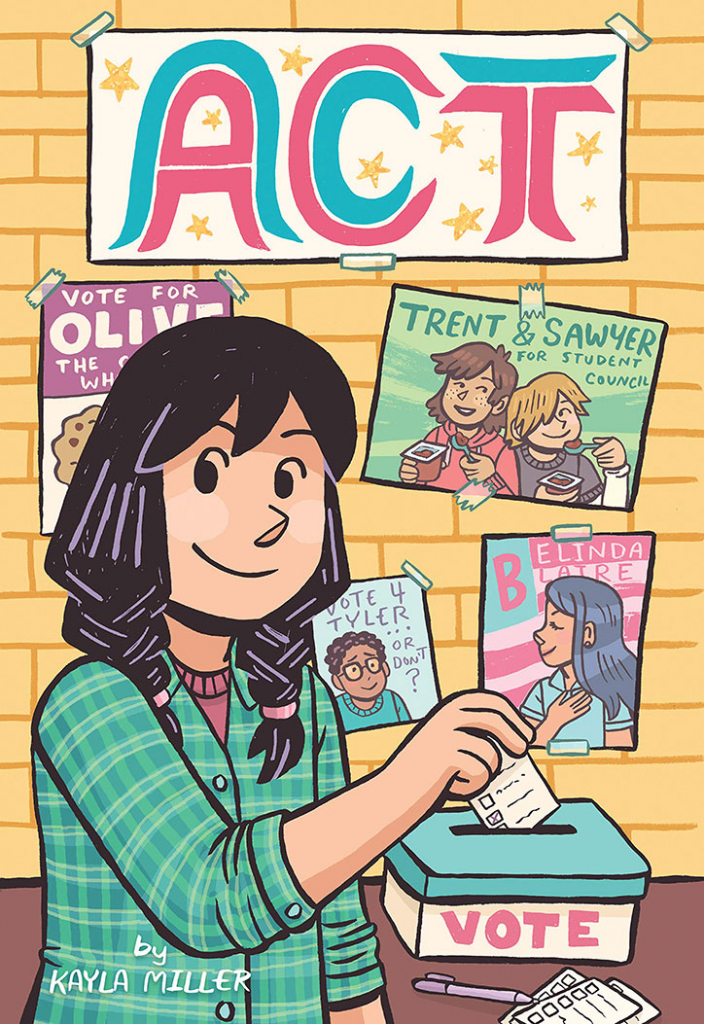 Act is the funny and honest follow-up to the middle school graphic novel sensations Click and Camp. Perfect for fans of Raina Telgemeier, Shannon Hale, and Victoria Jamieson.
How do you know when the person who can make the difference . . . is you?
Olive is excited to start sixth grade: new teachers, new experiences, and a field trip to the big city with her best buds!
But when Olive finds out that a school policy is keeping some kids from going on the trip, she decides to act. She's prepared to do whatever it takes to be heard—even if it means running against Trent and Sawyer, two of her closest friends, in the student council election! With intense campaign competition and emotions running high, can Olive make a big change and keep her friends?
New York Times bestselling author-illustrator Kayla Miller crafts a genuine and inspiring story about evolving friendships, supportive family, and finding out that you—yes, you—have the power to make a difference.
ACT
AUTHOR: Kayla Miller
PUBLISHER: HMH Books for Young Readers
DATE: July 21, 2020
As Olive tries paving the way for change at school, she'll also have to juggle the stress of campaigning against two of her close friends and the confusing feelings that come along when your BFF has their first crush. The CLICK graphic novels are always such relatable stories about friendship, family, and growing up, but we love how ACT reminds kids that their voice, no matter how small, can make a difference! At this moment in history, more kids than ever before are getting involved around the globe, doing their part to change the world. Olive's story proves that change can start within your own community or classroom!
Author Kayla Miller is taking readers beyond the panels with these 5 Fun Facts About ACT! Plus, enter to WIN an autographed hardcover copy of the book!
Kayla Miller Shares 5 Fun Facts About ACT: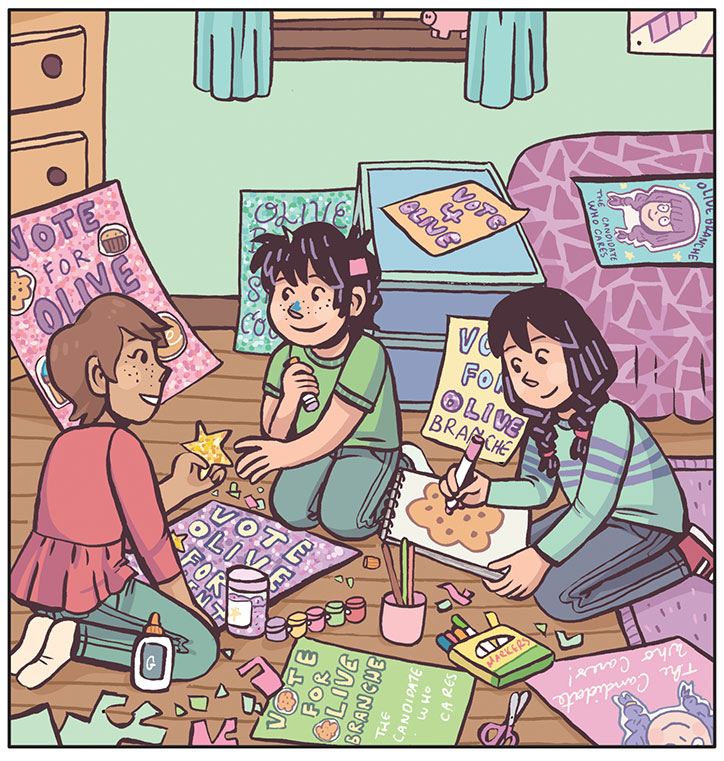 FACT #1:

I ran for class president when I was in 4th grade, and some elements of the election at Olive's school are based on that experience.

That year, I also got into protesting what I considered to be injustices at my school. I was very against the fact that my school had us run a lap down to the end of the driveway and back before letting us into the cafeteria for lunch; the kids who ran the fastest would get the best slices on pizza day!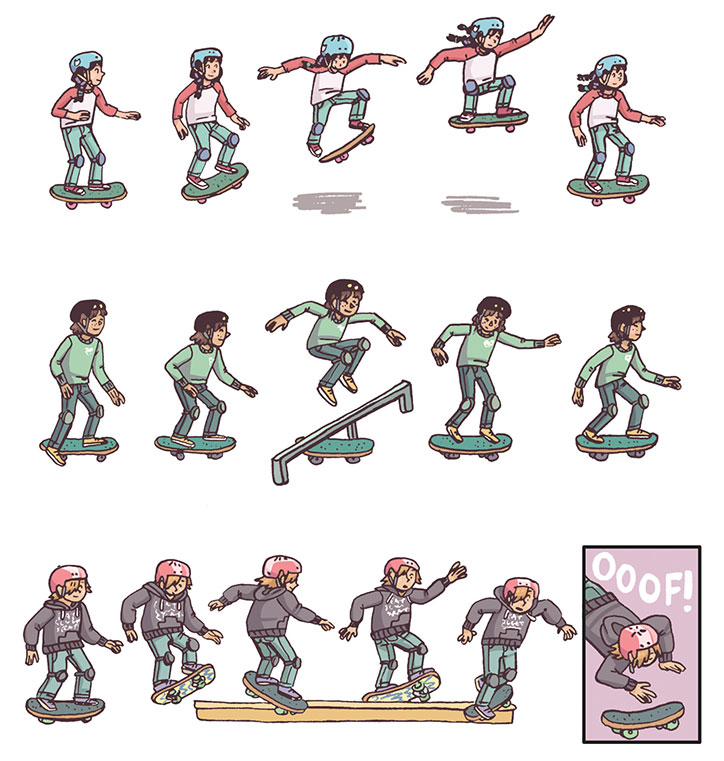 FACT #2:

Olive, Trent, and Sawyer love to go skateboarding together. I used to skate as a kid, but we didn't have a skatepark in my town so I never learned many tricks. When I'm drawing skateboarding scenes I watch a lot of skateboarding tutorial videos on the internet so I can understand how the tricks work and draw them accurately. I did the same thing when I was drawing the scenes of Willow learning to play the drums in CAMP.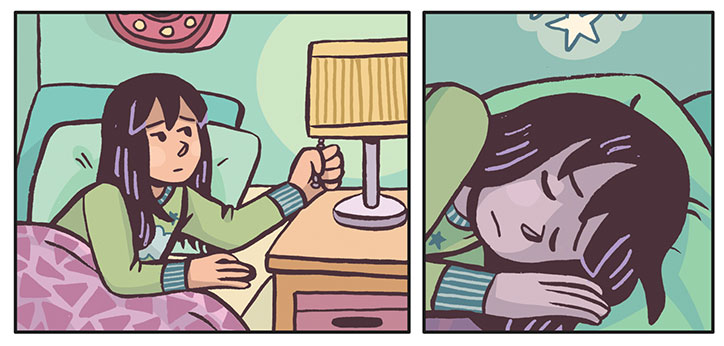 FACT #3:

In all of the books in the CLICK series, Olive has dreams and nightmares that help her sort through her feelings about what's going on around her. I've always had really vivid dreams, and while they don't always have deep meanings, I think dreams are really interesting!

These are some of my favorite pages to draw because they're so different from the rest of the book, and I get to show the emotions Olive is feeling in heightened and creative ways.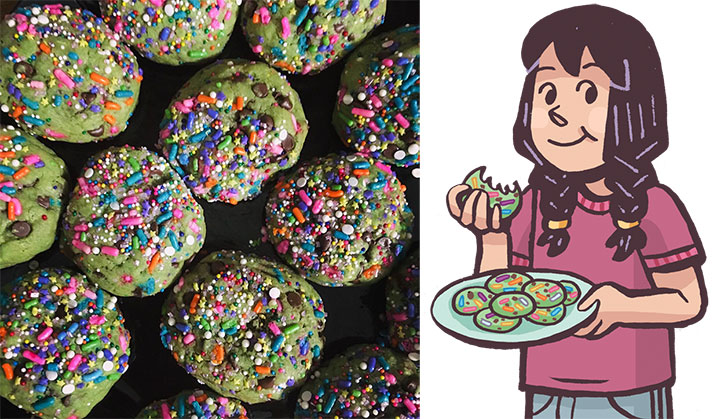 FACT #4:

The cookie recipe in ACT is the first recipe I've ever created on my own. It took some experimentation to figure out how much of each ingredient to add and how long to leave them in the oven. My partner keeps asking me to bake more, so I think I did an okay job. I'm excited to see the results when readers try them out!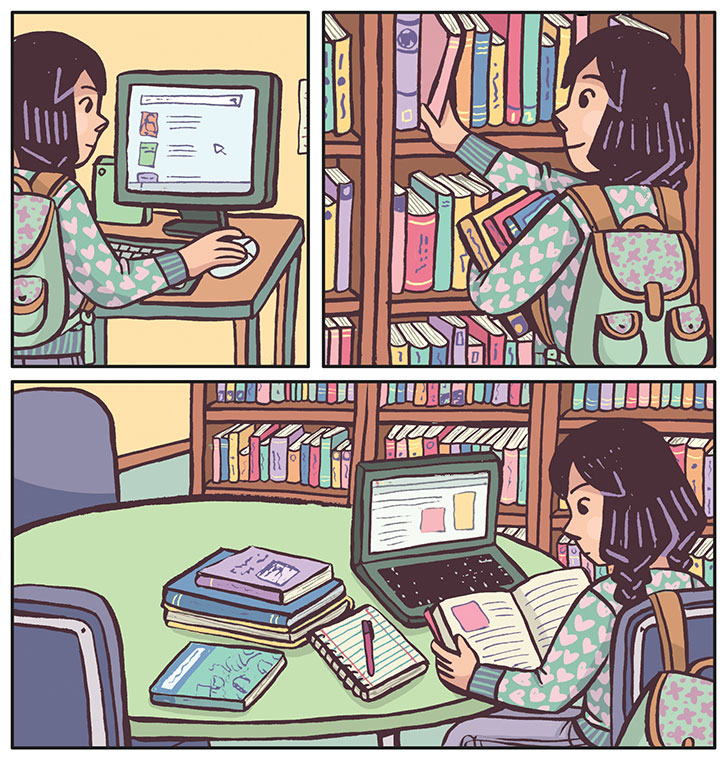 FACT #5:

As I mentioned before, I do visual research when I'm drawing the books, but ACT was the first book where I read as research. I read quite a few books about protests through history and specifically about how kids have been involved in social and political movements. Some of the events I read about were close to home and had happened in my lifetime, some I'd learned about in school, and some of them were completely new to me.

I hope that if anyone is inspired by Olive's story in ACT that they'll take the time to read about how real kids around the world bring attention to the issues that are important to them and inspire change in their communities.
ACT Signed Book Giveaway: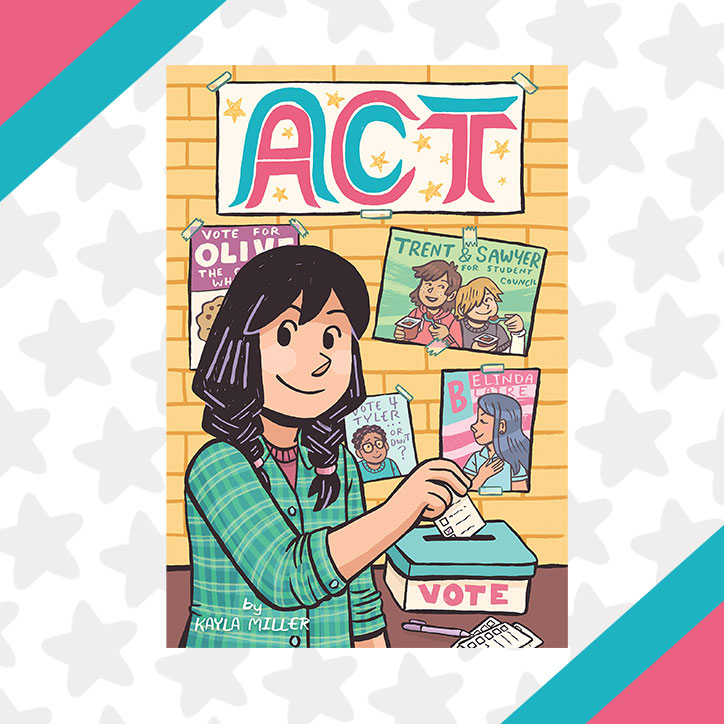 WHAT DO I WIN?:
ONE (1) lucky winner will receive a SIGNED hardcover copy of ACT, generously provided by Kayla Miller.
HOW DO I ENTER?:
Grab a parent or guardian and have them fill out the form below by August 04, 2020 at 11:59pm ET.
Giveaway runs from 07/21/20 at 12:00 pm ET through 08/04/20 at 11:59 pm. Open to US residents ONLY. Be sure to read the fully detailed rules HERE before entering.
THIS GIVEAWAY HAS ENDED AND THE WINNER HAS BEEN CONTACTED.
You must be 18 or older to enter. Please, only ONE entry per person. If selected as a winner, we will provide your parent/guardian with an affidavit to confirm that you are a valid winner who has permission to win. They will be REQUIRED to sign and return the affidavit to YAYOMG! to claim your prize. Prizes will not be mailed out without signed parental consent.
Inspired by Olive's girl power? Get to know the cast of The Baby-Sitters Club as they dish on activism and share secrets about the series!