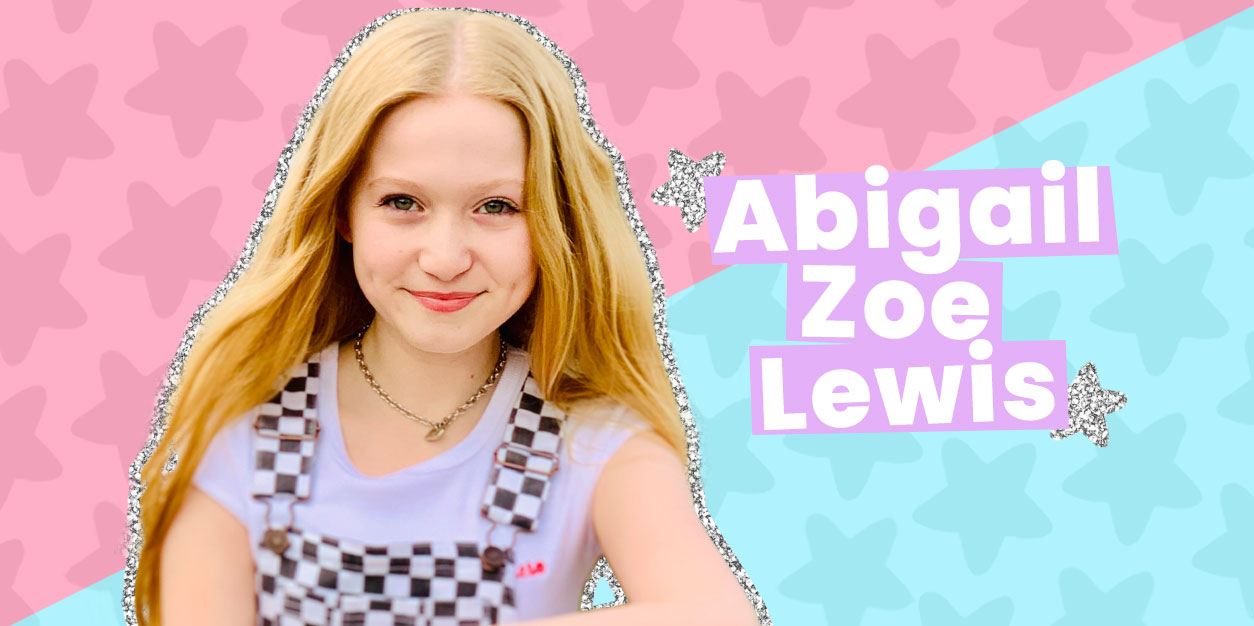 Shimmering Star Spotlight: Abigail Zoe Lewis
Each month YAYOMG! selects a Shimmering Star to spotlight. Follow along as we shine a light on girls who represent kindness, positivity, empowerment, philanthropy, drive, and confidence. They're sure to inspire you!
August is here, which means it's time to announce our newest Shimmering Star – Abigail Zoe Lewis! Before you say goodbye to summer and get back into your school routine, kick back, relax, and get to know this vibrant actress, singer, and influencer!
You might recognize Abigail from her sunny social media posts or as the voice of Dallas on 101 Dalmation Street, which you can catch on Disney+. Aside from acting, Abigail is also a talented musician who's on the verge of releasing her very first cover and is hard at work writing her own original music as well.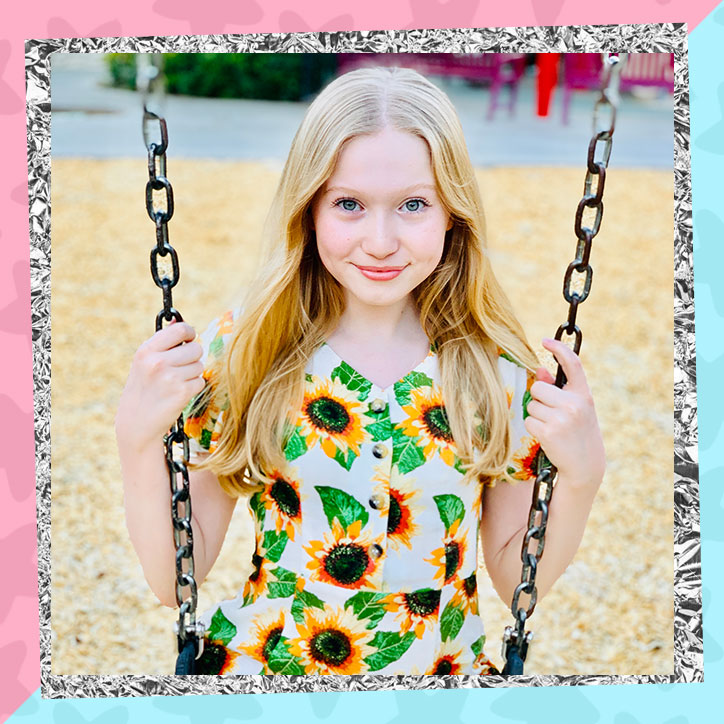 Abigail has a tremendously kind heart and is passionate about spreading kindness and empowering others to make the world a better place. She is an ambassador for multiple charity organizations including The Joyful Child, Dance Hope Cure, and B.A.R.E.
Get to know Abigail Zoe Lewis as she opens up about her love of acting, spreading positivity, and all the new music she has in the works!
Get to Know Abigail Zoe Lewis: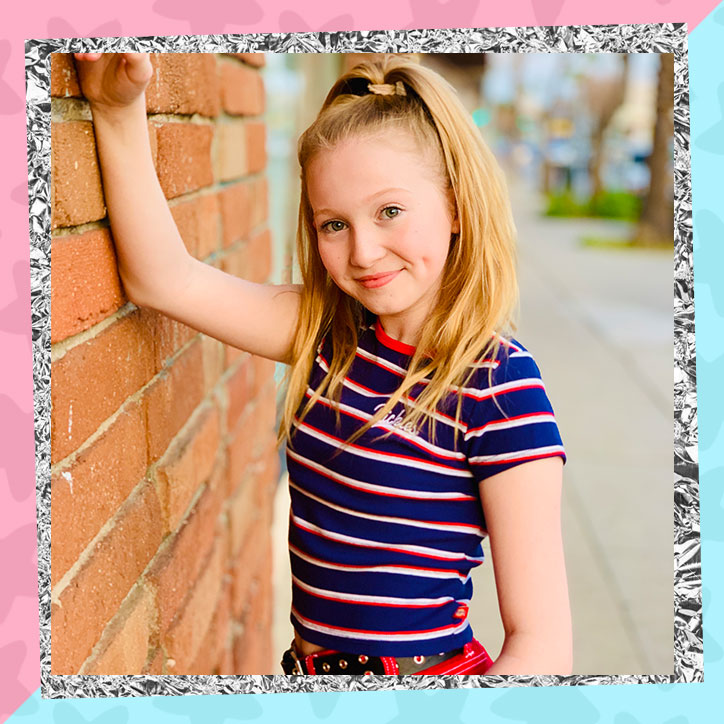 Tell us a little bit about YOU!

ABIGAIL ZOE LEWIS: What's most important to me is people. I love being with others, sharing positivity, and helping others.

I love acting, singing, dancing, music, animals and reptiles, volunteering, writing original music, playing the guitar, piano, ukulele, and having fun. I love to film TikToks, hike, play with makeup, crafts, drawing, and have new experiences. I'd love to learn how to ride a skateboard and surf, too! I also received a black belt in Taekwondo when I was 7 years old.
What do you love most about acting?

ABIGAIL: Craft services! LOL. Actually, the food is really great on set and generally a scrumptious buffet!

Seriously, I love bringing characters to life whether they are real or fictitious (as in animation). I have often played characters very different from me that have challenged me to grow not only as an actor but a person. In short, I actually love everything about acting from getting the audition, the opportunity to read and analyze awesome scripts, the audition process, booking the job (if I'm very lucky), and interacting with amazingly talented people from fellow actors to the producers and creators.

Every part of it is truly an honor from beginning to end, and I can't imagine acting not part of my life (which I've been doing professionally since I was four years old).
You've got some music in the works! What can you share about your upcoming songs?

ABIGAIL: I just recorded my first cover song, which is Sabrina Carpenter's Can't Blame A Girl For Trying. My dad actually recorded me in his home studio, which was a lot of fun! My part was the easiest – I just sang the song a few times, and then my dad and his very talented friend mixed and mastered it. We plan to do a music video for it and I can't wait!

I am also working on several other covers of my favorite songs and have an original song coming out next month called, Boomerang Boy. It's about a boy that likes me and then doesn't like me and then likes me again. It's this cycle over and over again. I don't want to give away the ending, but I'll just say that I feel for me I made the right decision. Sometimes it's so hard to know what choice to make – particularly in the moment. Can you guess what decision I made for myself in the song?

I'm also super excited because I currently have several other original songs in the works and an amazing producer and director working with me to make this such an exciting and fulfilling project. I feel extraordinarily blessed to have a team I trust behind me that is helping with my vision, and also inspiring me to grow further as both an artist and human being.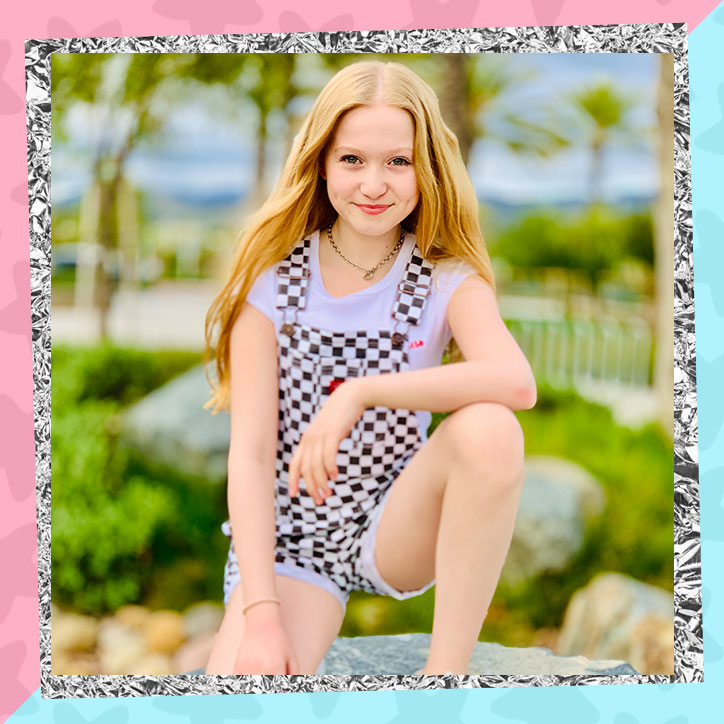 We hear you LOVE animals! Tell us all about your pets!

ABIGAIL: I have two rescue dogs. One is a labrador retriever mix named Jess, and he probably is one of the smartest dogs I have ever known. He jumps through hoops, jumps chair to chair, rolls over, plays dead, crawls, etc. My other dog is a Chihuahua terrier mix named Bailey. She's about 10 pounds, so sweet, a bit shy but wonderfully fun.

I also have two reptiles. One is a bearded dragon named Blue. I call him "the Ladies Man" because he's super friendly, docile, and loves to cuddle. I also have a leopard gecko that is just so adorable. He has a kind of unique happy face marking on his back.
How do you shine bright?

ABIGAIL: I think this is a very beautiful question, thank you for asking. I'd like to think I shine the brightest when I'm with people I love and/or respect me, and when I'm working on a project, be it an acting job, writing or producing a song, volunteering. Basically, I feel I'm shining the brightest when I'm celebrating the joy, wonder, and creative process of what life has to offer!
The women who inspire me are…

ABIGAIL: Wow…there are so many women that inspire me. My mom, she inspires with unconditional love and by believing in me.

Adelaine Morin also inspires me because she always spreads happiness and positivity and has a campaign for girls supporting girls. She always likes to make people happy and is uplifting.
I am most passionate about…

ABIGAIL: People. Life. Joy. Acting. Music. Singing. Volunteering. Acceptance. Tolerance. Each day I try to think and reflect upon what is the best way I can help others and this world. To me, this does not only mean working hard to be the best actor, singer, dancer, or whatever I am passionate about – but it also means being a role model to others, specifically to young people like myself.

Personally, I am a very happy and positive person by nature, and so I believe that by spreading positive vibes, inspiring others with positive, healthy loving messages through this journey called life, I have something greater than myself to contribute. My parents have taught me that laughter and a good sense of humor are both important in good times and rough times (especially with the way the world is right now with the COVID-19 pandemic and recent social challenges).

I also believe that wherever we are in life, we can make a difference to ourselves, others, and to this magnificent world that both deserves and needs our love and respect. That's why on my social media platforms I choose to focus on positivity.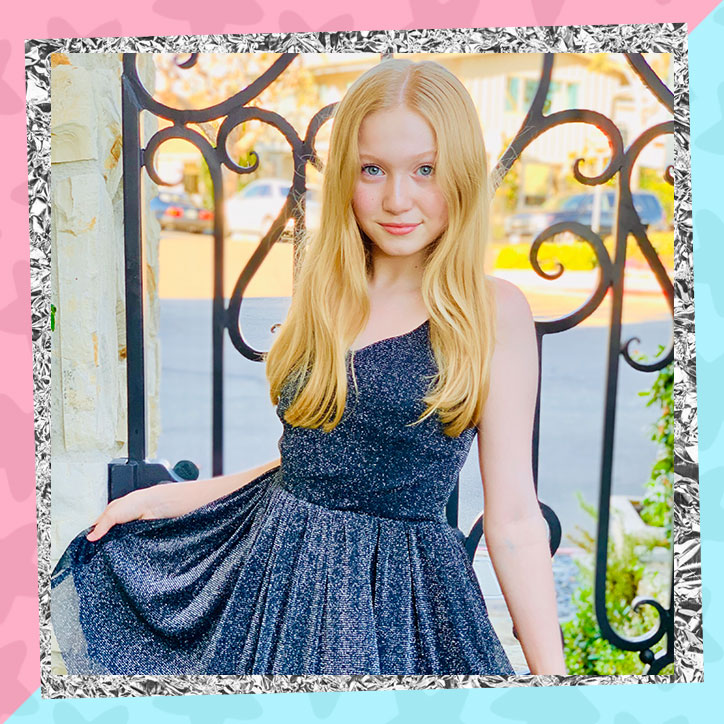 I feel most confident when…

ABIGAIL: I've made a positive difference through the work that I do, sharing kindness and fun with others, and celebrating life with my parents. With respect to my work, when I know in my heart that I've done the best job I could – whether it's auditioning, acting, singing, performing, dancing, or a voiceover – I feel confidence.

I try to be friendly, positive, and supportive to all, and this also involves volunteering. Volunteering is definitely something that I hope to do more and more throughout my lifetime. Before the pandemic, I had the honor of singing the National Anthem for The Joyful Child (where I'm their youth ambassador) and helped host their 2020 BRAVE RACE 5K; I was so happy that it did well and made a difference in the lives of others. I wish I could do these types of things every day because our world needs this, and people need to know that we are better when we work together.

As I'm thinking about this, confidence for me is really about feeling good about who I am and contributing positively to all types of situations. With this I mean, we can't necessarily control all that goes on around us like with this pandemic or when people are less than civil. The best I can do is be the best me, and this means trying my best regardless of the situation or when maybe others we work and interact with may feel and act differently than we would appreciate.

And my parents…thank goodness for them. Without them, I just don't know, you know what I mean? They are my heroes, and when I say that, I don't mean because they provide food and shelter, but they have and continue to instill this positivity that I'm talking about right now. They believe in me and treat me with respect, which has helped build my integrity, courage, and strength to believe in myself regardless of the outcome and, therefore, my confidence. So, I do have to say, when I know I've made my parents happy, I feel confident. I think because they let me know that they are always proud of me, I am blessed to generally feel confident most of the time and to keep trying and never give up.
My biggest dream is…

ABIGAIL: That through my life and the work that I do I will help bring positivity and joy to this world to be a better place for all. To have such an impact would be an honor and my greatest dream.

I think the best way I can do this is to be the best person I can be with heart, talent, hard work, and positivity. Basically, I think this involves trying my best to inspire by example, particularly young people, that they can positively impact our world by not only being kind to others, but also in the smallest of ways – like just picking up trash at your local park.

Additionally, I want to be a motivational speaker to remind others that their voice matters, that they matter, and that we share an amazing, beautiful world that both deserves and needs our help. I guess if I had to say it in the simplest way, I would like to think that I can be an ambassador to humanity. This is my biggest dream.
The advice I want to share with other girls…

ABIGAIL: To believe in yourself, no matter what any critic says. People may judge you, hurt you, tell you are not at their level, but what you think about yourself and those you love and care about you is what matters most. Know that you can make a difference in even the smallest of ways. And to enjoy life and know that even just a smile or a kind word can touch even one person's life and make a huge difference. You never know!
Feeling inspired by Abigail? Our previous Shimmering Stars are just as amazing! Click here to get to know them!