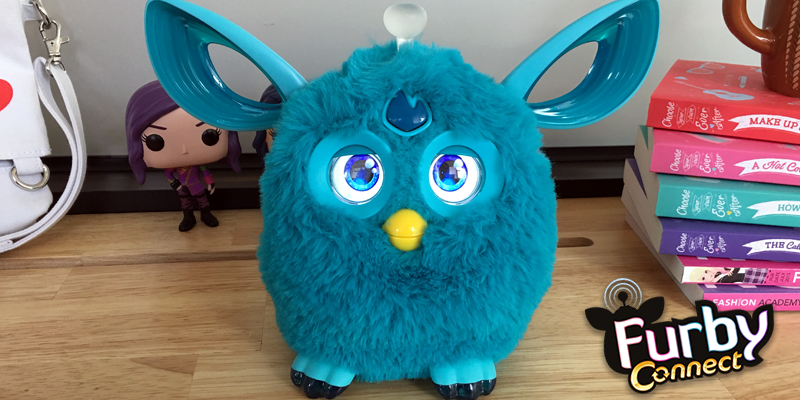 5 Reasons Furby Connect Should Be Your New BFF!
When our Furby Connect was delivered on Tuesday, we couldn't wait to get it out of the box and play with it so we could tell you guys all about it. It's showing our age a little, but we had one of the original Furbies and we can definitely vouch that the Furby Connect is SO MUCH COOLER than the OG Furb. (Disclaimer: We thought the original was terrifying and kind of disappointing)
After spending 48+ hours with Tay-Toh (yes, definitely picked that name it sounded like Potato, and sadly Tay-Tay wasn't an option), we can safely say that Furby Connect is not just the best Furby yet, but also a ton of fun.


We haven't stopped laughing since we popped the batteries in, and there's no doubt why this is one of the most anticipated toys of 2016. We noticed there was a ton of sites out there reviewing Furby Connect that disliked it, but don't listen to those nonsensical grown-ups. They forgot the most important part when reviewing the Furb – it's for kids!
While we found our new little buddy charming and hilarious, the most important part is that we think you – the kids who will actually buy one or get one as a gift – will love it too! Here's why: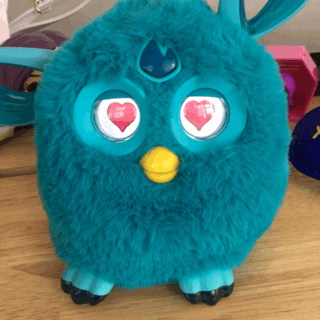 1. The digital eyes are basically animated emoji. Who doesn't love emoji?
Furby's eyes are so animated and lifelike, making it the most expressive Furby yet. In addition to winking and rolling it's eyes, sometimes there's little animations like a bouncing burger, beating hearts, or even rainbows, making your Furby extra expressive! Just like you add emojis to your texts and Snaps to show your friends how you REALLY feel, Furby adds these little icons to express itself to you, it's most favorite person in the world. There's over 100 different eye animations, so you'll always have a reason to wake up your Furb and play.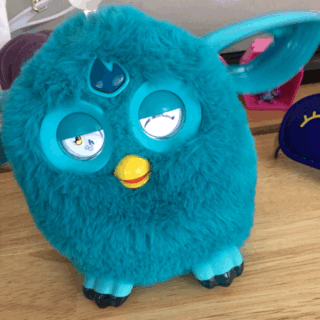 2. There are an endless supply of fart jokes, cat puns, and other ridiculousness.
Tay-Toh literally farted, smelled it, and then said "Meatballs!", which had us laughing to the point of tears. He also talks about cats even more than we do, which is quite the feat. It's absolutely safe to say that Furby Connect is our spirit animal. You never know what your Furby will say or do next, and it's almost always going to catch you off guard with how funny it is. There's over 1000 phrases built in, and when you connect it to the app, it can learn even more.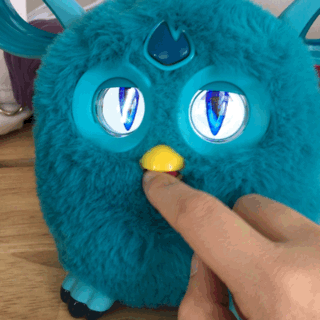 3. It's super interactive.
Even if you don't connect your Furby to the (free) Furby Connect World app (which you totally should), there's so many ways to interact with your weird, furry little friend. You can pet it, pull it's tail, shake it, feed it, hug it, and even play music for it and watch it dance! Each way you interact with your Furby makes it do/say different things, so you'll definitely want to try them all.
Once you connect your Furby to the app, it'll comment on things you're doing, alert you when there's updates, and even tell you when it's time to watch a grandma drum solo or cat video. If your friend/sibling also has a Furby Connect, you can pair them up and they'll talk to each other. Yes, very yes!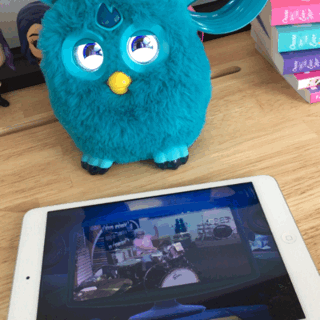 4. The app is really cute.
The Furby World Connect app (available on iOS, Anroid, and Amazon devices) works with or without a Furby Connect, so you can still get in on quite a bit of the fun even if you don't own a Furby. You can hatch over 60 adorable Furblings who you can care for by feeding them, bathing them, and more. Each Furbling has their own unique personality traits that you can unlock as you level them up. There's over 100 items to collect in the app, lots of videos to watch, and mini-games to play.
If you DO have a Furby Connect, the app will open up a ton of new interactions for your dear Furb. Watching videos at the Movie Theater will help your Furby learn new phrases and songs, you can feed your Furby with a cannon, and use the giant toilet! (You can literally hold your Furb over your device, squeeze it's belly, and squeal with delight as it poops all sorts of things into the giant toilet!)
Hasbro has promised even more updates down the line, so there will always be something new to do with your Furby.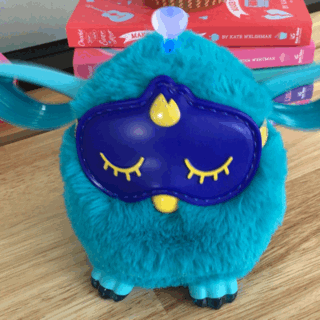 5. You can actually turn it off.
The thing that always bothered us about the original Furb was that even when you put it to sleep, the tiniest sound or motion would wake it back up again. This led to many terrifying nights of Furby waking us up in the middle of the night. One time we even pulled the batteries out and our Furby continued to talk, which was like the kind of thing that only happens in horror movies. Scary. The new Furby Connect solves this issue by adding in a sleepy mask. When you're ready to turn your Furby off, put the sleepy mask on it's face, it'll wiggle it's ears and snore for a few seconds and then it won't talk or move again until you take it off. No scary Furb nightmares for you!
Furby Connect is available exclusively via Amazon right now, but will be hitting major retailers in the Fall in lots of new and exciting colors. It costs $99, so it's a little pricey, but after actually playing with one, we can honestly say that it's worth it.