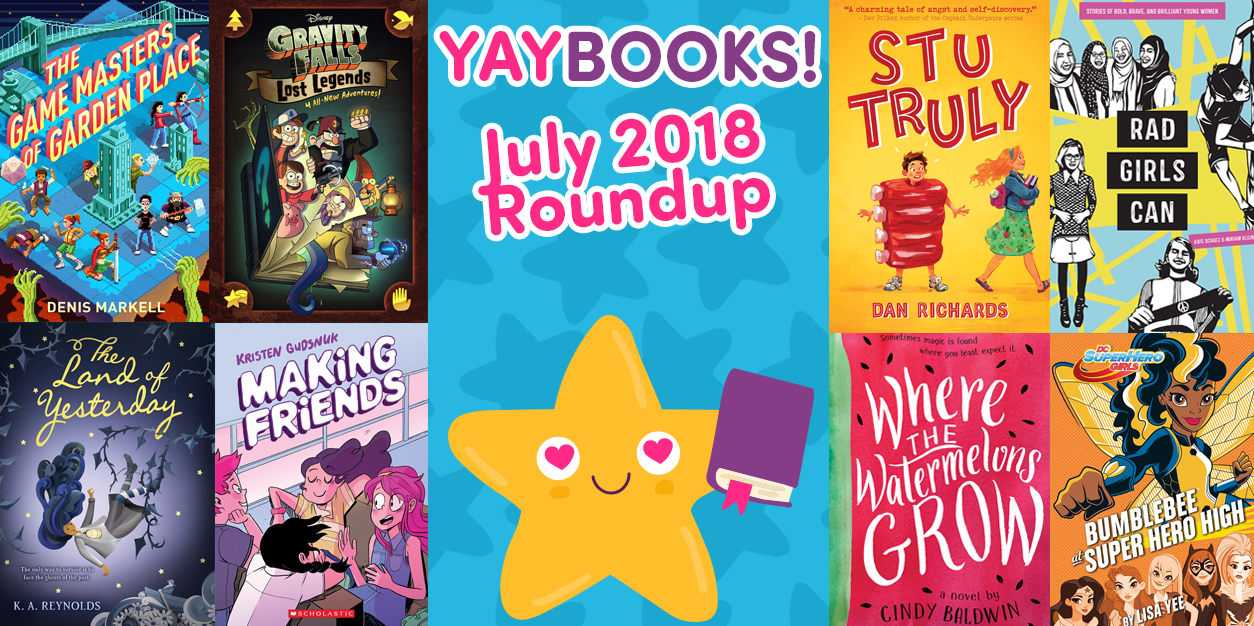 YAYBOOKS! July 2018 Roundup
July is here, which means it's time for us to bust out our July YAYBOOKS! Roundup and help you fill your month with amazing reads! As always, we put together a list of all the best books and graphic novels hitting shelves this month so you can get your read on. Who knows, you might just discover your next favorite book! Summer means lots of extra time for reading, so these 30+ reads are here to keep you company all Summer long at camp, on a road trip, or while comfortably cool in an air conditioned library.
In addition to helping you find new and exciting books to read, it's our mission to also connect you with the authors you love! That's why each month we love to help authors celebrate their new releases in lots of fun ways. From interviews to fun facts and giveaways, we're constantly collaborating with authors to help you go beyond the pages of the books you read and give you a behind the scenes peek at how their books came to be. Check back each week to see what new and exciting bookish posts we have in store for you and scroll through the list to see what we have lined up for July!
YAYBOOKS! July 2018 Roundup: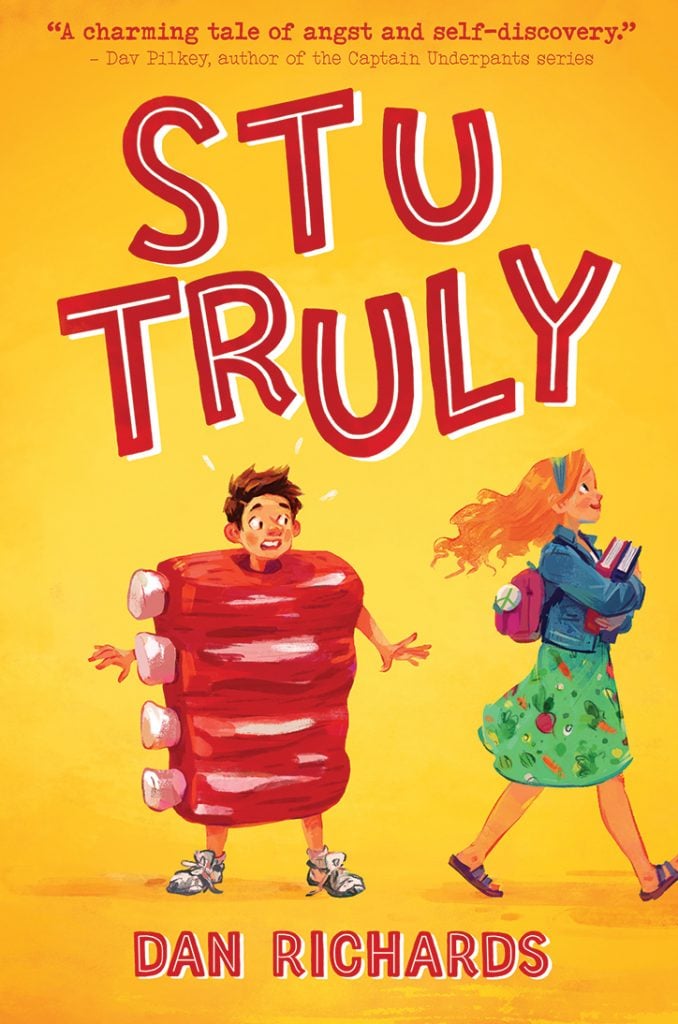 Stu Truly
Author: Dan Richards
Publisher: Yellow Jacket
Date: July 3
YAYOMG!:
Get to know Stu Truly and how his story came to be! Author Dan Richards shared 8 Fun Facts about the book, including how Stu got his name and how his son Paul influenced the story!
SYNOPSIS:
Stu Truly is the coming-of-age story of 12-year-old Stu as he struggles to navigate the murky waters of adolescence when he finds himself living a lie-that seems to be growing beyond his control-to impress the new girl in school.
When Stuart Cornelius Truly first sets eyes on the new girl, Becca, he staples his finger to his seventh-grade history assignment. The second time he sees her, he coughs up a bite of her lunch-a vegetarian roasted pepper sandwich-all over her sweater, and promptly lies, claiming that he, too, is a vegetarian. Their third encounter goes more smoothly, but Stu's lie turns out to be harder to keep than he expected, especially since his family owns a butcher shop.
In this hilarious, heartwarming, contemporary middle grade novel, Stu suddenly begins to realize the opposite sex exists (and isn't so bad, after all!). Can Stu learn to successfully navigate old friends, new crushes, and horror-filled school dances, or will his lie, intended to impress his crush, actually cause his world to fall apart?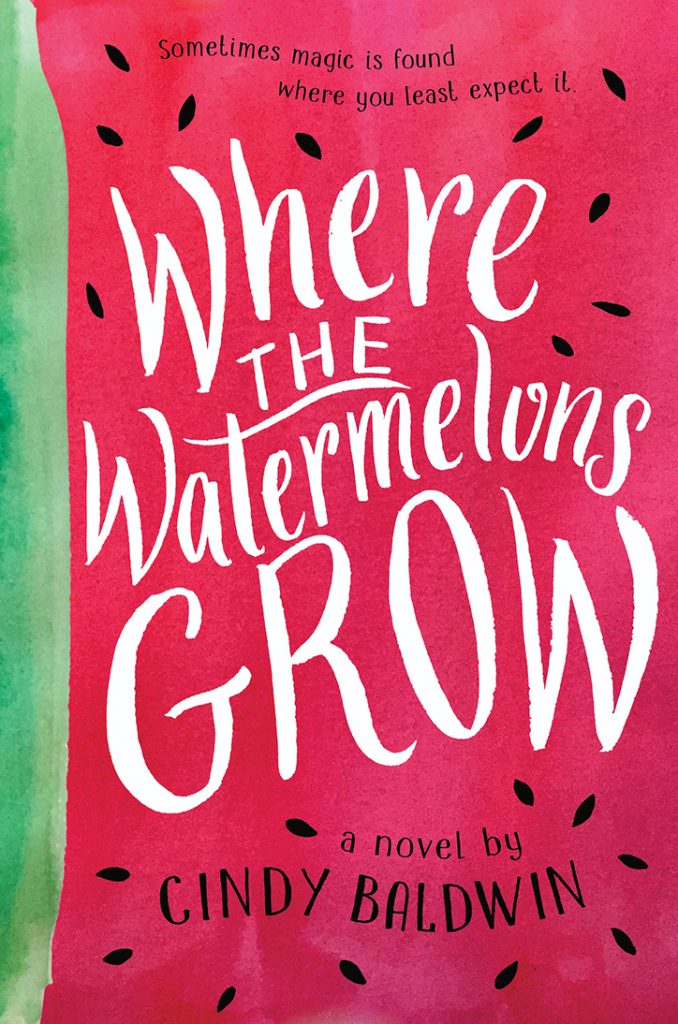 Where the Watermelons Grow
Author: Cindy Baldwin
Publisher: Harper Collins Children's Books
Date: July 3
YAYOMG!:
We have an interview lined up with Cindy Baldwin for later this month. We're so excited for her to share the story behind Where the Watermelons Grow and all the things that inspired this bittersweet, yet hopeful story we know readers are going to love.
SYNOPSIS:
Twelve-year-old Della Kelly has lived her whole life in Maryville, North Carolina. She knows how to pick the softest butter beans and sweetest watermelons on her daddy's farm. She knows ways to keep her spitfire baby sister out of trouble (most of the time). She knows everyone in Maryville, from her best friend Arden to kind newcomer Miss Lorena to the mysterious Bee Lady.
And Della knows what to do when the sickness that landed her mama in the hospital four years ago spirals out of control again, and Mama starts hearing people who aren't there, scrubbing the kitchen floor until her hands are raw, and waking up at night to cut the black seeds from all the watermelons in the house. With Daddy struggling to save the farm from a record-breaking drought, Della decides it's up to her to heal Mama for good. And she knows just how she'll do it: with a jar of the Bee Lady's magic honey, which has mended the wounds and woes of Maryville for generations.
She doesn't want to hear the Bee Lady's truth: that the solution might have less to do with fixing Mama's brain than with healing Della's own heart. But as the sweltering summer stretches on, Della must learn—with the help of her family and friends, plus a fingerful of watermelon honey—that love means accepting her mama just as she is.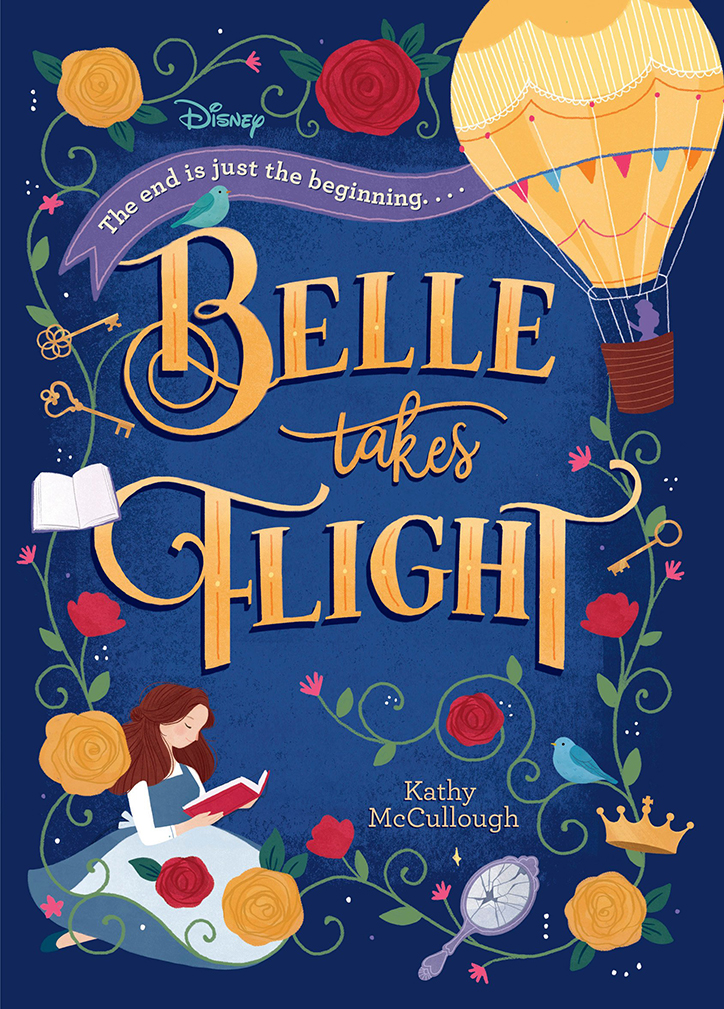 Belle Takes Flight
Author: Kathy McCullough
Publisher: Random House Disney
Date: July 3
SYNOPSIS:
The spell may be broken, but Belle's adventures have just begun! This original middle-grade novel continues the story of Disney's Beauty and the Beast!
The spell that turned the Prince into the Beast has been broken. But when he mysteriously goes missing, Belle learns that he is being held prisoner by a far-away kingdom under a spell of their own. Now it's up to her to rescue him. With the help of Lumiere, Cogsworth, and several new friends, Belle sets out on a quest that takes her farther than she's ever gone before. This original hardcover middle grade novel based on the beloved Disney classic Beauty and the Beast is perfect for fans of The Descendents and other older Disney books.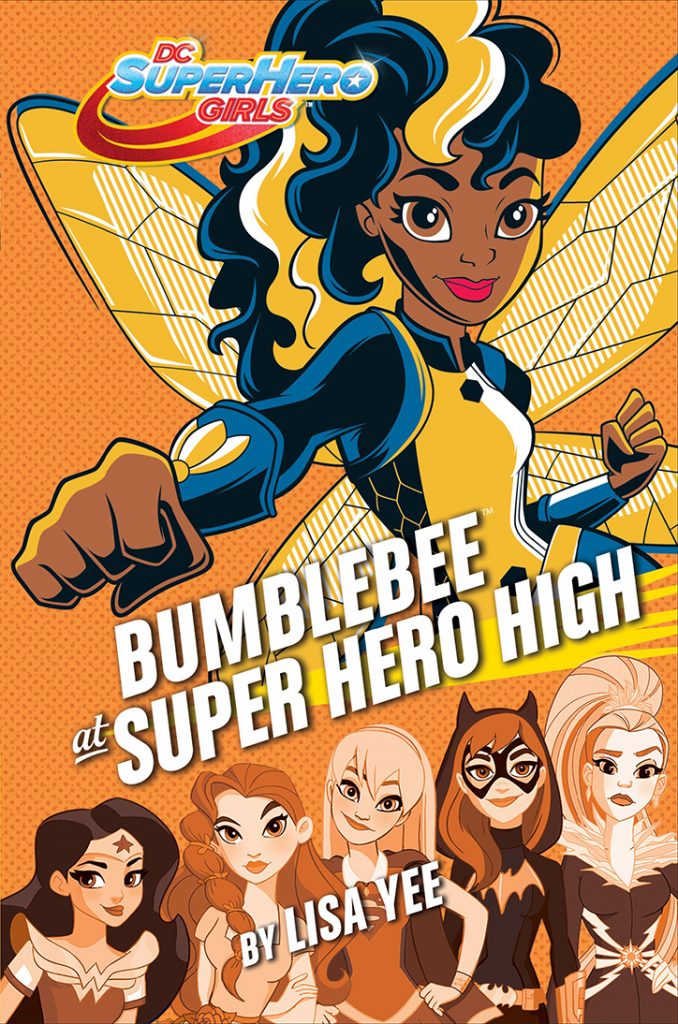 Bumblebee at Super Hero High
Author: Lisa Yee
Publisher: Random House Books for Young Readers
Date: July 3
SYNOPSIS:
Get your cape on with the DC Super Hero Girls(TM)–the unprecedented new Super Hero universe especially for girls! Readers of all ages can fly high with the all-new adventures of Wonder Woman(TM), Supergirl(TM), Batgirl(TM), and some of the world's most iconic female super heroes as high schoolers! Bumblebee(TM) buzzes into action with the rest of the DC Super Hero Girls(TM) in this action-packed hardcover novel for young readers!
When the world's honey supply starts to drop and some of her old tech disappears, super student Bumblebee enlists her friends Wonder Woman, Batgirl, Poison Ivy, and Beast Boy to help her find out why. Is it a new villain, or someone from the past? With so much going on at Super Hero High, Bumblebee isn't sure how she's going to keep an eye on everything, but she's determined to do it with style . . . and sting!
Award-winning author Lisa Yee brings this edge-of-your-seat adventure to life with mystery, thrills, and laughs. Move over, Batman(TM) and Superman(TM)–the DC Super Hero Girls are ready to save the day . . . and have fun doing it!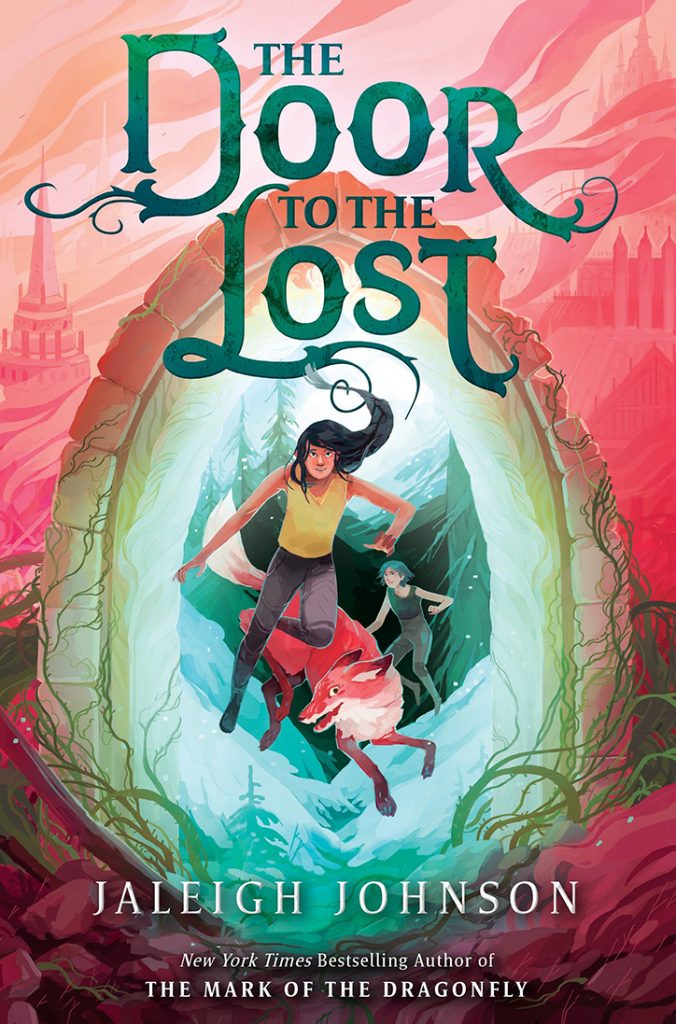 The Door to the Lost
Author: Jaleigh Johnson
Publisher: Delacorte Press
Date: July 3
SYNOPSIS:
There was no warning the day magic died in Talhaven. It happened with a giant explosion and the arrival of a skyship full of children, all with magic running through their veins and no memory of home.
Rook and Drift are two of those children, and ever since that day, they've been on the run, magical refugees in a world that doesn't trust magic. Because magic doesn't die right away–it decays, twists, and poisons all that it touches. And now it's beginning to poison people.
Try as they might, Rook and Drift can't remember anything about their lives before Talhaven. But it's beginning to look like they're the only ones who can save their adopted world . . . if that world doesn't destroy them first.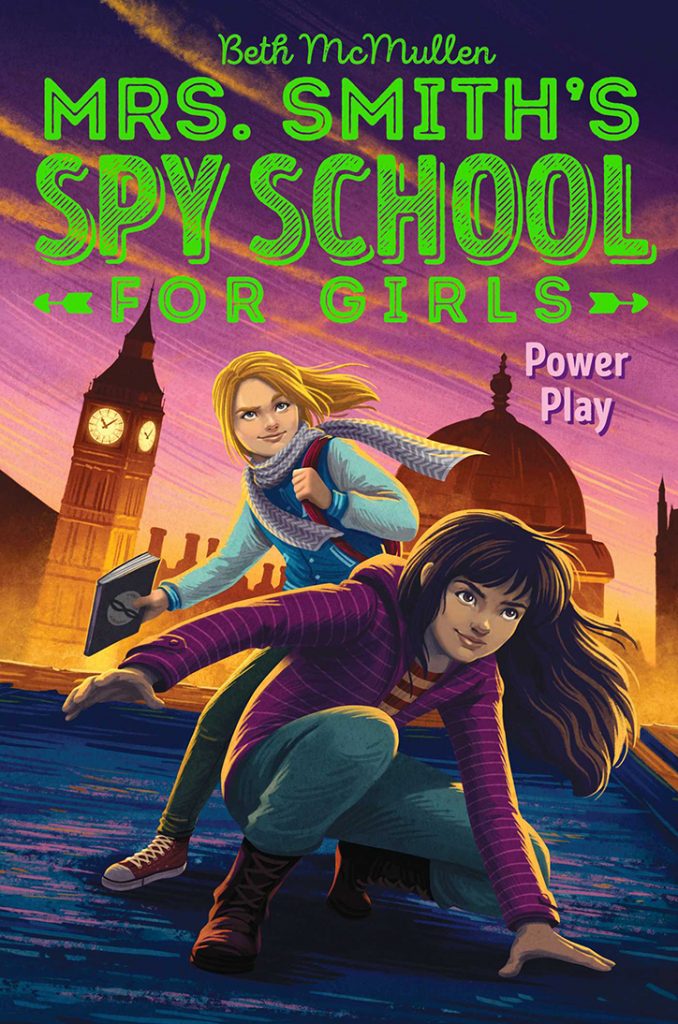 Mrs. Smith's Spy School for Girls: Power Play
Author: Beth McMullen
Publisher: Aladdin
Date: July 3
SYNOPSIS:
Abby and the rest of her friends go international as they embark on their first "official" Center mission in this second book in the Mrs. Smith's Spy School for Girls series.
After discovering the truth about her spy school/boarding school—and her super-spy mom—Abby Hunter is ready for her next adventure, but what's about to happen is something she never would have guessed…
Everyone at The Smith School is obsessed with Monster Mayhem, the latest reality video game craze. But when Drexel Caine, the mastermind behind the game is suddenly kidnapped, it becomes clear that the kidnappers are playing for more than just special badges.
After Drexel's son—who is Abby's friend, Toby—receives a cryptic message, Abby and her friends discover the kidnapping is part of a bigger scheme that could take down The Center for good.
With the help of Abby's frenemy (and reluctant mentor), Veronica Brooks, the group tackles their first official Center Mission. They tangle with the world's most notorious hacker, get in trouble for the possible theft of the Mona Lisa, and prepare for the ultimate showdown in London. But not before they have to contend with one more hurdle: the agonizing Smith School Spring Formal. Along the way, they discover they are much stronger as a team they can ever be alone.
And with a little luck, they might just save the world.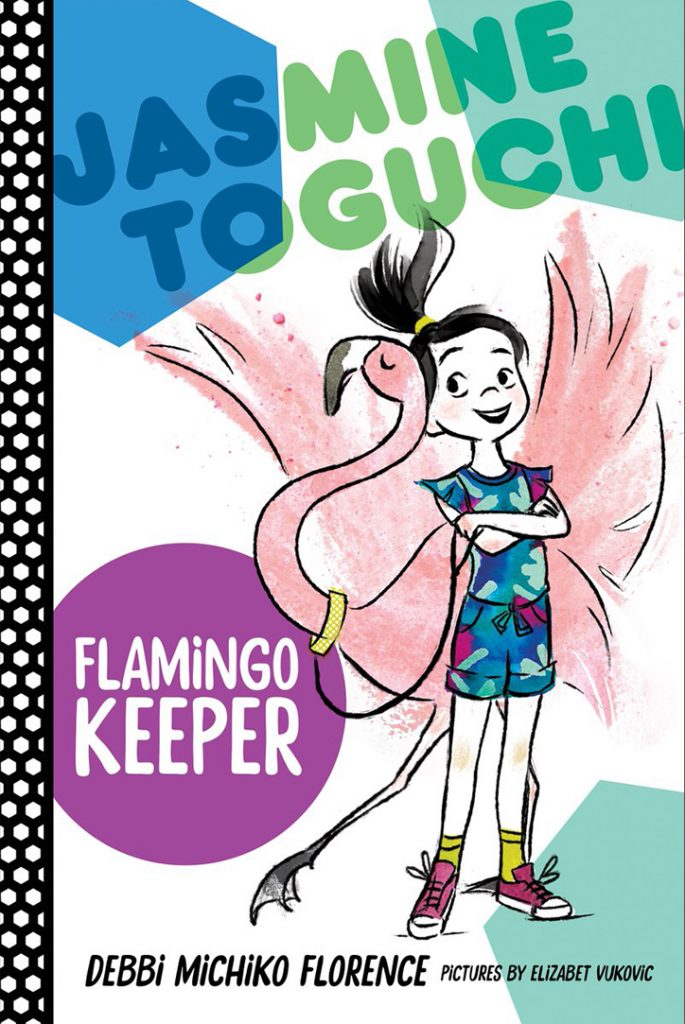 Jasmine Toguchi: Flamingo Keeper
Author: Debbi Michiko Florence
Publisher: Farrar, Straus, and Giroux
Date: July 3
SYNOPSIS:
Jasmine's best friend, Linnie, has just gotten a puppy. And now Jasmine wants a pet of her own—a flamingo! So when her grandmother sends Jasmine a daruma doll as a surprise gift, Jasmine colors in one doll eye and wishes for a flamingo to keep.
Next, Jasmine tries to convince her parents that she's responsible enough for a pet. She cleans her room, brushes her teeth, takes out the trash, and, most importantly, researches everything she can about flamingos. But soon it becomes clear that her wish may never come true! Will Jasmine's daruma doll ever get its second eye? Luckily her big sister, Sophie, has a surprise planned that fulfills Jasmine's wish beyond her wildest dreams.
Debbi Michiko Florence is at her best in this sweet, special story of sisterhood and new responsibilities!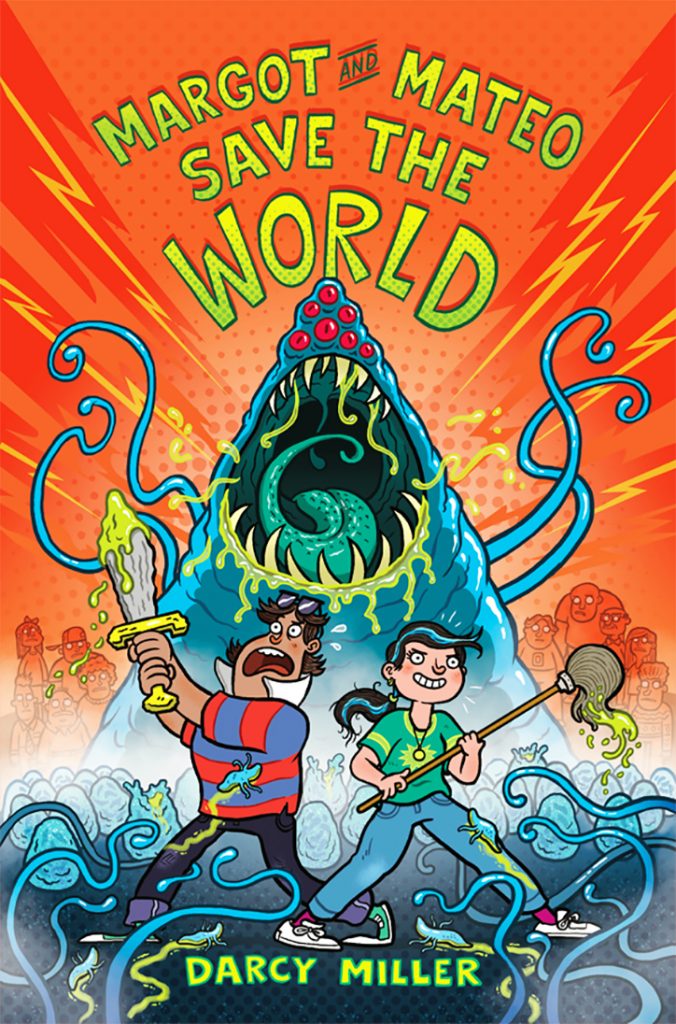 Margot and Mateo Save the World
Author: Darcy Miller
Publisher: Harper Collins Children's Books
Date: July 3
SYNOPSIS:
A hilarious—and slimy—alien adventure (set on Earth) that the bestselling author of Zombie Chasers, John Kloepfer, calls "fast-paced, out-of-this-world fun!"
When Margot Blumenthal removes a bright blue slug alien attached to Mateo Flores's back, the school play co-stars know it's definitely not going to be a regular day at West Cove Middle School.
They reluctantly team up and soon discover that the mayor and countless other adults, including Mateo's dad, are infected—which means that West Cove, and possibly all of Earth, is in danger.
What will they (and their new scientist friend) do? Ditch class and protect humankind, of course—because one unexcused absence doesn't matter when the world is at stake!
This stand-alone middle grade novel is fun, silly, and full of adventure. Young readers will speed through it…if they can stop laughing long enough to turn the page.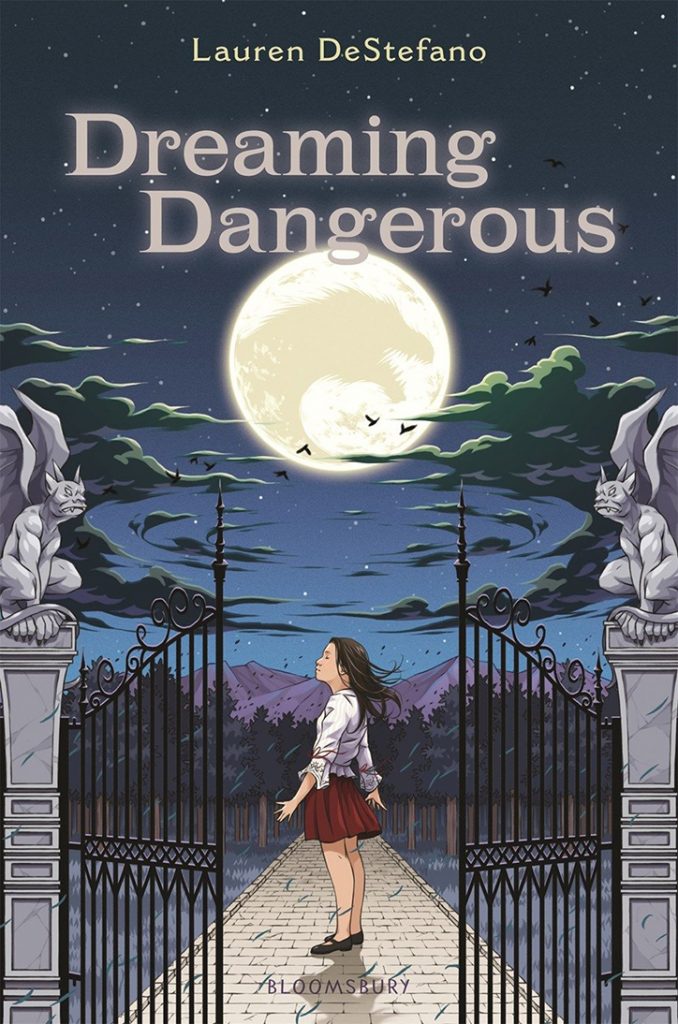 Dreaming Dangerous
Author: Lauren DeSefano
Publisher: Bloomsbury Children's Books
Date: July 3
SYNOPSIS:
Brassmere Academy for the Extraordinary is a school for orphans with strange and wonderful gifts. Twelve-year-old Plum has lived there forever, and each night, she ventures into her dreams alongside her three best friends, Vien, Gwendle, and Artem, to fight monsters and journey on dangerous quests. But one night, Plum gets a mysterious warning that she and her friends are no longer safe. And the next morning, Artem is nowhere to be found.
As Plum, Vien, and Gwendle search for their friend—in both the dreaming and waking worlds—they start to uncover alarming secrets about Brassmere and its intentions. Will they be able to find Artem before it's too late, or will they be next to disappear?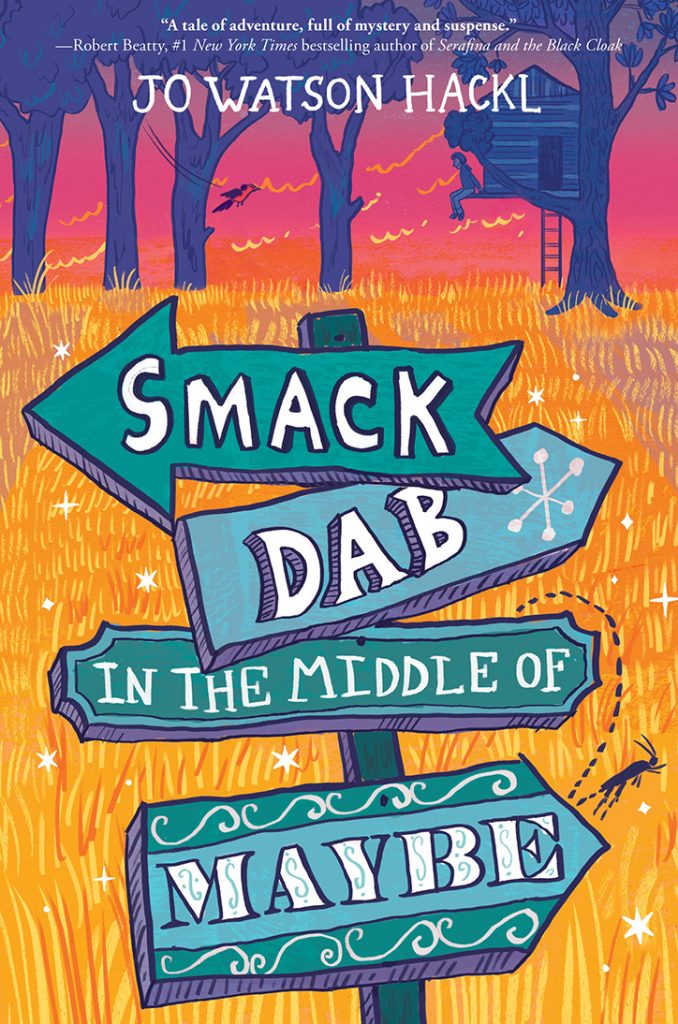 Smack Dab in the Middle of Maybe
Author: Jo Hackl
Publisher: Random House Books for Young Readers
Date: July 10
SYNOPSIS:
A Mississippi ghost town and an art mystery combine in this gorgeously written debut just right for fans of Three Times Lucky and A Snicker of Magic!
How far would you go to find something that might not even exist?
All her life, Cricket's mama has told her stories about a secret room painted by a mysterious artist. Now Mama's run off, and Cricket thinks the room might be the answer to getting her to come back. If it exists. And if she can find it.
Cricket's only clue is a coin from a grown-over ghost town in the woods. So with her daddy's old guidebook and a coat full of snacks stolen from the Cash 'n' Carry, Cricket runs away to find the room. Surviving in the woods isn't easy. While Cricket camps out in an old tree house and looks for clues, she meets the last resident of the ghost town, encounters a poetry-loving dog (who just might hold a key to part of the puzzle), and discovers that sometimes you have to get a little lost . . . to really find your way.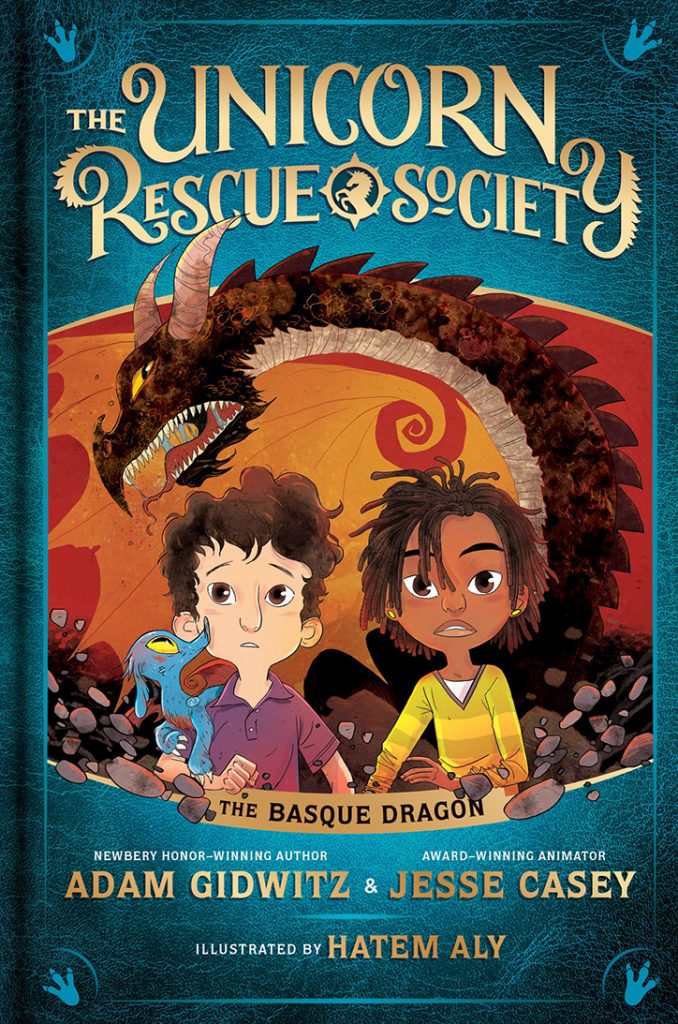 The Unicorn Rescue Society: The Basque Dragon
Authors: Adam Gidwitz and Jesse Casey
Illustrator: Hatem Aly
Publisher: Random House Books for Young Readers
Date: July 10
SYNOPSIS:
Elliot and Uchenna have barely recovered from their first adventure with the Unicorn Rescue Society when the mysterious Professor Fauna approaches them with an all-new quest. And this time, they're going to have to cross the Atlantic Ocean to the Basque Country of northern Spain. Elliot and Uchenna, with Jersey in tow, soon wonder whether their newest, fire-breathing rescue might be more than they can handle. And why do the evil-doing Schmoke Brothers seem to be involved yet again?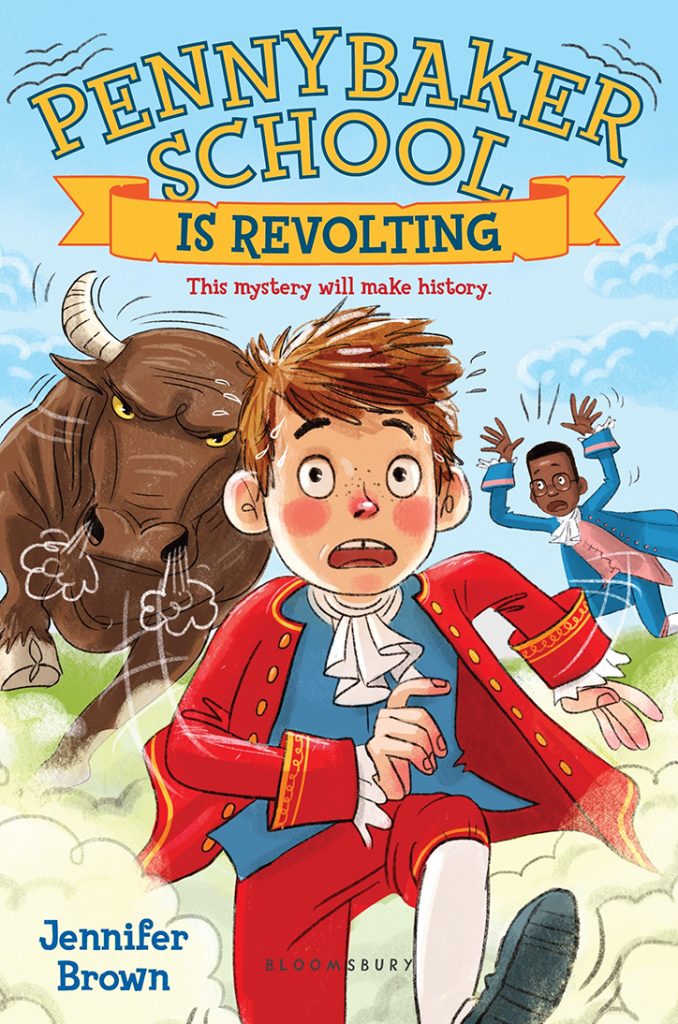 Pennybaker School is Revolting
Author: Jennifer Brown
Publisher: Bloomsbury Children's Books
Date: July 10
SYNOPSIS:
Sixth-grader Thomas Fallgrout is finally settling in at Pennybaker School, home of student unicyclers, thespians, acrobats, and other classmates with unique and unusual gifts. After a bit of an unusual start to the school year, things are finally starting to seem normal. As normal as they ever could be at this decidedly unusual school, anyway. Until his Facts After the Fact (aka History) teacher Mr. Faboo goes missing, right in the middle of his favorite lesson of the year, leaving the class not a clue as to why or how. And his Four Square (aka Phys Ed) teacher introduces a new unit that is decidedly distressing. And Thomas's neighbor, the formerly friendless Chip (he of the wacky sock collection), swoops in and bonds with all of Thomas's friends, leaving Thomas in the dust. This year is getting out of control, and it's up to Thomas to take matters into his own hands. It's time… for a revolution.
Featuring black-and-white illustrations throughout, this wildly funny follow-up to Pennybaker School is Headed for Disaster is full of humor and wacky wit by acclaimed author Jennifer Brown.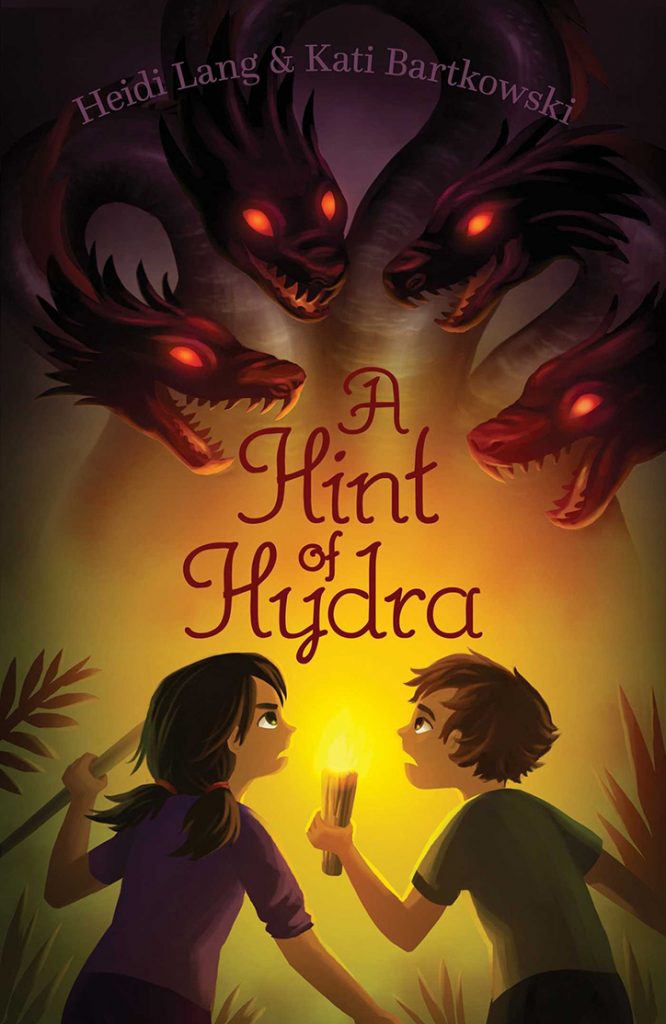 A Hint of Hydra
Author: Heidi Lang
Publisher: Aladdin
Date: July 10
SYNOPSIS:
Thirteen-year-old chef Lailu Loganberry must stop a war between the elves and scientists in this follow-up to A Dash of Dragon, which Kirkus Reviews calls "a recipe for success."
It's the Week of Masks, a festival held to chase away evil spirits. But Lailu doesn't have time to worry about demons. She has bigger fish to fry—or rather, griffons, now that she's been asked to prepare a mystical feast for the king's executioner, Lord Elister.
Unfortunately Lailu's meal is overshadowed by the scientists' latest invention: automatons, human-shaped machines that will respond to their masters' every order. Most people are excited by the possibilities, but the mechanical men leave Lailu with a bad taste in her mouth.
Even worse, the elves still blame the scientists for the attacks on them weeks ago, and Lailu worries that the elves might be cooking up revenge. So when she and her sorta-rival-turned-almost-friend Greg stumble across the body of a scientist, the elves are the prime suspects. With help from Greg, her best friend Hannah, and the sneaky, winking spy Ryon, Lailu has to discover the truth behind the murder, and soon—because hostilities between the elves and the scientists are about to boil over faster than hydra stew.
And just ask any chef: war is bad for business.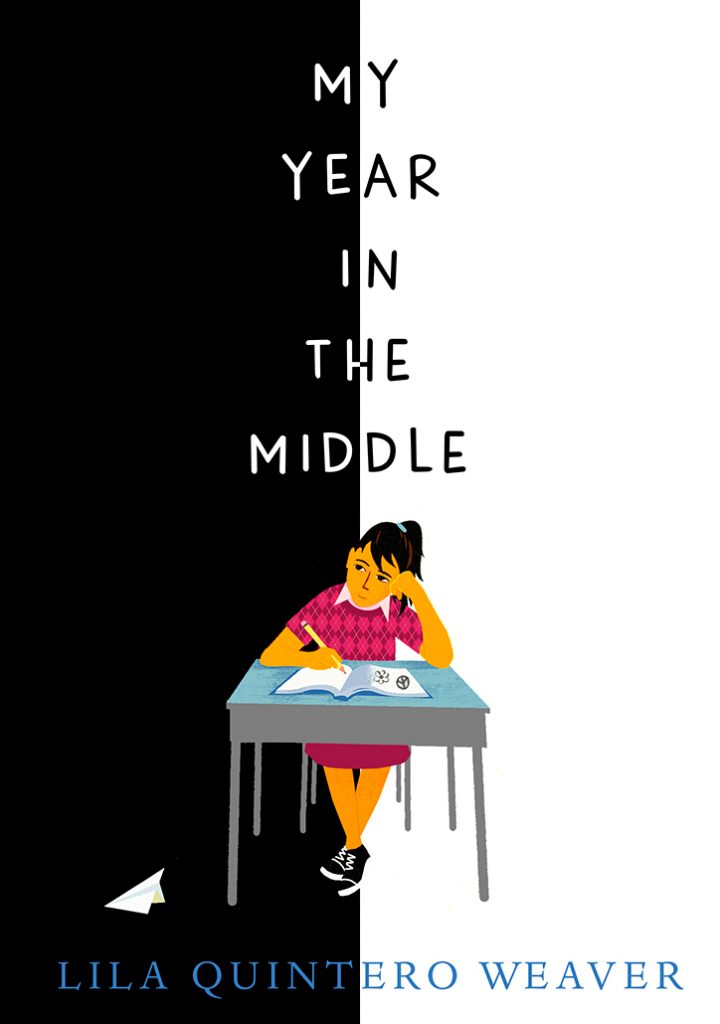 My Year in the Middle
Author: Lila Quintero Weaver
Publisher: Candlewick Press
Date: July 10
SYNOPSIS:
In a racially polarized classroom in 1970 Alabama, Lu's talent for running track makes her a new best friend — and tests her mettle as she navigates the school's social cliques.
Miss Garrett's classroom is like every other at our school. White kids sit on one side and black kids on the other. I'm one of the few middle-rowers who split the difference.
Sixth-grader Lu Olivera just wants to keep her head down and get along with everyone in her class. Trouble is, Lu's old friends have been changing lately — acting boy crazy and making snide remarks about Lu's newfound talent for running track. Lu's secret hope for a new friend is fellow runner Belinda Gresham, but in 1970 Red Grove, Alabama, blacks and whites don't mix. As segregationist ex-governor George Wallace ramps up his campaign against the current governor, Albert Brewer, growing tensions in the state — and in the classroom — mean that Lu can't stay neutral about the racial divide at school. Will she find the gumption to stand up for what's right and to choose friends who do the same?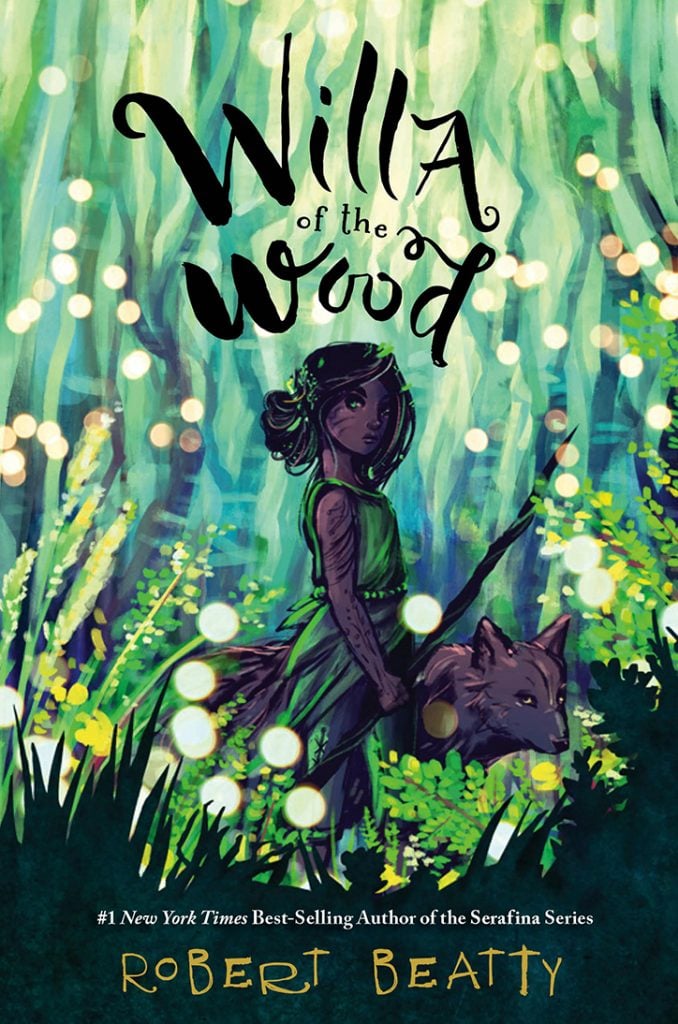 Willa of the Wood
Author: Robert Beatty
Publisher: Disney Hyperion
Date: July 10
SYNOPSIS:
From #1 New York Times bestselling author Robert Beatty comes a spooky, thrilling new series set in the magical world of Serafina.
Move without a sound. Steal without a trace.
Willa, a young nightspirit of the Great Smoky Mountains, is her clan's best thief. She creeps into the homes of day-folk in the cover of darkness and takes what they won't miss. It's dangerous work — the day-folk kill whatever they do not understand. But when Willa's curiosity leaves her hurt and stranded in a day-folk man's home, everything she thought she knew about her people — and their greatest enemy — is forever changed.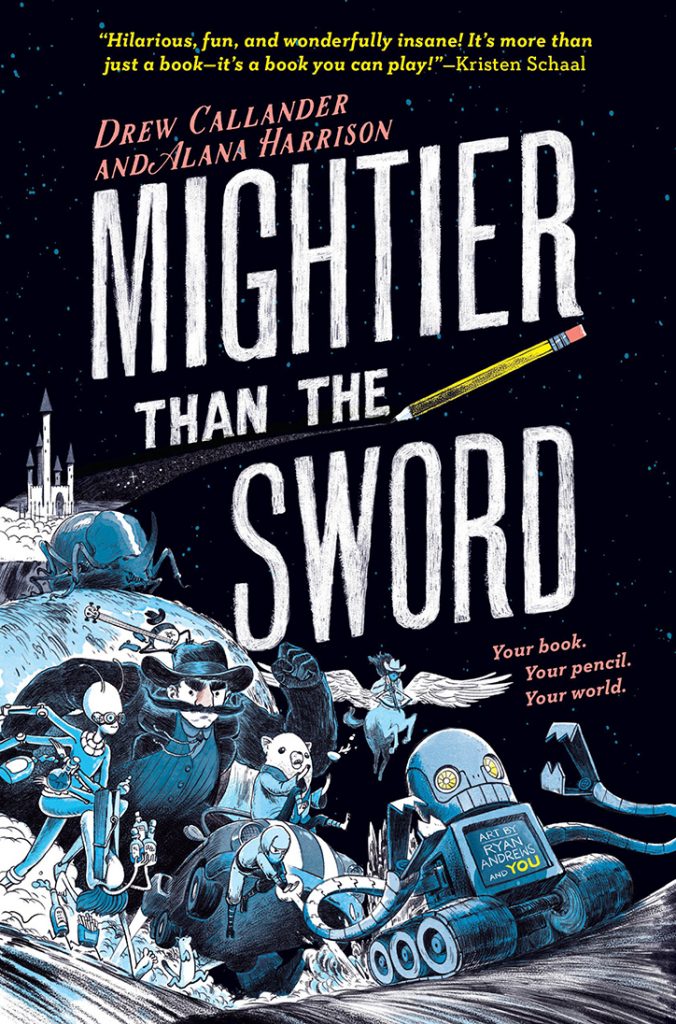 Mightier Than the Sword
Author: Drew Callander
Publisher: Penguin Workshop
Date: July 10
SYNOPSIS:
"Hilarious, fun, and wonderfully insane! It's more than just a book–it's a book you can play!"–Kristen Schaal
Wildly funny and inventive, this interactive book pulls you, the reader, into the action. Yes, YOU!
You wake up in the fictional land of Astorya, where stories from our world come to life. You're a real human being (we assume), and in this fictional world, that makes you a superhero. Armed with your trusty pencil you have the power to create: what you write, draw, or scribble in the book becomes part of the story!
Only you can rescue Prince S. from the evil Queen Rulette. Aided by the Couriers–a French stoat with dangerous dance moves, a giant dung beetle, a fire ninja, a Pegasus-centaur-cowgirl and a super-intelligent femalien chameleon–you must write, draw, and puzzle your way through a hilarious adventure that is unique to every reader! And most importantly, you must prove that the pencil is mightier than the sword.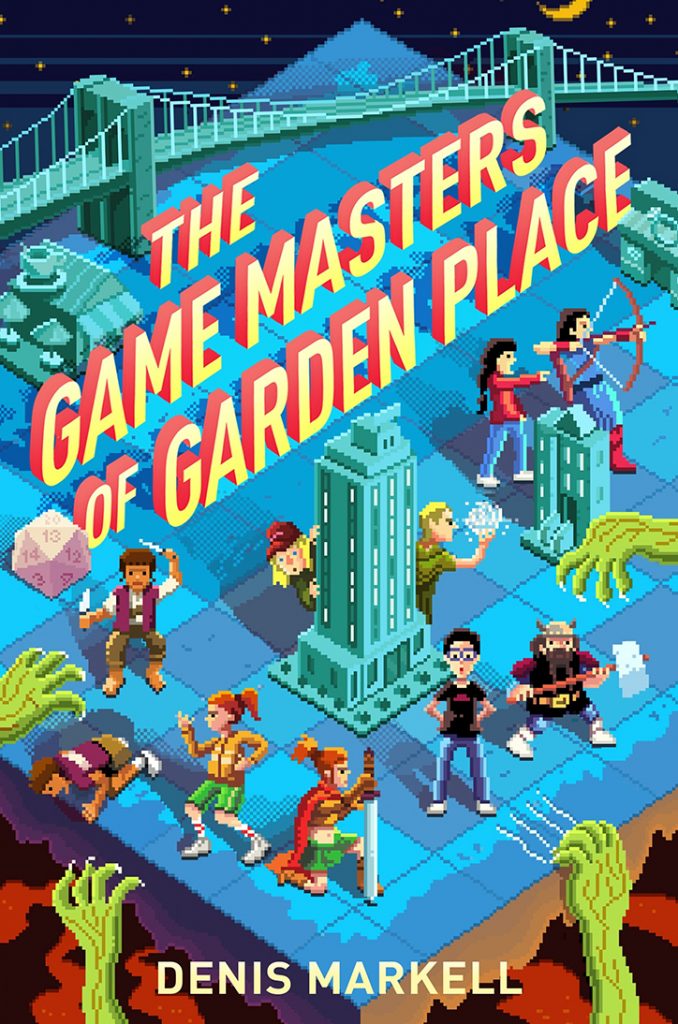 The Game Masters of Garden Place
Author: Denis Markell
Publisher: Delacorte Press
Date: July 17
YAYOMG!:
We're so excited to be featuring author Denis Markell and his new novel, The Game Makers of Garden Place! Check back later this month for Fun Facts, an interview, and a closer look at this awesome D&D inspired adventure!
SYNOPSIS:
A quirky Dungeons & Dragons-inspired adventure that will appeal to gamers and readers of the Mr. Lemoncello's Library series.
What if your favorite fantasy game characters showed up on your doorstep IRL?
Sixth graders Ralph, Jojo, Noel, Persephone, and Cammi are hooked on fantasy tabletop role-playing games. When they somehow manage to summon their characters to Ralph's house, things take a truly magical turn!
The five are soon racing around town on a wild adventure that tests their both their RPG skills and their friendship. Will Ralph and crew be able to keep their characters out of trouble? Trying to convince a sticky-fingered halfling rogue not to pickpocket or a six-foot-five barbarian woman that you don't always have to solve conflicts with a two-handed broadsword is hard enough. How will they ever send the adventurers back to their mystical realm?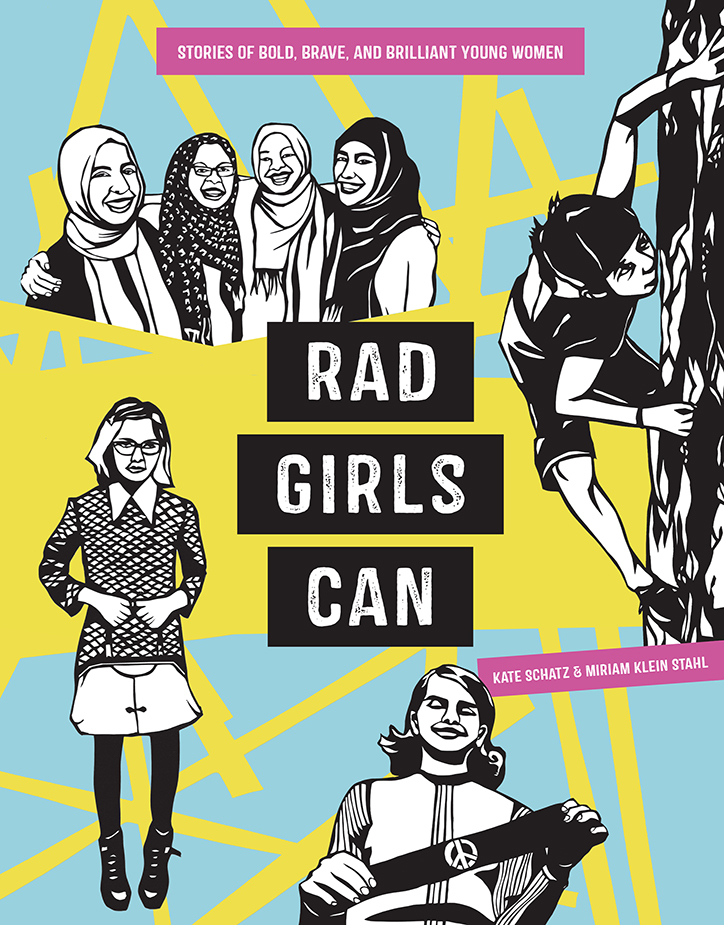 Rad Girls Can: Stories of Bold, Brave, and Brilliant Young Women
Author: Kate Schatz
Publisher: Ten Speed Press
Date: July 17
YAYOMG!:
Later this month we'll be featuring some of the inspiring young women and their stories that are featured in Rad Girls Can! Note: This one is labeled as YA, but we think it's also a great fit for middle grade readers who have a passion for history, learning, and activism.
SYNOPSIS:
From the New York Times best-selling authors of Rad Women Worldwide and Rad American Women A-Z, a bold and brave collection of stories and art about inspiring and accomplished girls who have made positive impacts on the world before the age of 20.
You might know the stories of Malala Yousafzai, Anne Frank, Jazz Jennings, and Joan of Arc. But have you heard about Yusra Mardini, a Syrian refugee who swam a sinking boat to shore, saved twenty lives, then went on to compete as an Olympic swimmer? Or Trisha Prabhu, who invented an anti-cyberbullying app at age 13? Or Barbara Rose Johns, whose high school protest helped spark the civil rights movement?
In Rad Girls Can, you'll learn about a diverse group of young women who are living rad lives, whether excelling in male-dominated sports like boxing, rock climbing, or skateboarding; speaking out against injustice and discrimination; expressing themselves through dance, writing, and music; or advocating for girls around the world. Each profile is paired with the dynamic paper-cut art that made the authors' first two books New York Times best sellers. Featuring both contemporary and historical figures, Rad Girls Can offers hope, inspiration, and motivation to readers of all ages and genders.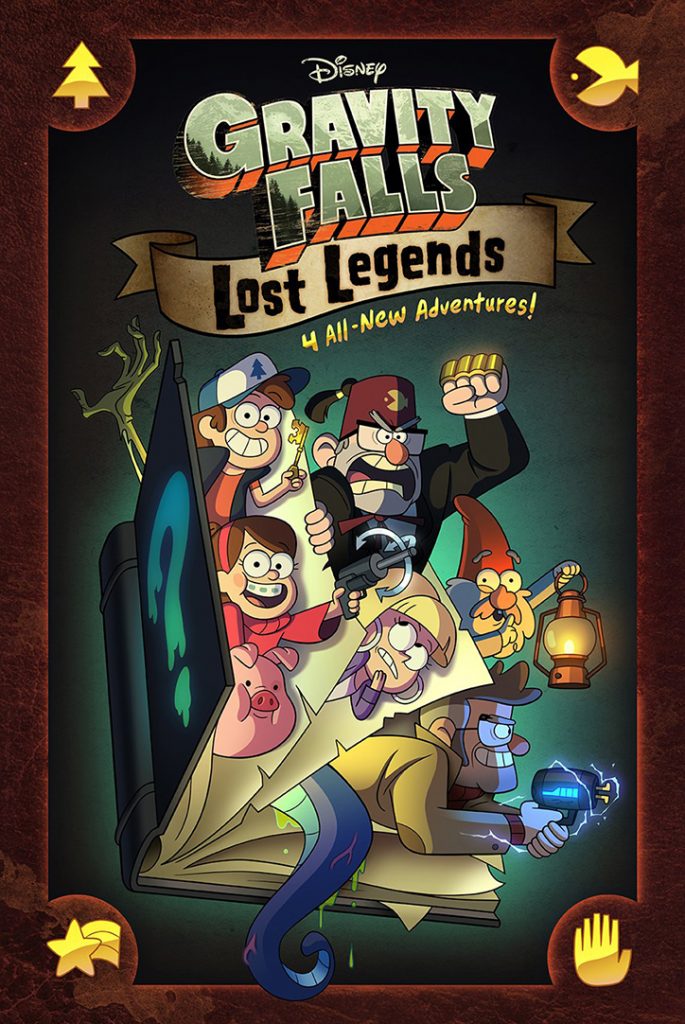 Gravity Falls: Lost Legends
Author: Alex Hirsch
Illustrators: Asaf Hanuka, Dana Terrace, Ian Worrel, Jacob Chabot, Jim Campbell, Joe Pitt, Kyle Smeallie, Meredith Gran, Mike Holmes, Priscilla Tang, Serina Hernandez, Stephanie Ramirez, and Valerie Halla.
Publisher: Disney Hyperion
Date: July 24
SYNOPSIS:
A collection of four all-new strange stories from the sleepy town of Gravity Falls in one original graphic novel.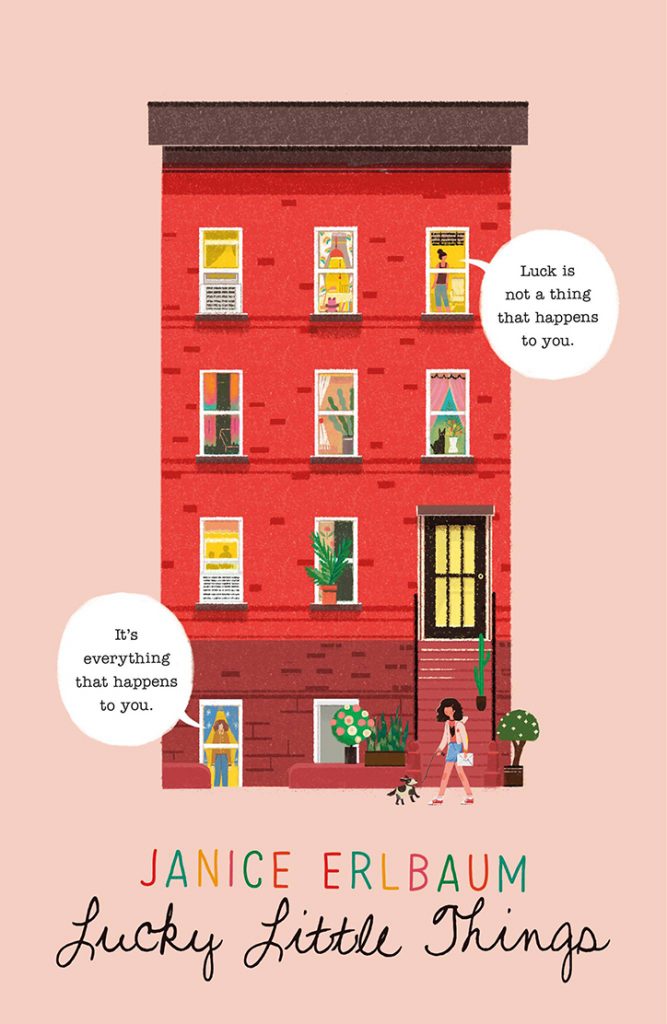 Lucky Little Things
Author: Janice Erlbaum
Publisher: Farrar, Straus, and Giroux
Date: July 24
SYNOPSIS:
Eighth-grader Emma Macintyre could use some good luck. The popular kids at her school ignore her, the boy she likes is out of her league, and her best friend has been ditching her for the mean girls. Worst of all, her beloved Aunt Jenny died recently, leaving Emma and her single mom reeling with grief.
Then Emma receives a mysterious letter with no return address. The letter promises that ten lucky little things will happen to her over the next thirty days—she just has to make a list of what she wants. When the things on her list start coming true, she races to understand what's happening. How does this lucky letter work? Who sent it? And what's going to happen when the thirty days are done?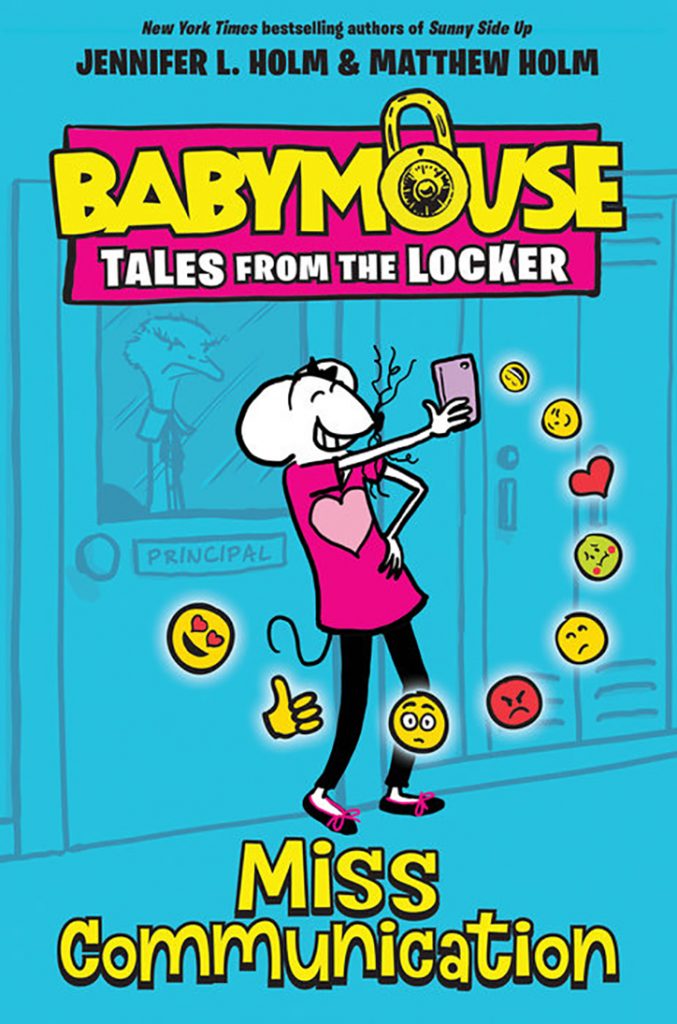 Babymouse Tales from the Locker: Miss Communication
Authors: Jennifer L. Holm and Matthew Holm
Publisher: Random House Books for Young Readers
Date: July 24
SYNOPSIS:
Watch out, middle school! In her second foray out of graphic novels and into middle grade, Babymouse has a smartphone, and she's not afraid to use it. . . .
Ping! Ping! The sound of texting is in the air. Everyone in middle school has a cell phone. Babymouse just has to get one, too.
But having a phone is a lot of work! Building up a following on SoFamous, learning text lingo, keeping up with all the important koala videos . . . Babymouse is ready to tear her whiskers out. Why does it suddenly feel like she has no friends? Somehow, Babymouse needs to figure out how to stop worrying and love her smartphone . . . if Locker doesn't eat it first.
#Typical.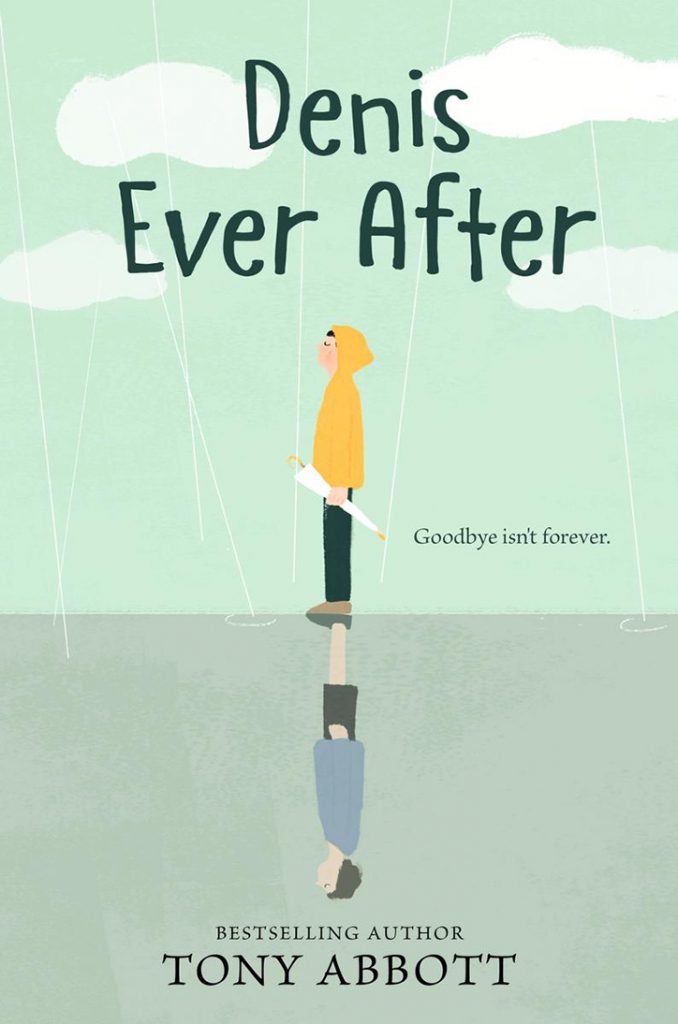 Denis Ever After
Author: Tony Abbott
Publisher: Katherine Tegen Books
Date: July 24
SYNOPSIS:
Denis Egan is dead.
He's okay with that. It's been five years since he died, and the place where souls go is actually pretty nice. Sure, there are some things about his life and how it ended he can't quite recall, but that's how it's supposed to be. Remembering could prevent Denis from moving on to whatever's next.
However, something is standing in his way. His twin brother Matt can't let go of him, and as long as the living are holding on to his memory, Denis can't rest in peace.
To uncover the truth about what happened that day five years before, Denis returns to his hometown and teams up with Matt. But visiting for too long has painful consequences for Denis, and Matt's renewed interest in his brother's passing is driving a wedge between his still-grieving parents.
Can the two boys solve the mystery of Denis's death without breaking apart the family he's left behind?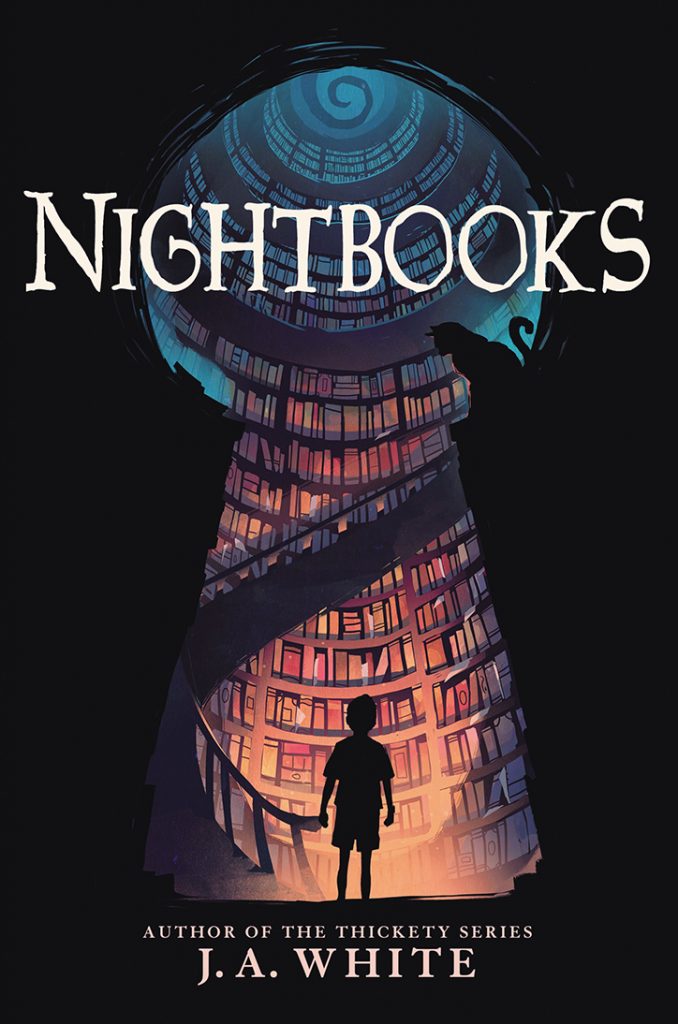 Nightbooks
Author: J.A. White
Publisher: Katherine Tegen Books
Date: July 24
SYNOPSIS:
A boy is imprisoned by a witch and must tell her a new scary story each night to stay alive. This thrilling contemporary fantasy from J. A. White, the acclaimed author of the Thickety series, brings to life the magic and craft of storytelling.
Alex's original hair-raising tales are the only thing keeping the witch Natacha happy, but soon he'll run out of pages to read from and be trapped forever. He's loved scary stories his whole life, and he knows most don't have a happily ever after. Now that Alex is trapped in a true terrifying tale, he's desperate for a different ending—and a way out of this twisted place.
This modern spin on the Scheherazade story is perfect for fans of Coraline and A Tale Dark and Grimm. With interwoven tips on writing with suspense, adding in plot twists, hooks, interior logic, and dealing with writer's block, this is the ideal book for budding writers and all readers of delightfully just-dark-enough tales.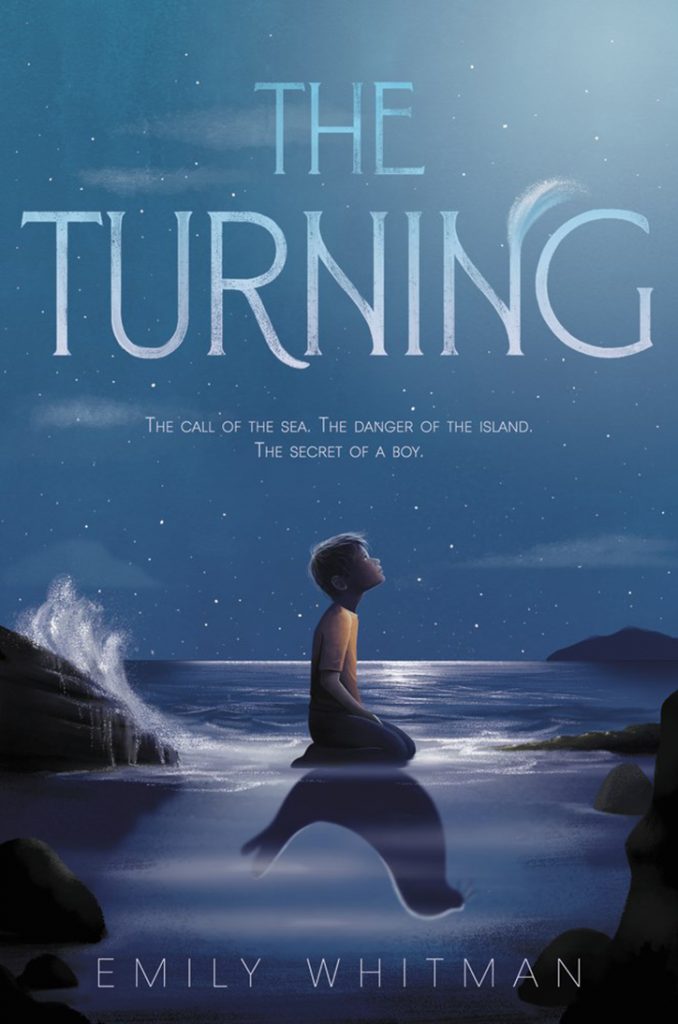 The Turning
Author: Emily Whitman
Publisher: Greenwillow Books
Date: July 24
SYNOPSIS:
Does he belong to the land or to the sea?
Readers who loved Kelly Barnhill's The Girl Who Drank the Moon and Pam Muñoz Ryan's Echo will be transported to the place where the water and land meet in this exquisitely crafted coming-of-age tale about a selkie boy.
Aran has never truly fit in with his selkie clan. He was born in his human form, without a pelt to transform him into a sleek, strong seal. Each day he waits, left behind while his selkie family explores the deep ocean. What if his pelt never comes? Does the Moon even see him? Is he putting his clan at risk?
When his mother undertakes a journey to the far north to seek help, Aran is left in the care of a reclusive human woman on remote Spindle Island. Life on land is full of more wonders—and more dangers—than Aran could have ever imagined. Soon Aran will be forced to decide: will he fight for his place on land, or return to his home in the sea?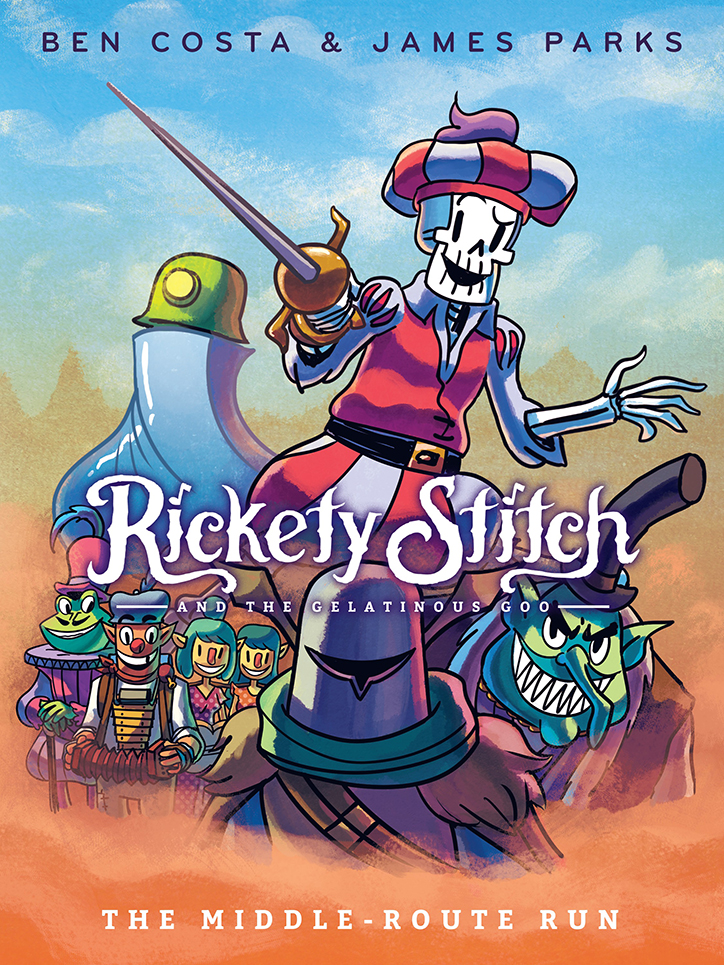 Rickety Stitch and the Gelatinous Goo: The Middle-Route Run
Author: Ben Costa and James Parks
Publisher: Alfred A. Knopf Books for Young Readers
Date: July 24
SYNOPSIS:
Nimona meets Adventure Time in this full-color graphic novel as a singing skeleton continues to search for his origins alongside his gelatin monster sidekick!
Rickety Stitch is a walking, talking, singing skeleton minstrel, the only animated skeleton in the dungeon who seems to have retained his soul. He has no idea who he used to be when he was covered in a living, breathing sack of meat and skin. His only clue to his former identity is a song he hears snippets of in his dreams, an epic bard's tale that could also explain the old fog covering the comical fantasy land of Eem…
Oh, and his sidekick and only friend is a cube of sentient goo.
In this pulse-pounding second volume, Rickety runs afoul of reanimated beasts, giant spiders, and a caravan of rowdy raiders on his quest to uncover the secret of Epoli and learn his true origins.

City of Islands
Author: Kali Wallace
Publisher: Katherine Tegen Books
Date: July 24
SYNOPSIS:
In a foggy archipelago called the City of Islands, magic drifts on the air as songs. Twelve-year-old Mara has always been fascinated by the spell-songs and dreams of becoming a great mage. Orphaned as a little girl, Mara was taken in by a bone-mage called Bindy. But when Bindy was killed by a rival, Mara lost both her home and her best chance to learn magic.
Now Mara is a servant for the powerful Lady of the Tides. She earns her keep by diving in the murky ocean, searching for magical treasures that might please the Lady. Mara still yearns to learn magic, but it's hard for a poor, orphaned servant to dream when the path to becoming a mage is open to only an elite few.
Then one day, while diving for the Lady, Mara finds the skeletons of strange hybrid creatures: a lizard with wings, a horse with horns, and many more, the likes of which have not existed in the city for centuries. The entire trove of bones is humming with a powerful spell-song.
Mara is convinced the bones will earn her the opportunity to study magic. But rather than rewarding her discovery, the Lady gives Mara a challenge: to learn where the magical bones came from by sneaking into the Winter Blade, an island fortress ruled by the very same sorcerer who killed Bindy years ago.
What Mara finds will reveal chilling truths about her own past, as well as secrets about the history of her beloved city that are more dangerous–and magical–than she had ever imagined.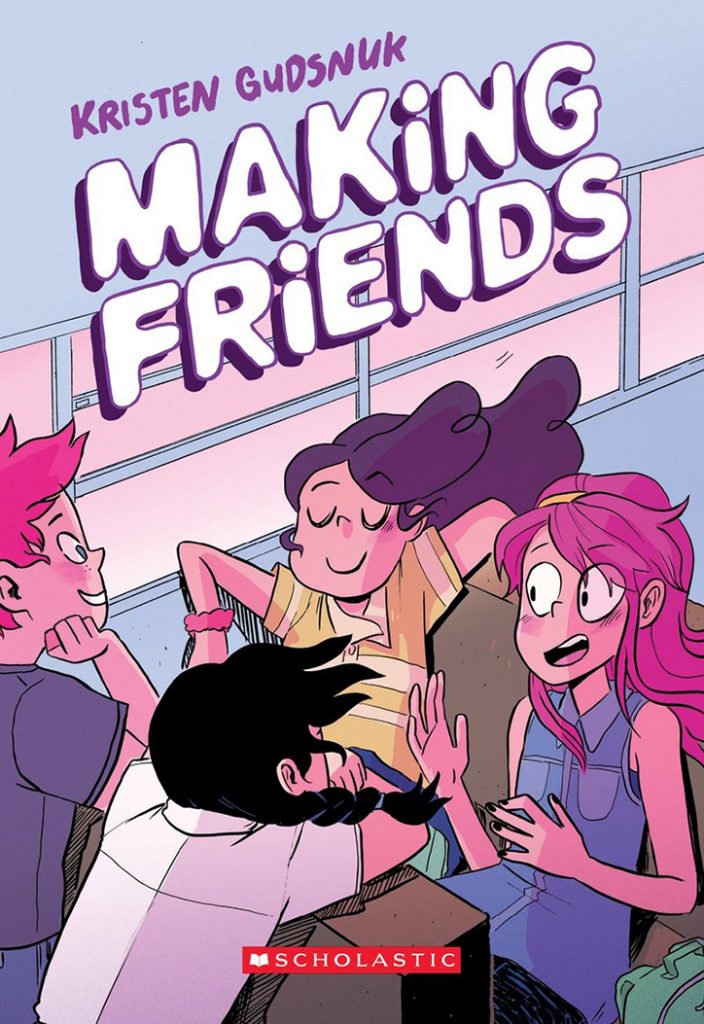 Making Friends
Author: Kirsten Gudsnuk
Publisher: Graphix
Date: July 31
SYNOPSIS:
Sixth grade was SO much easier for Danielle. All her friends were in the same room and she knew what to expect from her life. But now that she's in seventh grade, she's in a new middle school, her friends are in different classes and forming new cliques, and she is completely lost.
When Danielle inherits a magical sketchbook from her eccentric great aunt Elma, she draws Madison, an ideal best friend that springs to life right off the page! But even when you create a best friend, it's not easy navigating the ups and downs of relationships, and before long Danielle and Madison are not exactly seeing eye-to-eye.
To make matters worse, Danielle has drawn the head of her favorite (and totally misunderstood) cartoon villain, Prince Neptune. He's also come to life and is giving her terrible advice about how to make people like her. When she rejects him and he goes on a rampage during a school pep rally, Danielle and Madison have to set aside their differences to stop him!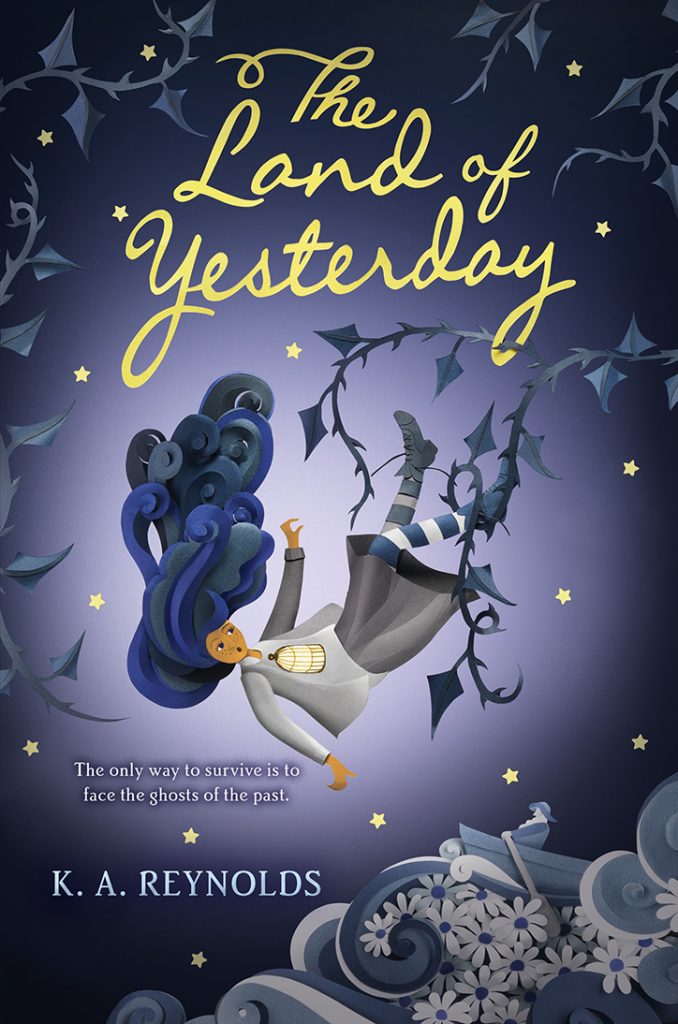 The Land of Yesterday
Author: K.A. Reynolds
Publisher: Harper Collins Children's Books
Date: July 31
SYNOPSIS:
A tender and fantastical adventure story perfect for fans of Coraline.
After Cecelia Dahl's little brother, Celadon, dies tragically, his soul goes where all souls go: the Land of Yesterday—and Cecelia is left behind in a fractured world without him.
Her beloved house's spirit is crumbling beyond repair, her father is imprisoned by sorrow, and worst of all, her grief-stricken mother abandons the land of the living to follow Celadon into Yesterday.
It's up to Cecelia to put her family back together, even if that means venturing into the dark and forbidden Land of Yesterday on her own. But as Cecilia braves a hot-air balloon commanded by two gnomes, a sea of daisies, and the Planet of Nightmares, it's clear that even if she finds her family, she might not be able to save them.
And if she's not careful, she might just become a lost soul herself, trapped forever in Yesterday.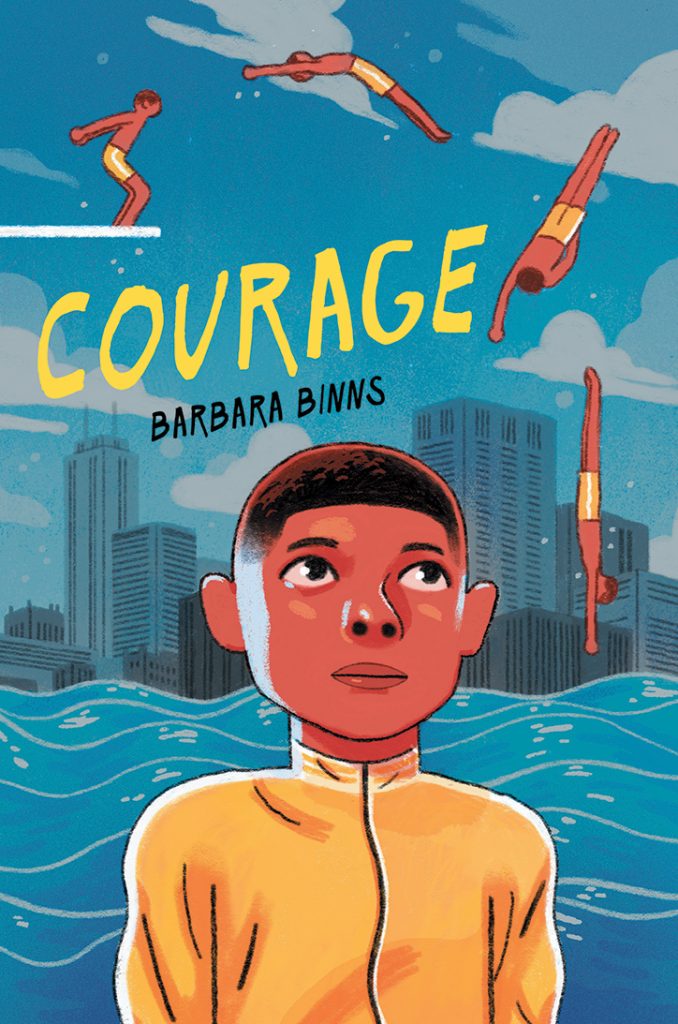 Courage
Author: Barbara Binns
Publisher: Harper Collins Children's Books
Date: July 31
SYNOPSIS:
A timely middle grade debut perfect for fans of Ghost and Booked — A story of race, class, and the strength of brotherly love.
T'Shawn has worked hard to get his family's life back on track after his father died. But as things are returning to normal, his world is suddenly turned upside down when his older brother, Lamont, returns from prison. T puts his frustrations into his diving practice — especially when he gets a scholarship to join a prestigious diving team at the local private swim club. But when crimes start increasing in the neighborhood and Lamont is the prime suspect, T'Shawn begins to question the hope that he and Lamont can put the broken pieces of their damaged relationship back together.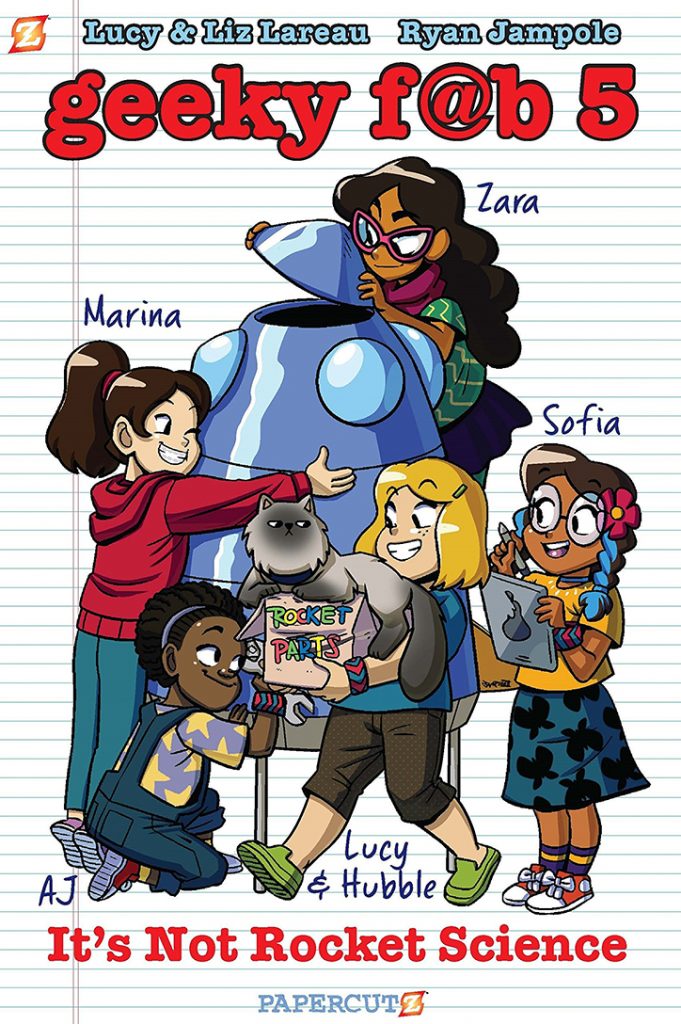 Geeky Fab 5: It's Not Rocket Science
Author: Lucy and Liz Lareau
Illustrator: Ryan Jampole
Publisher: Papercutz
Date: July 31
SYNOPSIS:
Lucy Monroe's first day at Earhart Elementary is one for the yearbook: By recess she has launched herself off the rusty monkey bars and ended up face down onto the blacktop. The principal closes the rickety playground, and now the whole school is mad! What's a new girl to do? Create a band of geeky friends to build a cool new playground together! Easy, right?
Join Lucy, the gang, Hubble the snarky kitty, and their TV reporter buddy, Suzy Pundergast, to find out if they can prove the meanies wrong because when girls stick together, anything is possible!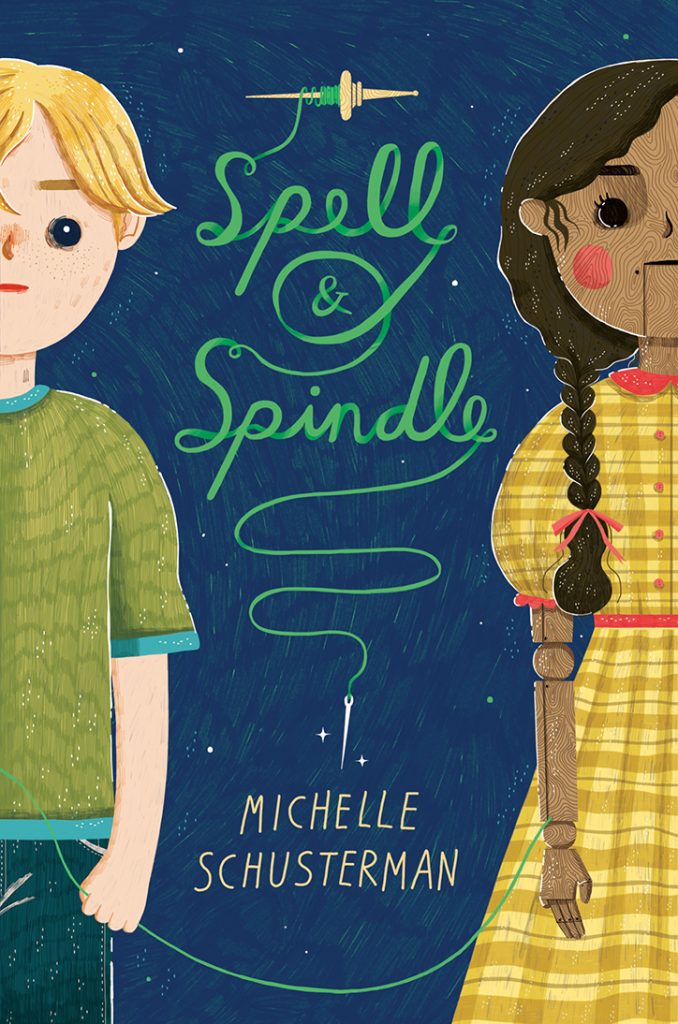 Spell and Spindle
Author: Michelle Schusterman
Publisher: Random House Books for Young Readers
Date: July 31
SYNOPSIS:
Doll Bones meets Splendors and Glooms as a boy trades bodies with a wooden marionette.
The Museum of Peculiar Arts holds many oddities–a mechanical heart, a diary bound in its owner's skin . . . and Penny, a child-size marionette who almost looks alive. Fog clouds Penny's memories from before the museum, but she catches glimpses here and there: a stage, deep red curtains, long-fingered hands gripping her strings.
One day, a boy named Chance touches Penny's strings and hears her voice in his head. Penny can listen, and watch, and think?
Now someone else is watching Penny and Chance–a man with a sharp face, a puppeteer who has the tools to change things. A string through a needle. A twist of a spindle. And suddenly Chance is trapped in Penny's marionette body, while Penny is free to run and dance. She knows that finding a way to switch back is the right thing to do. But this body feels so wonderful, so full of life! How can Penny ever return to her puppet shell?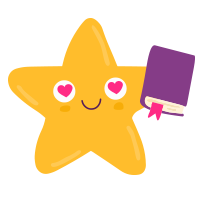 Missed last month's YAYBOOKS! Roundup? Click here to catch up on all the books that released in June!