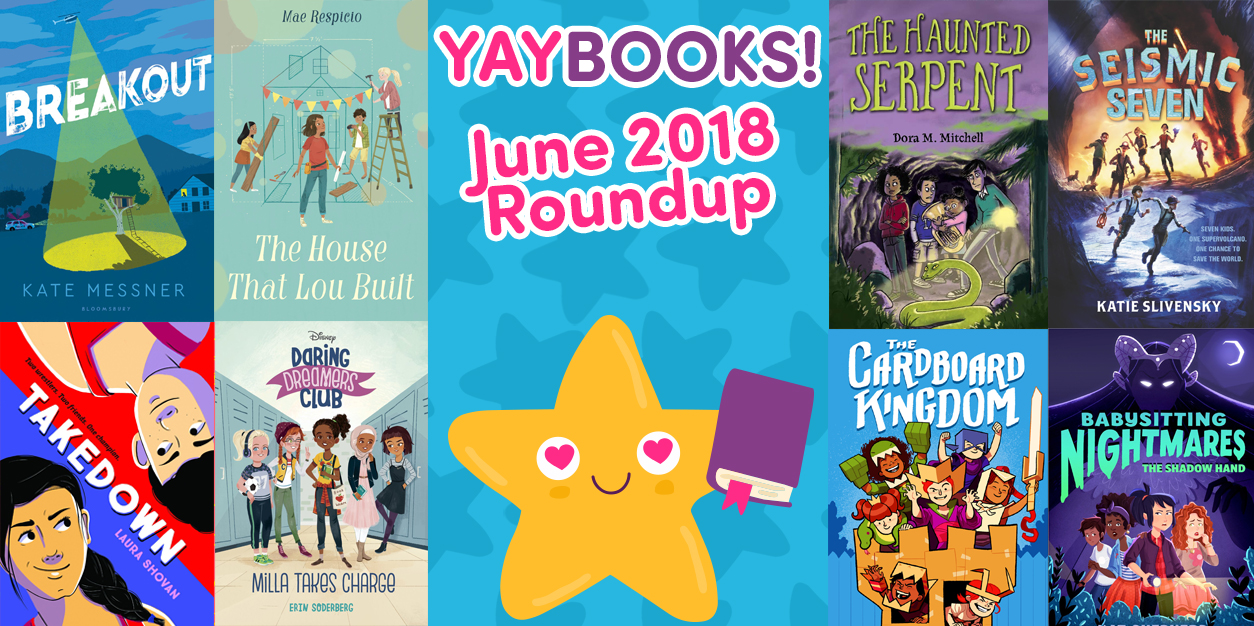 YAYBOOKS! June 2018 Roundup
It's a new month, which means we're back again to share some awesome new books with our readers! Our YAYBOOKS! June 2018 Roundup includes over 40 books and graphic novels hitting shelves this month. With Summer on the way and school about to let out, you're about to have plenty of time to chill out in the air conditioning, on the beach, or at the park with a whole pile of brand new books! It can be so easy to fall back into the comfort of an old favorite, and while that's totally okay, it's our mission to make sure our YAYOMG! readers are up to date with all the latest books being released each month. There may not always be room on your bookshelf, but there's definitely always room in your heart for a new favorite book to read, gush about, and re-read over again.
This month's list features some seriously standout books that you don't want to miss! We have a bunch of really great author interviews, fun facts, and other bookish features headed your way this month, so be sure to check back each week to help us celebrate these amazing new reads! The books we're highlighting are noted below, as always, so you know exactly what to expect as you head into a new month of reading adventures!
YAYBOOKS! June 2018 Roundup: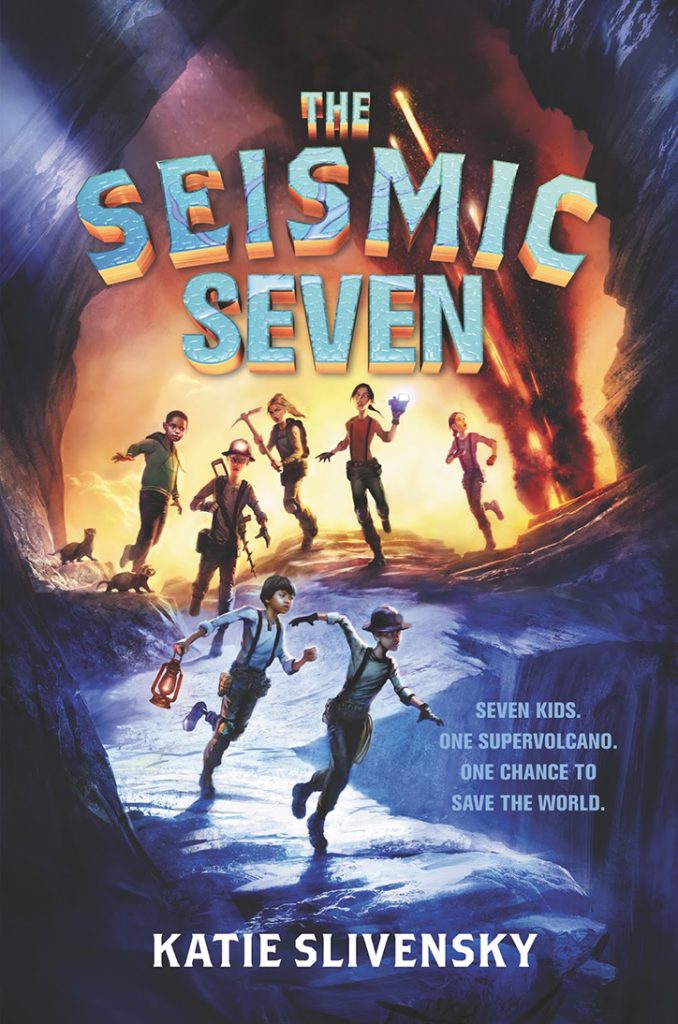 The Seismic Seven
Author: Katie Slivensky
Publisher: HarperCollins Children's Books
Date: June 5
YAYOMG!:
We don't know if the world is ready for The Seismic Seven. This book has it all – a cast of diverse, super smart, science-loving kids, thrilling heart-stopping action, and a race against an Earth-shattering super volcano that's on the verge of eruption. It's a total page turner, and we're so excited to help celebrate it by bringing you an interview with author Katie Slivensky later this month!
SYNOPSIS:
This action-packed, science-infused adventure from the critically acclaimed author of The Countdown Conspiracy follows a group of seven kids racing to save the world from a deadly supervolcano. Perfect for fans of Chris Grabenstein and Peter Lerangis.
Brianna Dobson has been chosen to work with world-renowned geologist Dr. Grier in Yellowstone National Park for the summer, and she couldn't be more excited!
But then Dr. Grier tells her and the other kids on the project the real reason she's invited them to Yellowstone: A massive supervolcano in the park is about to erupt—and if they can't stop it, Earth will be plunged into an endless winter, and civilization will be destroyed.
Bri and her new friends are ready and willing to help stop the eruption, but unexpected dangers threaten to foil their efforts. Will the Seismic Seven be able to defy nature and save the world?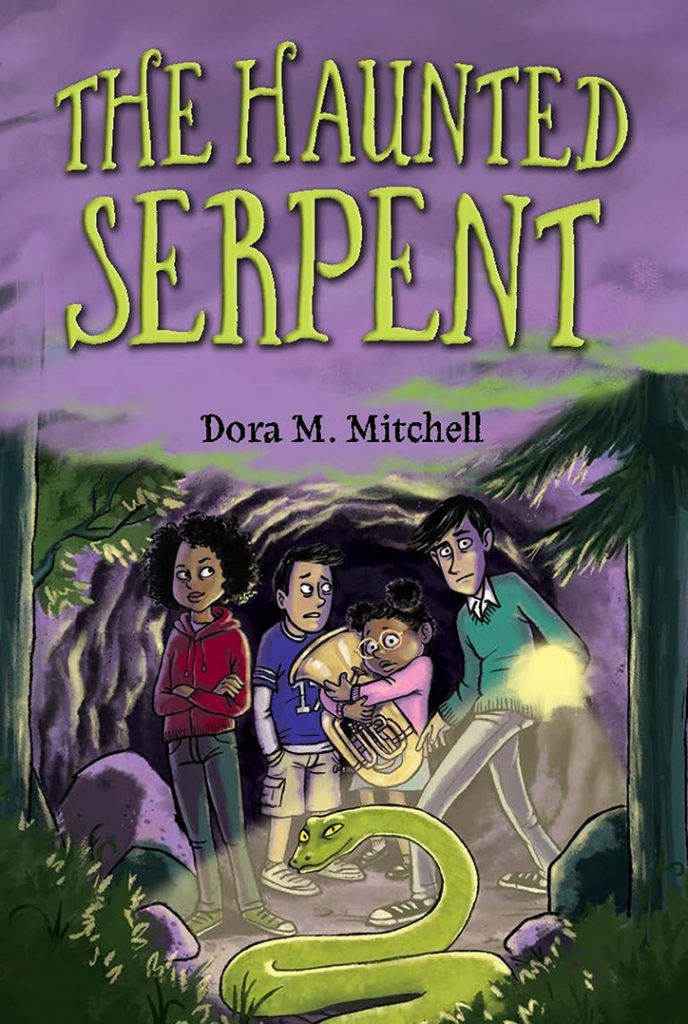 The Haunted Serpent
Author: Dora M. Mitchell
Publisher: Sterling Children's Books
Date: June 5
YAYOMG!:
The Haunted Serpent brings the thrills and chills of a paranormal mystery and pairs it with some seriously hilarious humor and middle school struggles for one fantastic read. We loved checking this one out, and we're super excited to share that we'll be featuring author Dora M. Mitchell later this week. She has shared some fun facts with us about the book that we think you'll love!
SYNOPSIS:
"You know how people always tell you 'just be yourself?' That's terrible advice. You won't survive middle school that way. Trust me."
Spaulding Meriwether, Thedgeroot Middle School's new resident weirdo and son of questionable television ghost hunters, just wants to fit in. But after a revenant chases him through the woods, Spaulding suspects there's something afoot in Thedgeroot. (At least he thinks it's a foot. Maybe it was a hand. It's hard to tell when you're running away.)
Then he notices the chimneys of the abandoned factory at the edge of town puffing smoke—and his dead next-door neighbor materializes, along with David, the missing pet boa constrictor that supposedly ate him. Spaulding can't help wondering if these strange happenings have anything to do with his undead friends in the forest. Of course, Spaulding just has to investigate—but he may be biting off more than he can chew.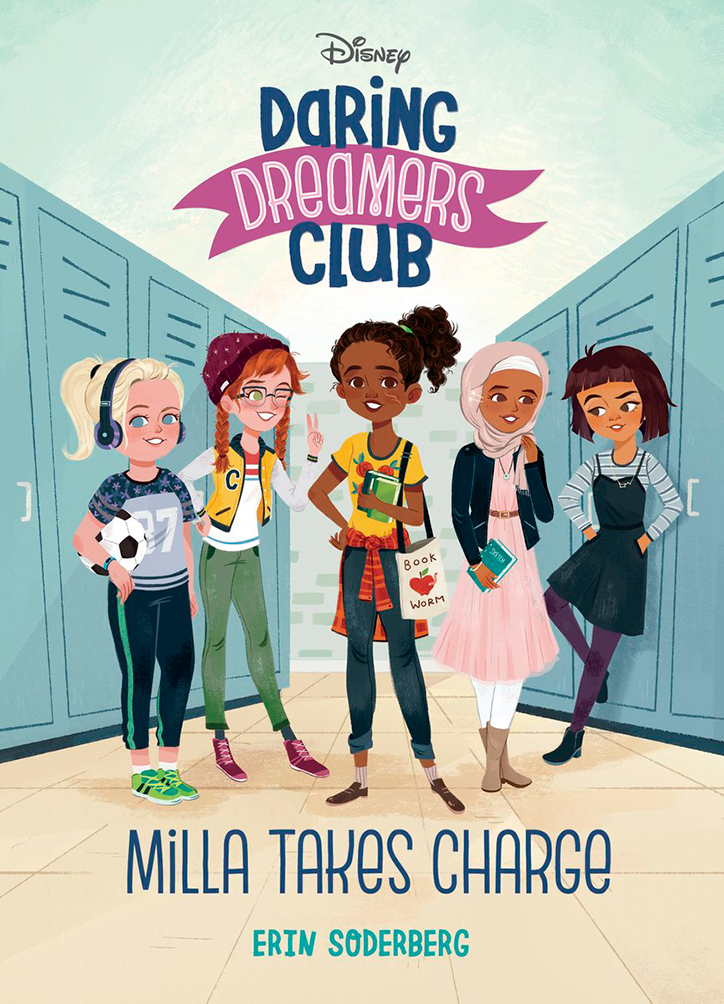 Daring Dreamers Club: Milla Takes Charge
Author: Erin Soderberg
Publisher: Random House Disney
Date: June 5
YAYOMG!:
This new series takes Disney Princesses to a whole new level! The Daring Dreamers Club is the story of five girls with different backgrounds who all have one thing in common – they're all inspired by their favorite Disney Princesses! Get to know Piper, Mariana, Zahra, and Ruby by clicking here!
SYNOPSIS:
When you follow your dreams, the possibilities are endless!
Milla loves nothing more than imagining grand adventures in the great wide somewhere, just like Belle. She dreams of traveling the world and writing about her incredible discoveries. Unfortunately, there is nothing pretend about the fifth-grade overnight and Milla's fear that her moms won't let her go.
Enter Piper, Mariana, Zahra, and Ruby. Together with Milla, they form the Daring Dreamers Club and become best friends. But can they help Milla believe she's ready for this real grand adventure?
Diverse, talented, and smart–these five girls found each other because they all had one thing in common: big dreams. Touching on everyday dramas and the ups and downs of friendship, this series will enchant all readers who are princesses at heart.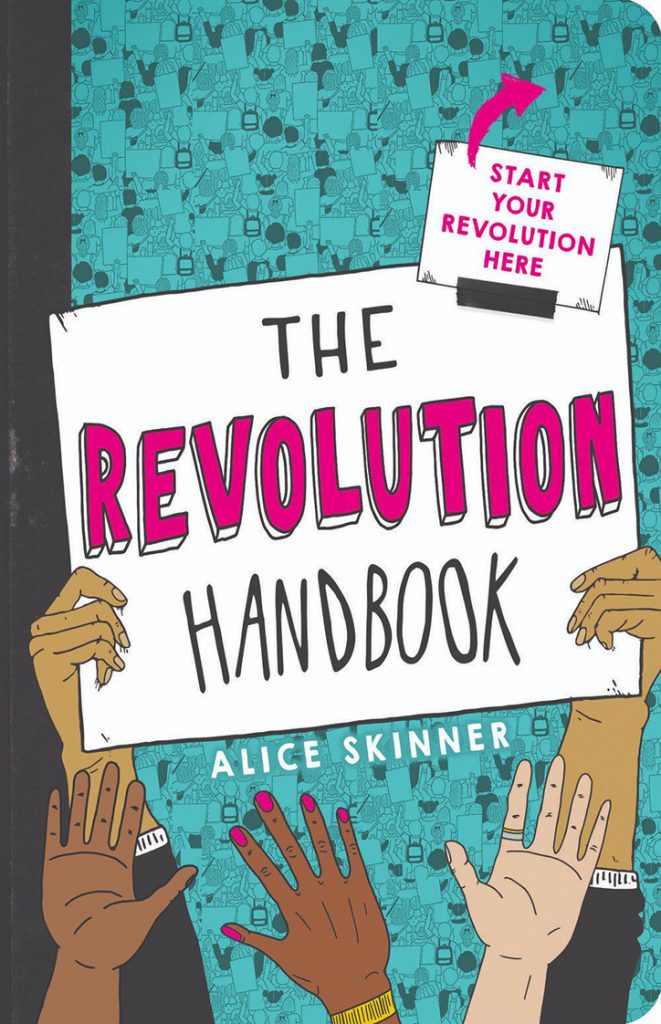 The Revolution Handbook
Author: Alice Skinner
Publisher: Poppy
Date: June 5
SYNOPSIS:
In the vein of Wreck this Journal and Start Where You Are, The Revolution Handbook is an irreverent yet instructive interactive guide to political resistance and standing up for what's right.
Seen the news? Hate it? Don't know what to do next? Start a revolution with artist and activist Alice Skinner's smash-the-patriarchy guided journal-perfect for anyone who dreams of a better world, and wants to help make it a reality.
With dozens of prompts that are both snarky and practical, the Revolution Handbook will get you to stop yelling helplessly at your news feed and start planning your resistance. Fill the interior pages to track the movements you admire and want to join. Plan your arguments on paper BEFORE you get tongue-tied at the dinner table. Log your scripts for calling representatives, make time for self-care, catalog the heroes you want to remember, and even sew Trump's mouth shut.
So what are you waiting for? It's time to grab a pen and start your revolution. Get all your thoughts and emotions out-and get ready to change the world!

The Cardboard Kingdom
Author: Chad Sell
Contributors: Jay Fuller, David DeMeo, Katie Schenkel, Kris Moore, Molly Muldoon, Vid Alliger, Manuel Betancourt, Michael Cole, Cloud Jacobs, and Barbara Perez Marquez
Publisher: Knopf Books for Young Readers
Date: June 5
SYNOPSIS:
Welcome to a neighborhood of kids who transform ordinary boxes into colorful costumes, and their ordinary block into cardboard kingdom. This is the summer when sixteen kids encounter knights and rogues, robots and monsters–and their own inner demons–on one last quest before school starts again.
In the Cardboard Kingdom, you can be anything you want to be–imagine that!

Breakout
Author: Kate Messner
Publisher: Bloomsbury Children's Books
Date: June 5
SYNOPSIS:
Nora Tucker is looking forward to summer vacation in Wolf Creek–two months of swimming, popsicles, and brushing up on her journalism skills for the school paper. But when two inmates break out of the town's maximum security prison, everything changes. Doors are locked, helicopters fly over the woods, and police patrol the school grounds. Worst of all, everyone is on edge, and fear brings out the worst in some people Nora has known her whole life. Even if the inmates are caught, she worries that home might never feel the same.
Told in letters, poems, text messages, news stories, and comics–a series of documents Nora collects for the Wolf Creek Community Time Capsule Project–Breakout is a thrilling story that will leave readers thinking about who's really welcome in the places we call home.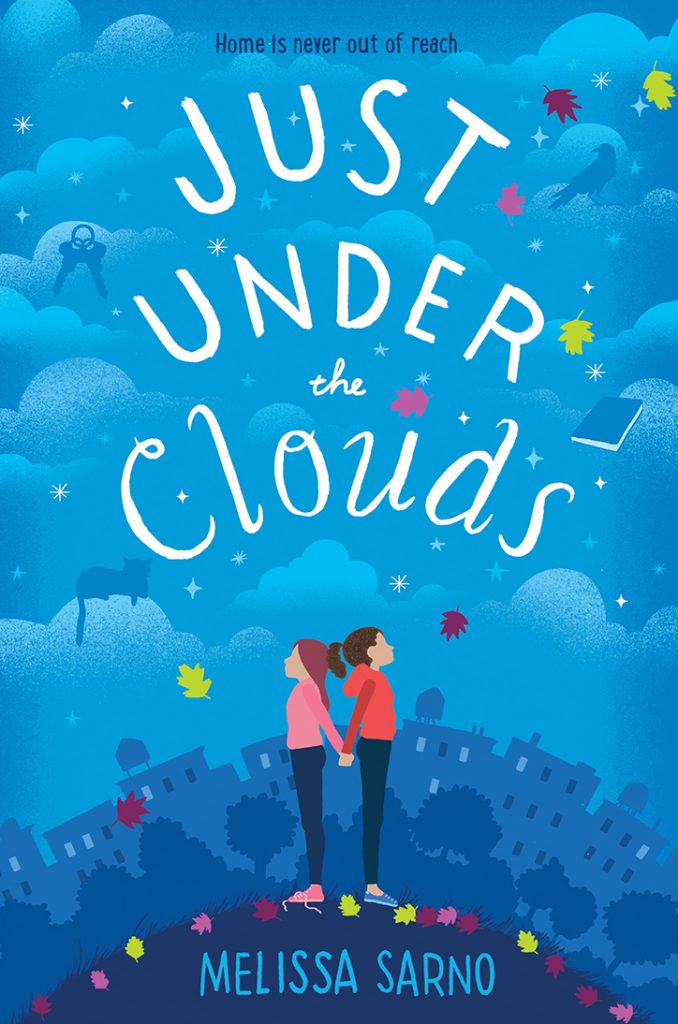 Just Under the Clouds
Author: Melissa Sarno
Publisher: Knopf Books for Young Readers
Date: June 5
SYNOPSIS:
Can you still have a home if you don't have a house?
Always think in threes and you'll never fall, Cora's father told her when she was a little girl. Two feet, one hand. Two hands, one foot. That was all Cora needed to know to climb the trees of Brooklyn.
But now Cora is a middle schooler, a big sister, and homeless. Her mother is trying to hold the family together after her father's death, and Cora must look after her sister, Adare, who's just different, their mother insists. Quick to smile, Adare hates wearing shoes, rarely speaks, and appears untroubled by the question Cora can't help but ask: How will she find a place to call home?
After their room at the shelter is ransacked, Cora's mother looks to an old friend for help, and Cora finally finds what she has been looking for: Ailanthus altissima, the "tree of heaven," which can grow in even the worst conditions. It sets her on a path to discover a deeper truth about where she really belongs.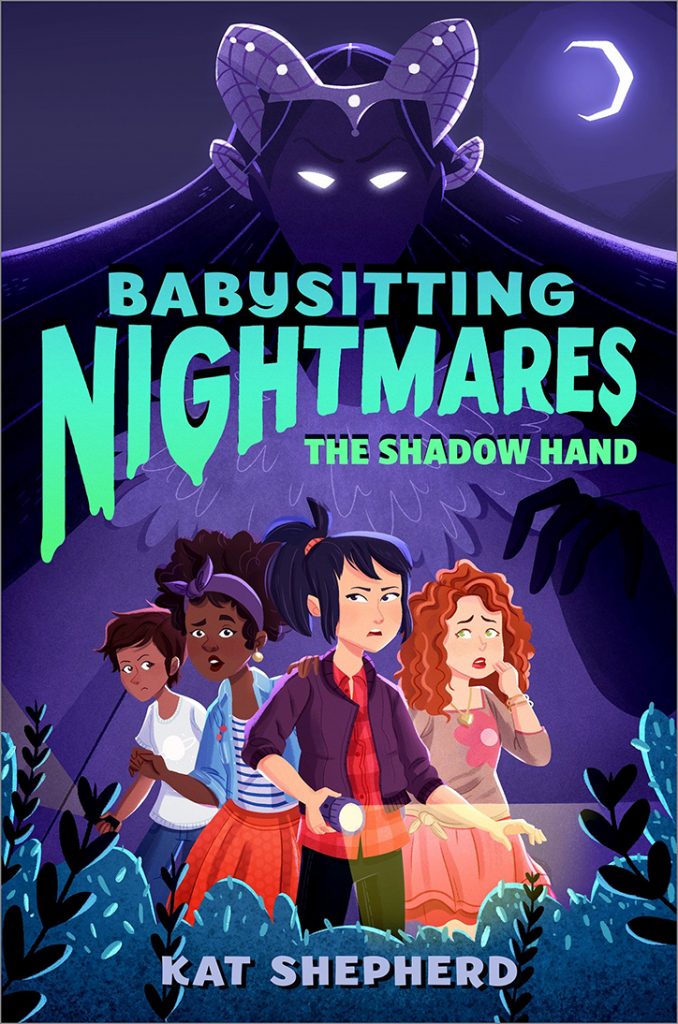 Babysitting Nightmares: The Shadow Hand
Author: Kat Shepherd
Publisher: Imprint
Date: June 5
SYNOPSIS:
The Baby-Sitter's Club meets Goosebumps as a diverse group of friends encounter supernatural problems on their babysitting gigs.
The typical babysitting job just got a whole lot scarier!
Rebecca Chin is understandably freaked out when something begins haunting her babysitting charge, Kyle. Ever since a powerful thunderstorm, strange handprints have appeared on the walls, shadows prowl his room, and the baby is not quite himself.
After investigating, Rebecca and her three best friends discover that a sinister, paranormal villain known as the Night Queen has taken Kyle and replaced him with one of her minions. To stop her, they embark on a chilling journey into the woods to outwit the Night Queen and her creepy creatures—or risk being trapped in her realm forever!
Quick thinking and strong friendship save the day in the first of this exciting new middle-grade series.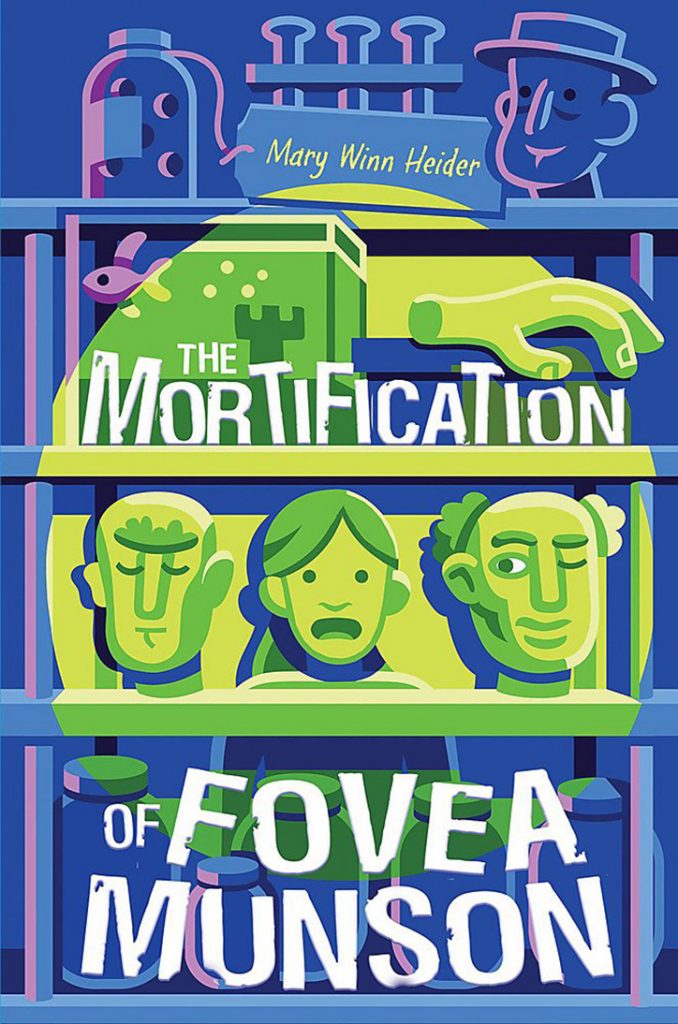 The Mortification of Fovea Munson
Author: Mary Winn Heider
Illustrator: Chi Birmingham
Publisher: Disney Hyperion
Date: June 5
SYNOPSIS:
Fovea Munson is nobody's Igor. True, her parents own a cadaver lab where they perform surgeries on dead bodies. And yes, that makes her gross by association, at least according to everyone in seventh grade. And sure, Fovea's stuck working at the lab now that her summer camp plans have fallen through. But she is by no means Dr. Frankenstein's snuffling assistant!
That is, until three disembodied heads, left to thaw in the wet lab, start talking. To her. Out loud.
What seems like a nightmare, or bizarre hallucination, is not. Fovea is somebody's Igor, all right. Three somebodies, actually. And they need a favor.
With a madcap sense of humor and a lot of heart (not to mention other body parts), this is a story about finding oneself, finding one's friends, and embracing the moment.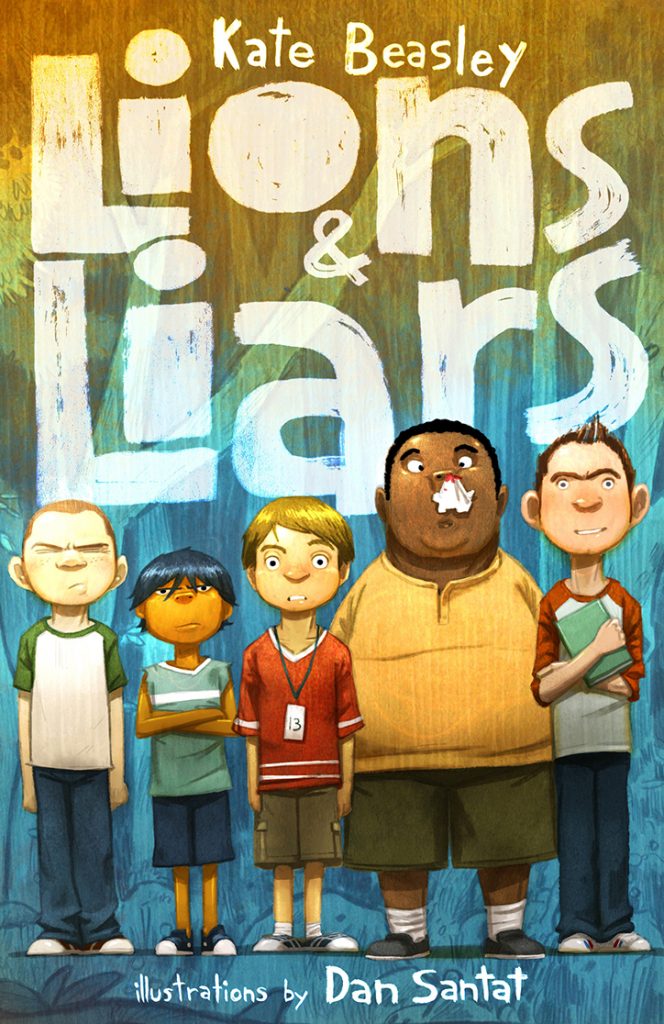 Lions and Liars
Author: Kate Beasley
Illustrator: Dan Santat
Publisher: Farrar, Straus, and Giroux
Date: June 5
SYNOPSIS:
Frederick Frederickson has a food-chain theory about life. There are lions, like the school bully. Gazelles, like the bullied kids. There are meerkats, and the fleas that live on the butts of meerkats. Frederick's a flea.
Fifth grade is off to a terrible start when Frederick is sent to a disciplinary camp for troublesome boys. His fellow troop mates—Nosebleed, Specs, The Professor, and little-yet-lethal Ant Bite—are terrifying. But in between trust-building exercises and midnight escape attempts, a tenuous friendship grows between them. Which is lucky, because a Category 5 hurricane is coming and everyone will have to work together—lions and fleas alike—to survive!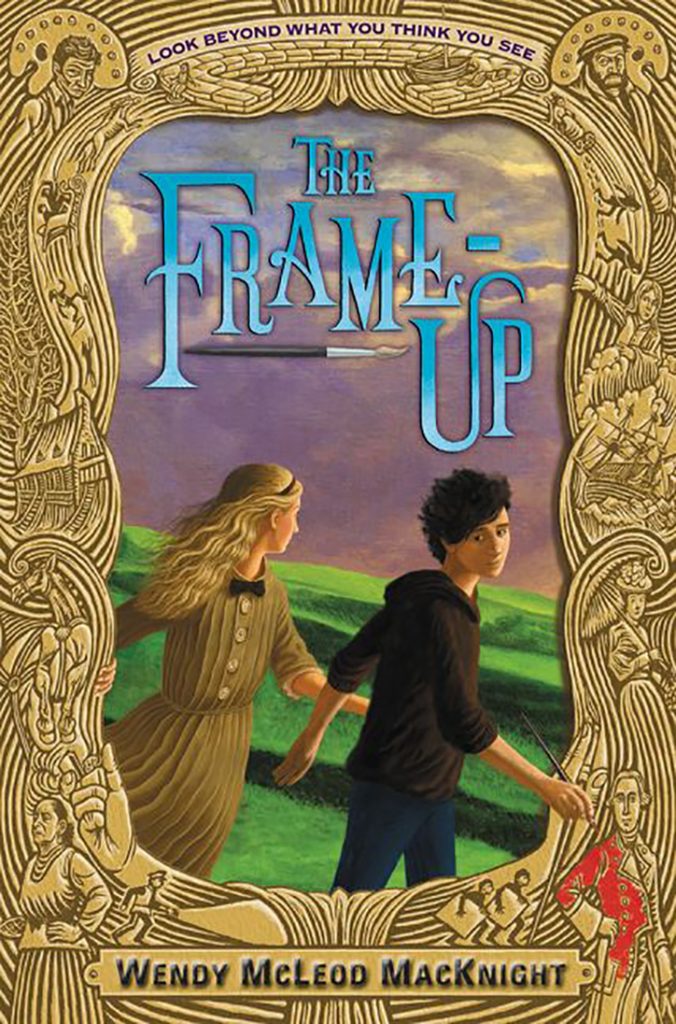 The Frame-Up
Author: Wendy McLeod MacKnight
Publisher: Greenwillow Books
Date: June 5
SYNOPSIS:
When Sargent Singer discovers that the paintings in his father's gallery are alive, he is pulled into a captivating world behind the frame that he never knew existed.
Filled with shady characters, devious plots, and a grand art heist, this inventive mystery-adventure celebrates art and artists and is perfect for fans of Night at the Museum and Blue Balliett's Chasing Vermeer.
There's one important rule at the Beaverbrook Gallery—don't let anyone know the paintings are alive. Mona Dunn, forever frozen at thirteen when her portrait was painted by William Orpen, has just broken that rule. Luckily twelve-year-old Sargent Singer, an aspiring artist himself, is more interested in learning about the vast and intriguing world behind the frame than he is in sharing her secret.
And when Mona and Sargent suspect shady dealings are happening behind the scenes at the gallery, they set out to find the culprit. They must find a way to save the gallery—and each other—before they are lost forever.
With an imaginative setting, lots of intrigue, and a thoroughly engaging cast of characters, The Frame-Up will captivate readers of Jacqueline West's The Books of Elsewhere.
Includes a 16-page full-color insert showcasing the real paintings featured in the book.

Heartseeker
Author: Melinda Beatty
Publisher: G.P. Putnam's Sons Books for Young Readers
Date: June 5
SYNOPSIS:
A vibrant fantasy-adventure debut about a girl who can see lies.
You're a Fallow of the Orchard. You're as tough as a green apple in summer . . .
Only Fallow was just six harvests old when she realized that not everyone sees lies. For Only, seeing lies is as beautiful as looking through a kaleidoscope, but telling them is as painful as gnawing on cut glass. Only's family warns her to keep her cunning hidden, but secrets are seldom content to stay secret.
When word of Only's ability makes its way to the King, she's plucked from her home at the orchard and brought to the castle at Bellskeep. There she learns that the kingdom is plagued by traitors, and that her task is to help the King distinguish between friend and foe. But being able to see lies doesn't necessarily mean that others aren't able to disguise their dishonesty with cunnings of their own.
In the duplicitous, power-hungry court, the truth is Only's greatest weapon . . . and her greatest weakness.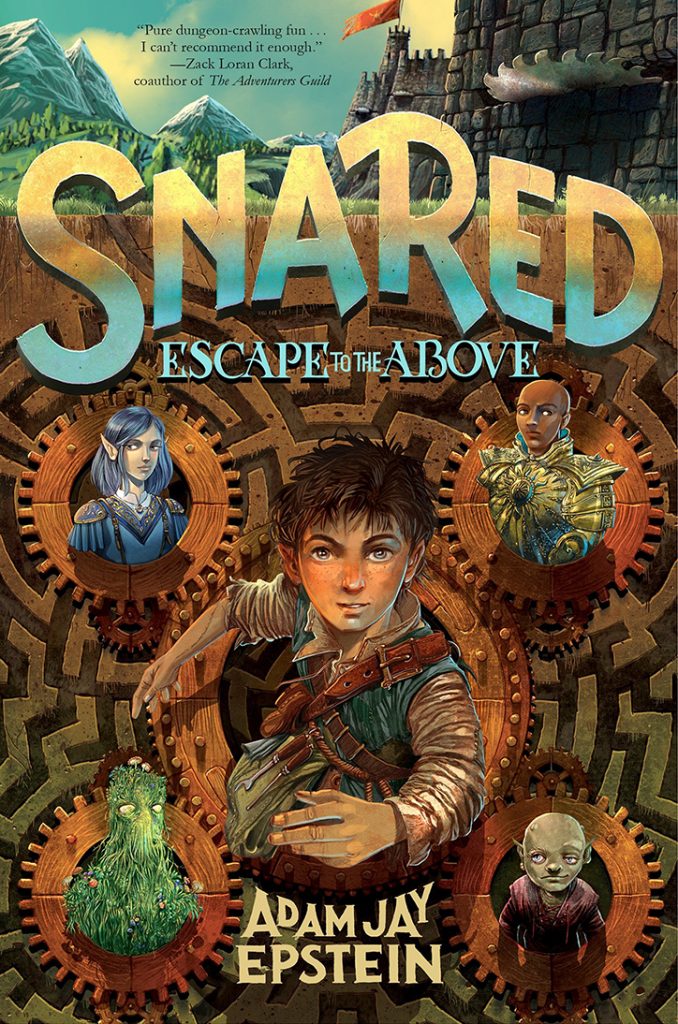 Snared: Escape to the Above
Author: Adam Jay Epstein
Publisher: Imprint
Date: June 5
SYNOPSIS:
Chopping blades, scorpion nests, giant spiderwebs—no one makes traps better than Wily Snare.
He has never seen the sun, or blue sky, or even his parents. Wily Snare lives underground, creating traps to keep treasure-seekers away from the gold in an ancient wizard's dungeon. He spends his days mopping up giant slug slime, avoiding poison darts, and herding undead skeletons. It's all he knows.
Until an unusual band of adventurers—an acrobatic elf, a warrior with a magic arm, and a giant made of moss—successfully defeat Wily's traps. And they want the ultimate treasure: Wily himself. His skills can help them invade every other dungeon in the kingdom. He might even aid their fight against the Infernal King, whose gearfolk and prisonauts terrorize the land.
But for a boy who has never been outside, dungeons aren't nearly as scary as the world above. Or an evil king who builds the trickiest traps of all…
Snared: Escape to the Above is the first book in a new fantasy adventure series from bestselling author Adam Jay Epstein.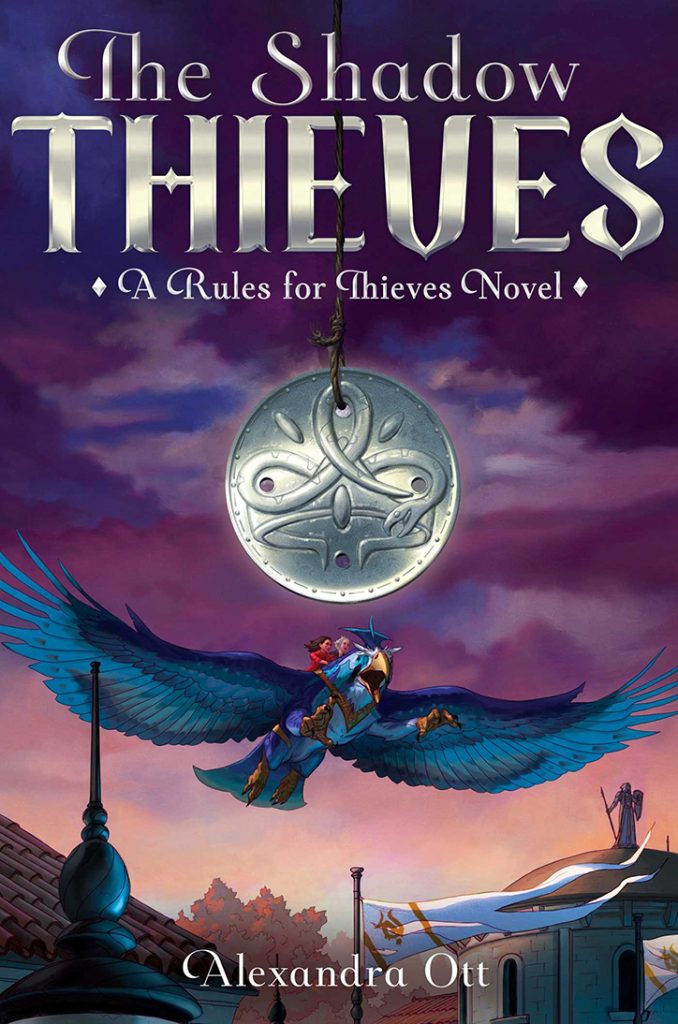 The Shadow Thieves
Author: Alexandra Ott
Publisher: Aladdin
Date: June 5
SYNOPSIS:
Alli must risk everything to save her new family from a rogue organization that is threatening the Thieves Guild's existence—and the lives of all its members—in this high-stakes sequel to Rules for Thieves.
Alli Rosco, former orphan and thief, is free after her disastrous Thieves Guild trial, which left an innocent woman dead while Alli's partner-in-crime, Beck, fled.
Now Alli is getting more than just a fresh start: her long-lost brother, Ronan, has come forward to claim responsibility for her and let her live with him on a trial basis. They try to mend the rift that started when Alli was dropped off at the orphanage while Ronan became a lawyer in Ruhia. But as determined as she is to make things work, Alli can't seem to stay out of trouble.
To make matters worse, Alli finds a surprise guest on her doorstep one night: Beck.
He's on the run and brings news of the Shadow Guild, a rogue organization that is trying to overthrow the current king of the Thieves Guild. Their friends are in real danger. And Beck needs Alli's help one more time to bring the Shadows down.
Once again, Alli is forced to make a hard choice: save her friends, or lose her last chance to have a true family.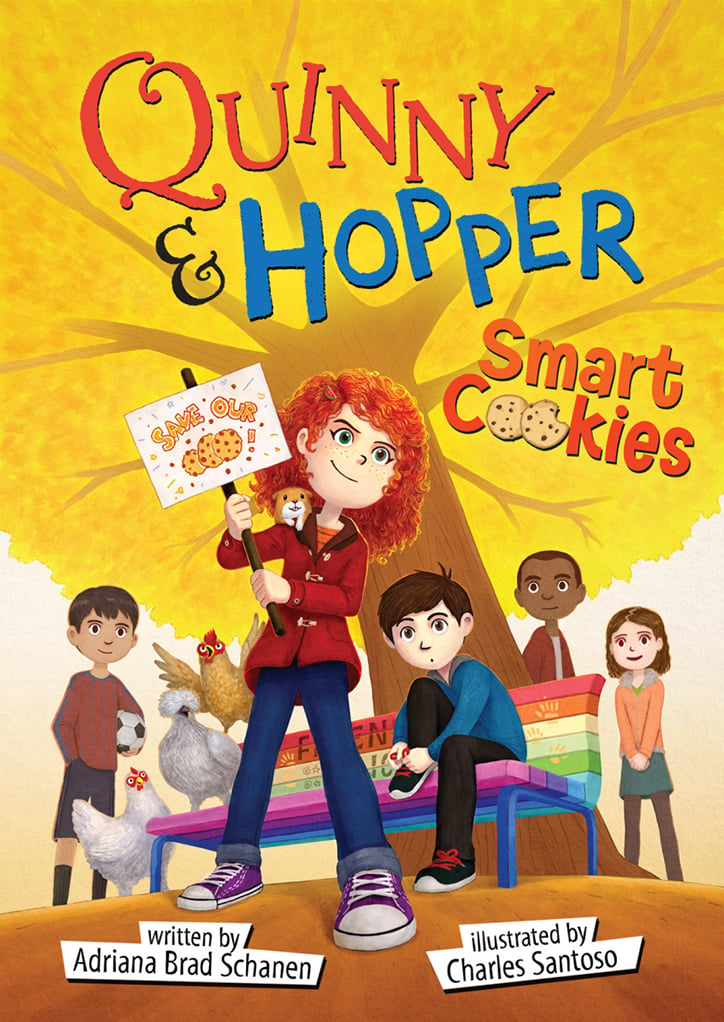 Quinny & Hopper: Smart Cookies
Author: Adriana Brad Schanen
Publisher: Disney Hyperion
Date: June 5
SYNOPSIS:
Breaking news from Whisper Valley Elementary:
– Sweets are now against the law
– A mysterious third grade "smart list" has appeared
– No one uses the new Friendship Bench (shocker)
In times like these, Quinny and Hopper need each other more than ever.
Quinny is determined to overturn the sweets ban. Cookies make school a happy place! But how can she focus on her petition when horrible decimals and fractions are taking up all her time?
Hopper can't stand that a mean and untrue list hurt his best friend's feelings. He has an idea of how to make school a better place and reinvent the Friendship Bench-but is crushed when others take credit for his actions. Hopper may not love the limelight, but he isn't invisible either!
In the third installment of this acclaimed series, Quinny and Hopper learn that friendship makes life's happy and hard times that much sweeter.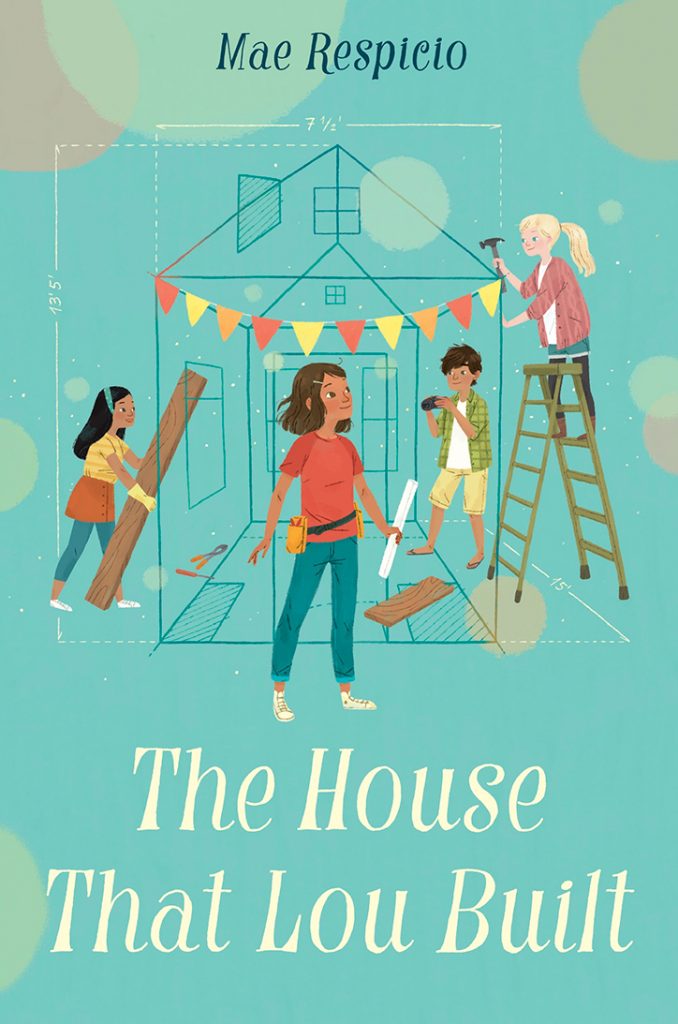 The House that Lou Built
Author: Mae Respicio
Publisher: Wendy Lamb Books
Date: June 12
YAYOMG!:
The House That Lou Built can only be described with "-ful" words. Wonderful, delightful, beautiful, etc. It's just that great, we fell in love with it so quickly. Author Mae Respicio was kind enough to share some fun facts with us about how she brought Lou's story to life, and we'll be sharing them with you on June 12th!
SYNOPSIS:
Lou Bulosan-Nelson is going to build her dream. She shares a room with her mom in her grandmother's house in San Francisco, and longs for a place of her own where she can escape her lovable but large extended Filipino family. Lou has a talent for woodshop class and creating projects, and plans to build a tiny house, 100 square feet, all her own, on land that she inherited from her dad, who died before she was born. Then Lou discovers it's not so easy to build one, but she won't give up on her dream—and her friends and family won't either. This heartwarming coming-of-age story explores culture and family, forgiveness and friendship, and what makes a house a true home.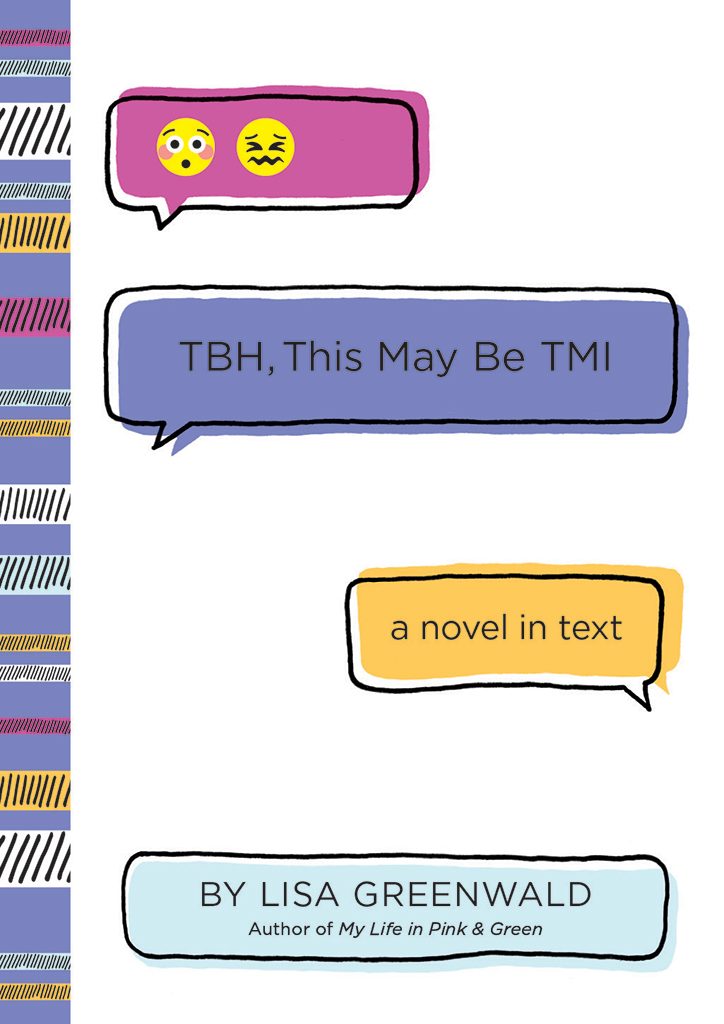 TBH, This May Be TMI
Author: Lisa Greenwald
Publisher: Katherine Tegen Books
Date: June 12
SYNOPSIS:
Told entirely in text messages, the second book in this addictive series from the acclaimed author of 11 Before 12 is perfect for fans of Lauren Myracle and Rachel Renee Russell.
TBH, Cece has no time for her boy-crazy friends. She wants to make a bigger impact in middle school than just choosing the perfect kissy cat-face emoji.
But that's hard when Gabby and Prianka talk about their crushes 24/7. (To be honest, it's way too much information!) Between nailing down summer plans, getting busted for iMessaging in class, and organizing the spring fair, things are getting rocky for the BFFs.
But when Prianka gets an SOS text from her friend Vishal, the girls realize they need to band together—because some of their classmates have bigger challenges than dealing with sixth grade stress.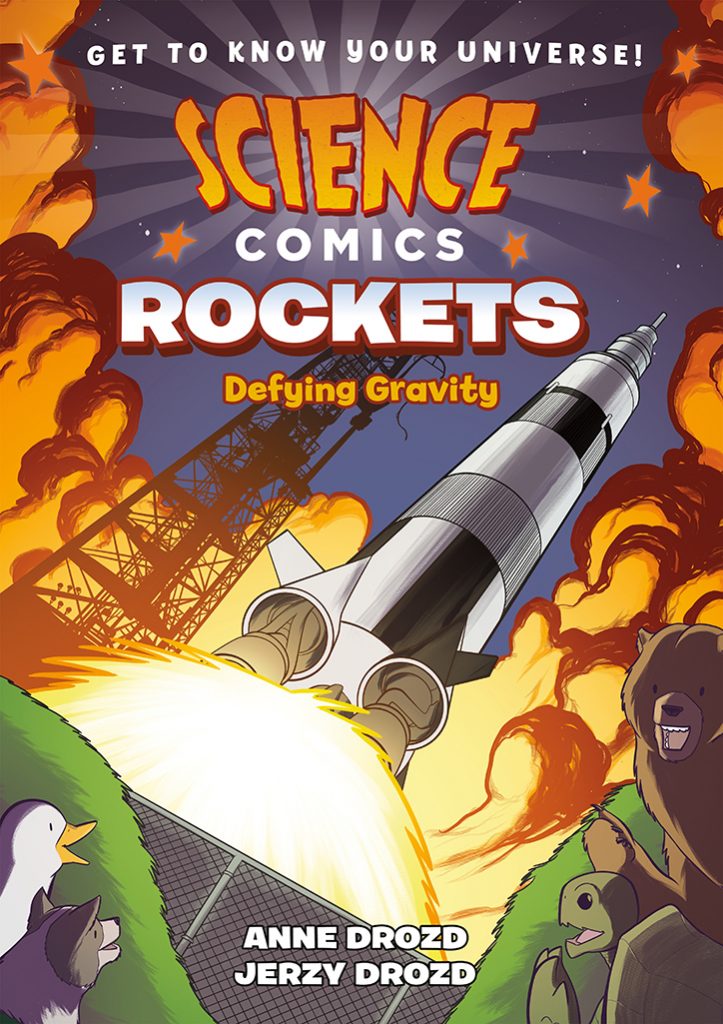 Science Comics: Rockets: Defying Gravity
Creators: Anne Drozd and Jerzy Drozd
Publisher: First Second Books
Date: June 12
SYNOPSIS:
Every volume of Science Comics offers a complete introduction to a particular topic—dinosaurs, coral reefs, the solar system, volcanoes, bats, flying machines, and many more. These gorgeously illustrated graphic novels offer wildly entertaining views of their subjects. Whether you're a fourth grader doing a natural science unit at school or a thirty-year-old with a secret passion for airplanes, these books are for you!
This volume: In Rockets, we explore the 2,000 years that rockets have been in existence. We dive into Newton's Laws of Motion—learning all about gravity, force, acceleration, and the history of rockets made in the past and rockets to be made in the future!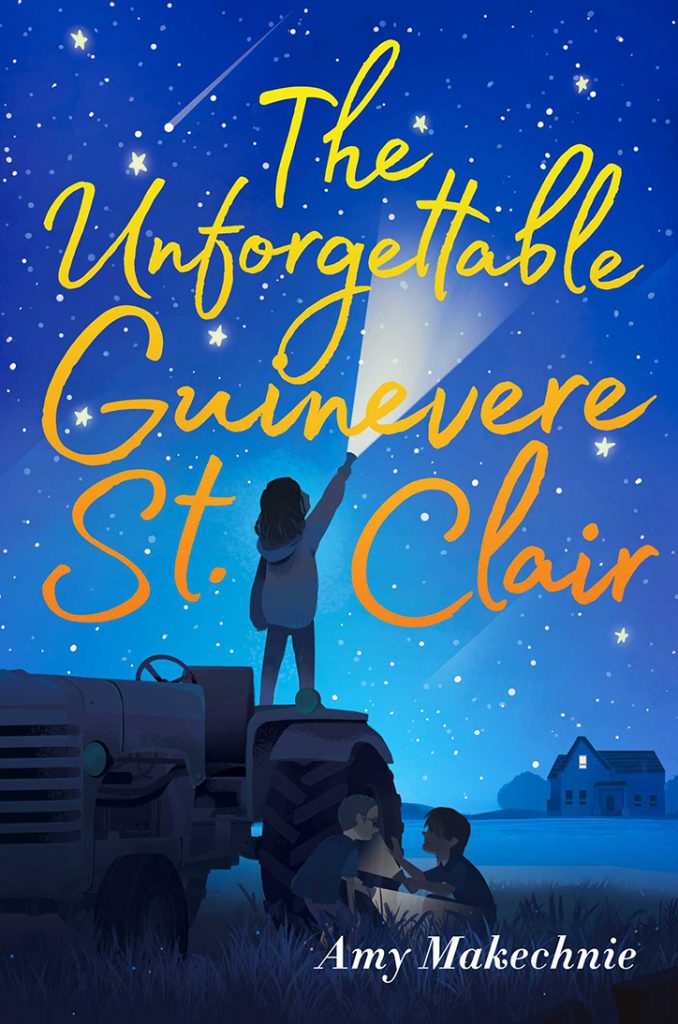 The Unforgettable Guinevere St. Clair
Author: Amy Makenchnie
Publisher: Atheneum Books for Young Readers
Date: June 12
SYNOPSIS:
A ten-year-old girl is determined to find her missing neighbor, but the answers lead her to places and people she never expected—and maybe even one she's been running away from—in this gorgeous debut novel that's perfect for fans of The Thing About Jellyfish.
Guinevere St. Clair is going to be a lawyer. She was the fastest girl in New York City. She knows everything there is to know about the brain. And now that she's living in Crow, Iowa, she wants to ride into her first day of school on a cow named Willowdale Princess Deon Dawn.
But Gwyn isn't in Crow, Iowa, just for royal cows. Her family has moved there, where her parents grew up, in the hopes of jogging her mother Vienna's memory. Vienna has been suffering from memory loss since Gwyn was four. She can no longer remember anything past the age of thirteen, not even that she has two young daughters. Gwyn's father is obsessed with finding out everything he can to help his wife, but Gwyn's focused on problems that seem a little more within her reach. Like proving that the very strange Gaysie Cutter who lives next door is behind the disappearance of her only friend, Wilbur Truesdale.
Gwyn is sure she can crack the case, but when she does she finds that not all of her investigations lead her to the places she would have expected. In fact, they might just lead her to learn about the mother she's been doing her best to forget.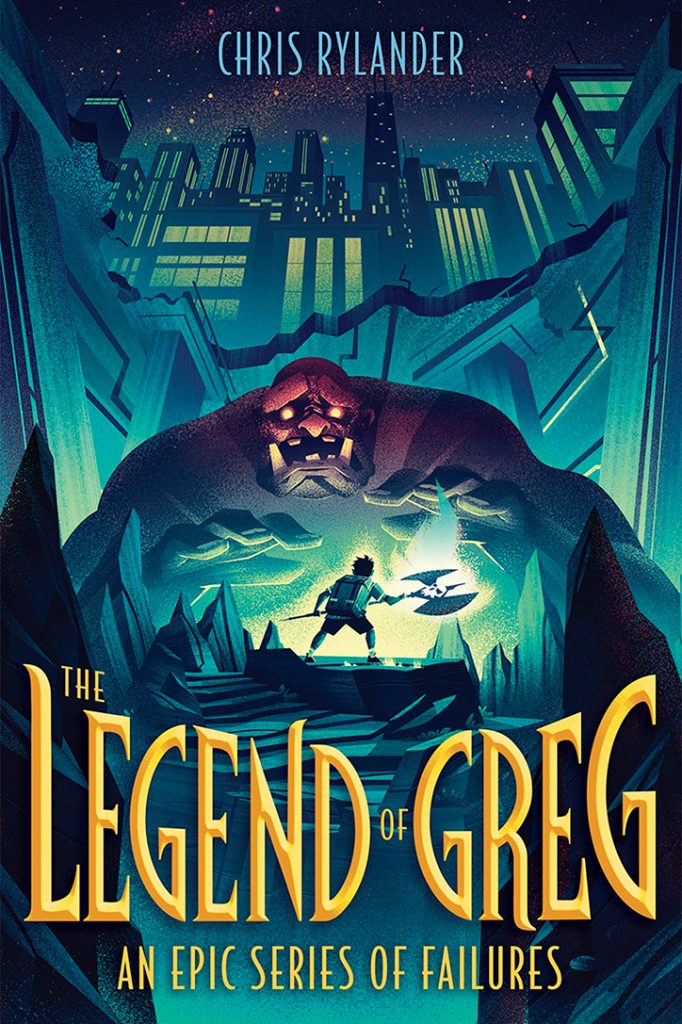 The Legend of Greg: An Epic Series of Failures
Author: Chris Rylander
Publisher: G.P. Putnam's Sons Books for Young Readers
Date: June 12
SYNOPSIS:
A boy discovers his destiny could totally stink in this riotously funny fantasy-adventure
Risk-averse Greg Belmont is content with being ordinary. He's got a friend–that's right, just one–at his fancy prep school, and a pretty cool dad (even if he is obsessed with organic soaps that smell like a mix of salted pork and Icelandic bog). The problem is, Greg isn't ordinary . . . he's actually an honest-to-goodness, fantastical Dwarf!
He discovers the truth the day his dad brings home a gross new tea–one that awakens bizarre abilities in Greg. Then a murderous Bro-Troll kidnaps his dad and Greg is whisked away to the Underground, where Dwarves have lived for centuries right beneath the subways of Chicago.
With the help of some awesome new friends and a talking ax, Greg learns all about the history of the Dwarves, which has been marked with tales of epic failure since the dawn of time. However, the return of the magic they once wielded means big changes are afoot, escalating tensions with the Dwarves' sworn enemy: the Elves.
Brimming with humor and action, Chris Rylander's The Legend of Greg turns dwarf lore on its head, delivering an adventure readers won't be able to resist.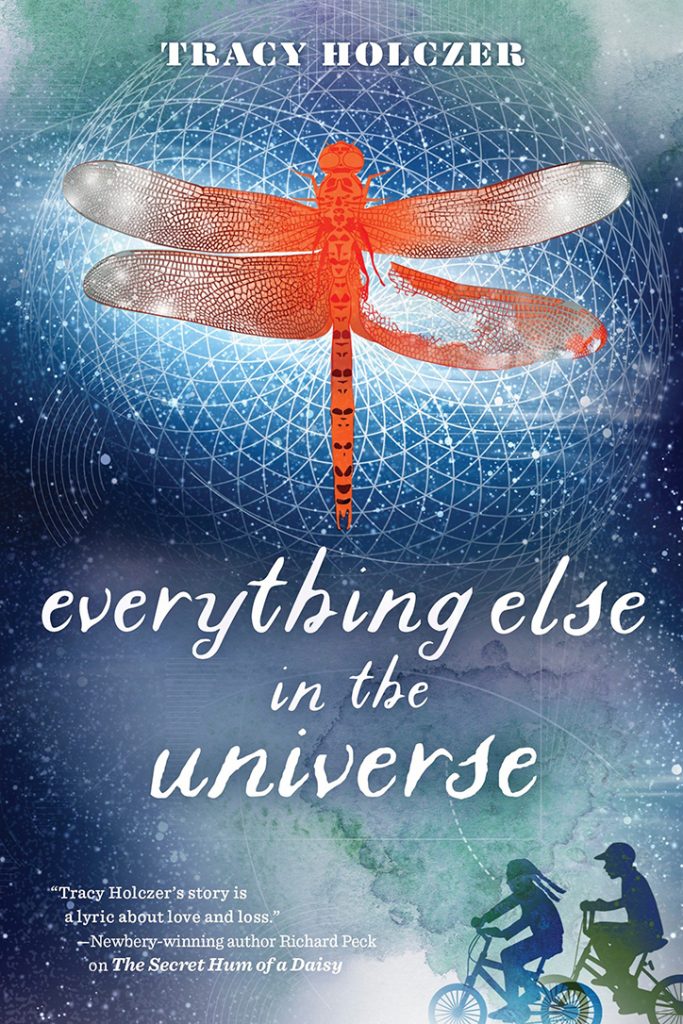 Everything Else in the Universe
Author: Tracy Holczer
Publisher: G.P. Putnam's Sons Books for Young Readers
Date: June 12
SYNOPSIS:
In the midst of the Vietnam War, a young girl struggles to embrace change in this tender family story for fans of Cynthia Lord and Wendy Maas
Lucy is a practical, orderly person–just like her dad. He taught her to appreciate reason and good sense, instilling in her the same values he learned at medical school. But when he's sent to Vietnam to serve as an Army doctor, Lucy and her mother are forced to move to San Jose, California, to be near their relatives–the Rossis–people known for their superstitions and all around quirky ways.
Lucy can't wait for life to go back to normal, so she's over the moon when she learns her father is coming home early. It doesn't even matter that he's coming back "different." That she can't ask too many questions or use the word "amputation." It just matters that he'll be home. But Lucy quickly realizes there's something very wrong when her mother sends her to spend the summer with the Rossis to give her father some space. Lucy's beside herself, but what's a twelve-year-old to do?
It's a curious boy named Milo, a mysterious packet of photographs and an eye-opening mission that makes Lucy see there's more to life than schedules and plans, and helps to heal her broken family. The latest from critically-acclaimed author Tracy Holczer is a pitch-perfect middle grade tale of family and friendship that's sure to delight fans of One for the Murphys and Rules.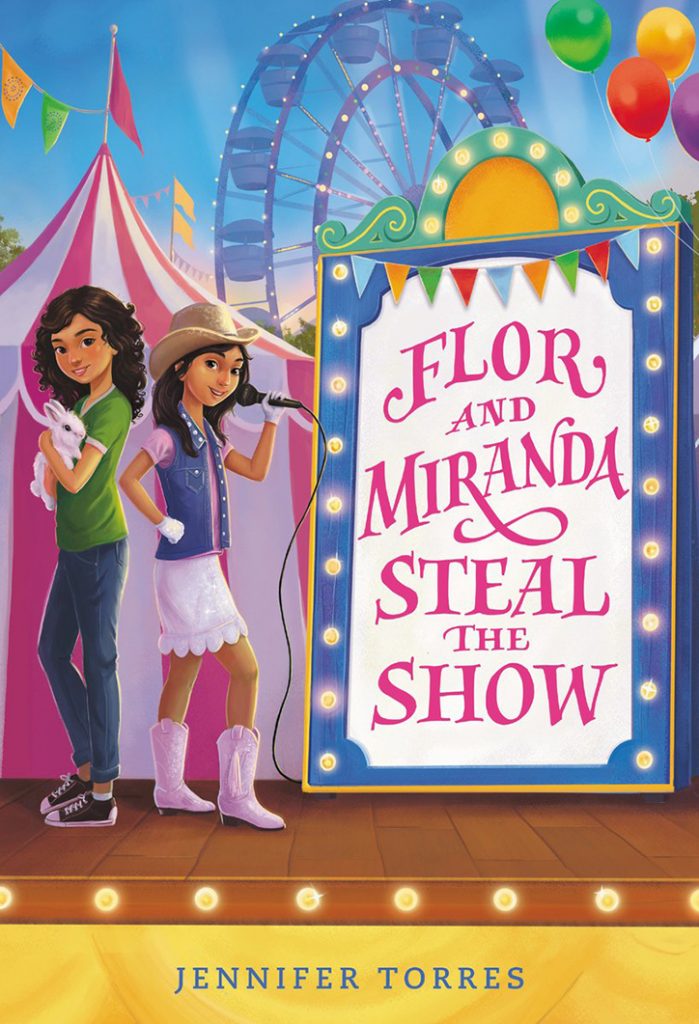 Flor and Miranda Steal the Show
Author: Jennifer Tores
Publisher: Little, Brown Books for Young Readers
Date: June 12
SYNOPSIS:
Enjoy carnival rides and deep fried pickles in this warm, funny middle grade novel about family and friendship.
Miranda is the lead singer in her family's musical band, Miranda y Los Reyes. Her family has worked hard performing at festivals and quinceañeras. Now, they have a shot at the main stage. How will Miranda make it a performance to remember?
Flor's family runs the petting zoo at Mr. Barsetti's carnival. When she accidentally overhears Mr. Barsetti and Miranda's dad talk about cutting the zoo to accommodate Miranda y Los Reyes's main stage salary, she knows she has to take action. Will she have the heart for sabotage once she and Miranda actually start to become friends?

Takedown
Author: Laura Shovan
Publisher: Wendy Lamb Books
Date: June 19
YAYOMG!:
We have something incredibly cool planned for this book! Takedown author Laura Shovan wanted to give readers a glimpse into the process of how a book idea becomes a published book. She'll be stopping by YAYOMG! On June 19th to share a guest post on one of the most important parts of any story – RESEARCH! While researching this book, she got to speak with a real wrestler about her experiences, and she'll be sharing that with you as well as tips on how you can schedule your own research interviews for school projects or your future best-seller! Read it here!
SYNOPSIS:
"You're only as good as your partner."
Mikayla is a wrestler; when you grow up in a house full of brothers who are die-hard mat heads, it's in your DNA. She even has a wrestling name: Mickey. Some people don't want a girl on the team. But that won't stop her. She's determined to work hard, and win.
Lev is determined too–he's going to make it to the state championship. He's used to training with his two buddies as the Fearsome Threesome. But at the beginning of sixth grade, he's paired with a new partner—a girl. This better not get in the way of his goal.
Mickey and Lev work hard together, and find a way to become friends. But at States, there can only be one winner.
This warmhearted, engaging novel by the author of the highly praised The Last Fifth Grade of Emerson Elementary explores competition among athletes, how it influences family and friendships, and what happens when one girl wants to break barriers in a sport dominated by boys.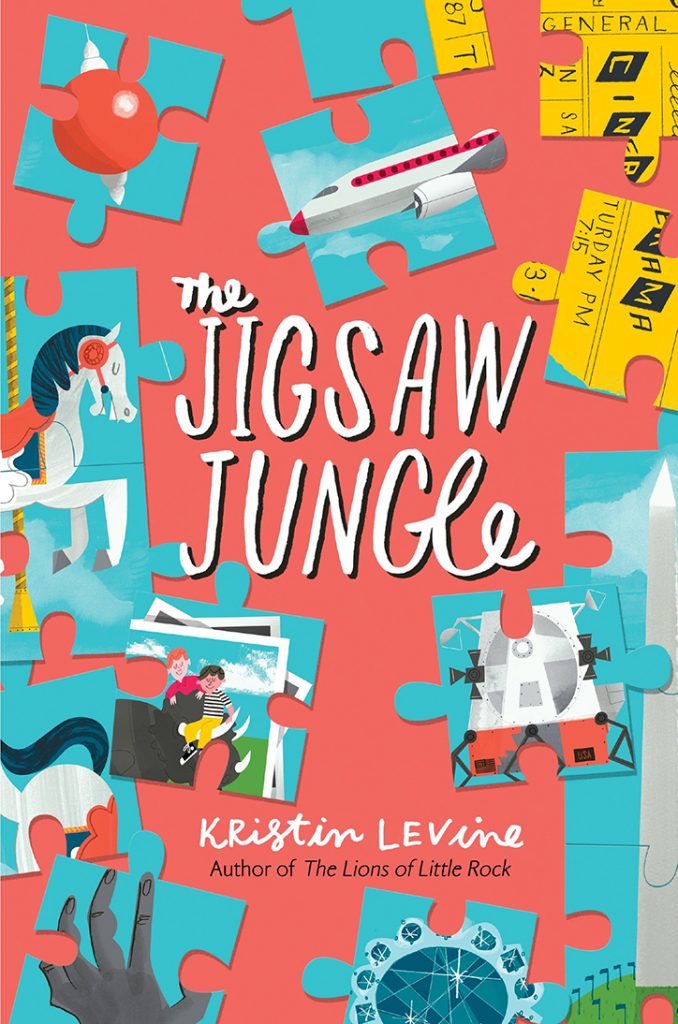 The Jigsaw Jungle
Author: Kristin Levine
Publisher: G.P. Putnam's Sons Books for Young Readers
Date: June 19
SYNOPSIS:
A mysterious treasure hunt helps to heal a broken family in Kristin Levine's first contemporary tale.
Claudia Dalton's father has disappeared. What began as a late night at work has spiraled into a missing persons case – one that's left twelve-year-old Claudia questioning everything she's ever known about her father and their family.
But when she finally gets word from her dad, it turns out he isn't missing at all. He's just gone to "think things over and visit an old friend," whatever that means. Feeling confused and helpless, Claudia starts to assemble a scrapbook, gathering emails, receipts, phone transcripts and more, all in a desperate attempt to figure out what's happening with her dad. Claudia's investigation deepens at her grandfather's house, where she receives an envelope containing a puzzle piece and a cryptic message.
It's this curious first clue that sets Claudia on an unexpected treasure hunt that she hopes will bring her dad home and heal whatever's gone wrong with her family.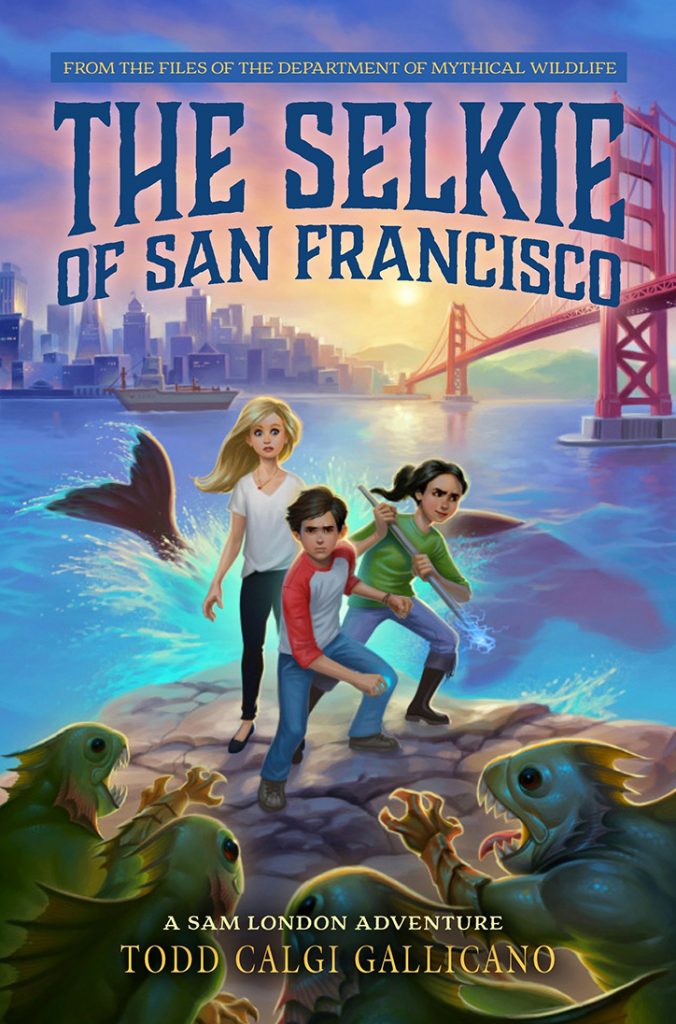 The Selkie of San Francisco
Author: Todd Calgi Gallicano
Publisher: Delacorte Books for Young Readers
Date: June 19
SYNOPSIS:
In the thrilling sequel to Guardians of the Gryphon's Claw, an epic adventure novel that "is sure to keep lovers of Rick Riordan running to the shelves," Sam London dives headlong into his second case involving a selkie, a mysterious girl, and an ominous new threat to the mythical and human worlds ( School Library Journal )!
Sam London didn't mean to uncover an ancient secret, but when he found out that mythical creatures are real and living in our national parks, he became the newest recruit to the Department of Mythical Wildlife. Ever since, the middle schooler has been anxiously awaiting the call for his next case . . . and it finally arrives with the brazen appearance of a selkie in San Francisco Bay.
Along with Dr. Vance Vantana and the guardian Tashi, Sam pursues the selkie, who has taken a peculiar interest in fashion's newest "it" girl and social media star, Pearl Eklund. But the closer he gets, the more questions emerge about Pearl's mysterious connection to the mythical world. Is she the long-lost hope for an entire civilization or the harbinger of its doom? It's up to Sam to find out the truth, and fast. . . . The fate of humanity hangs in the balance.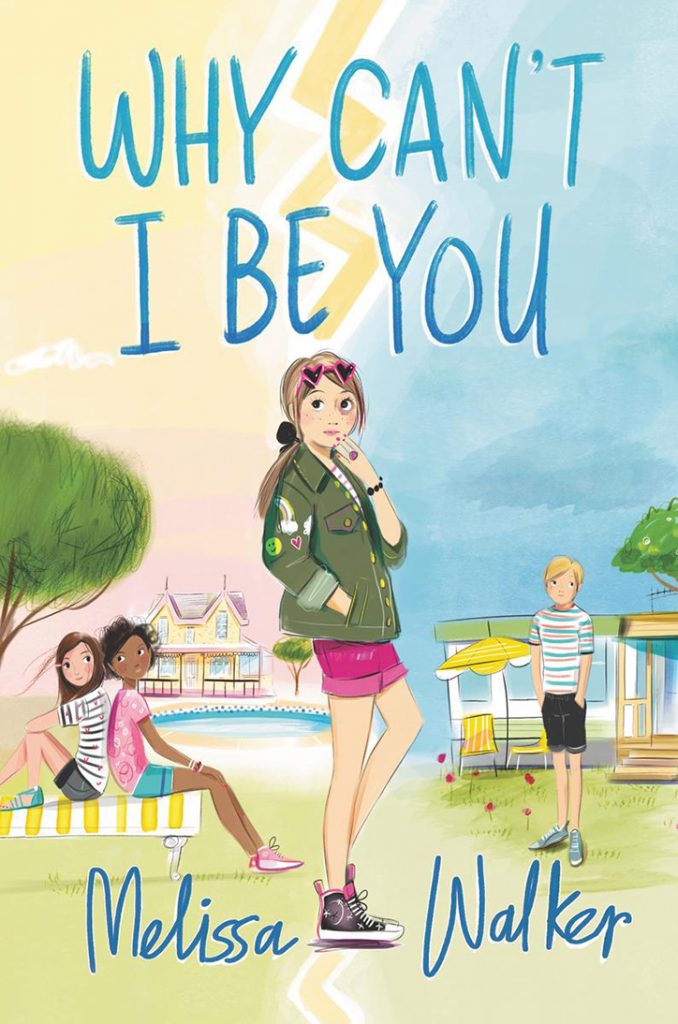 Why Can't I Be You
Author: Melissa Walker
Publisher: HarperCollins Children's Books
Date: June 19
SYNOPSIS:
An honest and utterly charming middle grade story that explores how social class affects friendship.
Claire Ladd knows that this summer is going to be special. She and her two best friends, Ronan and Brianna, are turning twelve. She is leaving camp behind and gets to do what she wants all day. She feels everything starting to change.
But things don't always change for the better.
With Brianna's cousin Eden there for the summer, Claire feels like a third wheel. Even though she is only a year older, Eden seems so much more sophisticated and glamorous . . . and when she is around, she takes up everyone's attention, including Brianna's. But that doesn't explain why things have felt awkward with Brianna ever since she moved to a fancy new house, or why Ronan, who lives in the trailer next to Claire's, has started acting moody anytime anyone mentions his dad.
Claire has always been happy with her life just as it is, but as the summer wears on and the issues with her friends start to grow, she can't help but wonder whether everything would be better if she could just be someone else.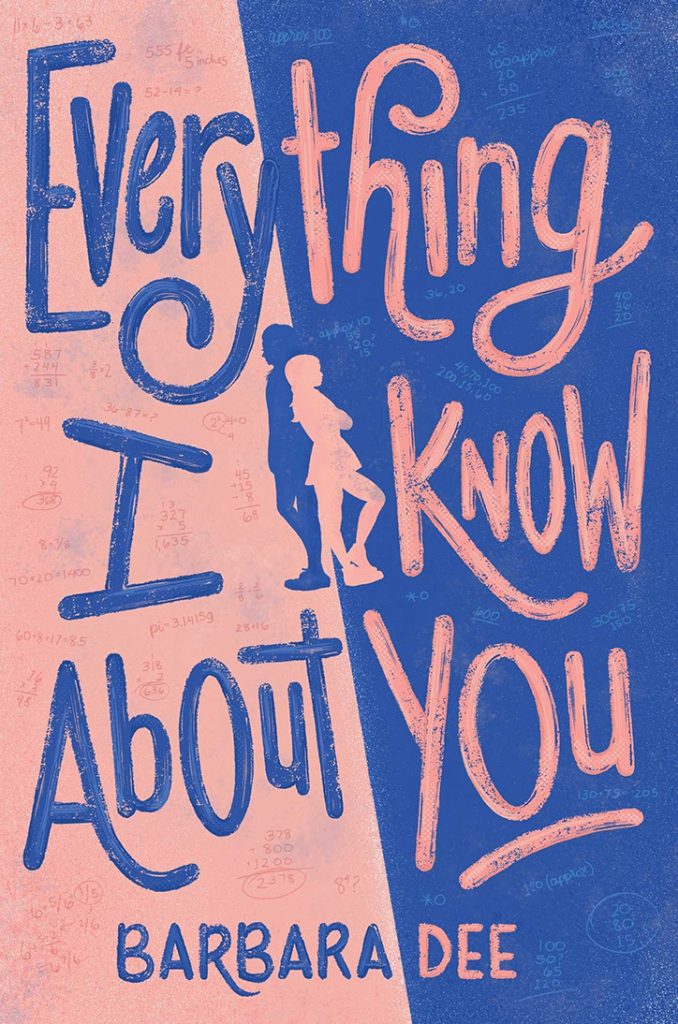 Everything I Know About You
Author: Barbara Dee
Publisher: Aladdin
Date: June 19
SYNOPSIS:
Misfit Tally is forced to room with queen bee Ava on the seventh grade field trip to Washington, DC, and discovers several surprising things about her roommate—including the possibility of an eating disorder—in this timely new novel from the author of Star-Crossed and Halfway Normal.
During a class trip to DC, twelve-year-old Tally and her best friends, Sonnet and Caleb (a.k.a. Spider) are less than thrilled when they are assigned roommates and are paired with kids who are essentially their sworn enemies. For Tally, rooming with "clonegirl" Ava Seely feels like punishment, rather than potential for fun.
But the trip is full of surprises. Despite a pact to stick together as much as they can, Sonnet pulls away, and spider befriends Marco, the boy who tormented him last year. And Marco just might "like" Tally—what's that about?
But the uneasy peace in Ava and Tally's room is quickly upended when Tally begins to suspect something is off about Ava. She has a weird notebook full of random numbers, and doesn't seem to eat anything during meals. When Tally confronts Ava, Ava threatens to share an embarrassing picture of Tally with the class if Tally says anything to anyone about her suspicions. But will Tally endanger more than her pride by keeping her secret?
This is one class trip full of lessons Tally will never forget: how to stay true to yourself, how to love yourself and embrace your flaws, and how being a good friend can actually mean telling a secret you promised to keep…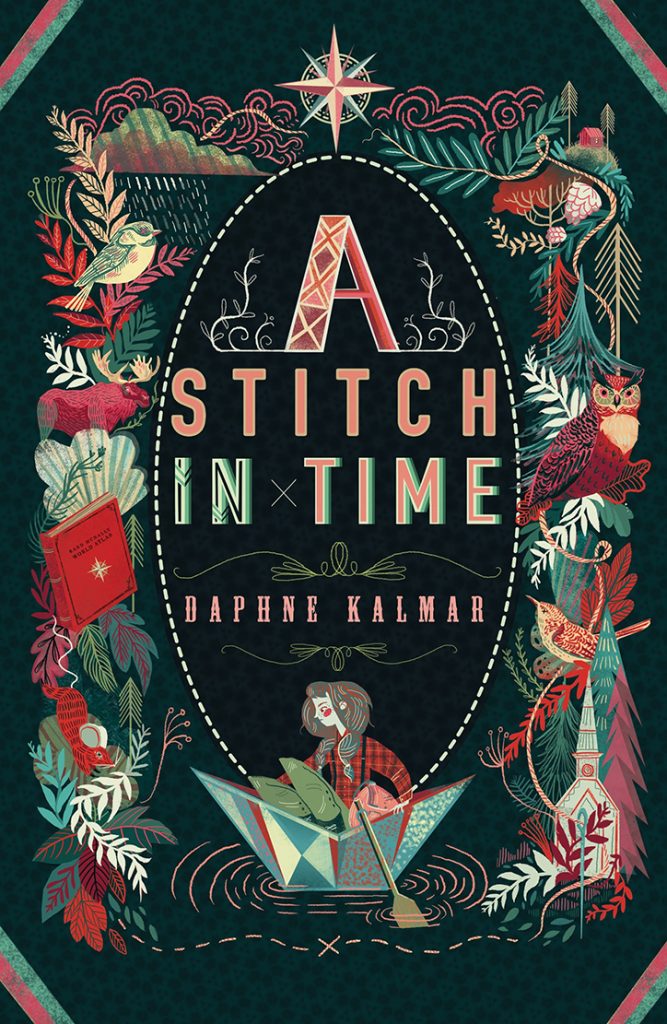 A Stitch in Time
Author: Daphne Kalmar
Publisher: Feiwel and Friends
Date: June 19
SYNOPSIS:
An orphan grapples with her unpleasant aunt and the even more unpleasant idea of moving to Boston in this poignant middle-grade debut that handles loss and renewal.
Donut is an eleven-year-old geography buff who keeps her taxidermied mice hidden in her late mother's hope chest. Her pops passed away, leaving her an orphan. Aunt Agnes has moved in, bringing along her lumpy oatmeal, knitting, and a plan to drag Donut off to Boston forever.
Donut stands to lose everything: her friends, her village, her home, the woods, and walks where the memories of her pops are stored up.
While Donut dodges the ache of missing her pops, she and her best friend Tiny plan how to keep her where she belongs. Holed up in a cabin on Dog Pond, Donut clings to the hope that Aunt Agnes will throw in the towel and leave Vermont without her.
A Stitch in Time is shot through with gorgeous, evocative language, and gets right to Donut's heart.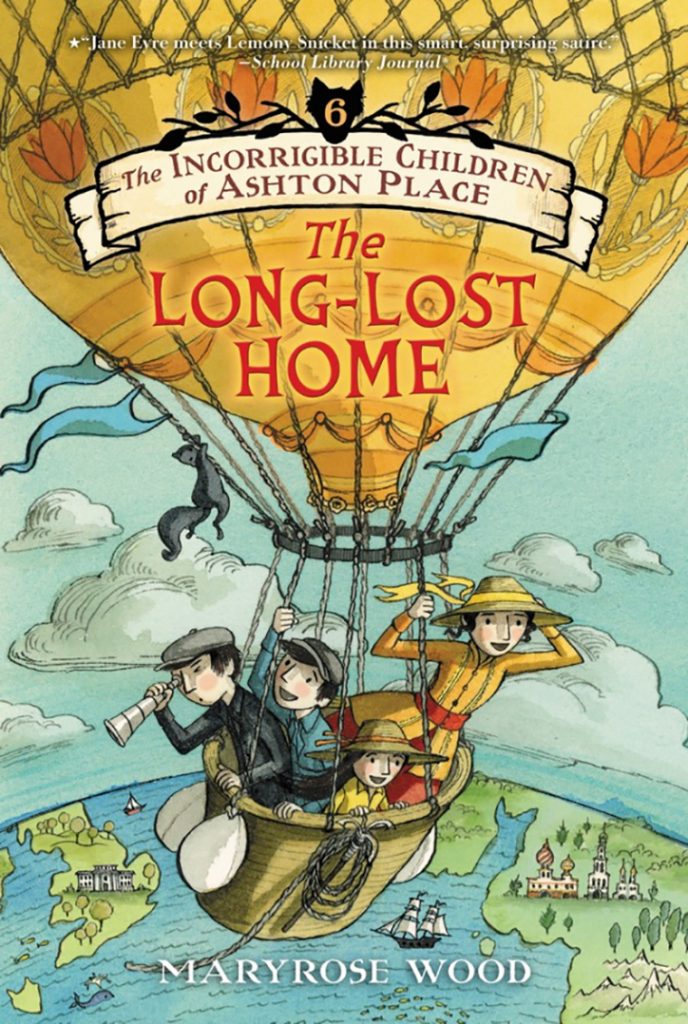 The Incorrigible Children of Ashton Place: The Long-Lost Home
Author: Maryrose Wood
Publisher: Balzer + Bray
Date: June 19
SYNOPSIS:
For fans of Lemony Snicket's Series of Unfortunate Events and Trenton Lee Stewart's Mysterious Benedict Society, here comes the final book in the Incorrigible Children of Ashton Place, the acclaimed and hilarious Victorian mystery series by Maryrose Wood.
Unhappy Penelope Lumley is trapped in unhappy Plinkst! Even the beets for which Plinkst is inexplicably famous fail to grow in this utterly miserable Russian village. Penelope anxiously counts the days and wonders how she will ever get back to England in time to save all the Ashtons—who, she now knows, include herself and the Incorrigible children, although their precise location on the family tree is still a mystery—from their accursèd fate.
Her daring scheme to escape sends her on a wildly unexpected journey. But time is running out, and the not-really-dead Edward Ashton is still on the loose. His mad obsession with the wolfish curse on the Ashtons puts Penelope and the Incorrigibles in dire peril. As Penelope fights her way back to her beloved pupils, the three brave Incorrigibles endure their gloomy new tutor and worriedly prepare for the arrival of Lady Constance's baby. Little do they know the danger they're in!
In this action-packed conclusion to the acclaimed series, mysteries are solved and long-lost answers are found. Only one question remains: Will Penelope and the Incorrigibles find a way to undo the family curse in time, or will the next full moon be their last?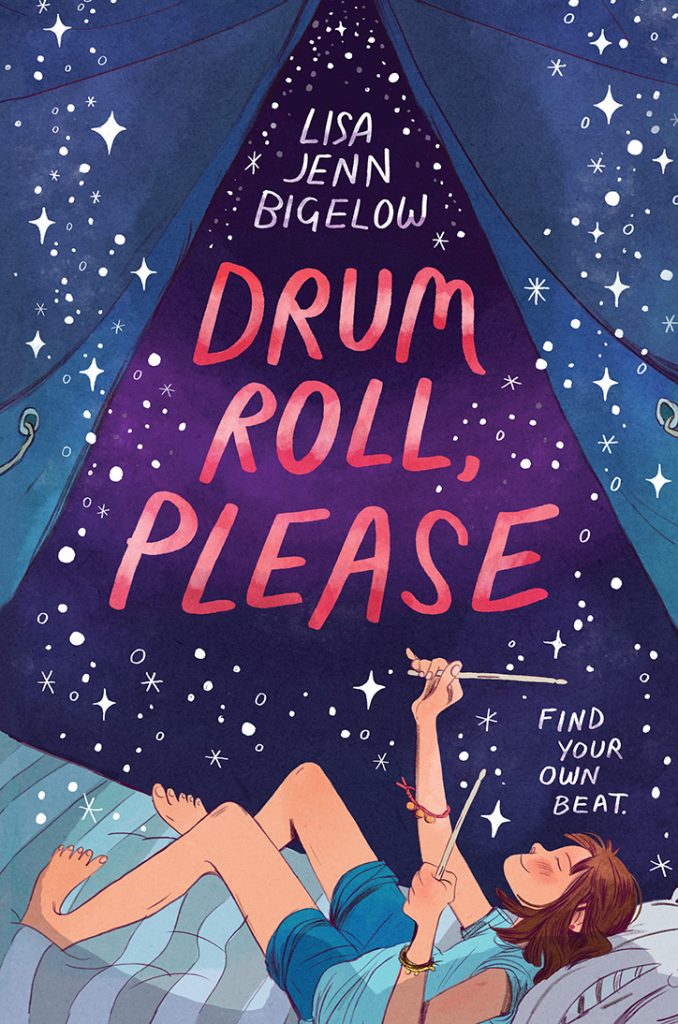 Drum Roll, Please
Author: Lisa Jenn Bigelow
Publisher: HarperCollins Children's Books
Date: June 26
YAYOMG!:
Drum Roll, Please is one we've been looking forward to for awhile, so when we were preparing which books and authors to celebrate for June, Lisa Jenn Bigelow was at the top of our list. Thankfully, she was just as excited as we were as sharing her amazing new book with all of our YAYOMG! readers. Be sure to check back on June 26th to go beyond the pages of Drum Roll, Please.
SYNOPSIS:
Find the confidence to rock out to your own beat.
Melly only joined the school band because her best friend, Olivia, begged her to. But to her surprise, quiet Melly loves playing the drums. It's the only time she doesn't feel like a mouse.
Now, she and Olivia are about to spend the next two weeks at Camp Rockaway, jamming under the stars in the Michigan woods.
But this summer brings big changes for Melly: her parents split up, her best friend ditches her, and Melly finds herself falling for a girl at camp named Adeline. To top it off, Melly's not sure she has what it takes to be a real rock 'n' roll drummer. Will she be able to make music from all the noise in her heart?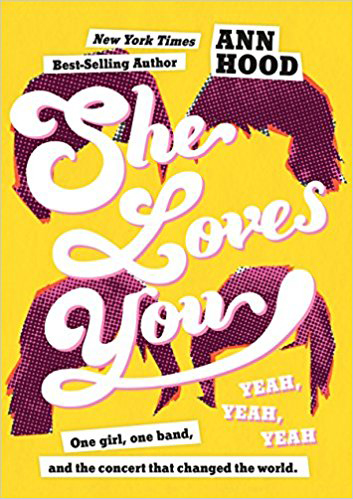 She Loves You (Yeah, Yeah, Yeah)
Author: Ann Hood
Publisher: Penguin Workshop
Date: June 26
SYNOPSIS:
Best-selling author Ann Hood tells the story of a girl swept up in the heart of 1960s Beatlemania. Written in her signature prose, Hood weaves a tale of four misfit friends who set off to see the Beatles' final world tour, each harboring a secret hope. What emerges is a sincere and funny story of growing up, making unexpected connections, and following your dreams even as the world in front of you–and the world at large–is changing too fast.
The year is 1966. The Vietnam War rages overseas, the Beatles have catapulted into stardom, and twelve-year-old Rhode Island native Trudy Mixer is not thrilled with life. Her best friend, Michelle, has decided to become a cheerleader, everyone at school is now calling her Gertrude (her hated real name), and the gem of her middle school career, the Beatles fan club, has dwindled down to only three other members–the least popular kids at school. And at home, her workaholic father has become even more distant.
Determined to regain her social status and prove herself to her father, Trudy looks toward the biggest thing happening worldwide: the Beatles. She is set on seeing their final world tour in Boston at the end of the summer–and meeting her beloved Paul McCartney. So on a hot August day, unknown to their families, Trudy and crew set off on their journey, each of them with soaring hopes for what lies ahead.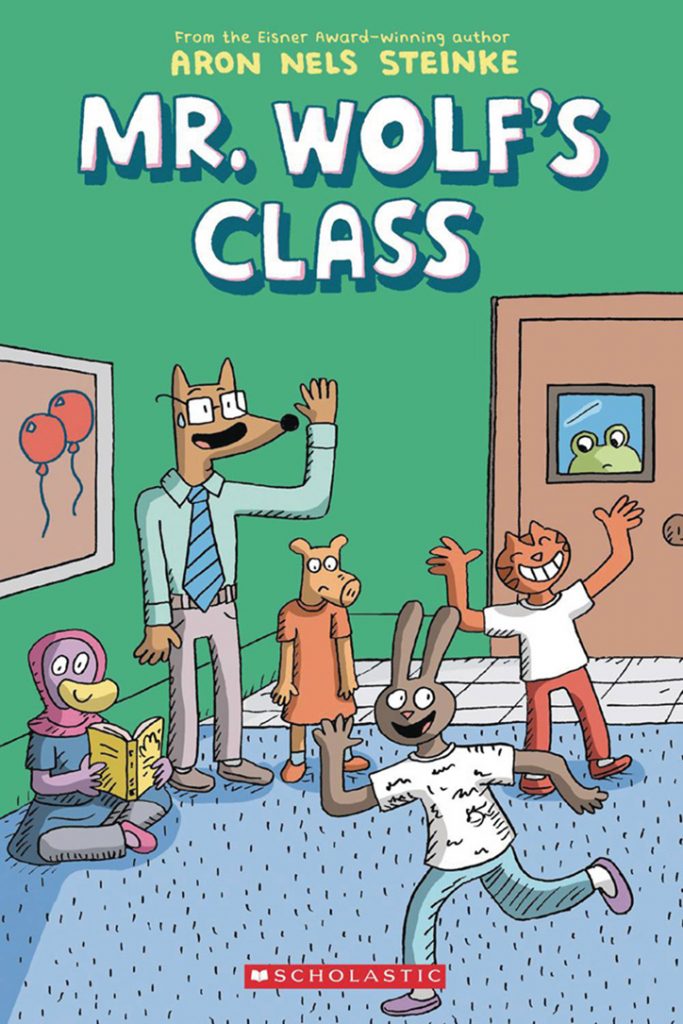 Mr. Wolf's Class
Author: Aron Nels Steinke
Publisher: Scholastic Graphix
Date: June 26
SYNOPSIS:
Mr. Wolf has just started teaching at Hazelwood Elementary. He wants the first day of school to go well, but he's got his hands full with his new class. Some of his students include: Margot, who is new in town and is trying to make friends. Sampson, who brought something special to school for show-and-tell. Aziza, who just wants everyone to be quiet and do their work. And Penny, who is VERY sleepy because she has a new baby brother at home, goes missing! This delightful new series captures the everyday — and unexpected — ups and downs of a fourth-grade classroom.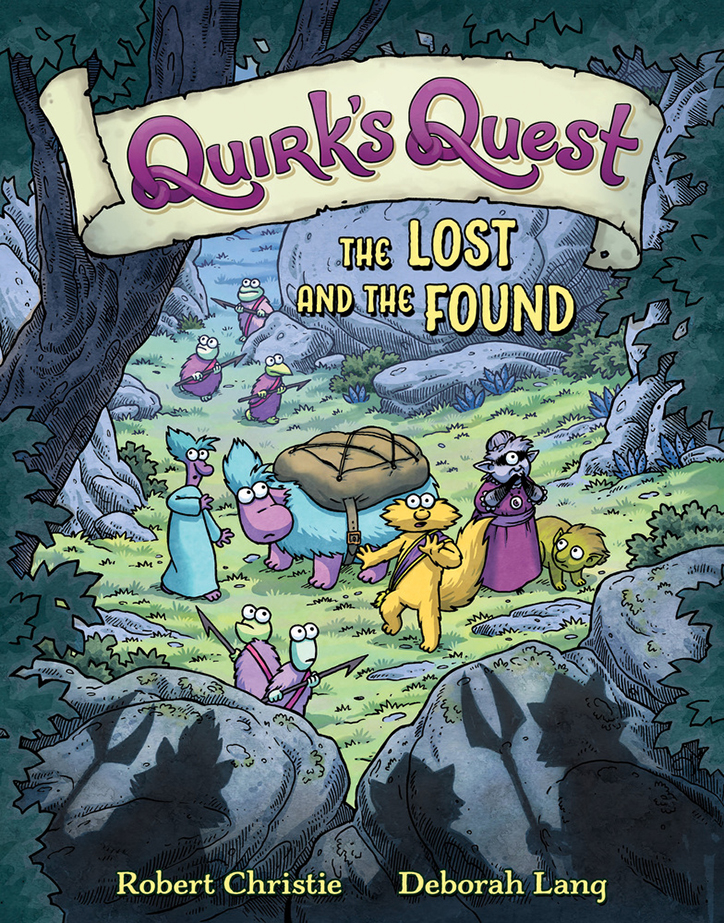 Quirk's Quest: The Lost and the Found
Creators: Robert Christie and Deborah Lang
Publisher: First Second Books
Date: June 26
SYNOPSIS:
Marooned in unknown and exceedingly hostile territory, Captain Quenterindy Quirk and his furry entourage continue their royal quest to explore the uncharted lands of Crutonia. And now they've made a most remarkable discovery: Amysterious and highly advanced civilization lies beneath the surface of the island. But the rulers of this new world have little patience for inept explorers or their royal quests.
Vividly illustrated and starring a cunningly designed cast of characters, Quirk's Quest is a tale of adventure in a fully imagined world ripe for exploration. Included in this volume is an illustrated roster of the important characters and a map of the world of Crutonia.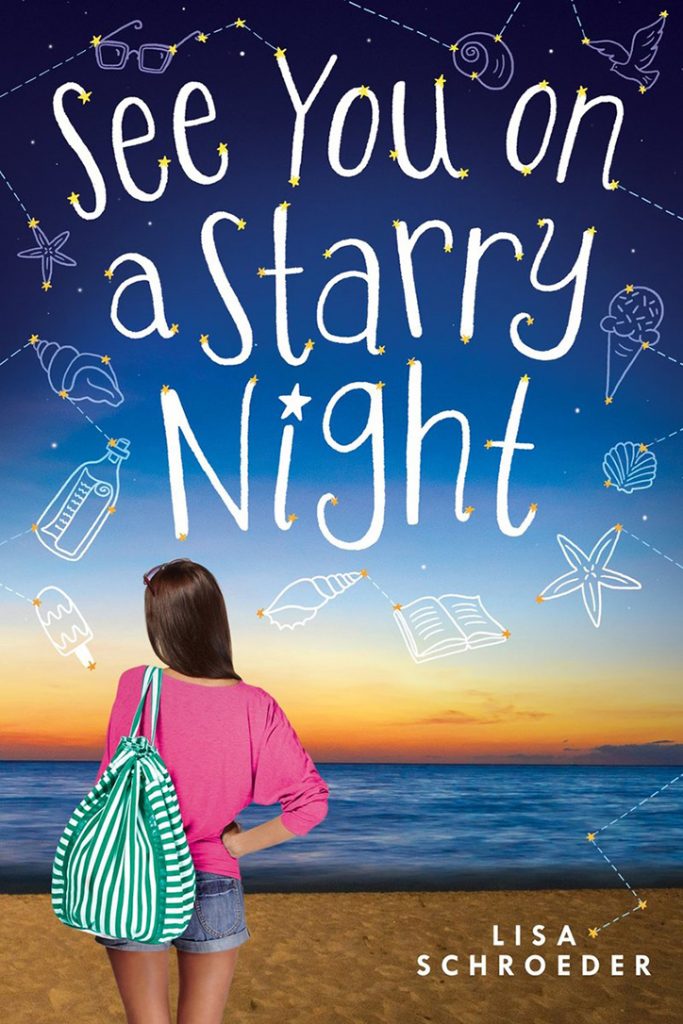 See You on a Starry Night
Author: Lisa Schroeder
Publisher: Scholastic
Date: June 26
SYNOPSIS:
Juliet has just moved to a beachside town with her newly separated mother and her moody older sister. When she meets their new neighbor, Emma, the girls form an instant bond. Emma's big family takes Juliet in, and the girls have fun together — starting with the night they throw bottles with secret messages into the sea.
Then someone writes back to Juliet's message. An email arrives, inviting her to join the Starry Beach Club. All she has to do is make someone else's wish come true.
So Juliet and Emma set off to help as many other people as they can. It's fun! But as Juliet spends more and more time away from home, enjoying her new town and Emma's family more than her own mom and sister, she starts feeling lost. It's been easy to find others to help. But maybe her star would shine a little brighter if she brought it closer to home.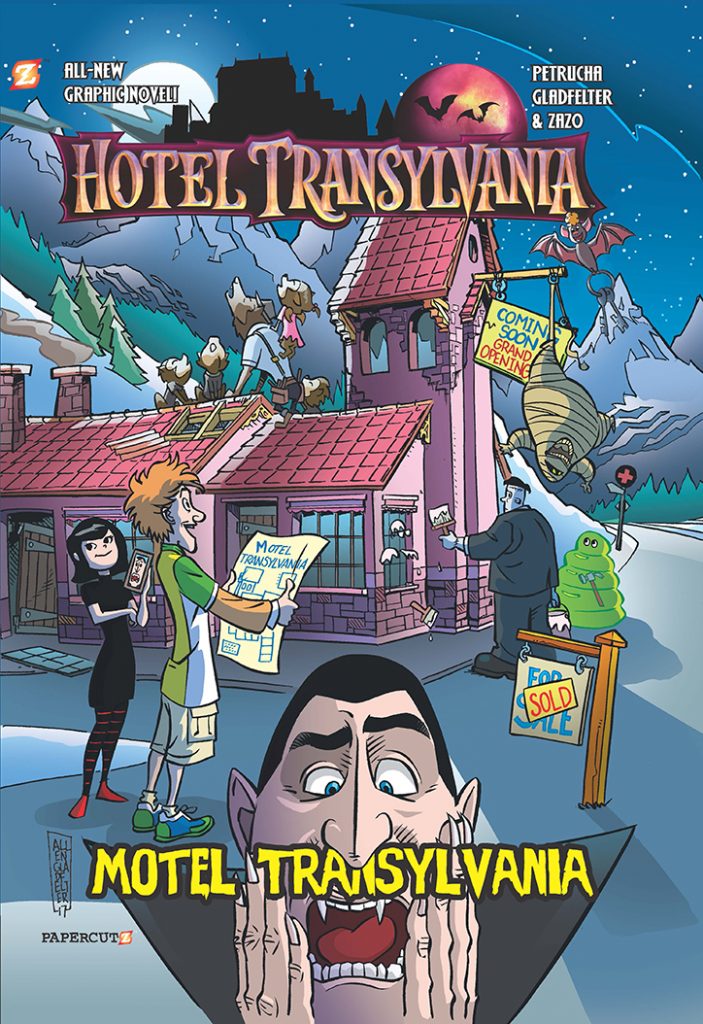 Hotel Transylvania: Motel Transylvania
Author: Stefan Petrucha
Artist: Allen Gladfelter
Publisher: Papercutz
Date: June 26
SYNOPSIS:
Jonathan, yearning to be a part of the hotel business like his father-in-law, Drac, opens a motel in the Swiss Alps. With the help of his wife, Mavis, and little Dennis, the family remodels a run down motel to tip-top monster shape! But after numerous mishaps, monsters won't even check in! Not even humans will check in! It's up to Jonathan to get to the bottom of the mystery and save Motel Transylvania!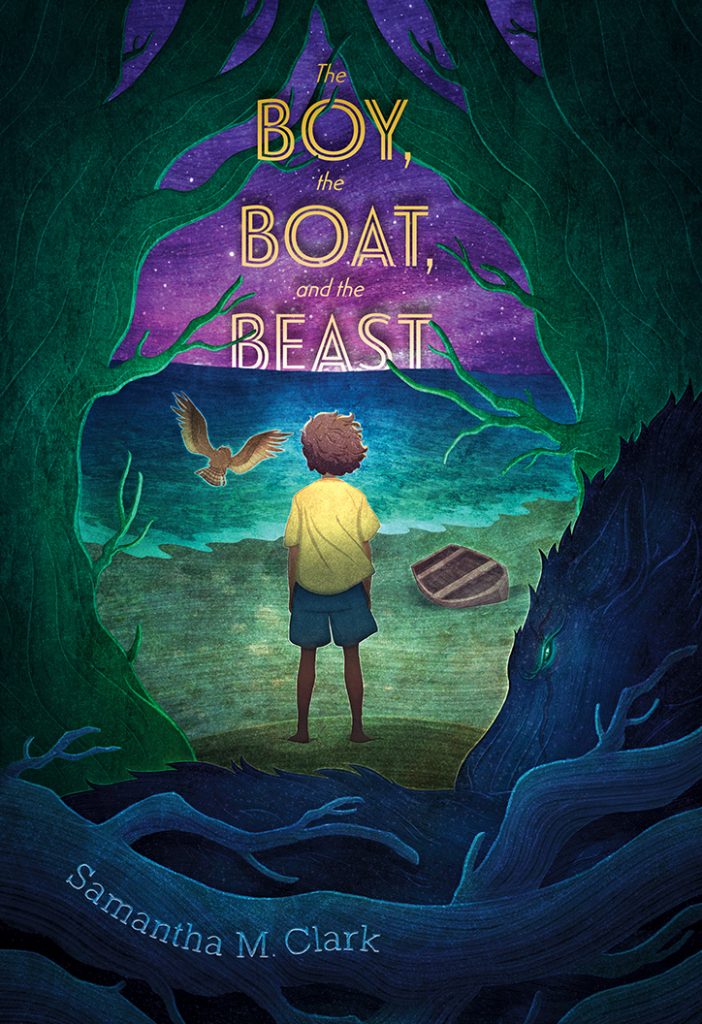 The Boy, The Boat, and The Beats
Author: Samantha M. Clark
Publisher: Paula Wiseman Books
Date: June 26
SYNOPSIS:
The Graveyard Book meets Hatchet in this eerie novel about a boy who is stranded on a mysterious beach, from debut author Samantha M. Clark.
A boy washes up on a mysterious, seemingly uninhabited beach. Who is he? How did he get there? The boy can't remember. When he sees a light shining over the foreboding wall of trees that surrounds the shore, he decides to follow it, in the hopes that it will lead him to answers. The boy's journey is a struggle for survival and a search for the truth—a terrifying truth that once uncovered, will force him to face his greatest fear of all if he is to go home.
This gripping adventure will have readers hooked until its jaw-dropping and moving conclusion. Samantha M. Clark's first novel heralds the arrival of an exciting new voice.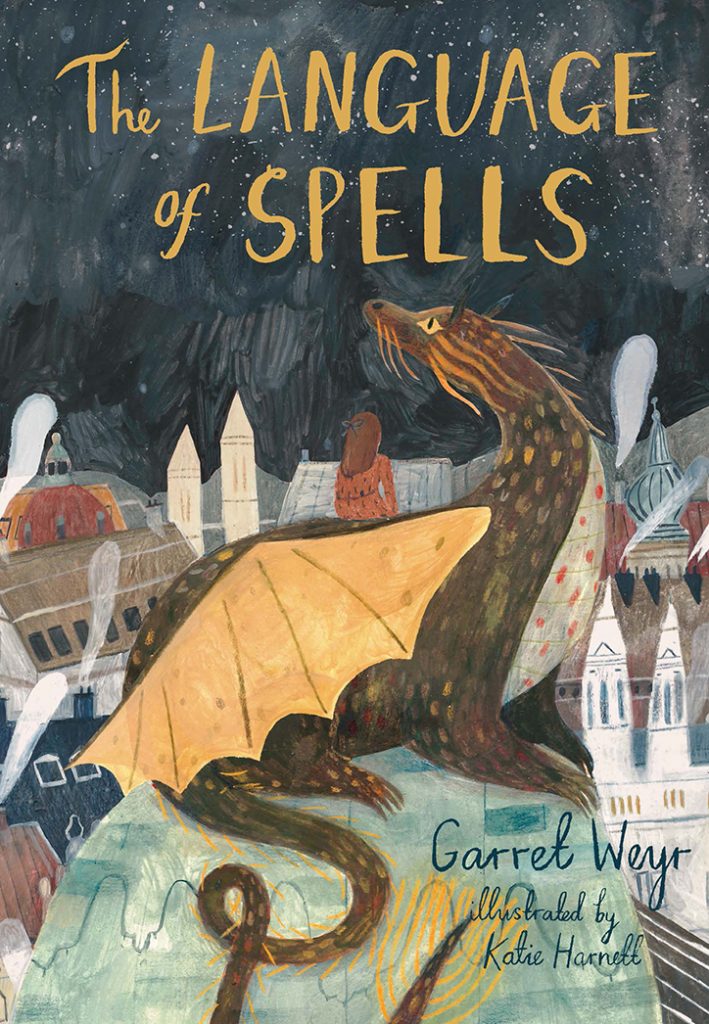 The Language of Spells
Author: Garret Weyr
Illustrator: Katie Harnett
Publisher: Chronicle Books
Date: June 26
SYNOPSIS:
Grisha is a dragon in a world that's forgotten how to see him. Maggie is an unusual child who thinks she's perfectly ordinary. They're an unlikely duo—but magic, like friendship, is funny. Sometimes it chooses those who might not look so likely. And magic has chosen Grisha and Maggie to solve the darkest mystery in Vienna. Decades ago, when World War II broke out, someone decided that there were too many dragons for all of them to be free. As they investigate, Grisha and Maggie ask the question everyone's forgotten: Where have the missing dragons gone? And is there a way to save them? At once richly magical and tragically historical, The Language of Spells is a novel full of adventure about remembering old stories, forging new ones, and the transformative power of friendship.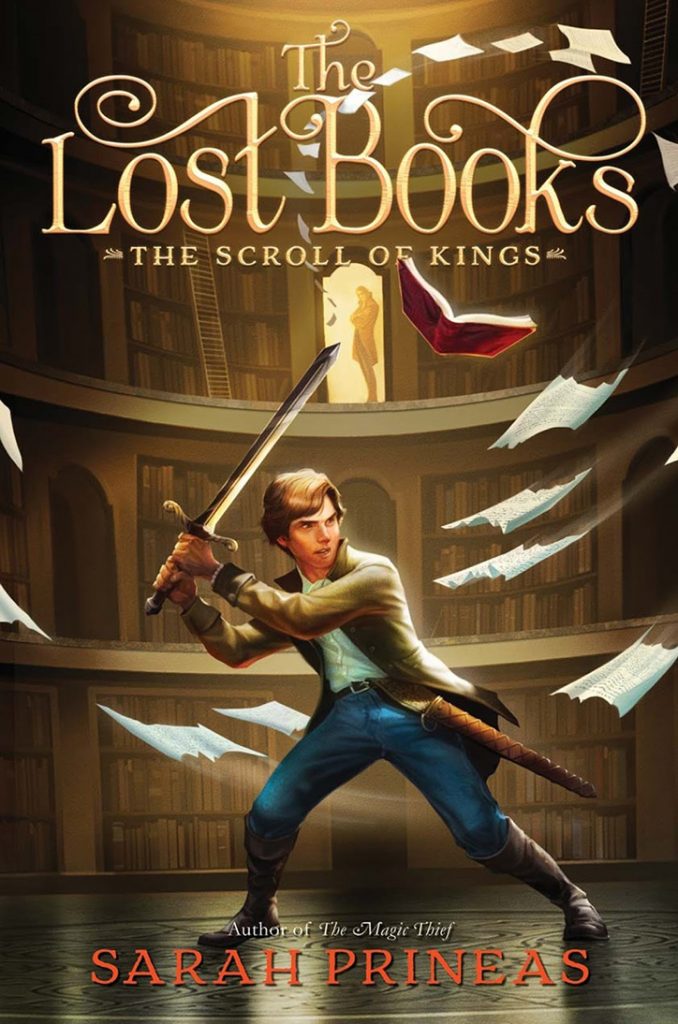 The Lost Books: The Scroll of Kings
Author: Sarah Prineas
Publisher: HarperCollins Children's Books
Date: June 26
SYNOPSIS:
From Sarah Prineas, author of the acclaimed Magic Thief series, comes a stunning new tween fantasy where books literally come to life!
The powerful Lost Books at the palace library are infecting the rest with an evil magic, and two unlikely friends must figure out who, or what, is controlling the books and their power. If they can't, the entire kingdom could be at risk.
Sarah Prineas returns to her classic middle grade roots with this imaginative, fast-paced adventure for book lovers everywhere.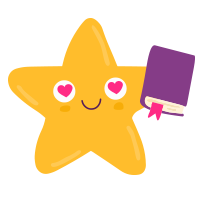 If you're like us and can never get enough new books in your life, be sure to check out our YAYBOOKS! Roundup from May for anything you may have missed!
Edit: We updated this list to remove DeadEndia: The Watcher's Test as we incorrectly listed the date as June 1. This title will release in August 2018, and we will include it on our list then.