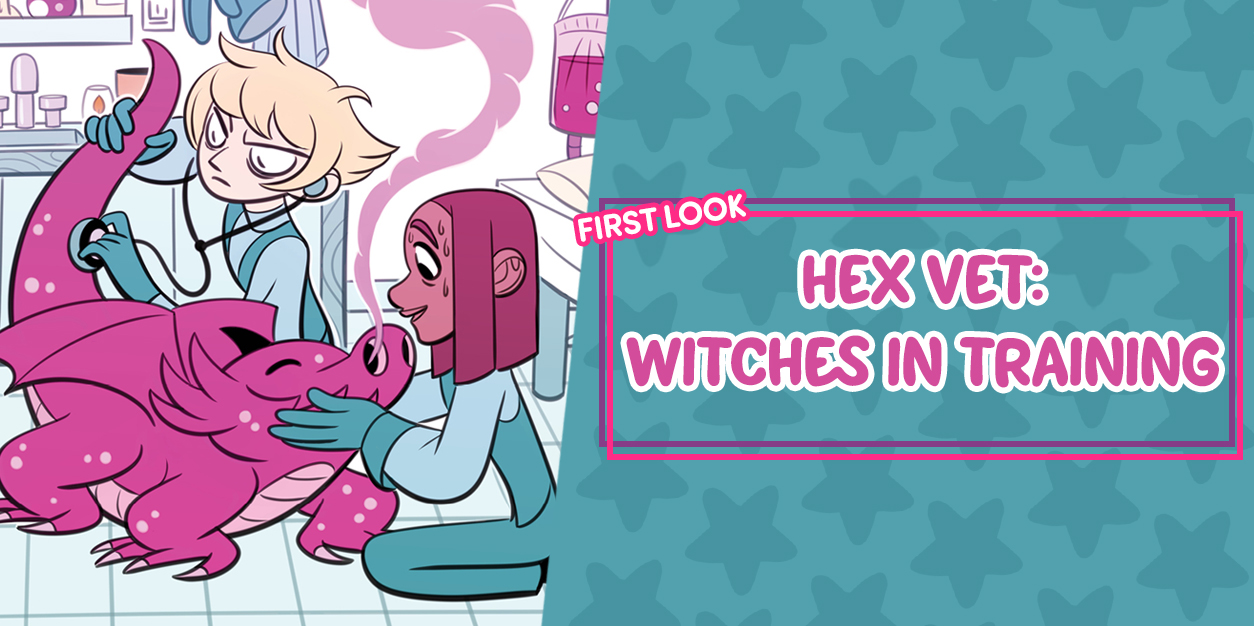 FIRST LOOK: Hex Vet: Witches in Training
Hex Vet: Witches in Training is an upcoming graphic novel from cartoonist Sam Davies. This whimsical and heartwarming story follows Nan and Clarion, two young veterinarian witches in training at a medical clinic for supernatural animals. They're hoping to harness their magic, help lots of adorably strange creatures, and become the very best vet witches they can be. It won't be easy, though! Nan and Clarion will face lots of challenges along the way including magical mishaps, cursed critters, and trying to stay in the good graces of their trying bosses.
SYNOPSIS:
"In a world where magic is an ordinary part of daily life, two young apprentice veterinarians pursue their dreams of caring for supernatural creatures.
Have you ever wondered where witches' cats go when they pull a claw? Or what you do with a pygmy phoenix with a case of bird flu? Nan and Clarion have you covered. They're the best veterinarian witches of all time—at least they're trying to be. But when an injured spectral wolf beast from another realm stumbles into their lives, Nan and Clarion have to put down their enchanted potions and face the biggest test of their magical, medical careers…outside of the clinic.
Hex Vet: Witches in Training is the debut original graphic novel from acclaimed cartoonist Sam Davies (Stutterhug) and explores a truly spellbinding story about sticking together and helping animals at all costs."
Hex Vet will be hitting shelves this December from KaBOOM!, an imprint of BOOM! Studios, but we've got your first look at the graphic novel below! Flip through first 20 pages of the story and dive into the magical world of Hex Vet: Witches in Training!
Take a Peek at Hex Vet: Witches in Training:
How stinkin' cute does this graphic novel look?! We've only read these 20 pages so far, but we're already impatient for more! In just this short preview we found ourselves rooting for Nan and Clarion and can't wait to see where the story is headed! Nan is clearly being judged based on her family history, and we're sure that the cheery Clarion's story runs deeper as well. It's clear that both girls have a lot to learn, but are passionate about helping animals, studying hard, and doing their absolute best! The story looks like a ton of fun, and we're in love with the color palette and adorable artwork.
Being fans of Sam Davies webcomic, Stutterhug, we have high hopes for this spellbinding story. We definitely think this is a must-read for fans of Capture Creatures, Adventure Time, and The Witch Boy.
According to BOOM! Studios, "Print copies of HEX VET: WITCHES IN TRAINING will be available for sale in December 2018 at local comic book shops (use comicshoplocator.com to find the nearest one), bookstores or at the BOOM! Studios webstore. Digital copies can be purchased from content providers, including comiXology, iBooks, Google Play, and the BOOM! Studios app." This means that even if you don't live near a comic shop, you'll be able to get your hands on this magical story super easily!
While you're waiting for Hex Vet to hit shelves, we think you'll like RuinWorld, a fantasy adventure comic about two unlikely friends on a thrilling treasure hunting adventure!