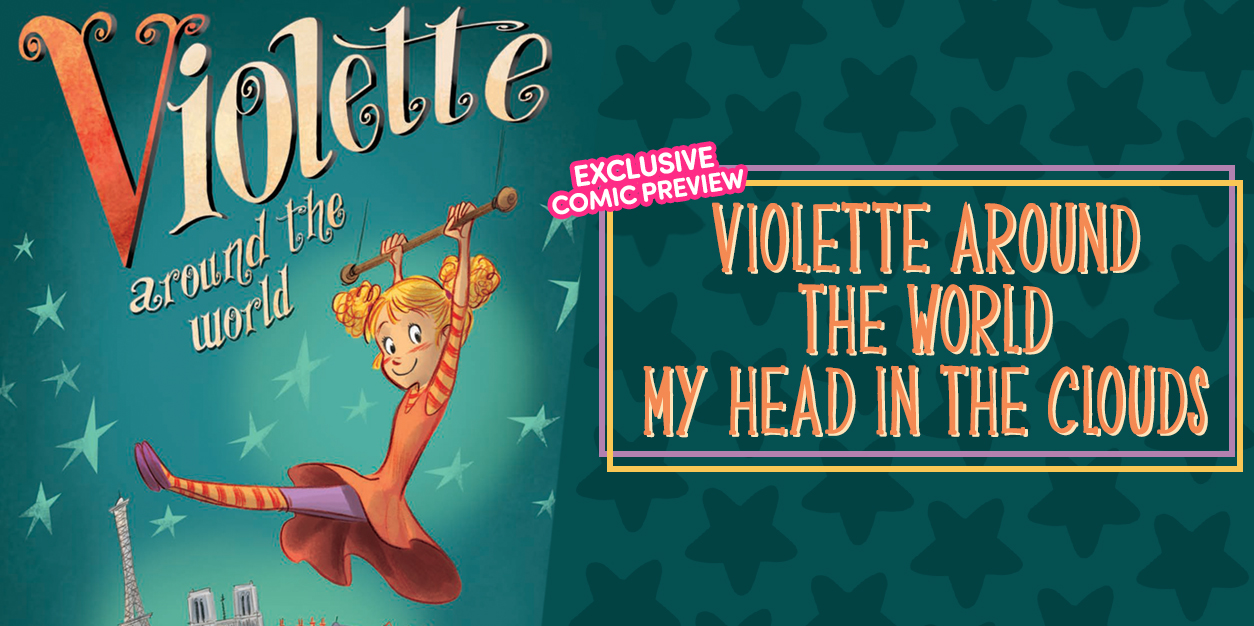 EXCLUSIVE PREVIEW: Violette Around the World: My Head in the Clouds
We're so excited to share an EXCLUSIVE preview of the new graphic novel series, Violette Around the World, hitting comic shops this week from IDW Publishing. From creators Teresa Radice and Stefano Turconi, this sensational new three-book series is perfect for anyone who loves the magic of the circus and finds intrigue and wonder in everything from nature to art to music and everything in between.
Violette is a 12-year-old girl who lives and travels with her parents' traveling circus. She's been all over the world, experiencing many different places and cultures, finding something special about every place she encounters. Her mother is a talented stuntwoman, and her father is an insect tamer. We love how optimistic and curious Violette is, despite constantly being told that she doesn't quite fit in by her teachers and classmates. We think this graphic novel series is a great starting place for anyone looking to get into comics for the first time, and for anyone who wants a cute, relatable story to snuggle up with.
Violette Around the World will be a three-volume series and follow Violette on all of her exciting adventures. The first volume, My Head in the Clouds, hits comic shops on April 11th. Take a peek at the first 5 pages of Violette Around the World below and be prepared to be charmed by the sweet story and beautiful artwork.
EXCLUSIVE PREVIEW: Violette Around the World: My Head in the Clouds!:
We're a bit in awe of Stefano Turconi's classic art style in this story and the way it compliments the warm setting of France and gives the circus scenes exciting life. The story itself is so much fun, and we're really looking forward to seeing where Violette's story is heading next! Teresa Radice has crafted a fantastic story with a lead character that is a great role model for girls. Violette teaches readers to embrace their quirky traits, use them to their advantage, and dream big!
Violette Around the World, Vol. 1: My Head In the Clouds!
Publisher: IDW
Imprint: EuroComics
HC • FC • $12.99 • 48 pages • 8.5" x 11" • ISBN: 978-1-68405-188-5
Author: Teresa Radice
Artist: Stefano Turconi
SYNOPSIS: A 12-year-old girl travels the globe with her parents' circus, having adventures and learning to appreciate the joys of being different.
Her name is Violette, like the flower in the spring, like the seventh color of the rainbow. She lives with the Circus of the Moon, where her mother is the stuntwoman and her father is the insect tamer. At the end of the 19th-century, Violette is a curious, happy 12-year-old who is fascinated by the beauty of the world around her: music, painting, drawing, nature, and much more. She shares adventures with her friend Samir (a budding trapeze artist), her unusual animal friends, and her father's trained insects!
Bullet points:
· Advance solicited for March release!
· For fans of stories with lush imagery and Old-World style, like Kiki's Delivery Service, and readers of Raina Telgemeier, Dana Simpson, Jennifer L. Holm, and Tara Dairman.
· First of three books!
For more comics and graphic novels we think you'll love, click here!