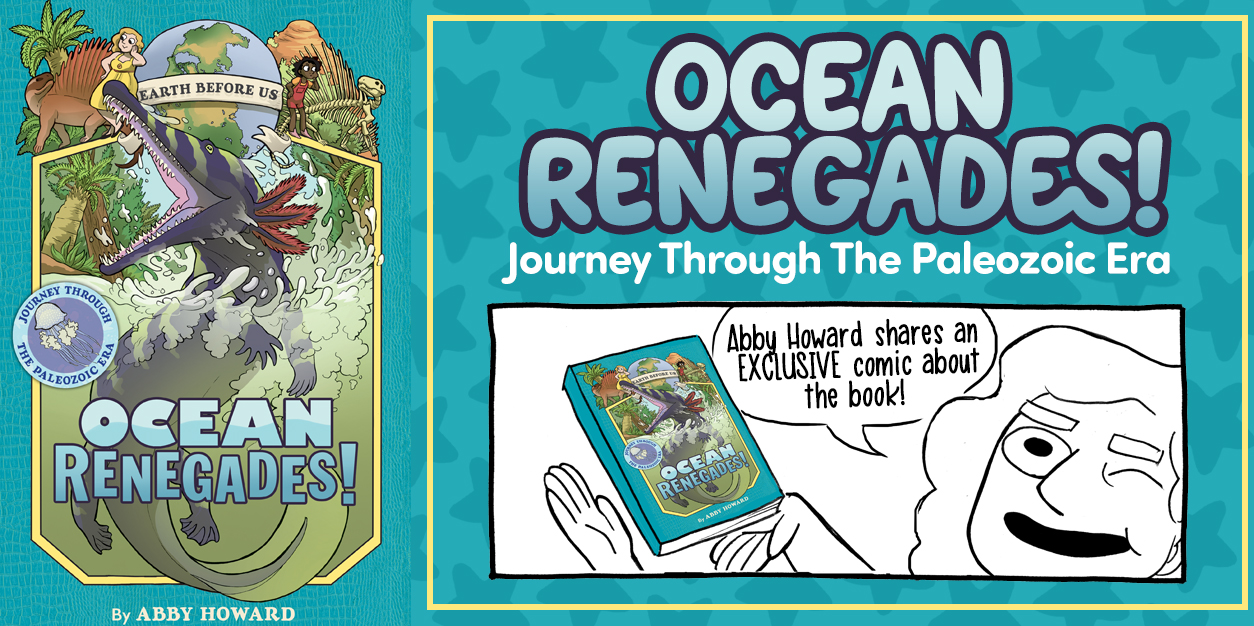 Abby Howard Takes Readers on an EXCLUSIVE Journey through Ocean Renegades!: Journey Through the Paleozoic Era
Earth Before Us is a graphic novel series that kicked off last year from science lover and cartoonist Abby Howard. In the first book, Dinosaur Empire! – Journey Through the Mesozoic Era we met Ronnie, an ordinary fifth grader who failed her science quiz about dinosaurs and needs to study hard to ace the makeup test. Before the exam, she runs into her neighbor, Ms. Lernin, an enthusiastic retired paleontologist who takes Ronnie on a journey she'll never forget! Ms. Lernin is basically the Ms. Frizzle of dinosaurs – a wacky, over the top lady with a magic recycling bin who is overflowing with scientific facts that makes learning fun not just for Ronnie, but for readers as well.
Together they explored the fascinating ancient creatures, insects, and animals that roamed the Earth during the Triassic, Jurassic, and Cretaceous periods, their environments, and all the facts you could ever want to know! Combining the thrill and adventure of reading a graphic novel with lots of informative facts and funny jokes, it's a great series to have around for reference on a dinosaur based project or just for a fun read. The second book, Ocean Renegades!: Journey Through the Paleozoic Era releases today and takes a step back in time to see what life was like before dinosaurs. (Spoiler Alert: The creatures were just as cool and fascinating!)
SYNOPSIS:
When Ronnie's parents go on a business trip and leave her with Miss Lernin for the week, Ronnie is sure she's in for a big, dinosaur-size adventure. After all, her last trip with Miss Lernin involved real-life dinosaurs! So, when they end up at the aquarium's jellyfish exhibit, Ronnie is confused. Surely jellyfish aren't as cool as dinosaurs, right? Wrong! Determined to show Ronnie just how interesting prehistoric life was before the age of the dinosaurs, Miss Lernin takes her back in time to the six parts of the Paleozoic era to study the earliest lifeforms on Earth, and how many left the ocean for life on land.
Sounds totally awesome, right?! The most exciting part? Abby Howard drew a hilarious exclusive comic for YAYOMG! readers, where she chats about the book, shares some facts about Paleozoic creatures, and dishes on the dinosaur she helped dig up in real life!
If you're passionate about science, we think you'll love reading The Seismic Seven by Katie Slivensky!