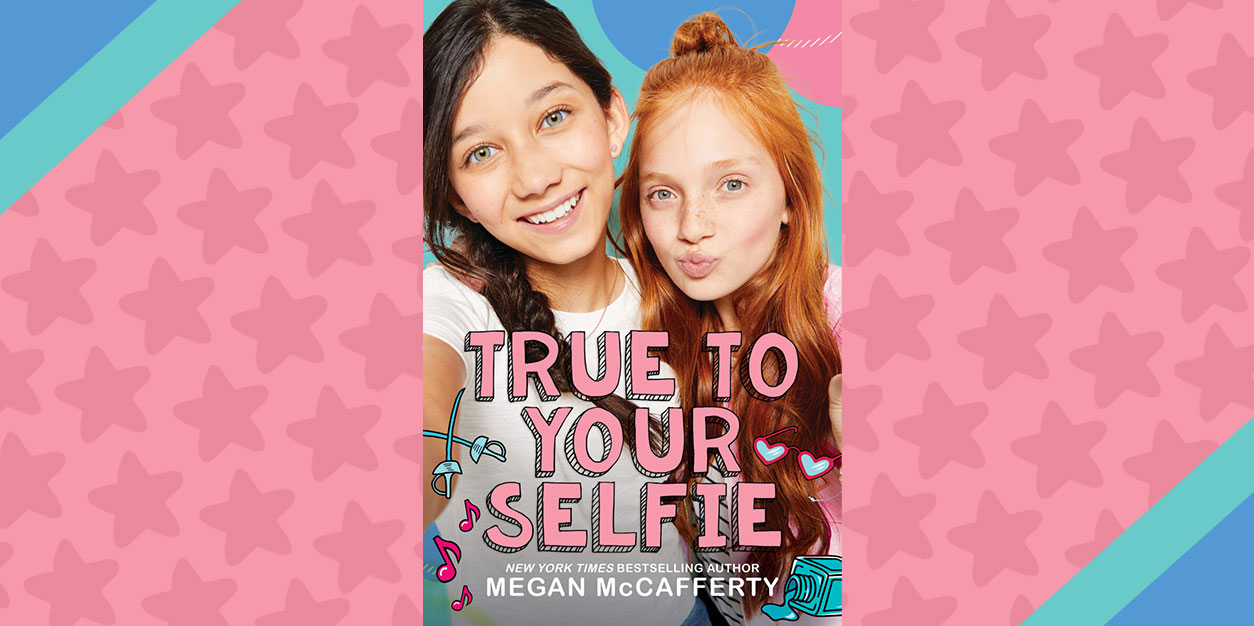 Megan McCafferty Shares 5 Fun Facts about True to Your Selfie + GIVEAWAY!
NOTE: We teamed up with Scholastic for this True to Your Selfie Giveaway. All opinions are our own; we were under no obligation to give a positive review. Giveaway prize provided by Scholastic.
In True to Your Selfie, Ella is sure that 7th grade is going to be her best year yet. How could it not be? She's BFFs with Morgan Middleton, the coolest girl in her class, and their musical act, #MorganandElla, has over 10,000 followers! She isn't really sure why someone who's as cool and confident as Morgan would want to be her friend, but she isn't about to shake things up by asking questions.
Unfortunately, being friends with Morgan isn't quite as glamorous as it seems. Posing over and over for the perfect selfie gets old quick, and Morgan is super mean to Ella's former best friend. She has a lot of high standards that Ella needs to follow in order to remain "on-brand", forcing Ella to give up the things she loves most. That's why when Ella finally discovers something she's truly good at, she hides it from Morgan and keeps it to herself. After all, being good at fencing just doesn't fit their perfectly curated social feeds.
The most hilarious, charming, realistic story of middle-grade friendships you'll ever read, from Megan McCafferty, the mega bestselling, beloved author of Sloppy Firsts.

Twelve-year-old Ella has everything she needs to take seventh grade by storm, from the perfect outfit to the perfect new best friend. She's still not 100% sure why cool, confident Morgan has chosen Ella to be her newest sidekick, but Ella is flattered by the attention, even if it means giving up some of the things she's always loved, like fantasy novels . . . and her former best friend, Sophie. Ella feels a little guilty about ditching Sophie, but middle school is no laughing matter, and Ella knows that it'll be safer in popular Morgan's shadow than by Sophie's side.
But life as Morgan's best friend is trickier than Ella imagined. Everything has to be perfect, from their "on brand" selfies to the videos they record of them singing. And the more demanding Morgan becomes, the more Ella starts to wonder if she made the right choice. But Sophie already has a new best friend, leaving Ella feeling more alone and out of place than ever.
So when Ella discovers a new activity that she's really good at — a hopelessly dorky sport that Morgan has forbidden her from pursuing, Ella has to ask herself what matters more: popularity . . . or staying true to herself? But does she even know who she really is without loyal Sophie by her side?
True to Your Selfie
AUTHOR: Megan McCafferty
PUBLISHER: Scholastic Press
DATE: February 4, 2020
Whether you've dreamed of sitting with the popular kids at lunch or dealt with a friend who was more like a frenemy, we've all faced similar struggles. That's what makes True to Your Selfie so relatable, it's filled with middle school moments and situations that pretty much everyone has to deal with as they grow up. But the most important lesson we can share is the one Ella has to learn the hard way – that being true to YOU is the best thing you can possibly be!
Author Megan McCafferty is pretty much a rockstar when it comes to telling a good coming of age story filled with lots of life lessons and big laughs, which is why we we're honored that she's shared 5 Fun Facts about the book! Find out more about True to Your Selfie below, out today from Scholastic!
Want to win a copy? We've teamed up with our friends at Scholastic for a giveaway! Enter below for your chance to win!
Fun Facts – True to Your Selfie:
FACT #1:

Like Ella, I love singing. As a kid, I dreamed of growing up to be either a novelist or pop star. Obviously, one career path worked out waaaay better than the other!
FACT #2:

Unlike Ella, I can't play the ukulele. I tried teaching myself a few years ago but strumming literally made my fingers bleed! I admire Ella for being more focused and determined than I am.
FACT #3:

Mean girls are fun for fiction. Morgan Middleton says and does outrageous things I would NEVER say or do in real life! As a writer, bad behavior is always more entertaining than good.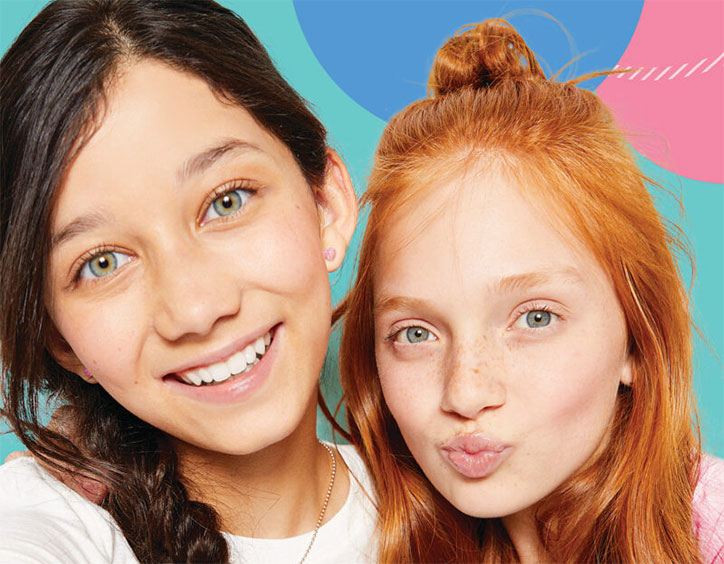 FACT #4:

But mean girls are the worst in real life. In seventh grade, I felt sooooo lucky when a super popular Morgan Middleton-like girl chose me as her best friend. But she constantly put me down and made me feel more bad than good. Fortunately, I wised up, cut her off and never let myself fall into a toxic friendship trap ever again.
FACT #5:

This may not be the end of the story. I hope to write more books set at Mercer Middle School, told from different points of view. I'm so excited by the idea of sharing stories in which Sophie, Kaytee and —of course— Morgan Middleton take the lead in all the middle school drama.
True to Your Selfie Giveaway: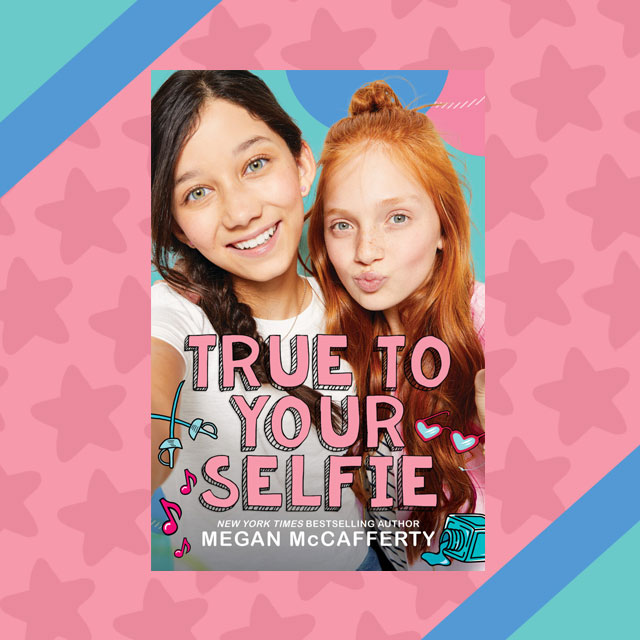 WHAT DO I WIN?:
ONE lucky winner will receive a copy of True to Your Selfie by Megan McCafferty, generously provided by Scholastic!
HOW DO I ENTER?:
Grab a parent or guardian and have them fill out the form below by February 11, 2020 at 11:59pm ET.
Giveaway runs from 02/04/20 at 02:30 pm ET through 02/18/20 at 11:59 pm. Open to US residents ONLY. Be sure to read the fully detailed rules HERE before entering.
THIS GIVEAWAY HAS ENDED AND THE WINNER HAS BEEN CONTACTED.
You must be 18 or older to enter. Please, only ONE entry per person. If selected as a winner, we will provide your parent/guardian with an affidavit to confirm that you are a valid winner who has permission to win. They will be REQUIRED to sign and return the affidavit to YAYOMG! to claim your prize. Prizes will not be mailed out without signed parental consent.
In need of even more relatable reads to get you through your big life moments? You're in luck! We're giving away ALL FIVE books in the TBH series by Lisa Greenwald!