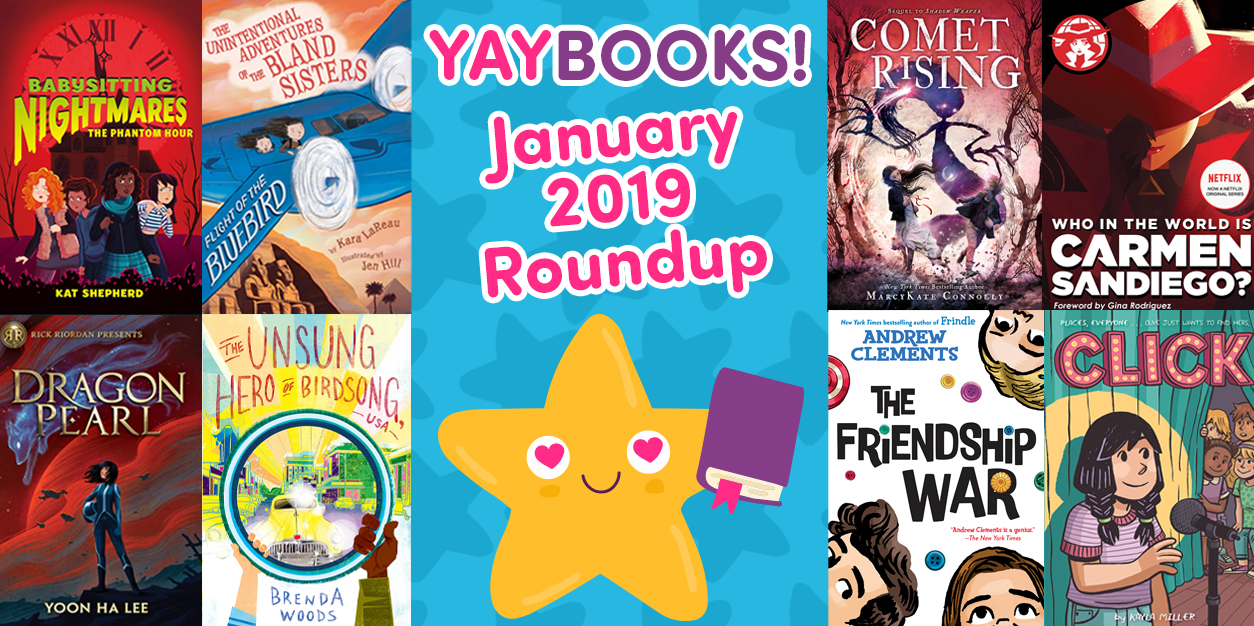 YAYBOOKS! Here's What You Should Read in January 2019
Doing a double take? We've decided to revamp our YAYBOOKS! Roundups for the new year. Beginning in January 2019, we'll be bringing our readers a list of 10-15 must-read middle grade books and graphic novels that we think will excite them most! Rather than our usual listing of every single new release hitting each month, this new format will allow us to connect our readers with books they will love to read. What about all those other books, you ask? Don't worry, you can expect to see lots more book lists and fun from us coming soon. You'll never have a shortage of new reads to get your hands on.
Our YAYBOOKS! Roundup for January features 13 fantastic stories that we're really excited about. Covering everything from thrilling dark fantasy adventures to hilariously unadventurous sisters and honest middle school moments, our list has something for everyone to snuggle up with this month! These 12 must-reads will help you explore new worlds, face your fears, laugh your butt off, and get in touch with the past.
YAYBOOKS! January 2019 Roundup: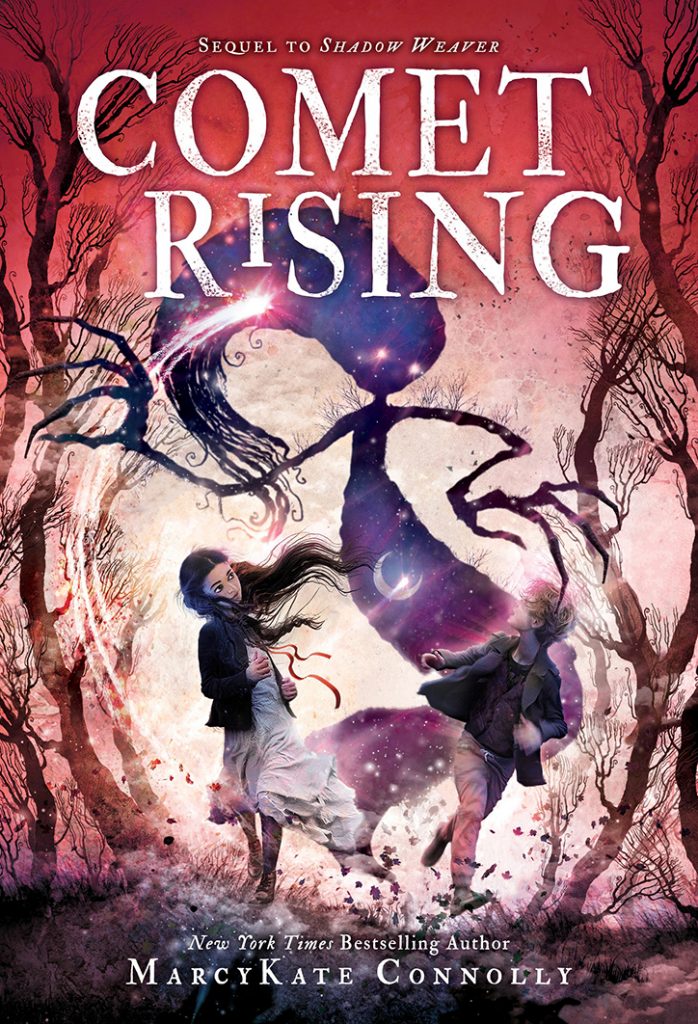 Shadow Weaver: Comet Rising
Author: MarcyKate Connolly
Publisher: Sourcebooks Jabberwocky
Date: January 1
SYNOPSIS:
Something is very wrong with the sky…
Emmeline and Lucas are safe from Lady Aisling and her soldiers for the time being. The only thing that mars their peaceful life is Emmeline's former shadow, Dar. Still shut in her cage, she constantly tries to manipulate Emmeline to set her free.
Then one night the Cerelia Comet, the reason for their magical abilities, returns… Twelve years too early. The return of the comet can only mean one thing, Lady Aisling has a sky shaker under her control and is hoping for a new batch of talented children to add to her collection.
Emmeline and Lucas journey to find other talented children who can help in the fight against Lady Aisling. But when Dar escapes, and the two friends realize many of the children they seek have already been taken, it's clear the sky shaker might be the least of their worries.
The thrilling conclusion to MarcyKate Connolly's Shadow Weaver duology follows Emmeline and Lucas as they face the darkness that has shadowed their lives.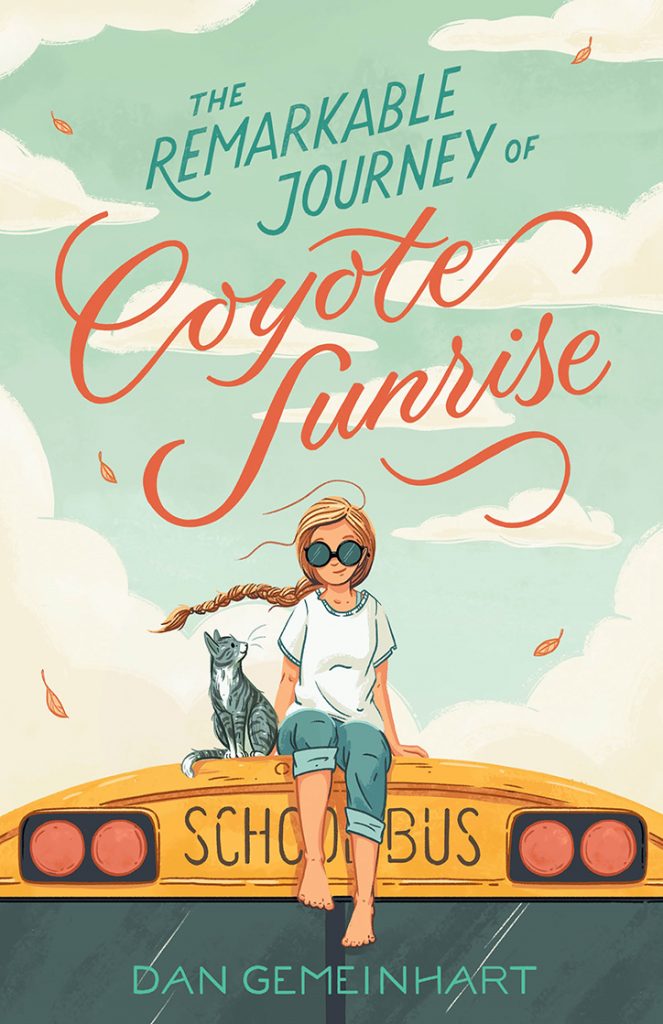 The Remarkable Journey of Coyote Sunrise
Author: Dan Gemeinhart
Publisher: Henry Holt & Co BYR
Date: January 8
YAYOMG!:
We're beyond excited to share that author Dan Gemeinhart has agreed to share some behind the scenes facts about his emotional and honest new book, The Journey of Coyote Sunrise. Be sure to check back on January 8th to get to know more about Coyote and the touching adventure that lies ahead. Check back on January 8th to find out more!
SYNOPSIS:
Five years.
That's how long Coyote and her dad, Rodeo, have lived on the road in an old school bus, crisscrossing the nation.
It's also how long ago Coyote lost her mom and two sisters in a car crash.
Coyote hasn't been home in all that time, but when she learns that the park in her old neighborhood is being demolished―the very same park where she, her mom, and her sisters buried a treasured memory box―she devises an elaborate plan to get her dad to drive 3,600 miles back to Washington state in four days…without him realizing it.
Along the way, they'll pick up a strange crew of misfit travelers. Lester has a lady love to meet. Salvador and his mom are looking to start over. Val needs a safe place to be herself. And then there's Gladys…
Over the course of thousands of miles, Coyote will learn that going home can sometimes be the hardest journey of all…but that with friends by her side, she just might be able to turn her "once upon a time" into a "happily ever after."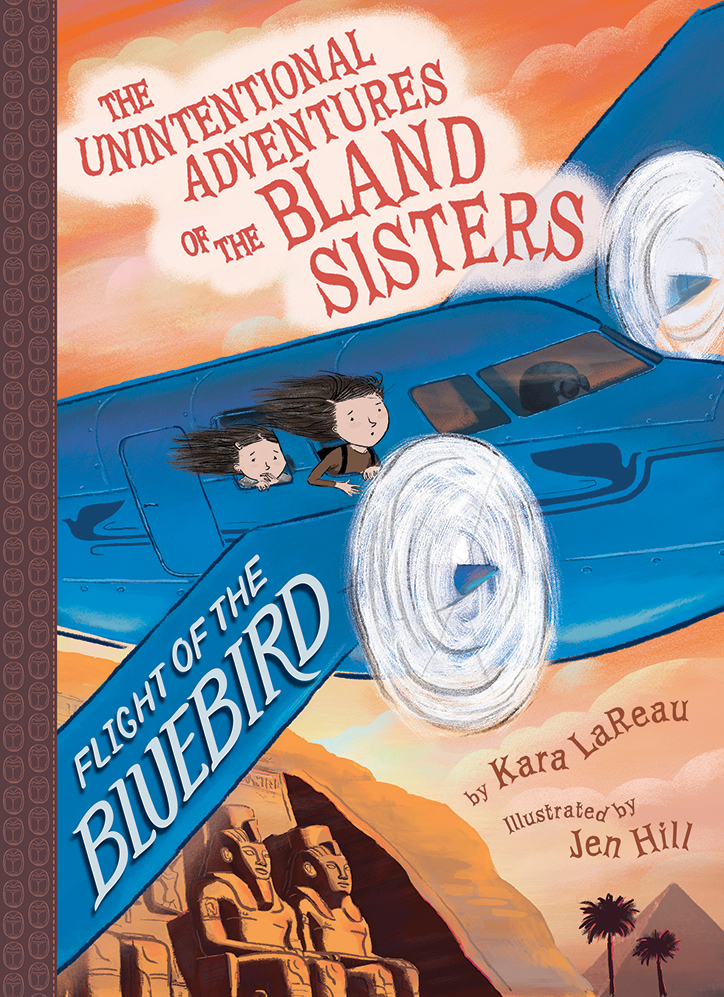 The Unintentional Adventures of the Bland Sisters: Flight of the Bluebird
Author: Kara LaReau
Illustrator: Jen Hill
Publisher: Amulet Books
Date: January 8
YAYOMG!:
Ready to wish Bland Voyage to Jaundice and Kale as they head off on their final unintentional adventure? We're super excited to share that the amazing Kara LaReau is stopping by YAYOMG! on January 9th to chat all things Bland Sisters! (Laughs will be provided, but you'll have to supply your own tepid tea and cheese sandwiches)
SYNOPSIS:
Fasten your seat belts for some unexpected turbulence ahead, as Jaundice and Kale Bland are back for their final unintentional adventure! Now that they've returned from the Uncanny Valley to find their home in Dullsville in absolute shambles, the sisters are rescued by high-flying aviatrix Beatrix Airdale. This time, they're jetting off (literally) to Egypt to uncover the mysteries of a magical scarab. By way of Casablanca and after foiling multiple attacks along the way (thanks to Jaundice's nautical knot-tying skills and Kale's super-sleuth powers of observation), the Bland Sisters are reunited with their parents. But it turns out that Mom and Dad aren't as bland—or as "Bland"—as Jaundice and Kale remember. Thanks to their mother's old archeology notebook, the Bland Sisters uncover their parents' real identities and help them achieve victory in one final, family-filled adventure.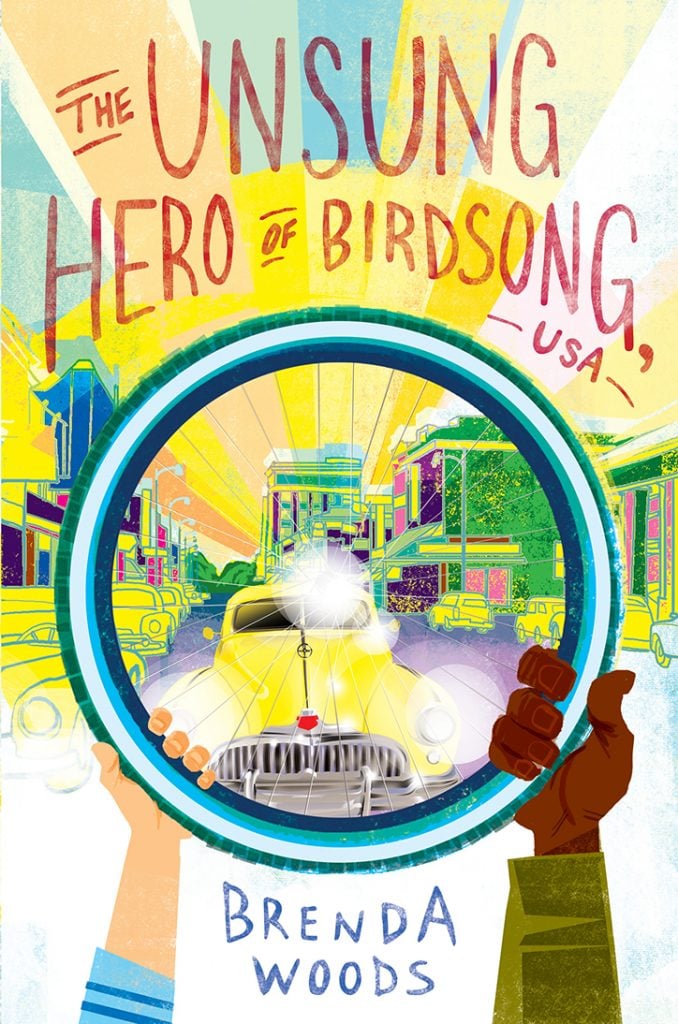 The Unsung Hero of Birdsong, USA
Author: Brenda Woods
Publisher: Nancy Paulsen Books
Date: January 8
SYNOPSIS:
The Coretta Scott King Honor-winning author tells the moving story of the friendship between a young white boy and a Black WWII veteran who has recently returned to the unwelcoming Jim Crow South.
On Gabriel's twelfth birthday, he gets a new bike–and is so excited that he accidentally rides it right into the path of a car. Fortunately, a Black man named Meriwether pushes him out of the way just in time, and fixes his damaged bike. As a thank you, Gabriel gets him a job at his dad's auto shop. Gabriel's dad hires him with some hesitation, however, anticipating trouble with the other mechanic, who makes no secret of his racist opinions.
Gabriel and Meriwether become friends, and Gabriel learns that Meriwether drove a tank in the Army's all-Black 761st Tank Battalion in WWII. Meriwether is proud of his service, but has to keep it a secret because talking about it could be dangerous. Sadly, danger finds Meriwether, anyway, when his family receives a frightening threat. The South being the way it is, there's no guarantee that the police will help–and Gabriel doesn't know what will happen if Meriwether feels forced to take the law into his own hands.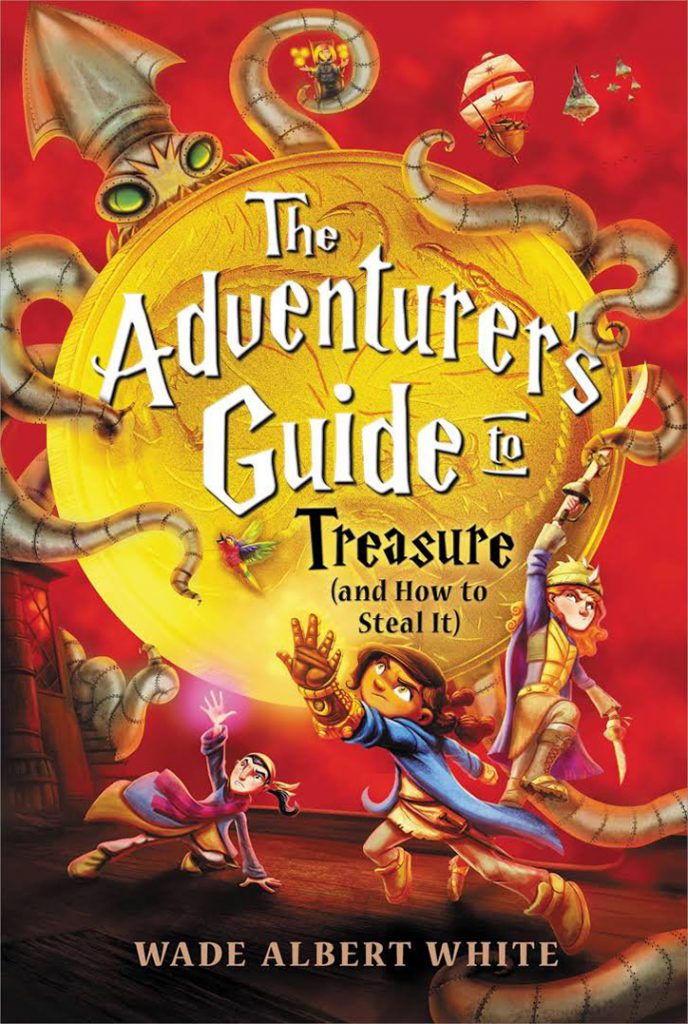 The Adventurer's Guide to Treasure (and How to Steal It)
Author: Wade Albert White
Publisher: Little, Brown Books for Young Readers
Date: January 8
SYNOPSIS:
Fantasy gets a clever refresh in the final book of this witty, action-packed, and hilarious middle grade adventure trilogy.
At Saint Lupin's Completely Ordinary School Where Nothing Bizarre Ever Happens Most Especially Not Illegal Quests That Destroy Famous Landmarks, students are not taught about pirates. They're not taught how to identify them, how to befriend them, or even how to fight them…which leaves the school completely open to pirate invasion. And on the first day of classes, that's precisely what happens. When a pirate captain and her crew steal an ancient Prophecy Medallion, Anne, Penelope, and Hiro are caught up in yet another adventure. After accidentally activating a quest, Anne and her friends have no choice but to complete the task and deliver the medallion to the supreme pirate ruler, Octo-Horse-Pirate. But the quest and the medallion are not what they seem, and Octo-Horse-Pirate is no run-of-the-mill villain. To complete the quest, Anne will have to uncover the truth about her mysterious past-and, just maybe, save the whole world in the process. Filled to the brim with heart-pounding action, miniature dragons, attacking chickens, and (sometimes friendly) pirates, The Adventurer's Guide to Treasure (and How to Steal It) is a laugh-out-loud, fast-paced adventure that will leave you breathless.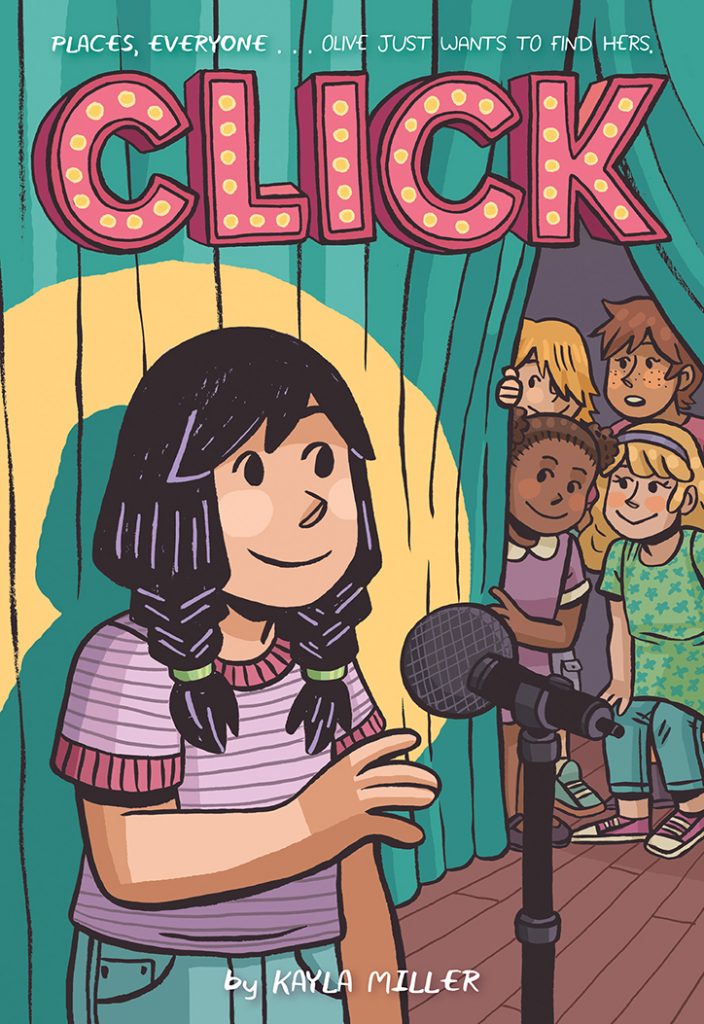 Click
Author: Kayla Miller
Publisher: HMH Books for Young Readers
Date: January 8
SYNOPSIS:
A debut graphic novel about friendship and finding where you "click" in school.
Olive wants to get in on the act . . .
. . . Any act!
Olive "clicks" with everyone in the fifth grade—until one day she doesn't. When a school variety show leaves Olive stranded without an act to join, she begins to panic, wondering why all her friends have already formed their own groups . . . without her. With the performance drawing closer by the minute, will Olive be able to find her own place in the show before the curtain comes up?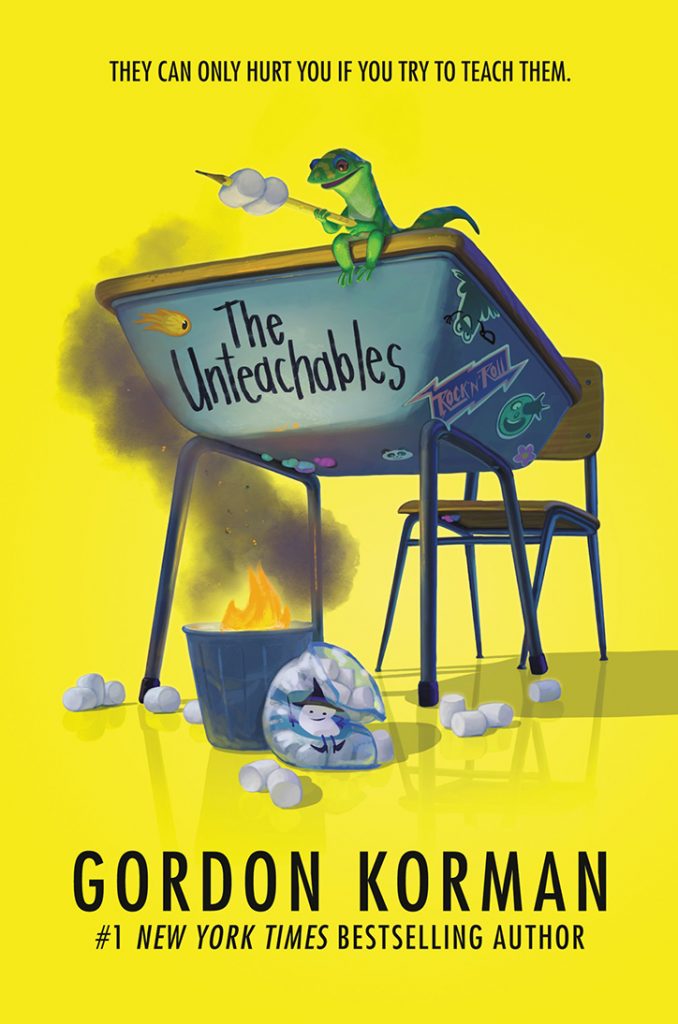 The Unteachables
Author: Gordon Korman
Publisher: Balzer + Bray
Date: January 8
SYNOPSIS:
A hilarious new middle grade novel from beloved and bestselling author Gordan Korman about what happens when the worst class of kids in school is paired with the worst teacher—perfect for fans of Ms. Bixby's Last Day.
The Unteachables are a notorious class of misfits, delinquents, and academic train wrecks. Like Aldo, with anger management issues; Parker, who can't read; Kiana, who doesn't even belong in the class—or any class; and Elaine (rhymes with pain). The Unteachables have been removed from the student body and isolated in room 117.
Their teacher is Mr. Zachary Kermit, the most burned-out teacher in all of Greenwich. He was once a rising star, but his career was shattered by a cheating scandal that still haunts him. After years of phoning it in, he is finally one year away from early retirement. But the superintendent has his own plans to torpedo that idea—and it involves assigning Mr. Kermit to the Unteachables.
The Unteachables never thought they'd find a teacher who had a worse attitude than they did. And Mr. Kermit never thought he would actually care about teaching again. Over the course of a school year, though, room 117 will experience mayhem, destruction—and maybe even a shot at redemption.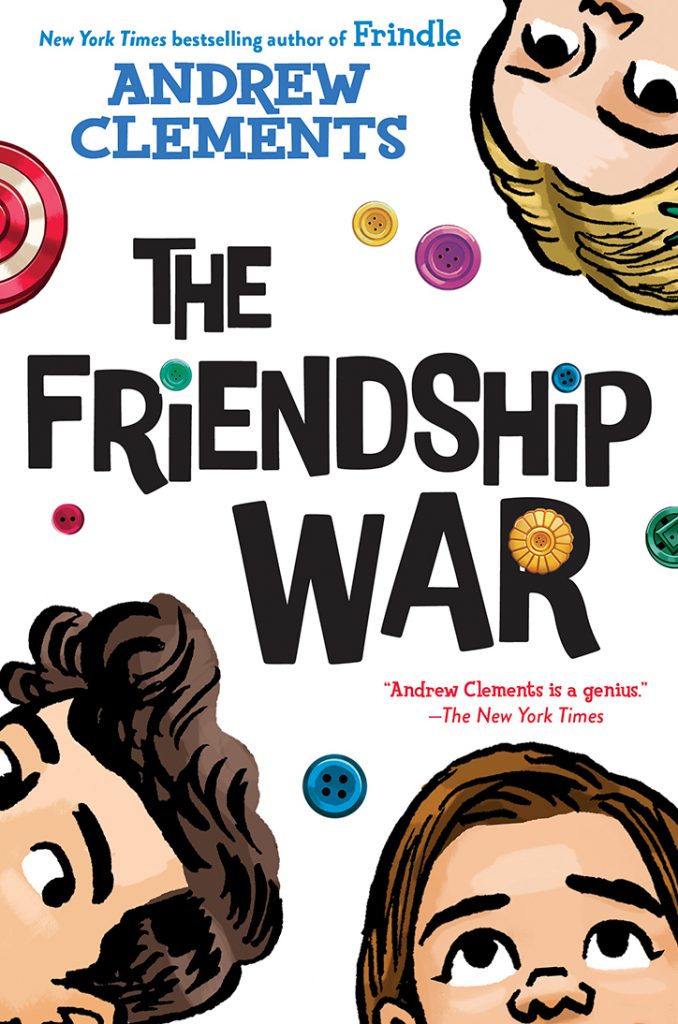 The Friendship War
Author: Andrew Clements
Publisher: Random House Books for Young Readers
Date: January 8
SYNOPSIS:
Stickers, Silly Bandz, Rainbow Looms, fidget spinners . . . buttons?! A brand-new school story about friendship and fads from the bestselling author of Frindle.
This is war. Okay–that's too dramatic.
But no matter what this is called, so far I'm winning.
And it feels wonderful.
Grace and Ellie have been best friends since second grade. Ellie's always right in the center of everything–and Grace is usually happy to be Ellie's sidekick. But what happens when everything changes? This time it's Grace who suddenly has everyone's attention when she accidentally starts a new fad at school. It's a fad that has first her class, then her grade, and then the entire school collecting and trading and even fighting over . . . buttons?! A fad that might also get her in major trouble and could even be the end of Grace and Ellie's friendship. Because Ellie's not used to being one-upped by anybody. There's only one thing for Grace to do. With the help of Hank–the biggest button collector in the sixth grade–, she will have to figure out a way to end the fad once and for all. But once a fad starts, can it be stopped?
Andrew Clements, the beloved author of Frindle, returns with a deliciously entertaining and deeply satisfying story that will resonate with anyone who's ever been in a classroom . . . or been a kid. A fad is a tough thing to kill, but then again, so is a friendship.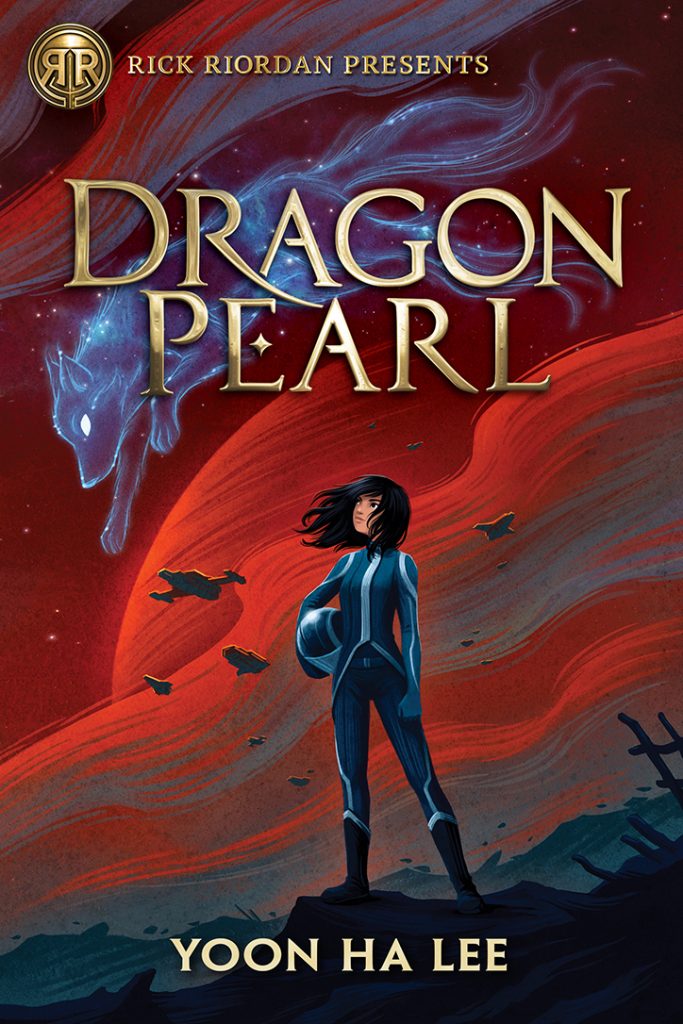 Dragon Pearl
Author: Yoon Ha Lee
Publisher: Rick Riordan Presents
Date: January 15
SYNOPSIS:
Rick Riordan Presents Yoon Ha Lee's space opera about thirteen-year-old Min, who comes from a long line of fox spirits. But you'd never know it by looking at her.
To keep the family safe, Min's mother insists that none of them use any fox-magic, such as Charm or shape-shifting. They must appear human at all times. Min feels hemmed in by the household rules and resents the endless chores, the cousins who crowd her, and the aunties who judge her. She would like nothing more than to escape Jinju, her neglected, dust-ridden, and impoverished planet. She's counting the days until she can follow her older brother, Jun, into the Space Forces and see more of the Thousand Worlds.
When word arrives that Jun is suspected of leaving his post to go in search of the Dragon Pearl, Min knows that something is wrong. Jun would never desert his battle cruiser, even for a mystical object rumored to have tremendous power. She decides to run away to find him and clear his name.
Min's quest will have her meeting gamblers, pirates, and vengeful ghosts. It will involve deception, lies, and sabotage. She will be forced to use more fox-magic than ever before, and to rely on all of her cleverness and bravery. The outcome may not be what she had hoped, but it has the potential to exceed her wildest dreams.
This sci-fi adventure with the underpinnings of Korean mythology will transport you to a world far beyond your imagination.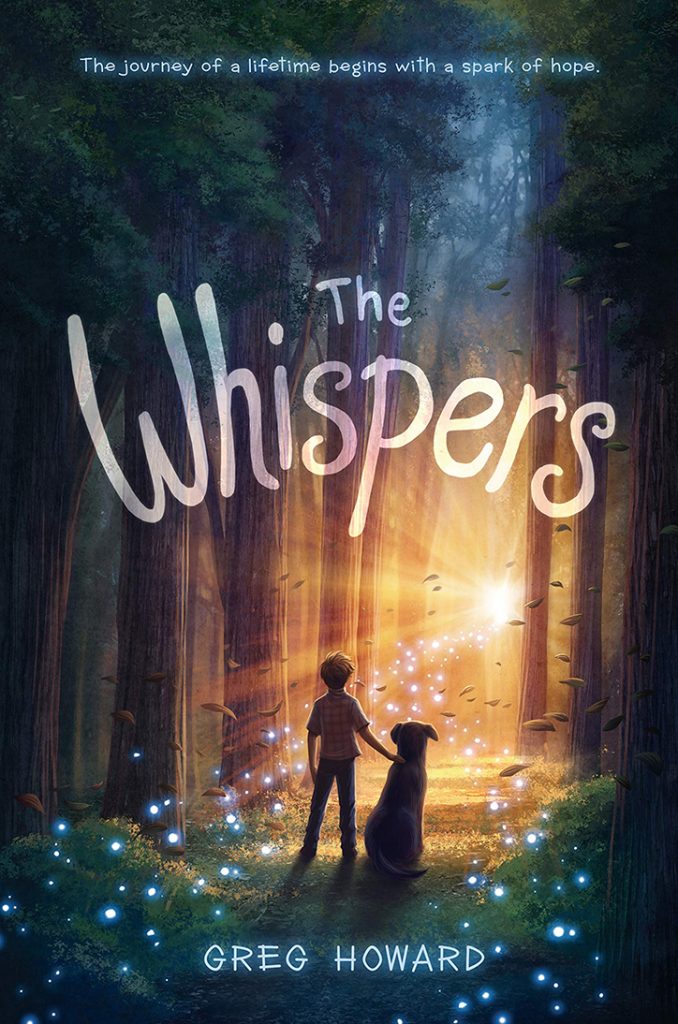 The Whispers
Author: Greg Howard
Publisher: G.P. Putnam's Sons Books for Young Readers
Date: January 15
SYNOPSIS:
A middle grade debut that's a heartrending coming-of-age tale, perfect for fans of Bridge to Terabithia and Counting By 7s.
Eleven-year-old Riley believes in the whispers, magical fairies that will grant you wishes if you leave them tributes. Riley has a lot of wishes. He wishes bullies at school would stop picking on him. He wishes Dylan, his 8th grade crush, liked him, and Riley wishes he would stop wetting the bed. But most of all, Riley wishes for his mom to come back home. She disappeared a few months ago, and Riley is determined to crack the case. He even meets with a detective, Frank, to go over his witness statement time and time again.
Frustrated with the lack of progress in the investigation, Riley decides to take matters into his own hands. So he goes on a camping trip with his friend Gary to find the whispers and ask them to bring his mom back home. But Riley doesn't realize the trip will shake the foundation of everything that he believes in forever.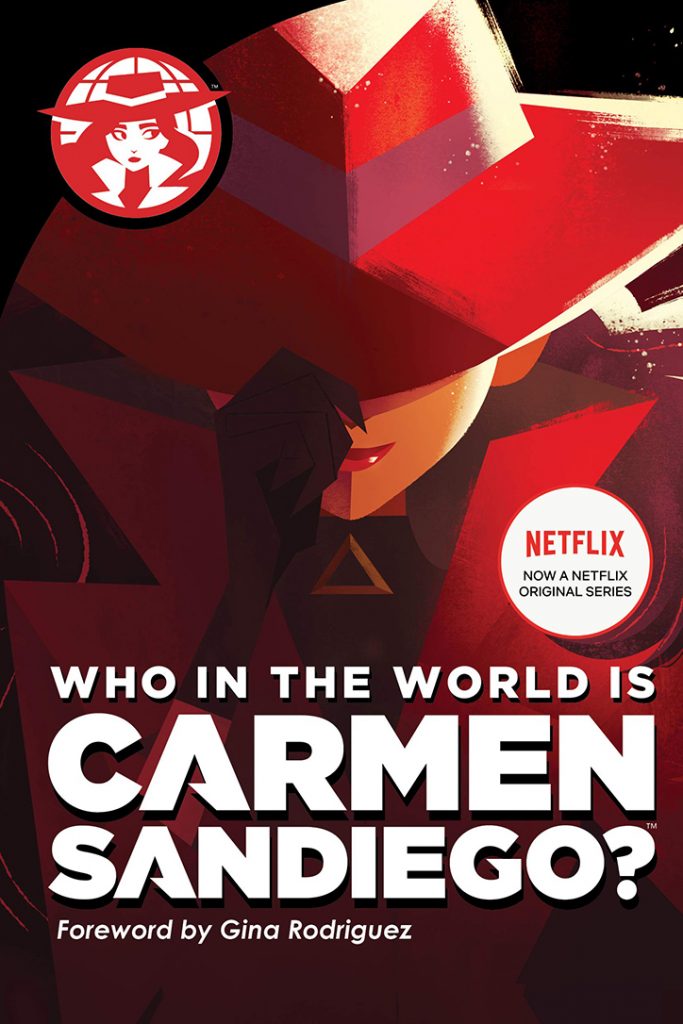 Who in the World is Carmen Sandiego?
Author: Rebecca Tinker
Publisher: HMH Books for Young Readers
Date: January 22
SYNOPSIS:
For decades, people have asked the question: Where in the world is Carmen Sandiego? But just who is this infamous and elusive globe-trotting criminal?
A skilled thief on a mysterious mission, Carmen Sandiego is endlessly pursued by ACME and Interpol. But the woman in the red fedora is always one step ahead! In this novelization, based on the Netflix animated series, Carmen shares her own backstory for the first time ever. Now, it's time to find out… Who in the world is Carmen Sandiego?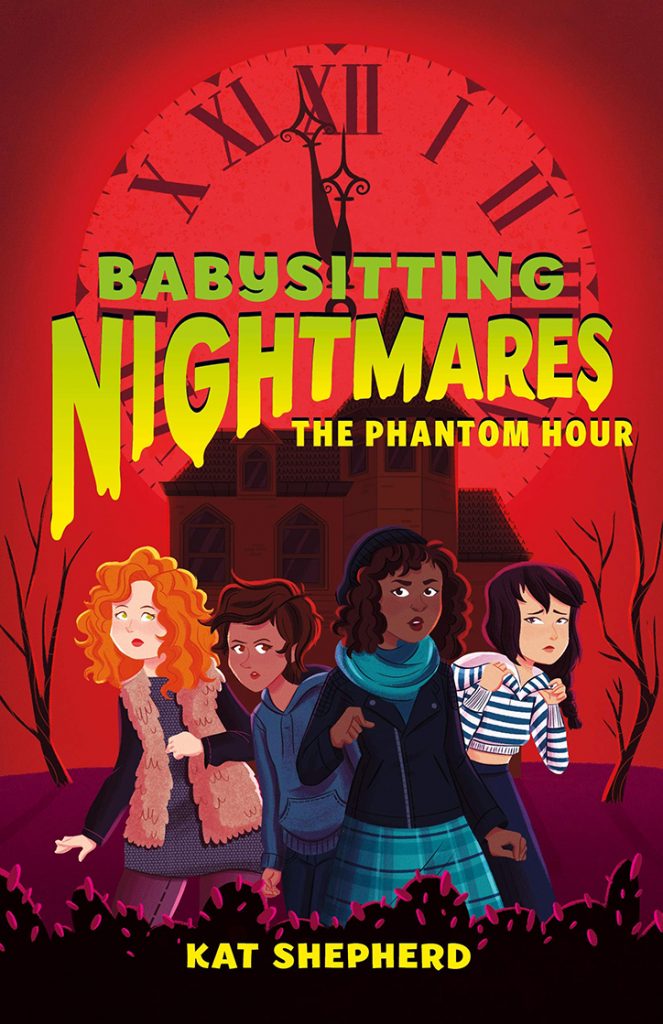 Babysitting Nightmares: The Phantom Hour
Author: Kat Shepherd
Illustrator: Rayanne Vieira
Publisher: Imprint
Date: January 29
SYNOPSIS:
The supernatural never sleeps in the second book of this spooky middle grade series!
Clio has already had one brush with the paranormal, and she's dead set on making it her last.
But her new babysitting job is in a haunted house! At first, Clio's excited to work at the historical Victorian mansion in town–until doors start closing behind her, objects move on their own, and messages appear from beyond the grave.
Clio enlists the help of her three best friends, Tanya, Maggie, and Rebecca, to uncover long-buried secrets from the past. Can Clio face her fear and solve the mystery of the haunted mansion?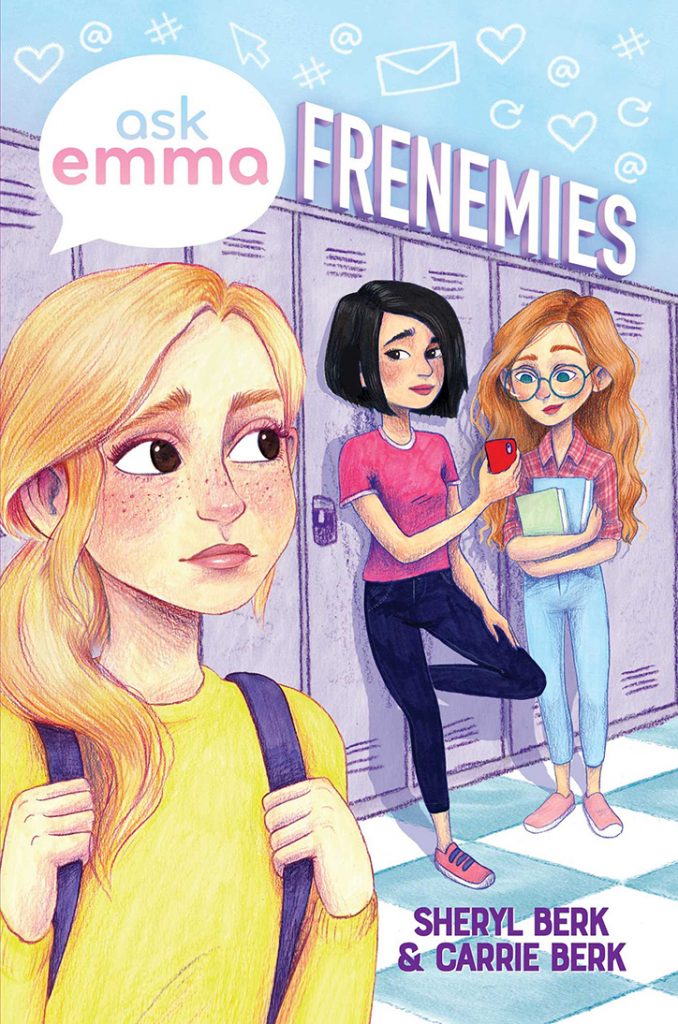 Ask Emma: Frenemies
Authors: Sheryl Berk and Carrie Berk
Publisher: Little Bee Books
Date: January 29
YAYOMG!:
Get excited! Author and lifestyle blogger Carrie Berk of Carrie's Chronicles is headed back to YAYOMG! to celebrate the release of Ask Emma: Frenemies! Carrie will be answering YOUR questions about friendship, middle school, and life on YAYOMG! on January 29th. She'll be selecting THREE questions submitted via our Instagram Story Highlights.
SYNOPSIS:
When Emma and her two best friends find themselves at odds with one another, can Emma find a way keep the trio from becoming a duo? Find out in this second book in the brand-new middle grade series, Ask Emma, from the bestselling creators behind The Cupcake Club series!
Emma Woods is used to speaking her mind. She does it every day on her blog, Ask Emma. When her classmates at Austen Middle have a problem, Emma has an opinion on how to fix it. So when she learns her crush, Jackson Knight, is going to Washington, DC, to attend the National Student Congress, Emma is upset that she wasn't picked as a representative. When Principal Bates tells Emma the NSC needs students who are calm, cool, and collected—and neutral—Emma vows to be just that for forty-eight hours to prove to Mrs. Bates that she can do it.
But staying Swiss is proving more difficult than Emma thought it would be, especially when it comes to dishing out advice on her blog. Now her silence is causing more trouble than her opinions. Her best friends, Izzy and Harriet, misinterpret her restraint as negligence and stop speaking to her. Can Emma find a way to get her friends back and still stay cool as a cucumber?

If you're still on the hunt for more books to add to your reading list, check out all the books we featured last year!