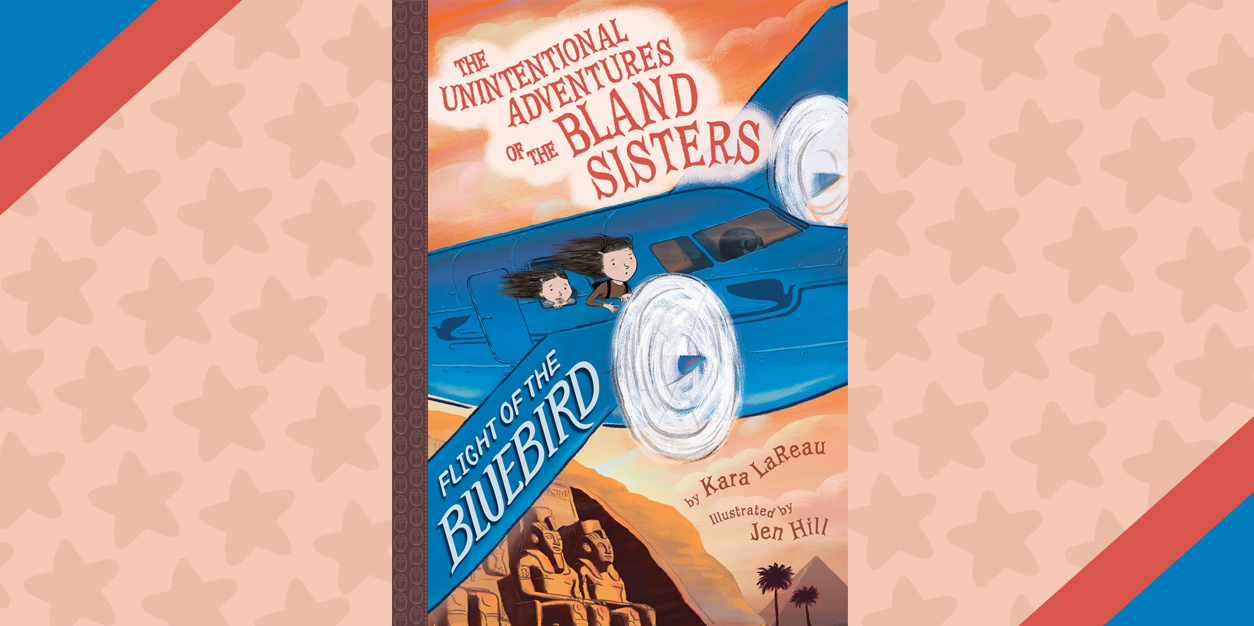 Flight of the Bluebird: Interview with Author Kara LaReau + GIVEAWAY!
It's time to wish Bland Voyage to sisters Jaundice and Kale as they head out on their must unintentionally exciting adventure yet! From their high seas encounter with pirates to a mysterious train full of intrigue, Jaundice and Kale have had more than enough thrills. In The Unintentional Adventures of the Bland Sisters: Flight of the Bluebird, they're ready to settle back into their lives in Dullsville, plop their butts on the couch, and chow down on a few day-old cheese sandwiches. Fate, on the other hand, has a different plan for this bland duo.
After returning from the Uncanny Valley to discover their home completely in shambles, Jaundice and Kale are swept away into an adventure filled with skilled aviatrixes, mysteriously magical scarabs, and old archaeology notebooks. The Bland Sisters latest adventure will have them uncovering secrets, foiling evil plots, and unraveling their own family history.
The very best part? We've teamed up with author Kara LaReau to give away a SIGNED copy of the book to one lucky winner! Settle in with a cup of tepid tea and keep scrolling to enter!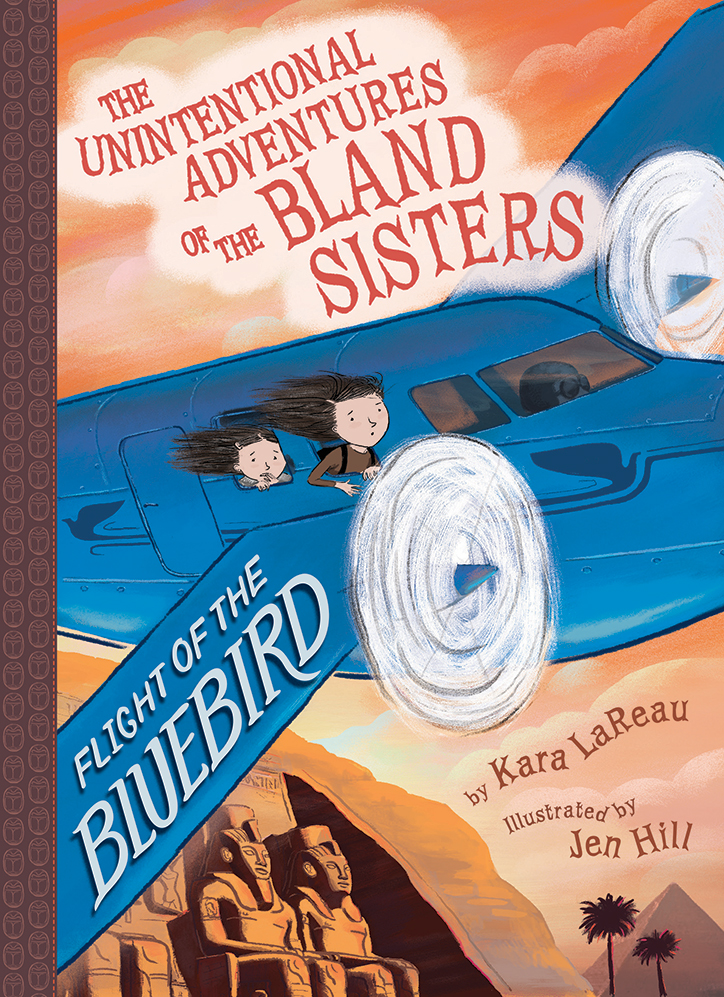 Fasten your seat belts for some unexpected turbulence ahead, as Jaundice and Kale Bland are back for their final unintentional adventure! Now that they've returned from the Uncanny Valley to find their home in Dullsville in absolute shambles, the sisters are rescued by high-flying aviatrix Beatrix Airdale. This time, they're jetting off (literally) to Egypt to uncover the mysteries of a magical scarab. By way of Casablanca and after foiling multiple attacks along the way (thanks to Jaundice's nautical knot-tying skills and Kale's super-sleuth powers of observation), the Bland Sisters are reunited with their parents. But it turns out that Mom and Dad aren't as bland—or as "Bland"—as Jaundice and Kale remember. Thanks to their mother's old archeology notebook, the Bland Sisters uncover their parents' real identities and help them achieve victory in one final, family-filled adventure.
THE UNINTENTIONAL ADVENTURES OF THE BLAND SISTERS: FLIGHT OF THE BLUEBIRD
AUTHOR: Kara LaReau
ILLUSTRATOR: Jen Hill
PUBLISHER: Amulet Books
DATE: January 8, 2019
What better way to wish our favorite sisters farewell (for now?) than a Q&A with the author who wrote them into existence? Author Kara LaReau shares her inspirations behind Flight of the Bluebird, why she loves writing Jaundice and Kale, and her words of wisdom for Bland Sisters fans.
Author Kara LaReau on The Unintentional Adventures of the Bland Sisters: Flight of the Bluebird:
View this post on Instagram
The Bland Sisters have adventured everywhere from the high seas to a mysterious train, and in Flight of the Bluebird, they're on a plane headed to Egypt. What drew you to using an airplane in this book?

KARA LAREAU: The first book, The Jolly Regina was an homage to swashbuckling pirate tales. The second book, The Uncanny Express, was an homage to Agatha Christie mysteries. Since the first book took place on a ship and the second was on a train, it seemed like an obvious choice to involve an airplane in the third story, and I was eager to explore (and parody!) the tropes of Indiana Jones-style adventures.

Jump 10 years into the future. Where are Jaundice and Kale as adults?

KARA: Is it weird that I don't really see them aging? Ten years from now, I suspect they'll look just about the same; Kale might be a bit more well-read, and Jaundice might have an extra smock-pocket or two from the treasures she's picked up along the way.

We love how The Bland Sisters novels are filled with strong female characters – from pirates to magicians to pilots. Tell us a little about why this is important to you.

KARA: I've tried to feature women in the roles we normally associate with men. I think it's a refreshing take on some of these tropes — plus, girls and boys need to see that women can do anything.
View this post on Instagram
Speaking of female heroes, who do you think Jaundice and Kale would be inspired by?

KARA: Well, Beatrix Airedale (the pilot/adventurer the Bland Sisters encounter) is an amalgam of heroes like Amelia Earhart, Bessie Coleman, and Nellie Bly. If Jaundice and Kale (or anyone!) wanted to be inspired, these women would be a good place to start!

Flight of the Bluebird is listed as their final adventure, but do you think we'll ever see more Bland Sisters stories in the future?

KARA: Ah, that would be wonderful! Let's keep our fingers crossed, shall we? I think Jaundice and Kale are ready for anything at this point, even some time at home (however brief.)

The last time we chatted, you told us about some of the research you had done for The Uncanny Express and some of the interesting facts you learned. What is something fascinating (or funny) you learned while researching Flight of the Bluebird?

KARA: Yes, I did a TON of research for this final adventure. I had to learn about Ancient Egypt, archaeology, and aeronautics, for starters — and I watched Raiders of the Lost Ark more times than I can count! One thing I learned was that archaeologist and Egyptologist Howard Carter (who discovered King Tut's tomb in 1922) really did spend his later years hanging out in the lobby of the Winter Palace hotel in Luxor, so I gave him a cameo in this story!

What have you enjoyed most about writing The Bland Sisters novels?

KARA: I've loved seeing the world through Jaundice and Kale's eyes, and bringing them to life. They've brought me a lot of joy in spite of (and often because of!) their Blandness.

Do you have any words of wisdom you'd like to share with your readers?

KARA: I'll leave that to Beatrix Airedale. At one point in the story, she tells the Bland Sisters, "Life's not worth living unless we're taking risks and challenging ourselves." Words to live by!
Flight of the Bluebird SIGNED Book Giveaway!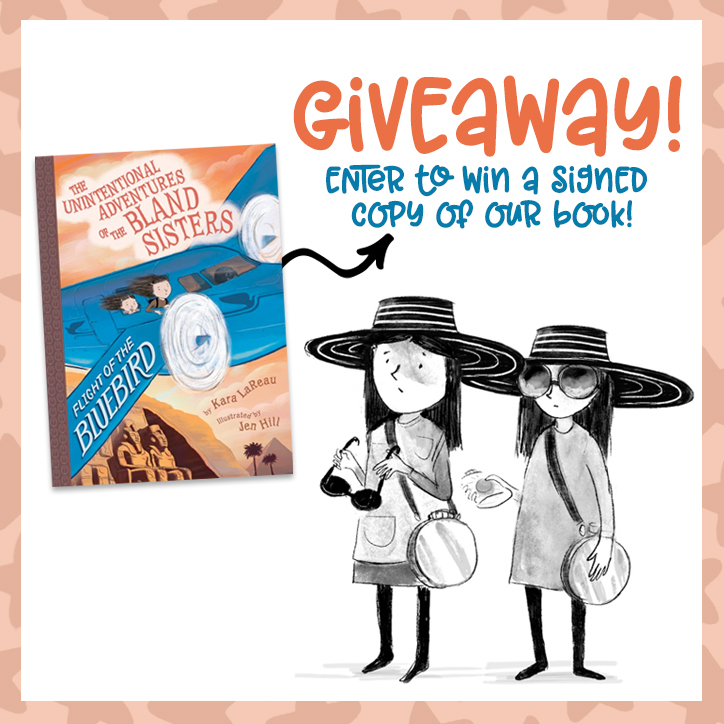 WHAT DO I WIN?:
One lucky winner will receive ONE (1) copy of The Unintentional Adventures of the Bland Sisters: Flight of the Bluebird, autographed by author Kara LaReau.
*Prize generously provided by Kara LaReau
HOW DO I ENTER?:
You must be 18 or older to enter. If you are under 18, please have a parent or guardian enter for you by filling out the form below. Giveaway begins on January 9, 2019 at 12:00 pm ET and ends on January 23, 2019 at 11:59pm ET. Open to US residents ONLY. Please, only ONE entry per person.
THIS GIVEAWAY HAS ENDED AND THE PRIZE HAS BEEN CLAIMED
*If selected as a winner, we will provide your parent/guardian with an affidavit to confirm that you are a valid winner who has permission to win. They will need to sign and return this affidavit in order to claim your prize. This step is non-negotiable and REQUIRED to claim your prize. Be sure to read the fully detailed rules HERE before entering.
Looking for more thrilling adventures to add to your bookshelf? Our January YAYBOOKS! Roundup will help you find your new favorite book!