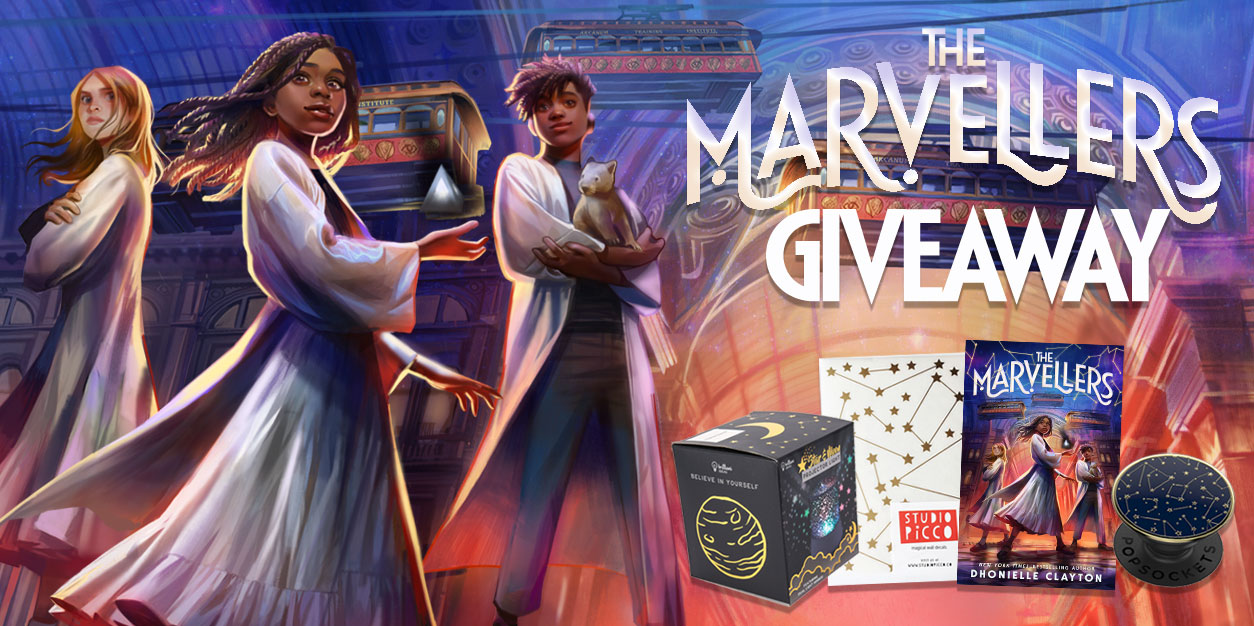 Discover Your Marvel and Embrace Your Magic in The Marvellers + GIVEAWAY!
NOTE: This post is sponsored by Macmillan.
What would you do if you could attend a magical boarding school in the sky? Filled with fantastical magic, endless bravery, and unlikely friendships, we just know The Marvellers by Dhonielle Clayton is about to become your new favorite read!
For decades, The Arcanum Training Institute for Marvelous and Uncanny Endeavors has only been open to Marvellers, but eleven-year-old Ella Durand is about to make history as the first-ever Conjuror to walk the halls of this extraordinary boarding school.
Despite being equally magical, Conjurors and Marvellers magic styles are very different, and Marvellers have always been seen as elite, priding themselves on integrity and goodness while deeming Conjurors as "bad and unnatural." Ella has always dreamed of visiting a Marvellian city to discover her marvel and practice a style of magic so different from her own. She is super excited to join the other students as they come together to practice their cultural arts, discover their marvels, and understand their exceptional abilities. Her biggest dream is finally coming true!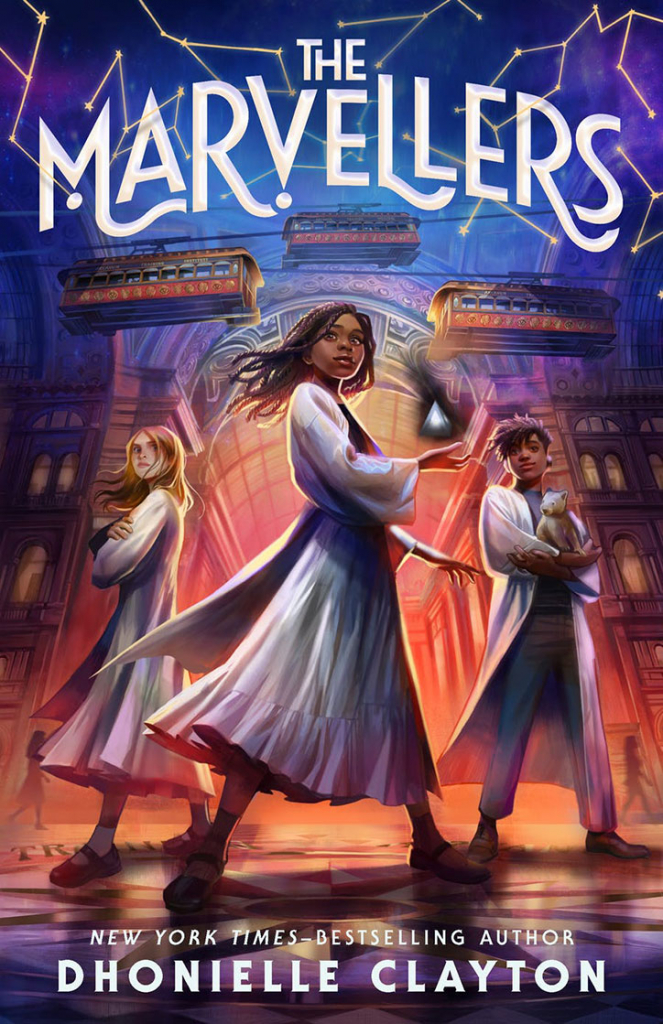 New York Times-bestselling author Dhonielle Clayton makes her middle-grade debut with a fantasy adventure set in a global magic school in the sky, perfect for fans of Rick Riordan, Soman Chainani, and Philip Pullman.
"The Marvellers deserves the highest compliment I can give a book: I want to live in this world." ―Rick Riordan, #1 New York Times bestselling–author
"A marvelous gift of a novel! With fantastical twists at every turn, Clayton has created a world that readers won't want to leave." ―Angie Thomas, #1 New York Times-bestselling author of The Hate U Give and Concrete Rose
"The Marvellers is a rich, enchanted melting pot of magic, thrills, and color . . . filled with heart, wit, and humor. A tantalizing introduction to an exhilarating fantasy universe." ―Soman Chainani, New York Times-bestselling author of The School for Good and Evil series
Eleven-year-old Ella Durand is the first Conjuror to attend the Arcanum Training Institute, a magic school in the clouds where Marvellers from around the world practice their cultural arts, like brewing Indian spice elixirs and bartering with pesky Irish pixies.
Despite her excitement, Ella discovers that being the first isn't easy―some Marvellers mistrust her magic, which they deem "bad and unnatural." But eventually, she finds friends in elixirs teacher, Masterji Thakur, and fellow misfits Brigit, a girl who hates magic, and Jason, a boy with a fondness for magical creatures.
When a dangerous criminal known as the Ace of Anarchy escapes prison, supposedly with a Conjuror's aid, tensions grow in the Marvellian world and Ella becomes the target of suspicion. Worse, Masterji Thakur mysteriously disappears while away on a research trip. With the help of her friends and her own growing powers, Ella must find a way to clear her family's name and track down her mentor before it's too late.
The Marvellers
AUTHOR: Dhonielle Clayton
PUBLISHER: Henry Holt & Co. (BYR)
DATE: May 3, 2022
But Ella's excitement soon fizzles when she's met with whispers in the hall, harsh rules of conformity, and judgemental faculty members who don't feel she belongs. They're wary of her magic because it's so different from their own, and despite her enthusiasm and passion to thrive at ATI, it seems like everyone is against her. If the Marvellers believe in goodness and light, then why does it seem like they're all out to make Ella feel terrible about who she is and where she comes from?
Despite rising tensions, Ella is determined to make the best of things and does her best to fit in, get good grades, and avoid trouble. But just as she starts to make friends and find her way, her beloved mentor, Masterji Thakur, goes missing, and a notorious criminal breaks free from prison – and Ella and her family are seen as suspects! Ella is sure there's something suspicious going on and joins forces with her new friends Brigit and Jason and is determined to track down Masterji Thakur and clear her family's name before she loses her spot at the Institute forever!
Ready to dive into this diverse, fantastical read in the most magical universe you'll be dreaming of long after you read the final page? You're in luck! We teamed up with our besties at Macmillan for a giveaway! ONE lucky winner will receive a copy of The Marvellers and other magical goodies inspired by this marvelous story.
Ready to enter? Grab your favorite adult and have them enter below for your chance to WIN!
The Marvellers Giveaway: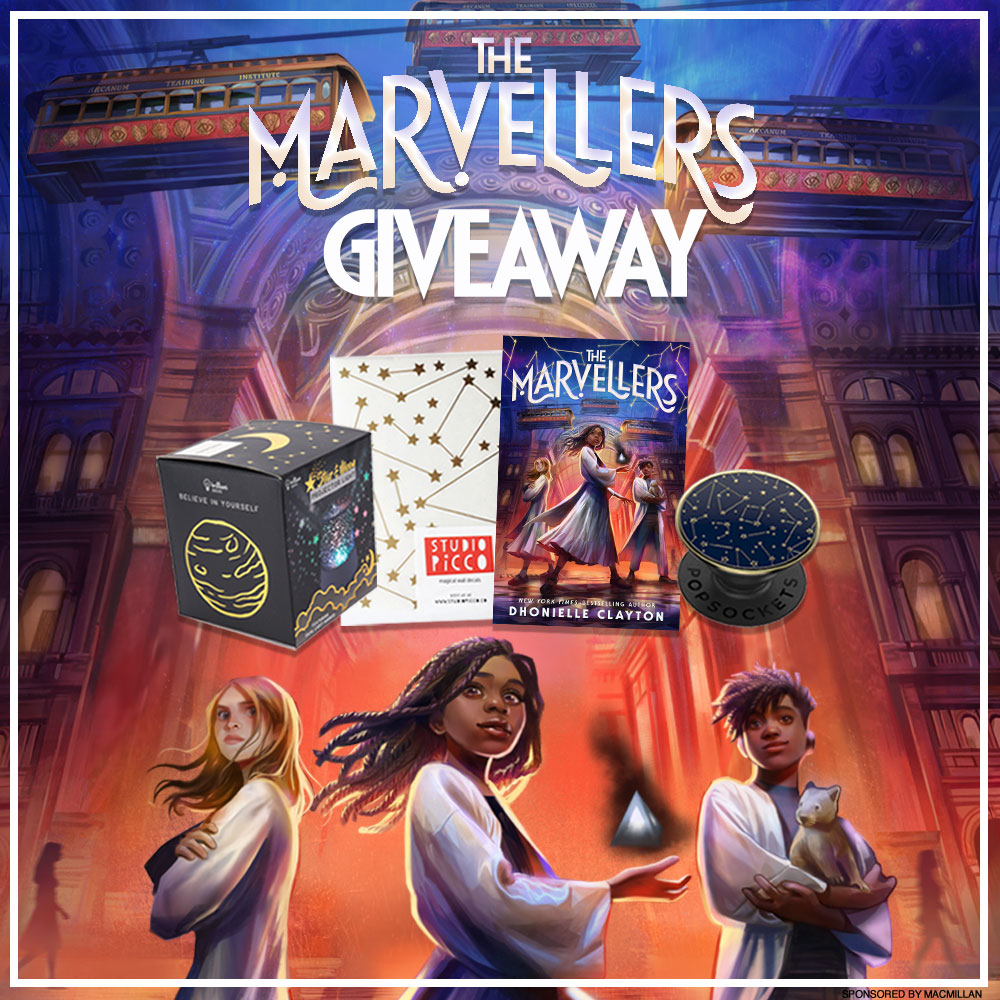 WHAT DO I WIN?:
ONE (1) lucky winner will receive a The Marvellers Prize Pack that includes:
– ONE (1) copy of The Marvellers by Dhonielle Clayton
– ONE (1) Enamel Constellions Swappable PopGrip from PopSockets
– ONE (1) set of Gold Constellation Wall Decals from Studio Picco
– ONE (1) Stars And Moon Projector Light from Bright Ideas
*Prizes provided by Macmillan and YAYOMG!
HOW DO I ENTER?:
Grab a parent or guardian and have them fill out the form below by June 4, 2022 at 11:59pm ET.
Giveaway runs from 05/04/22 at 12:30 pm ET through 06/04/22 at 11:59 pm. Open to US residents ONLY. Be sure to read the fully detailed rules HERE before entering.
THIS GIVEAWAY HAS ENDED AND THE WINNER HAS BEEN CONTACTED.
You must be 18 or older to enter. Please, only ONE entry per person. If selected as a winner, we will provide your parent/guardian with an affidavit to confirm that you are a valid winner who has permission to win. They will be REQUIRED to sign and return the affidavit to YAYOMG! to claim your prize. Prizes will not be mailed out without signed parental consent.
The story doesn't end here! Discover more Marvellers magic below:
✨ Are you most like Ella, Brigit, or Jason? Click HERE to take our Marvellers quiz!
? Ready to get reading? The Marvellers is now available from Macmillan.