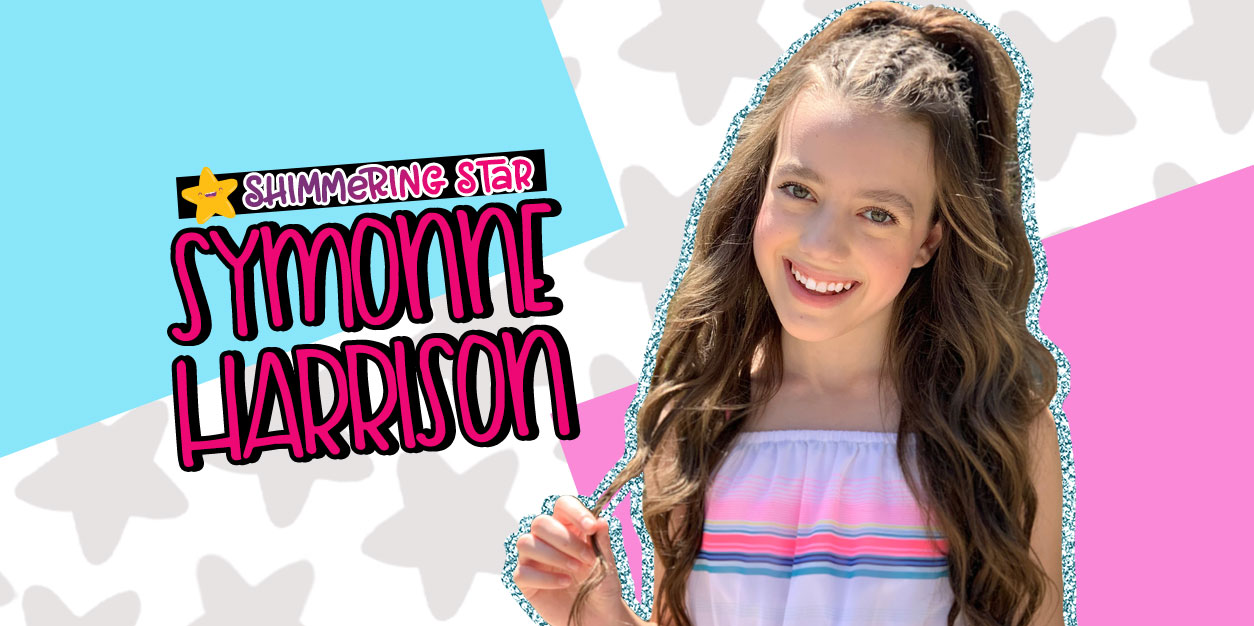 Shimmering Star Spotlight: Symonne Harrison
Each month YAYOMG! chooses a Shimmering Star to spotlight. Follow along as we shine a light on girls who represent kindness, positivity, empowerment, philanthropy, drive, and confidence. They're sure to inspire you!
We are so excited to introduce our Shimmering Star for September, Symonne Harrison! Whether you know her from her ever-growing Instagram, her TikTok (@symonneharrisonofficial), or the super fun YouTube videos she makes with her besties, you know that Symonne always shines bright in everything she does.
In addition to slaying on social, Symonne is also passionate about her acting career. She is in this season of the Golden Globe-winning drama series, The Affair, and recently landed a new project that starts filming in January. Impressed? You'll be even more amazed when you find out that Symonne invented a product at the age of 6! She is proof that if you put in the time to be kind and hardworking, you can accomplish all of your biggest dreams – no matter how out of reach they seem!
Symonne also makes time to give back. Here's what she told us, "giving back is very important to me. I'm so thankful for my blessings. The two charities that I support are Autism Speaks and the American Lung Association."
Ready to get to know Symonne? Keep on reading as she dishes on spreading positivity, her passion for acting, and her invention, Bear on the Chair!
Get to Know Symonne Harrison:
Tell us a little bit about YOU!

SYMONNE HARRISON: I was born and raised in Cleveland, Ohio, and moved to LA a year ago to further my acting career. I started acting in Ohio at the age of 7 and appeared in my first film project at the age of 9. I also love to dance. I began dancing at three years old, and that is when my love for performing and entertaining others began. I also danced competitively for five years, starting at the age of 7. I have danced for my hometown NBA team, the Cleveland Cavaliers. I was invited to perform at Walt Disney World last year! It was truly magical!

I love to have fun, and I'm a bit of a thrill-seeker! In Cleveland, we have one of the nations best amusement parks called Cedar Point. I love to ride all the big roller coasters there. I also love having fun with my friends and spending time with my family. Some of my hobbies are gaming, baking, flying trapeze, indoor skydiving, and swimming.
From attending events to working on new YouTube videos, it seems like you've always got something amazing going on. How do you find a balance between work, school, and just being a kid?

SYMONNE: My days are definitely busy between school, auditions, bookings, acting training, appearances and filming YouTube, but I'm doing what I love, so it never really feels like work. My parents make sure that when things get very busy that I get some time to do other fun things around LA with my friends.
What do you love most about acting?

SYMONNE: My favorite part about acting is developing a character and making it my own. I love when I get a role that I connect with. It is so fun and exciting to bring the character to life!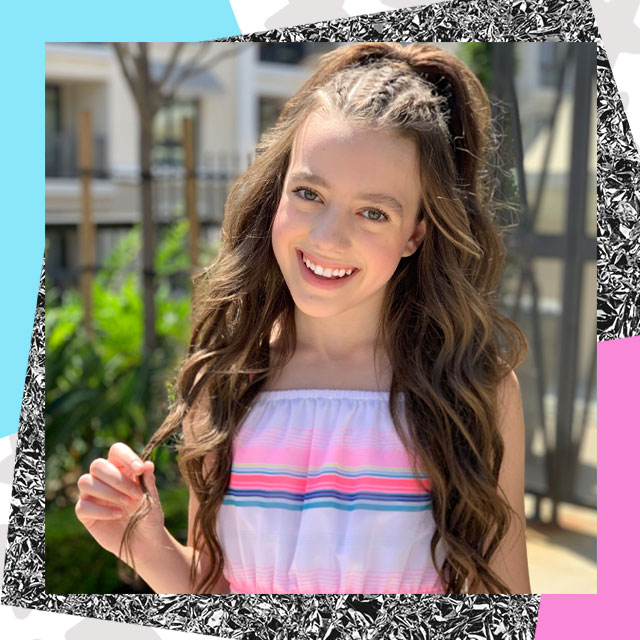 Most of your fans know you best as an actress, influencer, and vlogger, but you're actually an entrepreneur as well! Tell us about your product, Bear on the Chair, and how it came about.

SYMONNE: I invented the product, Bear On The Chair, at the age of 6. I hold a design patent for my product. Bear On The Chair is a year-round behavior buddy for kids. It is a great behavior tool that parents and teachers can use with children 3 and up.

It comes with a cute bear that wears a t-shirt with a velcro patch. There are two patches included, a happy face patch and a sad face patch. When kids are behaving well, doing great and working on their goals, using their manners, or whatever the caregiver is working with the child on, the parent will put on the happy face patch. If things get off track, the parents will switch the patch to the sad face patch.

It gives kids an instant visual tool to let them think about what they are doing, how their actions are affecting others, and motivate them to work hard to keep working towards their goal. I am very proud that my bear helps children with Autism!

Bear On The Chair is sold on our website www.bearonthechair.com, Amazon, and in select Learning Express stores.
How do you shine bright?

SYMONNE: I love using my platform to encourage others and give my followers messages of positivity. My friends and I started a #positivity campaign on Instagram. I love supporting others, making people smile, and giving out positive vibes. I get many comments, emails, and messages thanking me for being a positive role model and asking me for advice.

I try to make a positive impact, and it makes me feel good, even if I can help just one person each day. I am so thankful for every single person that supports me, and I hope they know how much I love and appreciate them – they make me shine brighter!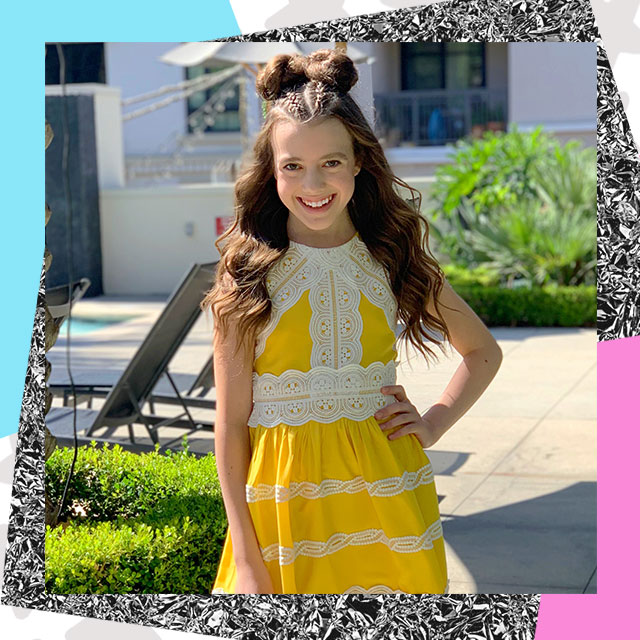 The women who inspire me are…

SYMONNE: There are many women that inspire me daily. I am very grateful to have strong women in my family that I look up to. My grandmother and my mom are two women who inspire me most. My grandmother was born in Italy and came to America as a young girl. She worked hard and started her own business, which has been successful for over 45 years. She inspires me to dream big and never give up!

My mom is one of the smartest, kindest, and most selfless women I know. She holds a Juris doctorate degree, and she set aside her career in Ohio to help me further my acting career in Hollywood. She inspires me to believe in myself first, and then others will believe in me too. I'm so blessed to have such strong women in my family to help guide me, love me, and inspire me every day!
I am most passionate about…

SYMONNE: I am most passionate about acting. My mom saved a project I did in the first grade. It asked what I wanted to be when I grow up, and I answered, "actress." I knew at seven years old that I wanted to be an actress. The feeling I get when I get to perform and express myself through acting is the best feeling in the world. It is exciting and brings me the most joy.

I look forward to each audition, and I am very grateful for any opportunity that comes my way.
I feel most confident when…

SYMONNE: I am most confident when I am prepared. I feel confident when I know that I have fully prepared, done my best, and given something my all. I love the quote: "Luck is what happens when preparation meets opportunity!"
My biggest dream is…

SYMONNE: I love to dream big! My biggest dream is to win an Oscar and/or an Emmy. I love acting and I am excited about my acting career.
The advice I want to share with other girls…

SYMONNE: My best advice is to be yourself, and the right people will love you. Always stay true to who you are. Everyone is unique and special in their own ways. You should celebrate your individuality, and people will love and respect you for being you and those that don't, are not meant to be in your life. Always believe in yourself and go after your biggest dreams!
If you're feeling inspired by Symonne, be sure to check out our previous Shimmering Stars by clicking here!