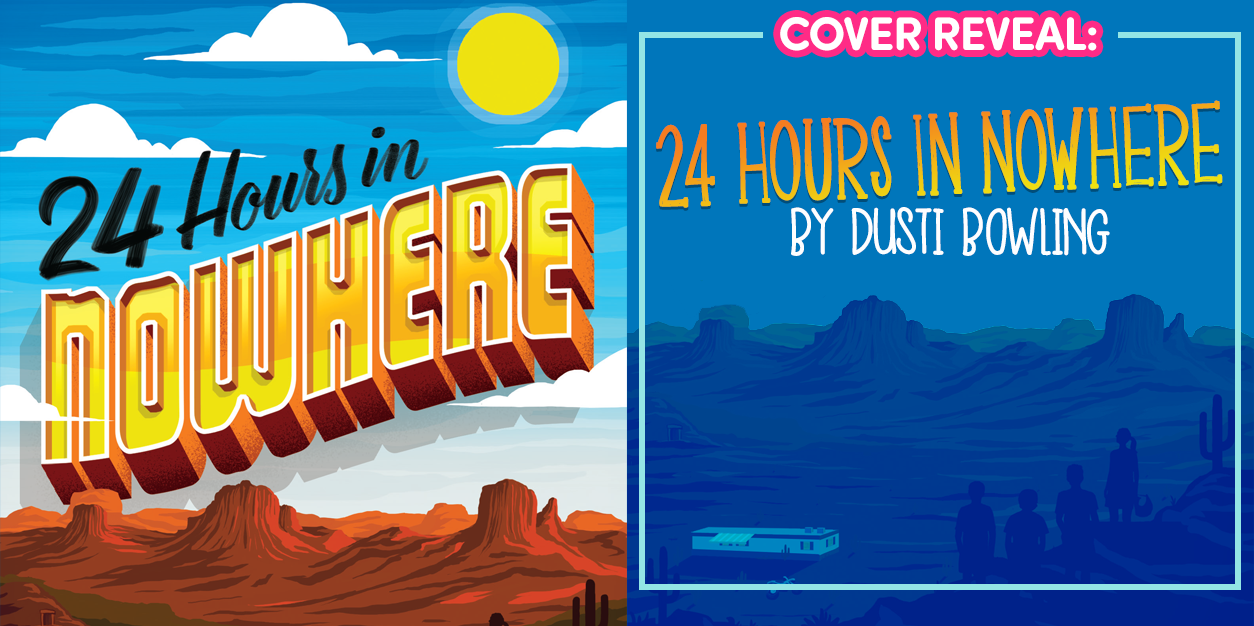 COVER REVEAL: 24 Hours in Nowhere by Dusti Bowling + GIVEAWAY!
Middle-grade book covers (and the stories between those covers) are having a serious moment. It seems that with every book that releases, the covers just keep getting better and better, and today's reveal is no exception.
Dusti Bowling's Insignificant Events in the Life of a Cactus was one of our absolute favorite books we read last year. It was filled with so much humor, heart, and hope and we have a feeling that her upcoming release 24 Hours in Nowhere will be just as amazing. We're thrilled and honored to be able to share the EXCLUSIVE cover reveal for an author we love so much, especially because this is our first-ever cover reveal!
But enough about us, we know you're all dying to see the cover and hear all about 24 Hours in Nowhere! Keep on reading to see the cover and enter for a chance to win an ARC (Advance Review Copy) of the book!
COVER REVEAL – 24 Hours in Nowhere by Dusti Bowling: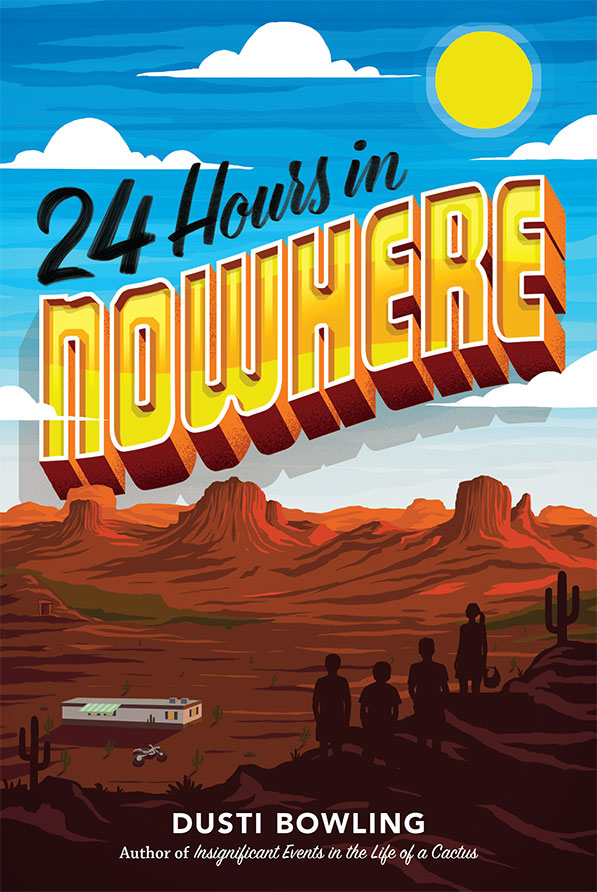 Isn't it gorgeous? It's like looking at a postcard for Nowhere, Arizona, the setting of Dusti Bowling's newest middle-grade novel. Here's what the book is all about:
Welcome to Nowhere, Arizona, the least livable town in the United States. For Gus, a bright 13-year-old with dreams of getting out and going to college, life there is made even worse by Bo Taylor, Nowhere's biggest, baddest bully. When Bo tries to force Gus to eat a dangerously spiny cactus, Rossi Scott, one of the best racers in Nowhere, comes to his rescue—but in return she has to give Bo her prized dirt bike. Determined to buy it back, Gus agrees to go searching for gold in Dead Frenchman Mine, joined by his old friends Jessie Navarro and Matthew Dufort, and Rossi herself. As race against the clock hunting for treasure, narrowly surviving everything from cave-ins to mountain lions, they bond over shared stories of how hard life in Nowhere is—and they realize this adventure just may be their way out. Author Dusti Bowling (Insignificant Events in the Life of a Cactus) returns to the desert to create a gripping story about friendship, hope, and finding the power we all have within ourselves.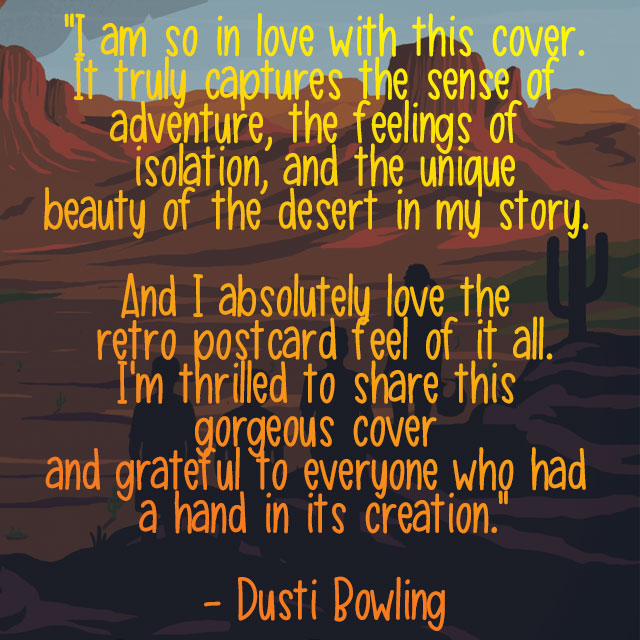 Sounds amazing, right? Here's what Dusti had to say about how the cover turned out:
"I am so in love with this cover. It truly captures the sense of adventure, the feelings of isolation, and the unique beauty of the desert in my story. And I absolutely love the retro postcard feel of it all. I'm thrilled to share this gorgeous cover and grateful to everyone who had a hand in its creation."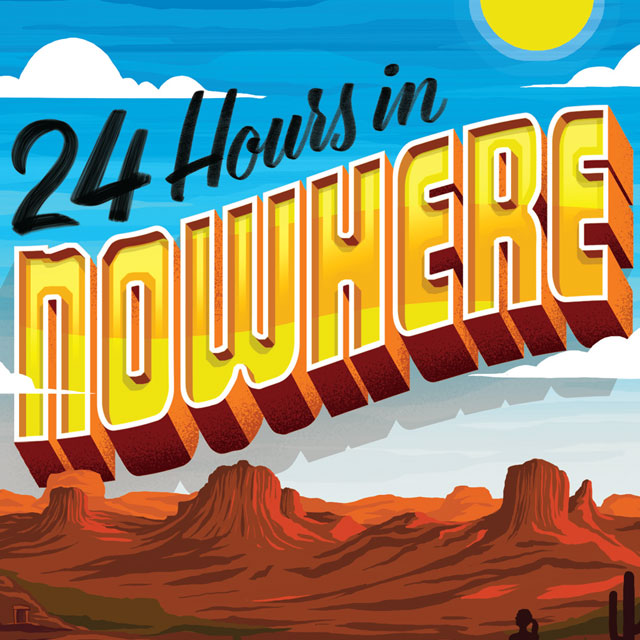 The thing you might not realize about book covers is that a lot of hard work, love, and creativity go into their creation. The ages-old rule of "Never judge a book by it's cover" is absolutely a rule that's made to be broken, especially these days with covers as intriguing as this one!
Here's some behind-the-scenes insight into the 24 Hours in Nowhere cover from the editor, Christina Pulles, and associate art director, Ryan Thomann.
"The setting of this book, Nowhere, is not supposed to be a place you'd want to visit, but the vintage postcard feel of the cover plays with that idea and shows some of the true beauty and sense of adventure the kids discover in their hometown. I love how the cover feels connected to Dusti's first novel, Insignificant Events in the Life of a Cactus, but stands on its own—just as the story does." – Christina Pulles

"For Dusti's second novel, we wanted an impactful cover that related to Insignificant Events in the Life of a Cactus but that was also unique and strong enough to stand alone. We chose to collaborate with Portuguese artist João Neves, whose beautiful lettering work we'd long admired. João created an atmospheric scene that feels both sparse and adventurous at the same time. His brilliant postcard-style type treatment became the perfect dichotomy to attract readers to a seemingly dreary town, but one with underlying hijinks. We couldn't be happier with the result." – Ryan Thomann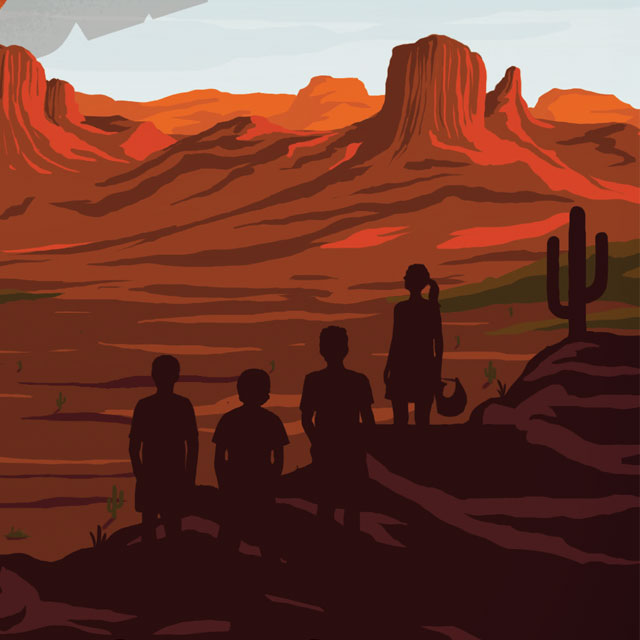 As you can see, not only were the characters, setting, and plot of 24 Hours in Nowhere considered when bringing this cover to life, but also how the cover would feel next to Dusti's previous novel, Insignificant Events in the Life of a Cactus. She's a brilliant writer creating worlds, characters, and stories that truly take on a life of their own in the hearts of her readers, and we think this cover is really a fantastic fit.
Can't wait to read it? 24 Hours in Nowhere releases in September 2018 from Sterling Publishing, but we've got your chance to win an advance copy right here!
24 Hours in Nowhere ARC Giveaway:
WHAT DO I WIN?:
– One (1) lucky reader will receive an ARC (Advance Review Copy) of 24 Hours in Nowhere by Dusti Bowling, courtesy of Sterling Publishing.
HOW DO I ENTER?:
Get permission from your parent/guardian and fill out the form below by 01/31/18. Giveaway begins on January 22, 2018, at 12:00 pm ET and ends on January 31, 2017, at 11:59 pm ET. Open to US and Canadian entrants only.
You must be 18 or older to enter. If you are under 18, you'll need to get permission from your parent/guardian to enter and again if you win. Please provide THEIR email address when entering below. If chosen as a winner, you'll need to provide contact info where we can reach your parent/guardian if you win. They'll need to sign an affidavit permitting us to send your prize. Be sure to read the fully detailed rules HERE before entering.
THIS GIVEAWAY HAS ENDED AND THE PRIZE HAS BEEN CLAIMED.
Good luck to all who enter! Thank you so much to Dusti Bowling and Sterling Publishing for letting us share this beautiful cover with the world! Want to get behind the scenes of another amazing read?
Check out our interview with Kara LaReau, author of the hilarious Bland Sisters series.