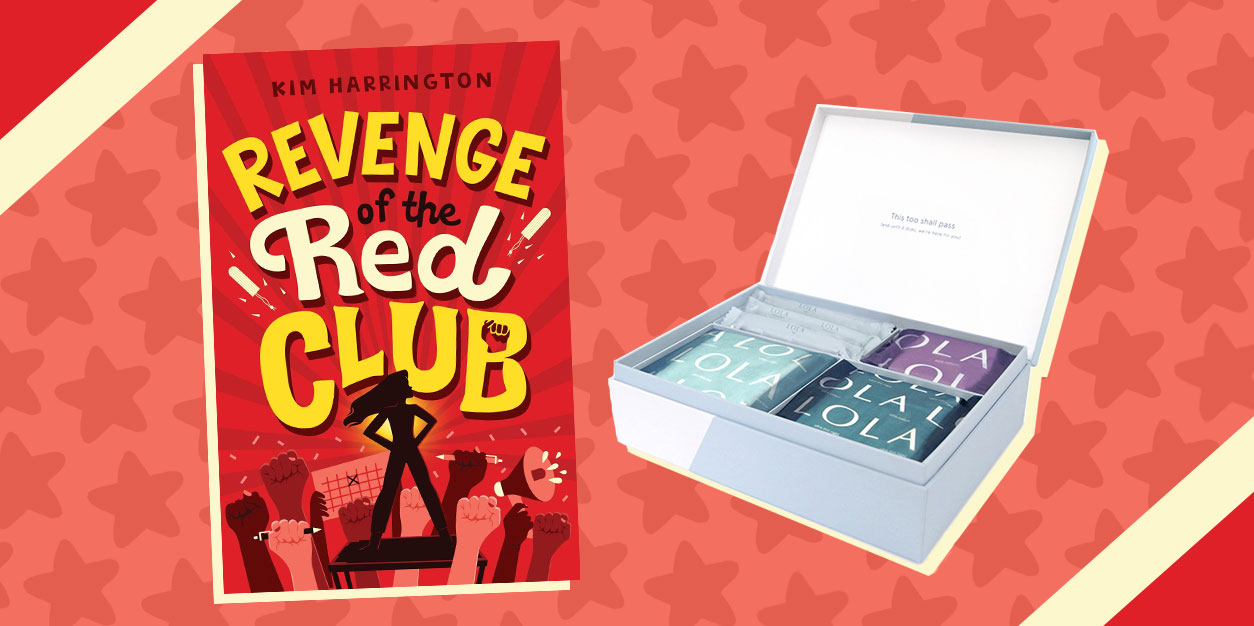 Get Empowered by Revenge of the Red Club + GIVEAWAY!
Have you ever seen a more empowering book cover in your entire life? The cover of Revenge of the Red Club perfectly represents the story of female friendship and activism waiting for you inside, but also stands on its own as a powerful symbol of girl power. TBH, we wish we had a poster-sized version we could hang on our wall as a daily reminder that girls are capable of anything.
Revenge of the Red Club is the newest novel from author Kim Harrington, following a group of girls fighting against injustice and debunking menstrual cycle myths at their middle school. Riley is a budding investigative journalist who writes for her school newspaper, passionate about reporting on truth and shining a light on misinformation. A lot of unfair changes are being made at her school, including the disbanding of The Red Club, a weekly meetup of middle school menstruators who use their club as a way to vent about their periods, provide emergency supplies, and support each other in a way that they're not finding at home.
Even though periods are an extremely normal bodily function, they're often discussed in hushed tones, as if they are something to be embarrassed about. Schools don't always provide students with the education they need to fully understand the menstrual cycle (or the woes that come with them), and you may find that your parents may not always have the answers you need. Consider Revenge of the Red Club your companion in solidarity, reminding you that periods are nothing to be ashamed of.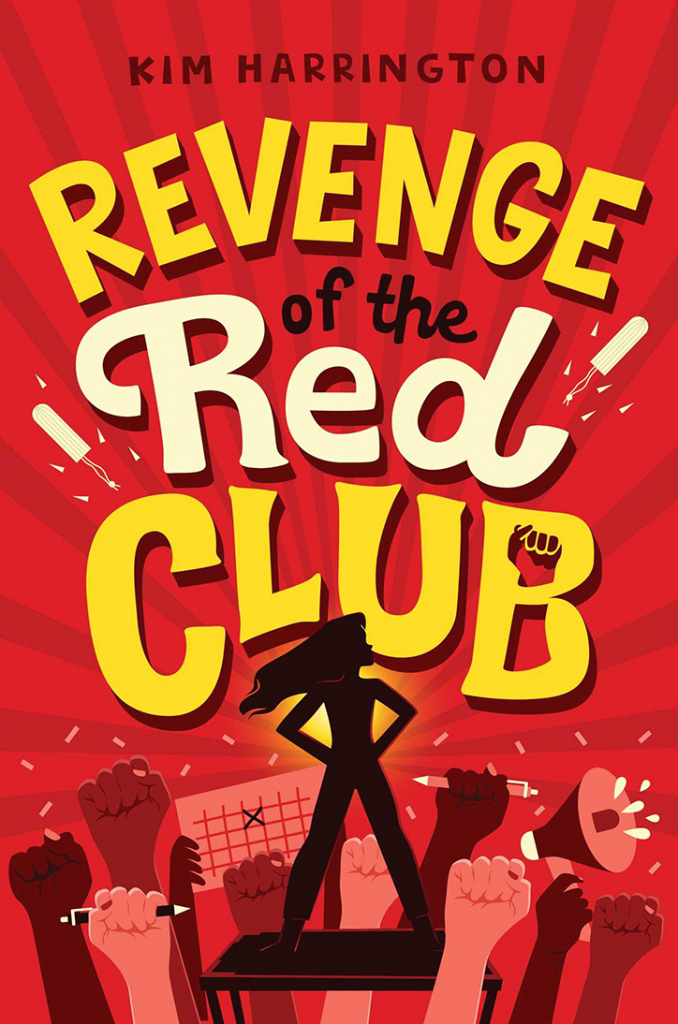 A tween reporter discovers an important and beloved club at school is being shut down—and uses the power of the pen to try and activate some much-needed social change in this period-positive and empowering middle grade novel about the importance of standing up for what you believe in.
Riley Dunne loves being a member of the Red Club. It's more than a group of girls supporting each other through Aunt Flo's ups and downs; it's a Hawking Middle School tradition. The club's secret locker has an emergency stash of supplies, and the girls are always willing to lend an ear, a shoulder, or an old pair of sweatpants.
But when the school administration shuts the Red Club down because of complaints, the girls are stunned. Who would do that to them? The girls' shock quickly turns into anger, and then they decide to get even.
But wallpapering the gym with maxi pads and making tampon crafts in art class won't bring their club back. Only Riley can do that. Using the skills she has cultivated as her school paper's top investigative reporter (okay, only investigative reporter), she digs for the truth about who shut the club down and why. All the while dealing with friendship drama, a new and ridiculous dress code, and a support group that is now more focused on fighting with each other than fighting back.
Can she save the Red Club before this rebellion turns into a full-scale war?
Revenge of the Red Club
AUTHOR: Kim Harrington
PUBLISHER: Aladdin
DATE: October 22, 2019
That's what we love most about this book – the Red Club. The girls who banded together to support each other when they felt unsupported. We think that there should be a Red Club in every school, accepting of all students who want to be educated about the truths about periods and have a place to vent about the ups and downs of periods.
Author Kim Harrington is sharing some fun facts about the inspirations behind the book and has graciously provided us with a copy to give away to one lucky winner. We've paired the book with a First Period Kit from LOLA, filled with a variety of pads and tampons for every type of flow, an instructional card about how to use everything, and a canvas pouch for storing your period products proudly.
Author Kim Harrington Shares 6 Fun Facts About Revenge of the Red Club:
FACT #1: No Surprise There

When I told my friends I was writing a period mystery (uterus, not historical) they were not surprised. I've always talked openly (and often hilariously!) about Aunt Flo. In fact, one time I opened a new pad, and the company's design on it looked like a terrified face to me. So I texted a pic to my BFF with the caption, "Is it just me or does this pad look like it knows what's about to happen to it?"

Little did I know, she was doing a work presentation and had forgotten to shut off messaging notifications on her laptop. So that pad pic and my comment loaded up for the whole group to see.
FACT #2: I Once Wrote My Own Newspaper

In REVENGE OF THE RED CLUB, the main character, Riley, is an investigative journalist for her school newspaper. At a young age, I also wanted to be a journalist. My school had no newspaper at the time, so I wrote and formatted my own on my Commodore 64 (a VERY old computer). But I quickly discovered I was more interested in making things up and started writing short fiction stories instead.
FACT #3: Sibling Fiction

Riley has a little brother who is equal parts funny and annoying, depending on the day. To create a sibling for my main character, I really leaned on my imagination rather than experience. I'm an only child, I married an only child, and together we have an only child. No siblings anywhere here!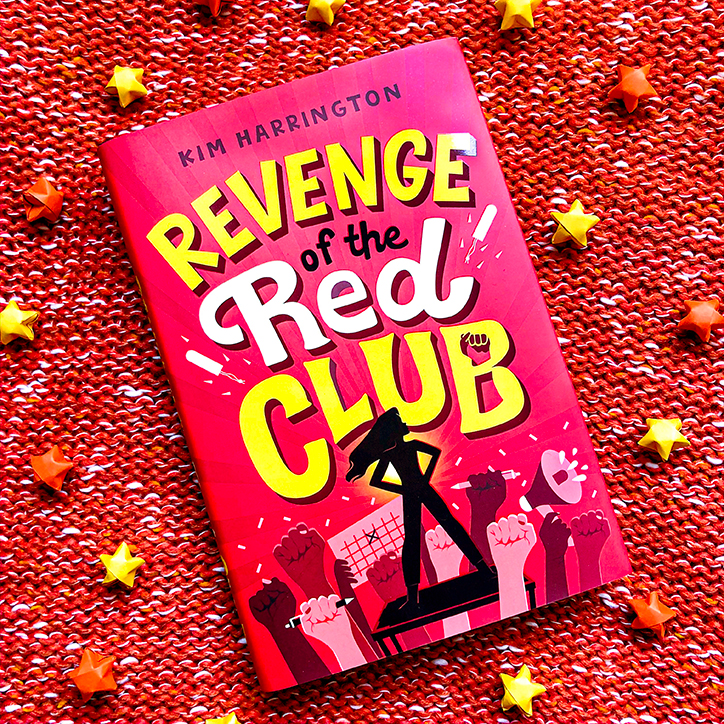 FACT #4: I Wish It Were Real

When writing the book, I began to wish my school had had a Red Club when I was growing up. It would have been so great to have a supportive group of friends like Riley and the girls are to each other. Who knows? Maybe someone out there will start their own Red Club after reading the book! That is my biggest wish.
FACT #5: The Most Fun

The truth about writing is that sometimes it's more fun than others. Some scenes are hard and absolutely no fun to write. And others, well, can be a blast. In REVENGE OF THE RED CLUB, I had the most fun coming up with the mischievous pranks the girls did when their club was taken away. I found myself chuckling and cheering them on!
FACT #6: Which Joke?

REVENGE OF THE RED CLUB is my eleventh book. Most are mysteries in some way, but they all include at least a little bit of humor. This one is no exception. I'm hoping readers get some laugh out loud moments. But my favorite joke/line from the book was almost cut! Which one? After you read it, take a guess. Contact me by email or social media and I'll let you know if you're right.
Revenge of the Red Club Giveaway: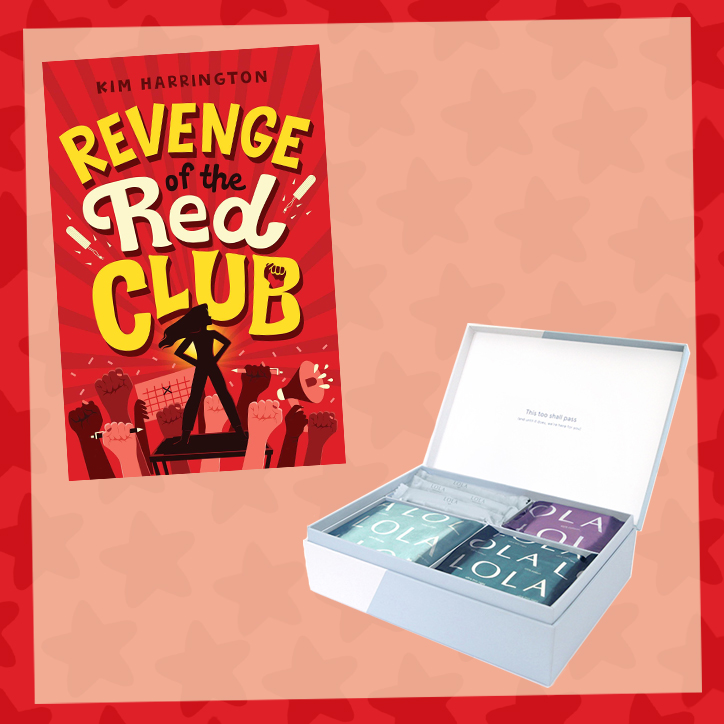 WHAT DO I WIN?:
ONE (1) lucky winner will receive a Revenge of the Red Club Prize Pack that includes:
– ONE (1) copy of Revenge of the Red Club by Kim Harrington
– ONE (1) First Period Kit from LOLA
*Book generously provided by Kim Harrington
*For more info about the LOLA First Period Kit, click here
HOW DO I ENTER?:
Grab a parent or guardian and have them fill out the form below by November 8, 2019 at 11:59pm ET.
Giveaway runs from 10/25/19 at 12:00 pm ET through 11/8/19 at 11:59 pm. Open to US residents ONLY. Be sure to read the fully detailed rules HERE before entering.
THIS GIVEAWAY HAS ENDED AND THE WINNER HAS BEEN CONTACTED.
You must be 18 or older to enter. Please, only ONE entry per person. If selected as a winner, we will provide your parent/guardian with an affidavit to confirm that you are a valid winner who has permission to win. They will be REQUIRED to sign and return the affidavit to YAYOMG! to claim your prize. Prizes will not be mailed out without signed parental consent.
Feeling empowered? We think you'll love Kid Activists, a book that shines a light on the stories of the childhoods of real activists, like Autumn Peltier and Malala!