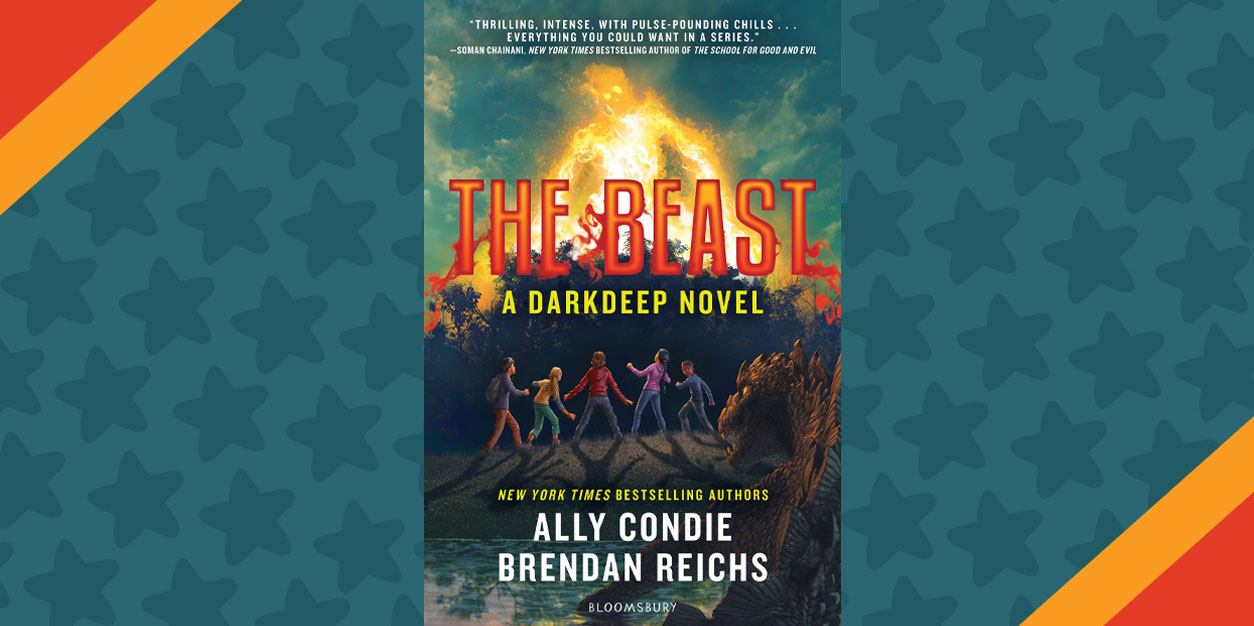 The Darkdeep: Interview With Authors Ally Condie and Brendan Reichs
Curl up with a stash of your favorite Halloween candy and keep the lights ON, because the highly anticipated sequel to The Darkdeep has arrived. We're chatting with the authors of The Beast about the inspirations behind the story, their darkest fears, and of course, their favorite Halloween candy.
Often described as "Stranger Things meets The Goonies," it's no surprise that The Darkdeep was a best-seller that had readers on the edge of their seats. It has everything a spooky novel needs – a seemingly ordinary town in the Pacific Northwest, thrilling adventure, suspenseful mystery, and an unlikely friend group you wish you could be a part of.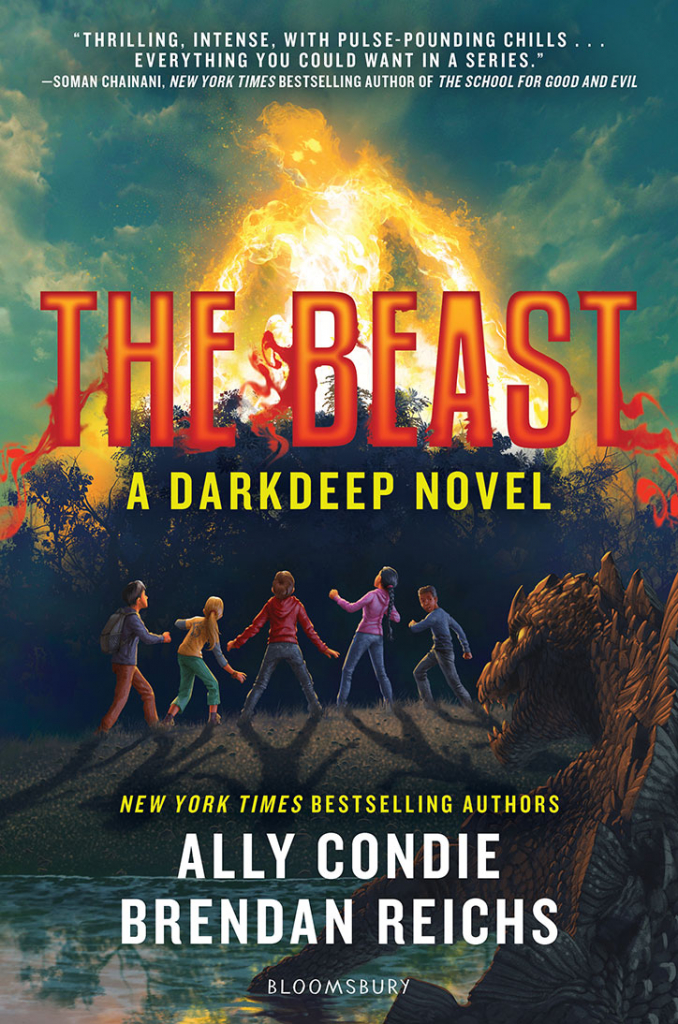 Nico, Opal, Tyler, Emma, and Logan survived their worst fears come to life, and saved their tiny Pacific Northwest town of Timbers from a monstrous figment invasion. Now they just want to keep their heads down, enjoy Halloween, and explore the secrets of their mysterious houseboat clubhouse. And also figure out their new Torchbearer responsibilities as keepers of the Darkdeep, an ancient whirlpool hidden in Still Cove that can make both dreams and nightmares into reality.
But when a dangerous new breed of figments starts appearing on their own, and the very environment around them begins to spiral out of control, the friends realize they have no idea what they are doing-or how they're supposed to restrain the Darkdeep. They must uncover the pool's origins, as well as those of the freaky Thing in a Jar, a seemingly lifeless green creature Opal believes is communicating with her. To make matters worse, a trashy YouTube series has rolled into town intent on finding the Beast, the legendary local sea monster suddenly stirring up the countryside.
As threats rapidly close in around them, the friends must fight to protect their secrets, defeat new enemies, and save Timbers and all that they love.
Told from alternating points of view, this chilling sequel from bestselling duo Ally Condie and Brendan Reichs will once again have readers sleeping with the lights on.
The Beast: A Darkdeep Novel
AUTHORS: Ally Condie and Brendan Reichs
PUBLISHER: Bloomsbury Children's Books
DATE: September 24, 2019
In the sequel, The Beast, things have settled down a bit, and Nico and his friends are just trying to have a normal Halloween and figure out their new roles as keepers of the Darkdeep. Unfortunately, when figments start appearing on their own and a YouTube video crew shows up in their town, hoping to document a legendary sea monster, it won't be so easy to keep the secrets of the Darkdeep protected. Packed with monster battles, high stakes, and intense twists, The Beast is your must-read book this Halloween!
We were lucky enough to chat with Ally Condie and Brendan Reichs, authors of this suspenseful series. They're taking readers beyond the pages of this spooky page-turner, so we'll stop rambling and let you soak in the story behind the story!
Authors Ally Condie and Brendan Reichs Dish on The Darkdeep Sequel, The Beast:
Tell us a little about THE BEAST and what inspired you to write The DARKDEEP series.

ALLY CONDIE AND BRENDAN REICHS: THE BEAST has a little bit of everything — kids solving a mystery, crazy natural phenomena, a YouTube series that's come to town, Halloween shenanigans, mysterious creatures, and…a Beast. We had a lot of fun writing this book!

Our inspiration for THE DARKDEEP series came from many places — 80s movies we watched as kids, the awesome group dynamics in Stranger Things, the Pacific Northwest, and the creepy old things in museums that catch your eye. We wanted to create something that was fun and just the right about of spooky.
Which 3 words would you use to describe THE BEAST?

ALLY & BRENDAN: Mystery. Friendship. The unexpected. (Okay, that's four words. This is hard!)
How do you get in the mindset to write a suspenseful story? What is it like to work on a creepy or intense scene?

ALLY & BRENDAN: It's very fun, actually. You think about all the things that scare you just enough. We have some offbeat fears — Brendan is scared of cake, especially birthday cake, and Ally doesn't like being late.

Working on a creepy or intense scene is, well, intense! You get caught up in the moment you're creating for your characters, and for your readers. Sometimes coming out of the writing feels like, "Whoa. That was nuts. Where am I? What's happening?" It can take a second to adjust to the real world.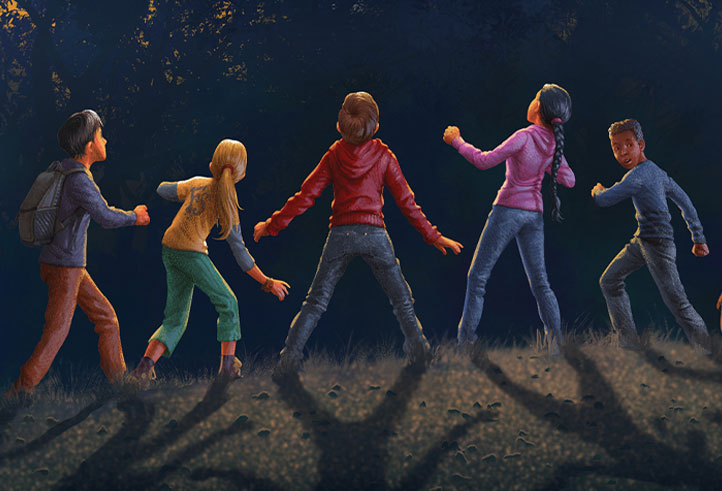 If you had to select one quote from THE BEAST to dazzle a potential reader to pick up your book, which one would you choose?

ALLY & BRENDAN: Ooh, that's a lot to ask of a quote! We want to dazzle! Hopefully this will catch your: interest:

The enormous gleaming eyes met Opal's.

An overwhelming scent—that of deep ocean, of ancient salt and seaweed—assaulted her nose as something massive stalked into the glow of their flashlights. The creature reared up, towering over Opal and the others as they cowered beside the crypt. A roar shook the ground.

The Beast.

It's real.
Since THE BEAST takes place around Halloween, we're curious – do you have a favorite Halloween candy?

ALLY & BRENDAN: Ally will eat anything Reese's related. Also Kit-Kats. Brendan thinks that Snickers is a perfect candy bar.
How are you hoping this story will resonate with young readers?

ALLY & BRENDAN: Honestly, we just hope they have a blast reading it. That the characters feel real to them, that the adventure is fun, and that they don't want to put it down. We have had the best time meeting young readers as we've toured the country. You are all AWESOME.
Have you ever had a spooky or paranormal encounter?

ALLY & BRENDAN: Actually, YES. We both went back to school to get our MFA (Masters in Fine Arts) degrees at the same time, and the school we attended, the Vermont College of Fine Arts, is very old—pre Civil War era. The oldest building, College Hall, supposedly has a ghost named Anna who haunts it late at night. So we decided to try it out late one night — we headed over to College Hall with some of our classmates. MISTAKE. We didn't actually see Anna, but we were absolutely terrified the entire time we were there and we didn't stay long.
If you were to go through the Darkdeep, what figment do you think would appear?

ALLY & BRENDAN: Ooh. This one's scary for us because these are real fears! For Brendan, it would be a clown (he can't even bear to type that word, actually, so Ally had to do it for him). For Ally, it would be Death.
What are a few of your favorite middle grade books that you'd recommend to our readers?

ALLY & BRENDAN: We both love the Aru Shah series by Roshani Chokshi —it's funny, smart, and incredibly well-paced. Plus, Aru herself is great. We also are big fans of THIS IS WHAT I DID by Ann Dee Ellis, and of course we adore Harry Potter.

Brendan is a Gryffindor, and Ally keeps testing Gryffindor but everyone knows she's actually and truly a Hufflepuff.
Do you have any advice to share with our readers who love to write?

ALLY & BRENDAN: Yes! Remember that it's okay to be terrible at first. When Brendan writes a first draft, he doesn't even call it a first draft — he calls it Draft Zero. That takes the pressure off. You can make a mess, you can make mistakes, you can fix it all later in revision. Don't be your own worst enemy by tearing your own writing down at the beginning. And practice, practice, practice. Like anything else, it will take time to get good at writing. Put in the time. And read lots of good books.
Good news for fans of The Darkdeep series – Ally and Brendan are on the road! Here's what they shared with us: "We'll both be at Yallfest in Charleston, South Carolina on November 8th, and we're looking forward to meeting and signing for readers! We're also both teaching at the teen writing camp that Ally runs in Utah, WriteOut Camp, in June (see writeoutcamp.org for more details). We'll have some fun events coming up in the spring, so keep an eye on our social media for updates. And HAPPY HALLOWEEN!"
Now that you're in the Halloween spirit, find out what your favorite stars are snacking on during this spooky season!