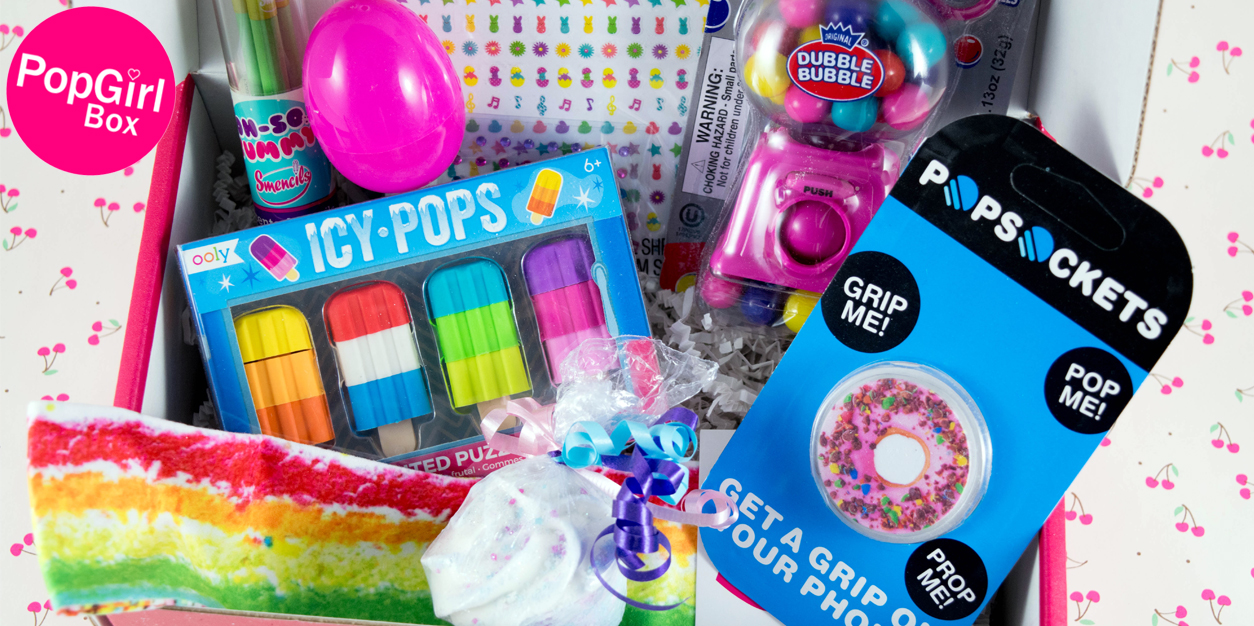 The April PopGirl Box is All About Sweet Treats
Note: We received this box for free from PopGirl Box in exchange for a fair and honest review. All opinions are our own; we were under no obligation to give a positive review.
If you're a YAYOMGer, you know that we're more than a little obsessed with the PopGirl Box, a new subscription box made with girls in mind. We absolutely loved the first two PopGirl Boxes we received, so we're super excited when the April box showed up at our office this past Friday. (What a great way to start the weekend!) Thanks so much to Pam and Annabel, the mom and daughter team behind this awesome subscription for sending this box to us and for creating a subscription that's so undeniably awesome!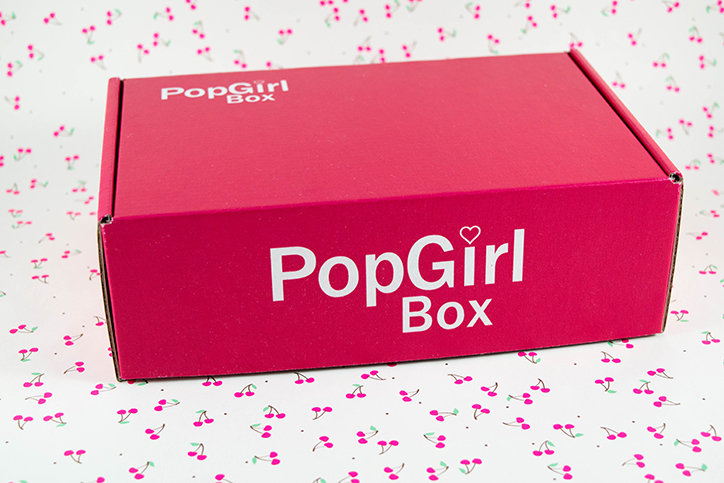 The theme for April was SWEET TREAT and everything they've included captures the theme perfectly. Everything you'll find inside this bold pink box celebrates all things sugary sweet – from donuts to cupcakes to ice cream and more! Want to take a closer look at what we found inside? Keep on scrolling, and be sure to read ALL the way to the bottom for our $5 off code that you can use for your first order on POPGIRLBOX.COM.
PopGirl Box Unboxing – April 2018 – Sweet Treat: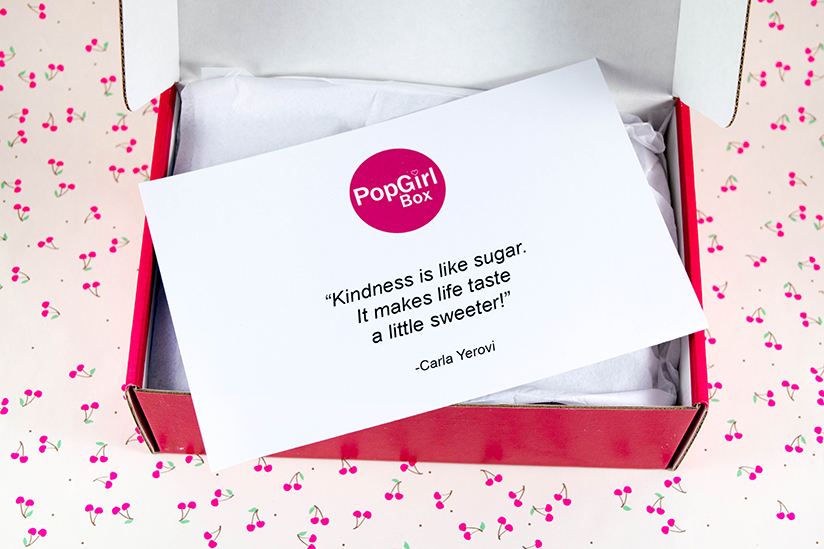 The PopGirl Box unboxing process always begins with an inspiring quote that suits the theme. This month the quote is "Kindness is like sugar. It makes life taste a little sweeter!", said by Carla Yerovi. We couldn't agree with this quote more, and we think we'll make it our mantra for the month of April. It's always a good time to spread kindness!

Mini Cupcake Bath Bomb:
First up, a totally cute, super sparkly cupcake bath bomb! This fizzy treat is cotton candy scented, so it'll make relaxing in the bath smell like a delicious dream. So excited to try ours out and watch it fizz all our troubles away.

Pink Donut PopSocket:
Who doesn't love PopSockets? They're useful, they make a bold statement, and they're super easy to swap out every time you change your mood. What more could a girl want?

Oh-So Yummy Smencils:
These Smencils from Scent Co. come inside a test tube – so sciencey! With a delectable rainbow sherbet scent, they're sure to take the edge off your next tricky homework assignment or bring you luck on your next big test. We're planning to stash ours in the magical unicorn pencil case we received in the March PopGirl Box.

Icy Pops Scented Puzzle Erasers:
Since we're still waiting for Spring to hurry up and arrive here in Philly, we definitely don't mind the Summer vibes we're getting from these scented popsicle erasers. They're such fun, vibrant colors AND you can pull them apart and mix and match all the pieces to make tasty combinations. Just don't try to eat them!

Reversible Sweet Treat Headband:
We're not gonna lie, we squealed a little TOO loud when we saw that there was a Style Lab item in this box. Fashion Angels are one of our favorite brands, and we know we'll be rocking this reversible headband on more than one occasion. One side is a tasty rainbow cake other side are rainbow sprinkles, which will top off your look like a delicious ice cream sundae. No matter how you rock it, you're sure to look super sweet!

Peeps Sugar Scented Nail Decals:
Easter may be over, but thankfully Peeps are awesome all year long. These sugar scented Peeps nail decals will add a little pop of fun to your mani. There are of 150 decals and gems included, just be sure to do a clear top coat on top to make sure they're secure.

Gummy Bear Necklace:
So obsessed with this gummy bear necklace! This ombre, pastel cutie will look great with any look, and the chain can be cut down to any length. We always love cutting ball chains like these to around choker length and paired with the metallic scrunchie from last month's box, you'll be channeling those 90's vibes in style.

Dubble Bubble Mini Gumball Dispenser:
After unboxing all that awesome stuff, you'll probably need a snack break. This Dubble Bubble gumball dispenser keychain is perfect for bringing gum on the go, and you'll have more than enough to share with your friends.
HOW TO SUBSCRIBE:
Grab an adult and head to the PopGirl Box website, POPGIRLBOX.COM.
Use our code YAYOMG when you check out for $5 off your first box!
Cost Per Box: $29.00 + S/H. The boxes ship out monthly, and you can cancel at any time.
What Do You Get?: Each month you'll receive a new box with a new theme. Each box contains 6-8 surprise items worth over $50 in value! According to the website, items can be anything including: "jewelry, hair accessories, beauty products, school supplies, sweet treats, and the latest swag for young girls!"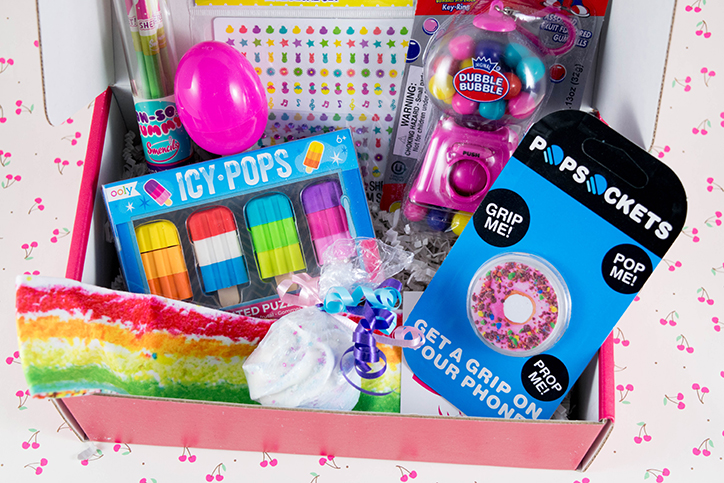 The April box is all sold out, but the May box is on sale now. The theme for May is DREAM BIG, and we're already dreaming about what amazing stuff we'll find inside.