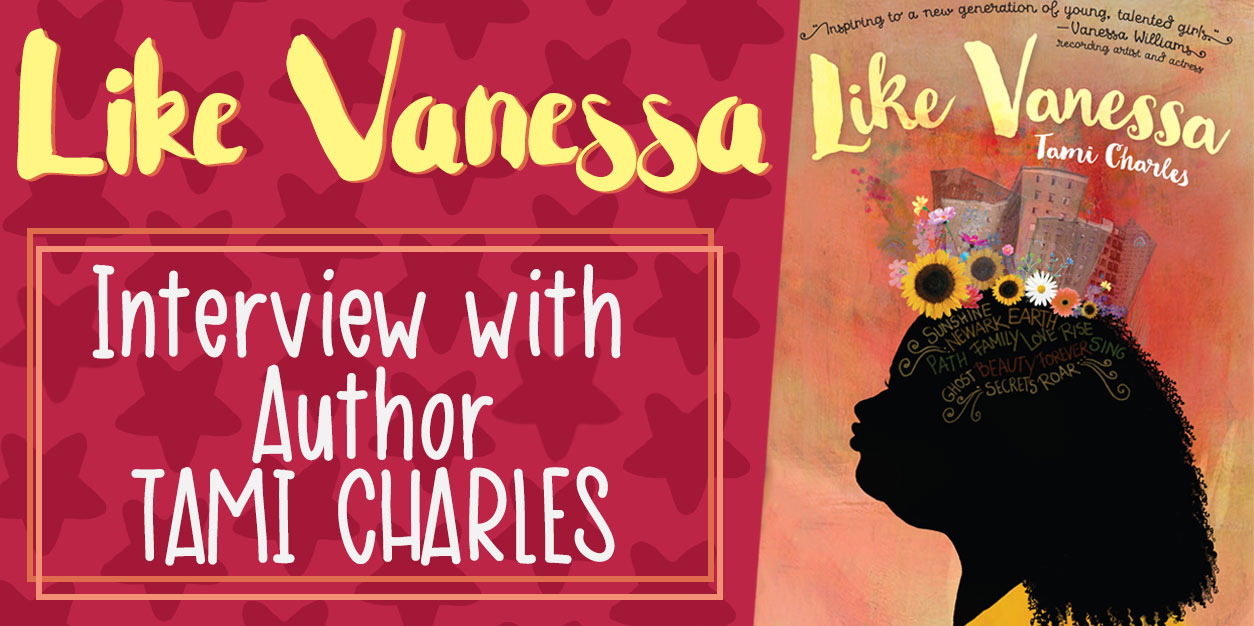 Like Vanessa – Interview with Author Tami Charles
Vanessa Martin does her best to stay under the radar, at school, at home, and in life in general. She's very smart, driven, and insightful, as you learn from her introspective, poetic diary entries, but her life is far from perfect. For a dark-skinned eighth-grader living in public housing in New Jersey in 1983, things weren't exactly easy for her. Vanessa is often teased at school and is overwhelmed by her not so glamorous home life. Her dad isn't really around much, her mom is incarcerated, and her grandfather struggles with addiction.
Things start to turn around for her night of the Miss America pageant. Vanessa Williams becomes the first-ever black woman to be crowned as Miss America, and while Nessy realizes that this won't instantly make her life better, she feels empowered by this important moment in history.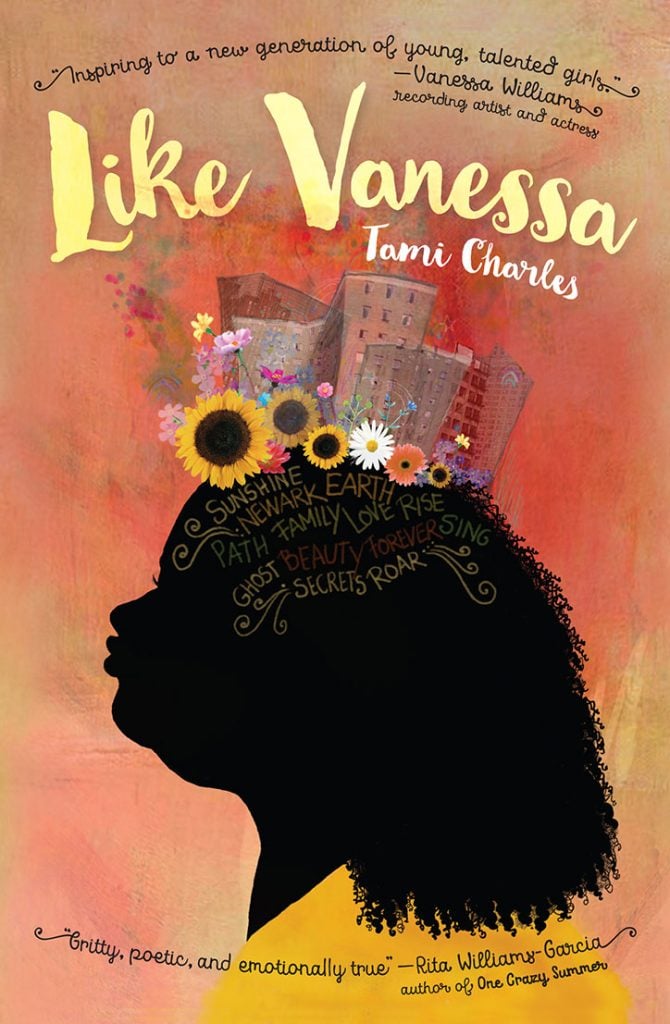 When her teacher Mrs. Walton suggests that she try out for the middle school pageant, Nessy is very hesitant. She isn't worthy of winning a crown, is she? She isn't very well dressed, poised, and doesn't have the traditional "beauty queen" body type, but she's intelligent, driven, and has a beautiful singing voice. With Mrs. Walton and her cousin TJ on her side, Vanessa works on breaking out of her shell, finding her confidence, and growing into a strong young woman. Like Vanessa is a wonderful, emotional story that doesn't just show girls that their dreams are worthy of striving for, but touches on real-world issues that we are still facing today – bullying, poverty, racism, and quite a few others. It's a perfect read for anyone looking for a hopeful, yet heartbreaking story that shines a light on a different era, and reminds you that you're capable of doing anything you can dream of.
We asked Tami Charles to stop by the site to tell us more about writing this moving story. She talks a bit on how Like Vanessa came to be, shares some of own her female heroes, and talks a bit about what she's working on next!
Like Vanessa – Interview with Author Tami Charles:
Can you share a little on what inspired you to write Like Vanessa?
Watch the video here where Tami shares all of her inspirations and why she wanted to bring this story to life.
In the book, Vanessa has a special relationship with "Darlene" (her diary). Did you have a special diary or "Darlene" of your own while growing up?
TAMI CHARLES: Oh, I had ALL the diaries growing up! Only I didn't name mine like Vanessa does in the novel.
Vanessa finds inspiration in Vanessa Williams, the first black woman to be crowned Miss America. Is she someone you also admire?
TAMI: Absolutely! I did my first pageant when I was a teenager. I'd always watched Miss America growing up. I knew that because Vanessa Williams won the coveted title, the doors would be open for me if I chose that path. And I actually did! While I didn't make it all the way to the Miss America stage, I competed in the Miss New Jersey pageant and placed second runner-up. I also earned a college scholarship, which was a great advantage.
What are you hoping readers, especially young girls, take away from Vanessa's story?
TAMI: I hope that readers will be reminded of their self-power, beauty, and significance in a world that may tell them they are otherwise.
In this story, you tackle some extremely serious issues, many of which are still very relevant today. Racism, bullying, addiction, etc. Why was it important for you to shine a light on these issues for young readers?
TAMI: In many ways, this novel is semi-autobiographical. These are all issues that I have experienced either directly or through my family growing up. The message here is to show that through rough moments, there's always a light and a reason to be hopeful. I find that it's in our most trying moments that we learn, grow, and rise above.

What is something that surprised you while writing Like Vanessa?
TAMI: How early I could wake up in the morning! Seriously, I would wake up at 4:30 a.m., Monday through Friday, to write this novel before school. At the time I was still teaching fifth grade. Add in my mommy and wifely duties, I had to squeeze in time to write, even if it meant waking up with the roosters! Writing Like Vanessa taught me to be consistent and to have a strong work ethic.
Who are some of your female heroes?
TAMI: So many to name here! Vanessa Williams, of course! I love Debbie Allen, especially during her Fame days! Serena Williams, Mary Fields, Karyn Parsons, Sylvia Mendez, Oprah, Shonda Rhimes, Delores Huerta, Ellen Ochoa, Mae Jemison…okay I'll stop now. I can literally go on and on!
Are you able to chat a little about what you're working on next?
TAMI: Right now, I'm revising the follow-up to Like Vanessa. In this novel, we'll explore the backstory of Beatriz Mendez, who is Vanessa's "frenemy." Beatriz wasn't always a bully. Once upon a time, she had a dream, just like Vanessa. We'll see that dream reignited in book two.
Any words of wisdom you'd like to share with your readers?
TAMI: I invite readers to read books that represent the mirrors and windows of the world. Read about experiences that are equally similar to your own as they are different. This, in my opinion, is key in building empathy, compassion, and understanding of people from all walks of life.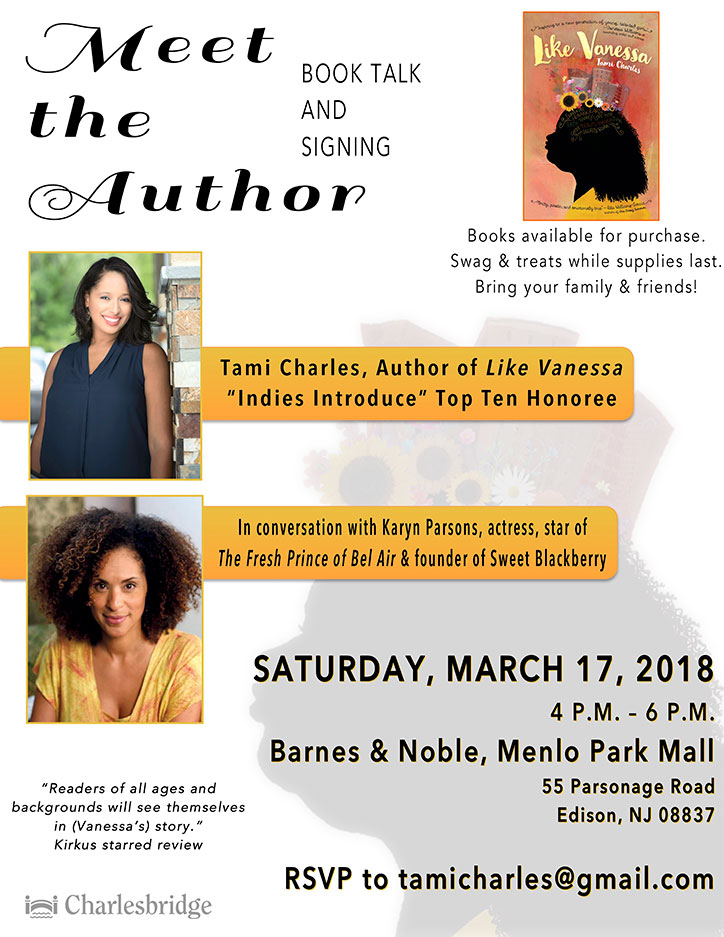 If you're in the New Jersey area, you can attend Tami's book launch for Like Vanessa! The event will be held on Saturday, March 17, 2018 at the Barnes & Noble in Edison, NJ. Bonus: Karyn Parsons, famous for her role as "Cousin Hilary" on The Fresh Prince of Bel Air, will be hosting. It's sure to be an amazing night. Thanks so much to Tami for taking the time to chat with us about this touching book! Like Vanessa will be released on March 13th from Charlesbridge Publishing.
Looking for another hopeful, yet emotional read? Check out our interview with Jen Petro-Roy about her new novel, P.S. I Miss You!