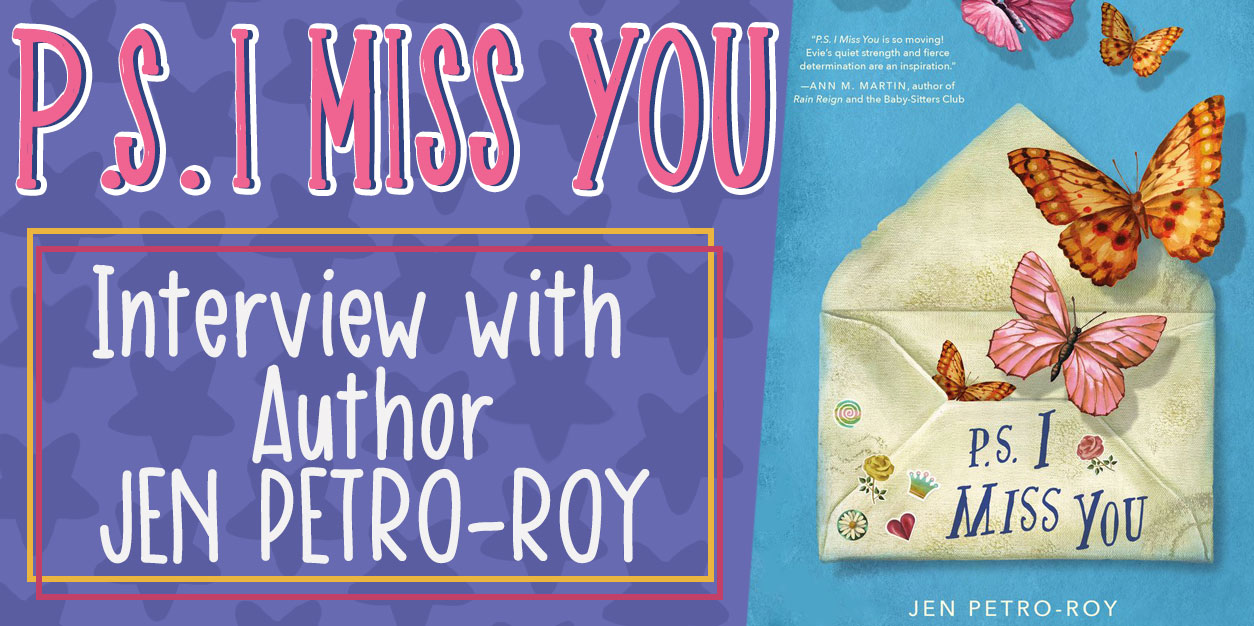 P.S. I Miss You – Interview with Author Jen Petro-Roy
Going in, we had a feeling we would adore P.S. I Miss You, but we weren't prepared for just how much. This book honestly blew us away. It's absolutely in the running for one of our favorites of the year, even though this year has barely begun.
P.S. I Miss You is such a sweet, heartwarming story that will take you through a rollercoaster of emotions before arriving on the final page. It's funny; it's relatable, it's heartbreaking and will make you cry so hard. Every chapter is a new letter, written by Evie to her older sister, Cilla. Each heartfelt message is Evie's soul spilled on the page, almost like a diary, as she writes letter after letter to her sister who was sent away by her parents after finding out she was pregnant. Evie's letters detail her struggle to get by without her sister and everything that came after, including her first crush on the new girl at school.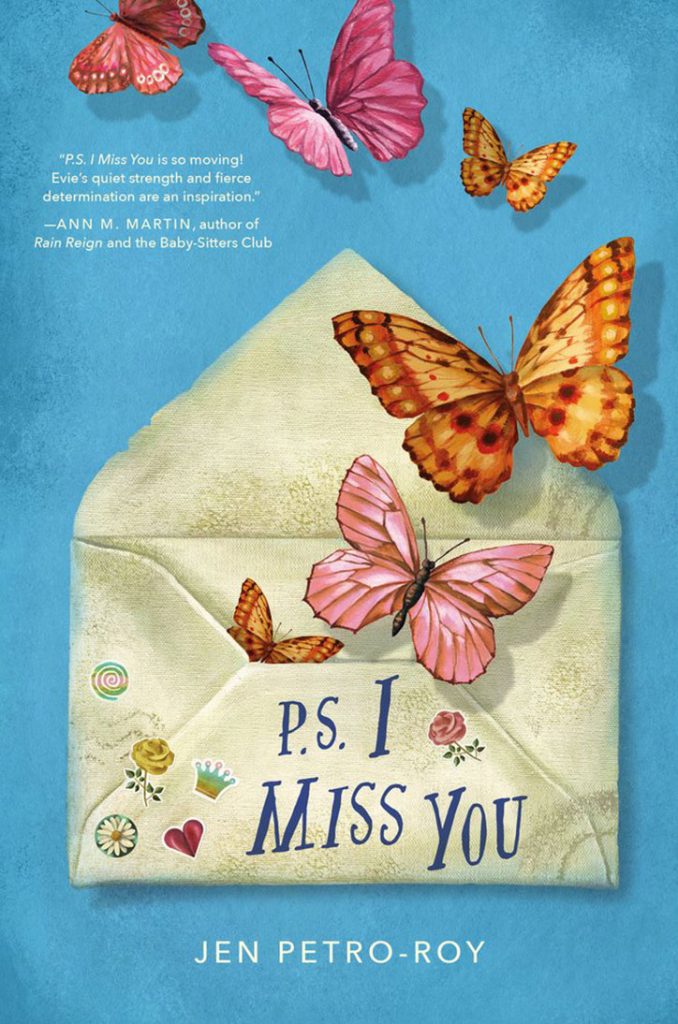 As Evie tries to figure things out on her own without the advice of her sister, she starts to wonder why Cilla isn't writing back, begins question her faith, and struggles to understand the decision her parents have made. Evie's voice and character ring so raw and real. She's brave and honest and so much stronger than she believes. Throughout reading the book, you'll feel like you already know her. You'll see yourself and your friends in her letters, in her words, and even if you can't relate exactly to her struggles, you'll find yourself wanting to wrap her in a big warm hug more than once while reading this inspiring book.
We were lucky enough to chat with the author of this beautiful story, Jen Petro-Roy. Keep on reading to learn more about what inspired her to write P.S. I Miss You, her favorite things about Evie, and what she's working on next!
P.S. I Miss You – Interview with Author Jen Petro-Roy:
Tell us a little about what inspired you to write P.S. I Miss You.
JEN PETRO-ROY: The first thing that happened was that I picked up an old copy of an old childhood favorite, Dear Mr. Henshaw by Beverly Cleary. After re-reading it, I was reminded of how I've always wanted to write a story told through letters. This happened right around a time when I was questioning some things about my faith (much as Evie does in the book) and had been talking to my best friend about her process coming out as a lesbian. Everything kind of twisted together in my mind…and came out as P.S. I Miss You!
The story is told entirely through letters written by Evie to her older sister, Cilla. Why did you choose to write the book in this way?
JEN: Like I mentioned, Dear Mr. Henshaw is one of my favorite books ever, and I've always wanted to write a book in letters. Once I got the idea for P.S. I Miss You, it honestly felt like I couldn't write it in anything but letters. Because Evie is missing her older sister Cilla so desperately, that extra-intimate window into her mind really highlights all of Evie's feelings, fears, and anxieties. Although letter writing can definitely bring in the aspect of an unreliable narrator, for Evie, the letters help her express feelings that she can't necessarily say out loud, and that's so important for Evie as she learns about both herself and the world around her.
What are your three favorite qualities about Evie?
JEN: Oh, I love so much about this girl. I'd say my top three favorite qualities are her empathy, her trepidation (because everyone gets nervous about growing up and confronting people and beliefs), and her bravery.
In the book, Evie develops her first crush on a girl. Can you share a little around that and why it was important to you show this side of Evie?
JEN: Absolutely. This is not an #ownvoices novel in that aspect, but my very best friend since childhood is gay, and we grew up together in the same suburban town. I've talked to her a lot about what certain attitudes and experiences felt like, and how she didn't come out until she was in college. Right now, I still live in that same town, and although some things have changed over the years, some haven't, and I'd love if Evie and June can help to show both my daughters and all kids that it's okay to have crushes on whoever you want. You don't have to wait until you're older to be yourself.
How are you hoping that Evie's experiences will resonate with young readers?
JEN: Above all, I want my readers to know that it is okay to be who they are. That message is the core of both P.S. I Miss You and everything that I write. Middle-schoolers and teens are at the age where the opinions of their peers and of society mean so much, and they often change who they are to fit some expected "norm." I want my readers to know that it is okay…no, it is wonderful…to be who they are. They can like who they like and believe what they believe. They are necessary to this world and when they speak up for themselves, the world is better for it.
Do you have any favorite middle-grade books that you'd like to suggest to our readers?
JEN: Oooh, way too many to fit in this space. One of my favorite middle-grade books of all time is When You Reach Me by Rebecca Stead. Rebecca Stead is a master of blending pitch-perfect characterization and intricate plots, and I learn something new every time I read that book. I'm a member of the Electric 18s, a group of authors all coming out with our debut books in 2018 and there are so many amazing books to look out for this year. I've read a bunch so far—keep an eye out for Every Shiny Thing by Cordelia Jensen and Laurie Morrison (April), The House That Lou Built by Mae Respicio (June), and Where the Watermelons Grow by Cindy Baldwin (July). I loved them all and can't wait to read more.
What's the best part of writing a book and what's your biggest challenge as a writer?
JEN: I love creating characters. I love pulling bits and pieces from my own life and mixing them with threads from my imagination to create an entirely new world. I also really enjoy revising. One of my favorite parts of writing is to sit down with a completed first draft and plan out how to fix it. I love moving things around, deleting them, and refining them. My biggest challenge is definitely drafting, especially the middle, where all my plots come together and I have to figure out how to get everyone through to the end.
Is there anything you can share about what you're working on next?
JEN: I have two more books coming out in early 2019, both of which will be published alongside each other. Good Enough is another middle-grade fiction, about a 12-year-old named Riley who has been hospitalized for anorexia nervosa and is struggling to recover amidst parents who don't understand, a fellow patient who is trying to sabotage Riley, and a gymnastic star sister. I'm so proud of this book, as it was inspired by my own struggle and recovery from anorexia, and there's not much out there in this area for young readers that are both hopeful and non-triggering. Macmillan/Feiwel & Friends will also be simultaneously releasing You Are Enough, which is a non-fiction guide to eating disorder recovery, body image, and self-esteem for middle-schoolers and teens.
Do you have any advice to share with kids who dream of becoming authors?
JEN: Keep going. Keep writing. It took me a long time to get a book deal, and P.S. I Miss You was the fifth book I wrote. I considered giving up many times, but I never let myself. I knew my dream and I knew that I loved (and needed) to write. Keep reading and writing, because deep down, you do this because you love it. You love words and you love stories. If you keep working at it, you will get better. And whether you publish a book or not, you are still always and forever a writer.

We absolutely loved getting to chat with Jen and read this phenomenal story. You can bet we're a million percent excited for Good Enough next year! Ready to get your read on? P.S. I Miss You is out today, so be sure to snag it at your favorite bookstore. You can keep up with Jen and all of her book-related announcements on her website or by following her on Instagram. If you're in the NYC area, you can catch Jen at Books of Wonder for a Q&A, reading, and signing on Saturday, March 10th at 3pm. For those in the Boston area, she'll be at Porter Square Books in Cambridge on Tuesday, March 20th at 7pm.
Love reading books about smart, amazing girls? Authors Kris Asselin and Jen Malone shared 10 Fun Facts about their book, The Art of the Swap.