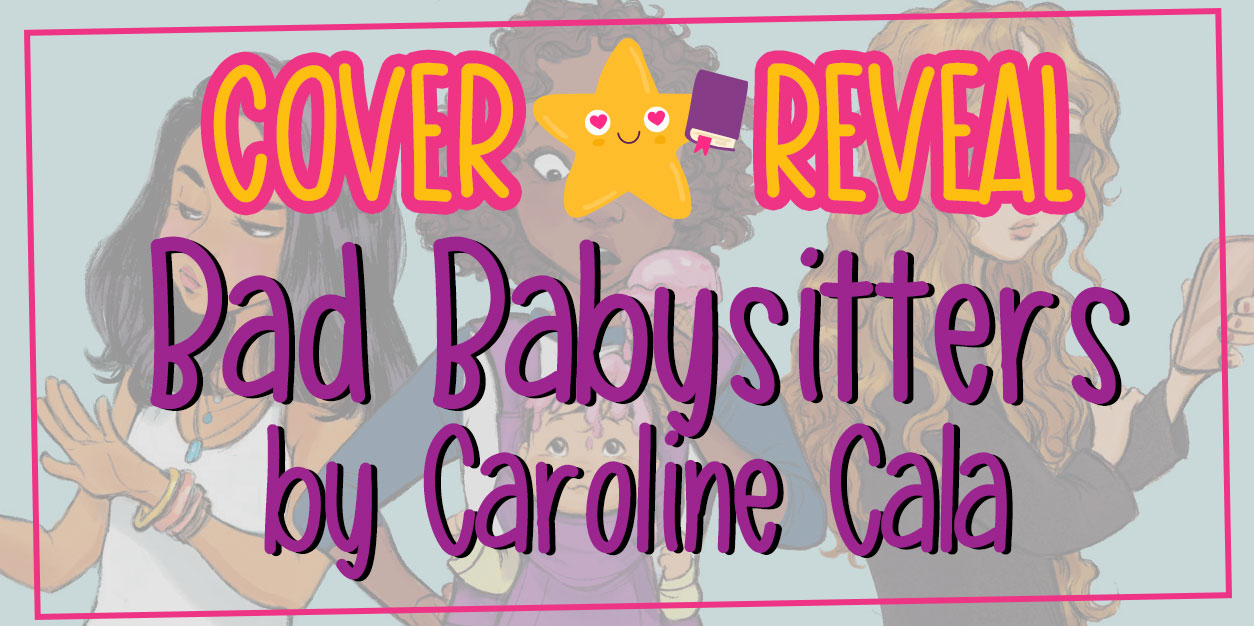 COVER REVEAL: Bad Babysitters by Caroline Cala
Caroline Cala has had a truly impressive career. She's been an editor for multiple book publishers, written articles for a ton of well-known publications, and now, she's about to see her dream of becoming a published author come true! Her debut novel, Bad Babysitters, hits shelves in February 2019, and it's all about female friendship, teamwork, middle school struggles, and the crazy truth behind running your own babysitting service!
We're super excited to share the cover for the first book in the Bad Babysitters series on YAYOMG! for the first time ever. Keep on reading for a peek at the cover and our Q&A with author Caroline Cala to learn more about BFF's Malia, Dot, and Bree.
COVER REVEAL – BAD BABYSITTERS:
Isn't this cover so much fun? We love how it celebrates the three main girls in the story, shows off their unique personalities, and gives readers a glimpse into their world. It's clear some crazy stuff is about to go down, and we're totally here for it. Here's what the book is all about:
"When Bad Babysitters begins, best friends Malia, Dot, and Bree have plans for the most awesome party that their seventh-grade classmates have ever seen. The only problem? They don't have their own money and their parents won't foot the bill. Enter Malia's great idea. Well, technically, the great idea is Kristy Thomas', the main character in an old book Malia found called The Babysitters Club. But how hard can watching little kids be?
After a series of hilariously disastrous sitting mishaps, the girls realize that they have a lot to learn. And that they have to rely on each other to make their kid-watching start-up a success. No parents. Unlimited snacks. And, okay, occasionally watching other people's children. What could possibly go wrong?"
We had to know more about this hilariously fun new series, so we went directly to the source! Here's what author Caroline Cala had to say about what you guys can expect from Bad Babysitters.
What was your inspiration behind Bad Babysitters? Tell us a little about how the story came to be.
CAROLINE CALA: Bad Babysitters is the story of three friends who find a copy of The Babysitters Club and decide to start their own babysitting business… except they're grossed out by little kids and are mostly motivated by a) money and b) a way to spend more time together. Growing up, I was a huge fan of The Babysitters Club books, but I never liked babysitting — what I loved most was reading about the girls' friendships, crushes, outfits, families, lives… So this is my younger self's ideal story: a comedy that's rooted in babysitting, but is mostly about everything else you experience in middle school.
What went through your mind when you first saw the cover? How did you react?
CAROLINE: As an author, I think it's always a little scary to see your cover for the first time! As you're writing the book, you spend so much time inside the world where your characters live, and once you see the cover, it makes everything feel so real and so final! But I liked the illustration, especially Dot's sunglasses and the glittery elements carried throughout Bree's outfit. (Bree is a HUGE fan of glitter.)
If you could have an unlimited amount of any snack, which would you choose?
CAROLINE: Oh gosh, that's a tough one. I try my best to be healthy, but I can never say no to a doughnut or a brownie. If fresh doughnuts (the plain glazed, deliciously squishy kind) could magically appear in my kitchen every morning, I wouldn't complain.
We'd love for our readers to get to know Malia, Dot, and Bree – what can you tell us about the girls and their friendship?
CAROLINE: Malia is the ringleader of the group. She lives in the shadow of her perfect (evil) older sister, Chelsea. As the CEO of the club, Malia hopes her parents —and her crush —will finally notice her.
Dot is an only child who is passionate about all things science-y, sarcastic, and sugary. Dot's eccentric New Age mom has banned all chemicals and processed foods from their home, so she needs the babysitting money to secretly buy things like Doritos and deodorant.
Bree loves animals (especially cats), glitter, glittery cats, Taylor Swift, musicals, and her friends—not necessarily in that order. With four siblings, Bree sometimes gets lost in the shuffle at home, but she knows her friends always have her back.
On the surface, the three girls are very different, but their unique strengths serve them well when they work as a team. And they are very much united in their love for one another.
This sounds like it's going to be one fantastic series! We're already wishing we could be a part of the Bad Babysitters squad, and we're so excited to pick up the first book when it releases next year. Mark your calendars and add a reminder to your phone, Bad Babysitters hits shelves on February 5, 2019 from HMH Young Readers.
Inspired by amazing fictional girls? Enter to win a copy of the new Squirrel Girl novel, The Unbeatable Squirrel Girl: 2 Fuzzy, 2 Furious!