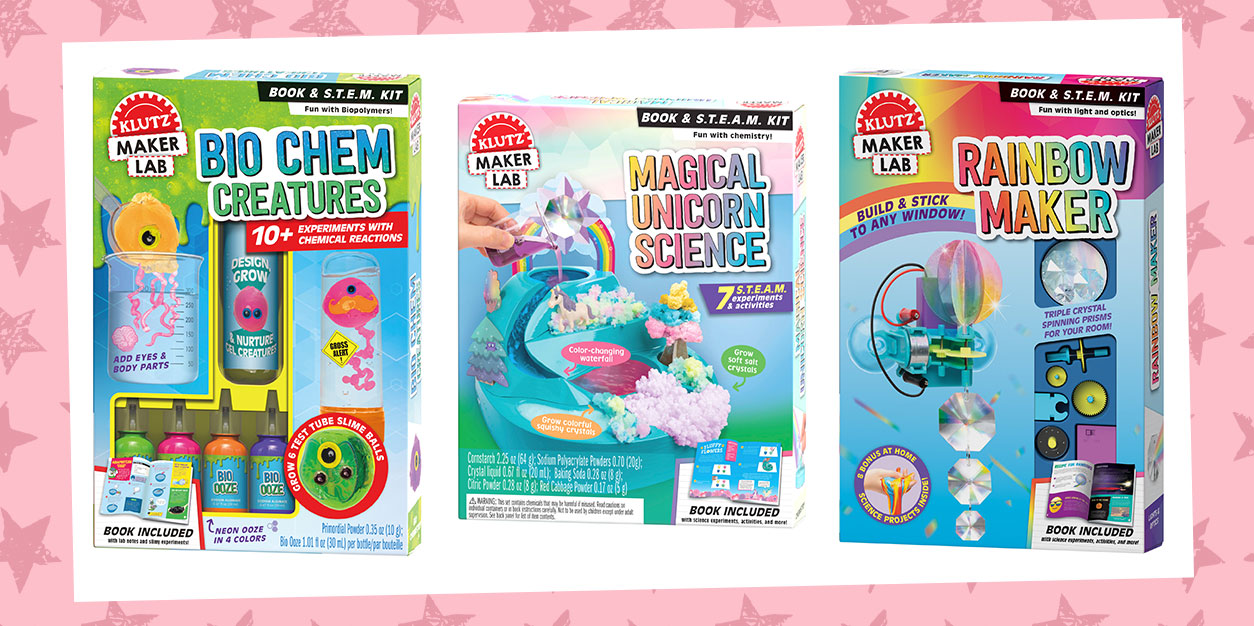 Experiment With Colorful Science With These Klutz Kits + GIVEAWAY!
NOTE: We teamed up with Klutz for this Colorful Science Giveaway. All opinions are our own; we were under no obligation to give a positive review. Giveaway prizes provided by Klutz.
It's time to don your cutest lab coat, grab your goggles, and step into the world of STEM!
Klutz Maker Lab kits are all about introducing you to the basics of Science, Technology, Engineering, Art, and Math with a fun twist! The three kits we're dishing on today teach techniques behind chemistry, biopolymers, and light through simple, creative DIYs. We picked their most colorful kits to help make science fun – who wouldn't want to capture rainbow reflections in their bedroom or experiment with crystals to create a beautiful landscape for a unicorn?! STEM and STEAM don't have to be intimidating, they can be seriously fun, and these Klutz kits make even the most complex science techniques seem simple and approachable.
Whether you're a future scientist in the making or just looking for a fun weekend activity, we think you'll love these Maker Lab kits. We teamed up with Klutz to give one lucky winner a chance to snag a Colorful Science Prize Pack featuring all three of these awesome kits! Grab your favorite adult and have them enter below for your chance to WIN!
Get Your Science on With These Klutz Kits: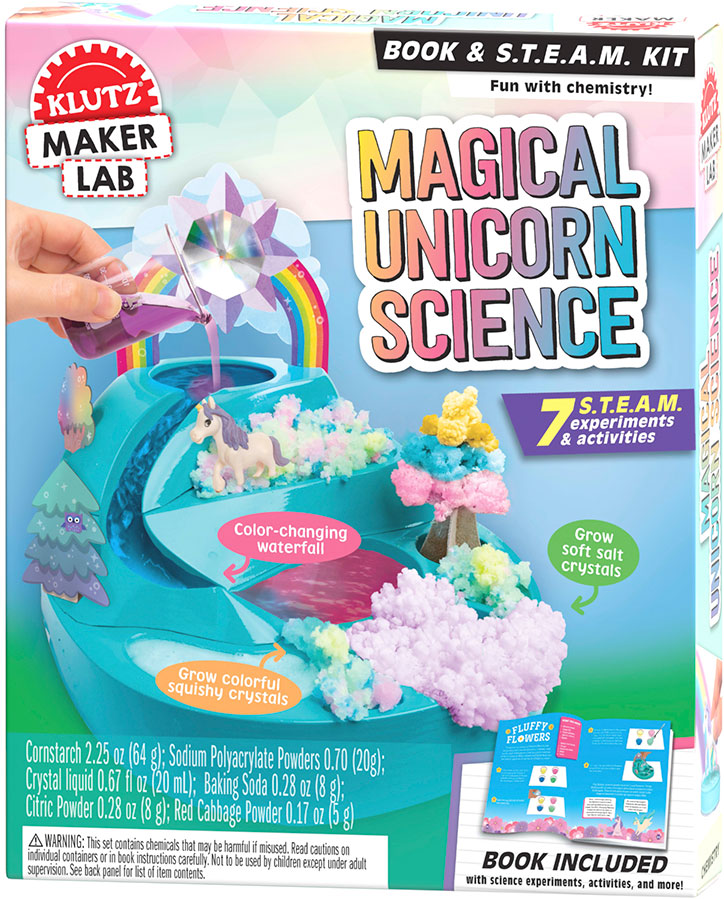 Magical Unicorn Science:
Sometimes science can feel totally magical, which is why pairing chemistry techniques with a colorful unicorn sanctuary works so well!
Using chemistry basics, you'll be able to bring this unicorn island to life and create fluffy salt crystals, jelly flowers, and a color-changing waterfall – all while learning a thing or two about the science of acid and bases. The kit also features a crystal prism so you can create rainbows on your unicorn island!
Love creating your own crystals? You'll definitely want to snag yourself Klutz's other crystal-focused kits, like Grow Your Own Crystal Mini Worlds!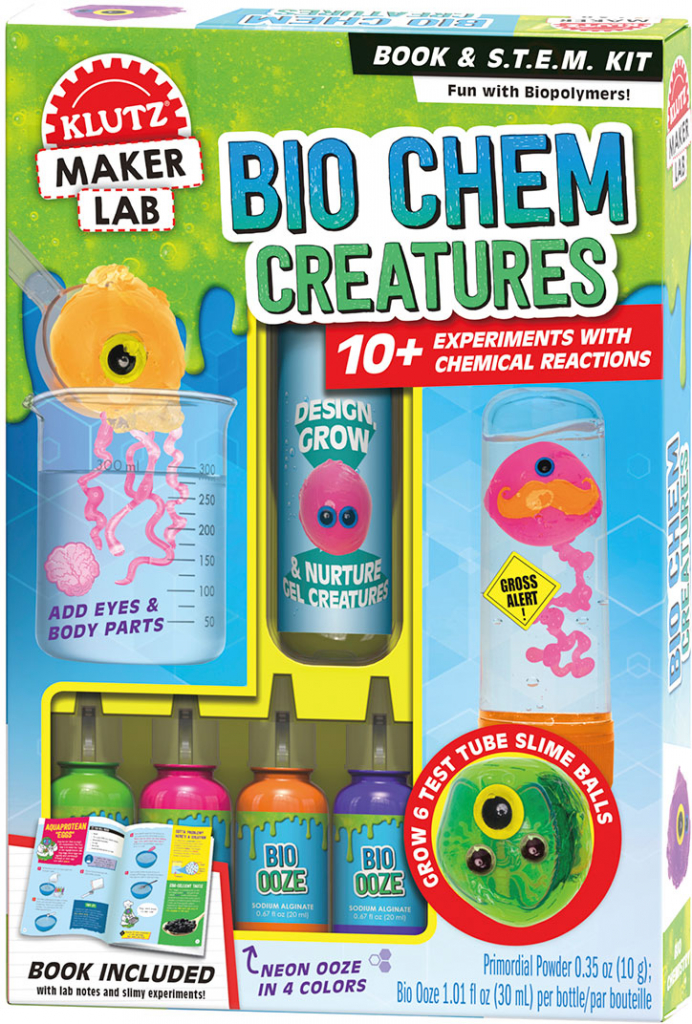 Bio Chem Creatures:
Neon ooze, mysterious powders, and squishy, squiggly creatures? We're totally down for an afternoon of monster-making – and you should be too! Here's why…
These gooey guys take slime experiments to the next level, teaching you all about the science of biopolymers. With this kit, you'll be able to create 6 custom creatures in an aquatic terrarium. When the neon ooze hits the sodium alginate and calcium chloride solution, these biopolymer blobs will create chemical reactions and come to life before your eyes. Add body parts and googly eyes to truly make them your own!
Like every Klutz Maker Lab kit, the included book features lab notes you can follow to make sure your experiments come out just right, as well as 10 amazing activities that explore life cycles, adaptation, and traits that real animals use in the wild.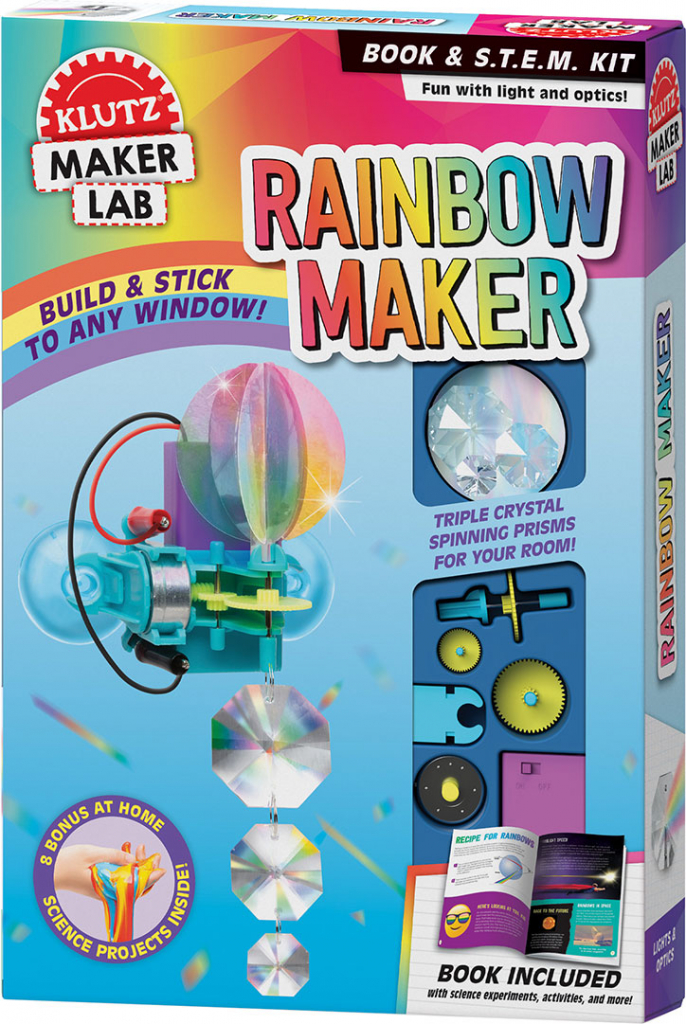 DIY Rainbow Maker:
Color your world with rainbows – and science!
Have you ever been laying around the living room and notice that when the light hits at just the right angle, a rainbow is reflected on your wall? That's science, and Klutz created a way for you to make it happen anytime! This DIY Rainbow Maker kit comes with everything you need to make your own rainbow catcher at home, including crystal prisms and an easy to snap together device that spins on its own.
The book also includes tons of interesting info about how rainbows form, the science of sunlight, and the weather conditions needed to spot a rainbow IRL. Plus, you'll also find instructions for 8 additional experiments to try, like rainbow slime, a rainbow bubble snake, and more!
Klutz Colorful Science Giveaway: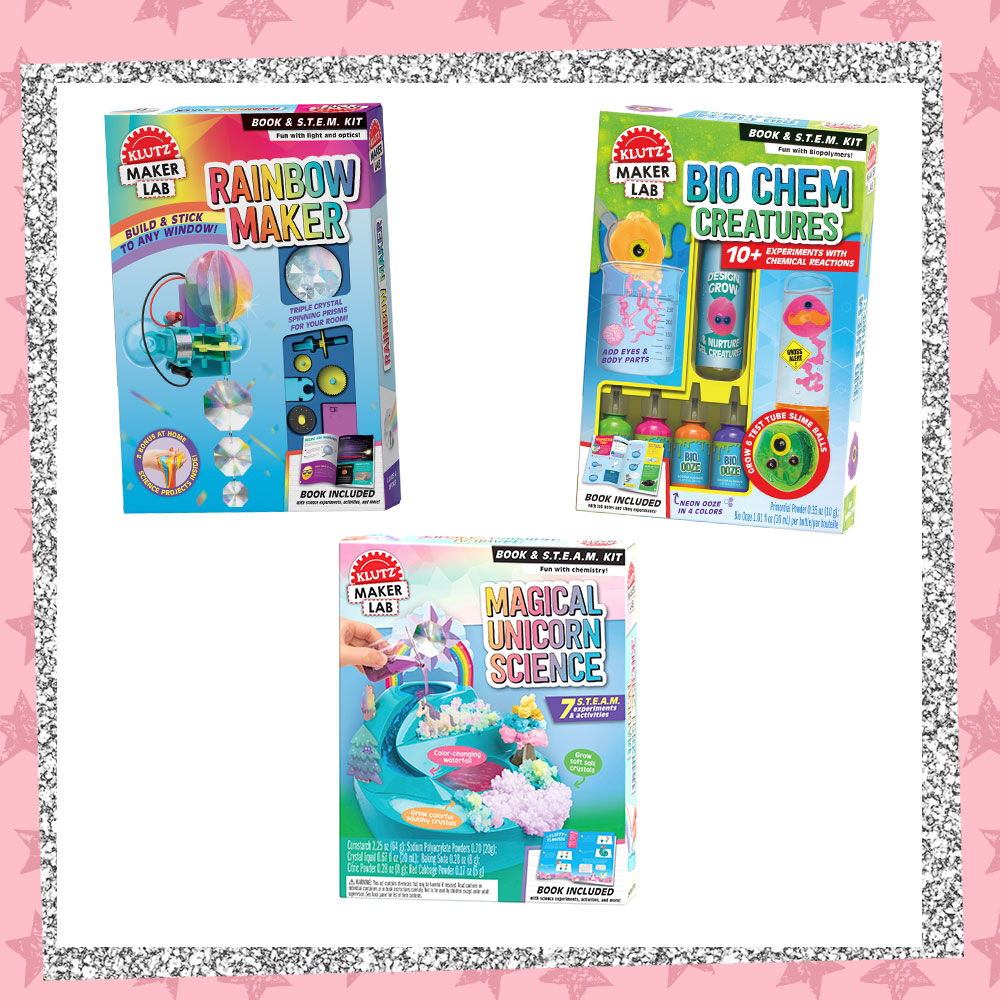 WHAT DO I WIN?:
ONE lucky winner will receive a Klutz Colorful Science Prize Pack that includes:
– ONE (1) Magical Unicorn Science Kit
– ONE (1) Bio Chem Creatures Kit
– ONE (1) DIY Rainbow Catcher Kit
Prizes generously provided by Klutz
HOW DO I ENTER?:
Grab a parent or guardian and have them fill out the form below by October 7, 2021 at 11:59pm ET.
Giveaway runs from 9/23/21 at 12:00 pm ET through 10/07/21 at 11:59 pm. Open to US residents ONLY. Be sure to read the fully detailed rules HERE before entering.
THIS GIVEAWAY HAS ENDED AND THE WINNER HAS BEEN CONTACTED.
You must be 18 or older to enter. Please, only ONE entry per person. If selected as a winner, we will provide your parent/guardian with an affidavit to confirm that you are a valid winner who has permission to win. They will be REQUIRED to sign and return the affidavit to YAYOMG! to claim your prize. Prizes will not be mailed out without signed parental consent.
What are you reading this fall? Our Fall Reads Giveaway is here to keep your TBR stacked with books to keep you cozy all autumn long!