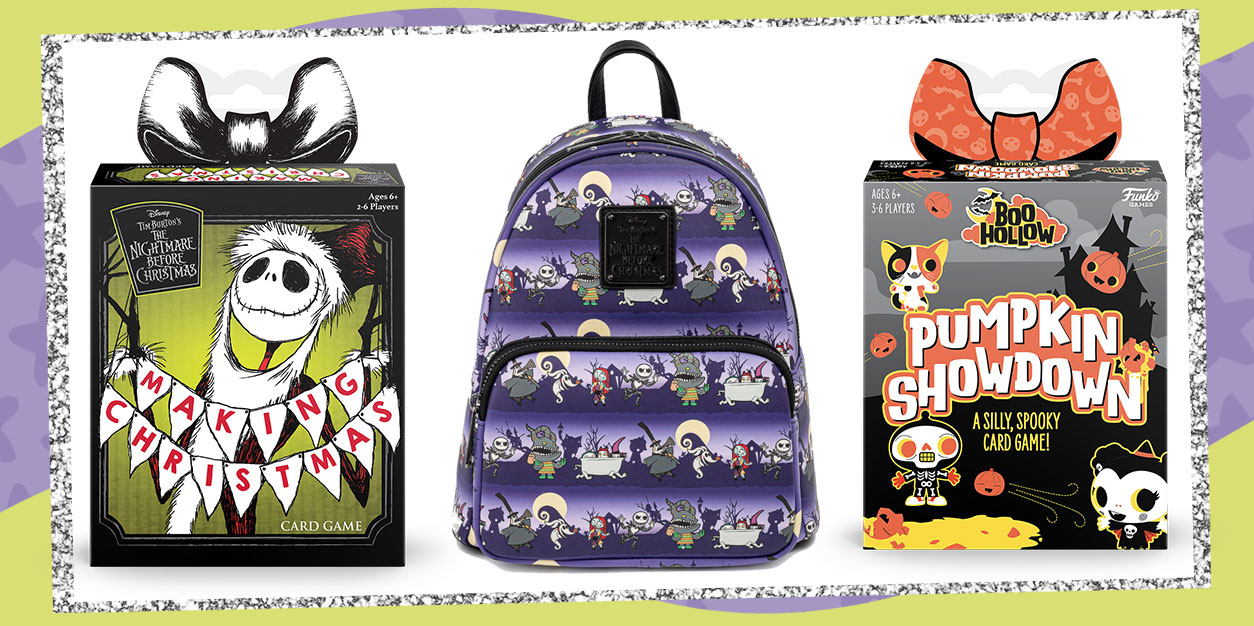 These Spooky Games from Funko Will Bring Thrills & Chills this Halloween + GIVEAWAY!
NOTE: We teamed up with Funko Games and Loungefly for this Spooky Halloween Games Giveaway. All opinions are our own; we were under no obligation to give a positive review. Giveaway prizes provided by Funko Games and Loungefly.
Spooky szn has arrived! As you spend these chilly days perfecting your Halloween costume, plotting your trick-or-treat route, and hitting up haunted houses with the squad, you might be wondering how you can seriously amplify the wickedness this year.
That's why we're featuring some amazing new releases from our friends at Funko Games that are sure to get you in the spooky spirit and bring endless fun to all your Halloween hangs. From creepy-cute card games to an eerie Haunted Mansion-inspired board game, we've got all the ghoulish bases covered with these chilling picks!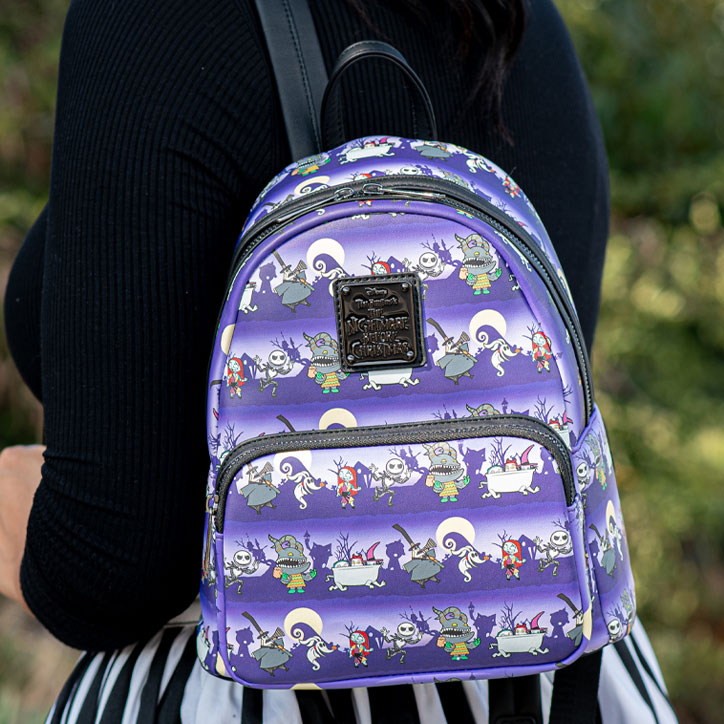 Plus, we wouldn't be us if we weren't giving you a way to snag some free stuff, so we teamed up with Funko Games and Loungefly for a scary good giveaway filled with all four games on the list and a Nightmare Before Christmas mini backpack that's to die for!
Living for these bewitching games? Keep reading to learn more about them, and then have your favorite adult fill out the entry form below for your chance to WIN!
Spooky Games for Halloween: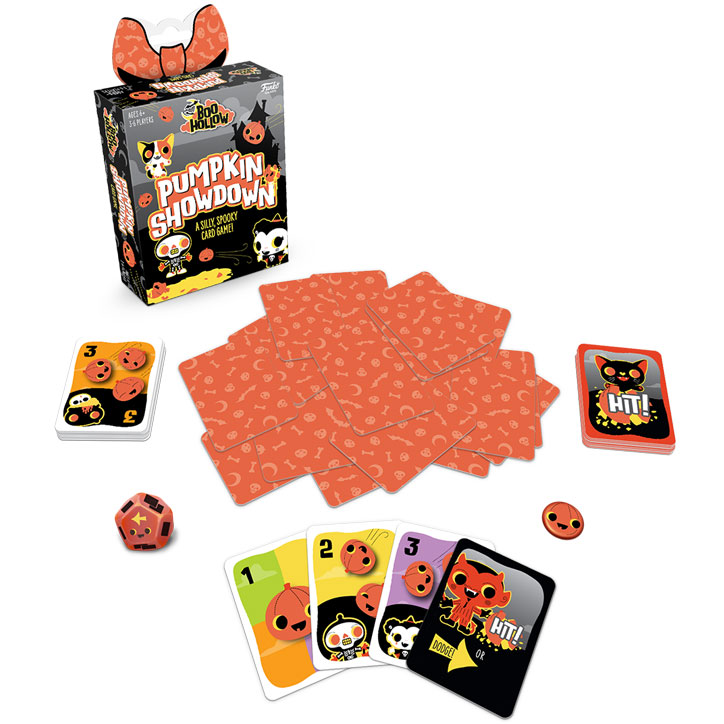 Boo Hollow: Pumpkin Showdown Card Game:
DESCRIPTION: This game stars all your fav spooky-cute characters from Funko's Boo Hollow toy line. In Pumpkin Showdown, you'll have to think fast to throw pumpkins at other players, but watch out – if you get hit three times – you're out!
WHY IT'LL GIVE YOU CHILLS: Boo Hollow is definitely way more thrills than chills, but you'll love it all the same. It's a fun, easy-to-play card game that embodies the excitement of this fun-filled holiday!
PERFECT FOR: Pretty much anyone! This one is easy to learn and not scary at all, making it perfect for a quick game before you and your squad put on your group costumes and head out on Halloween night, or some post trick-or-treat bonding with your younger siblings.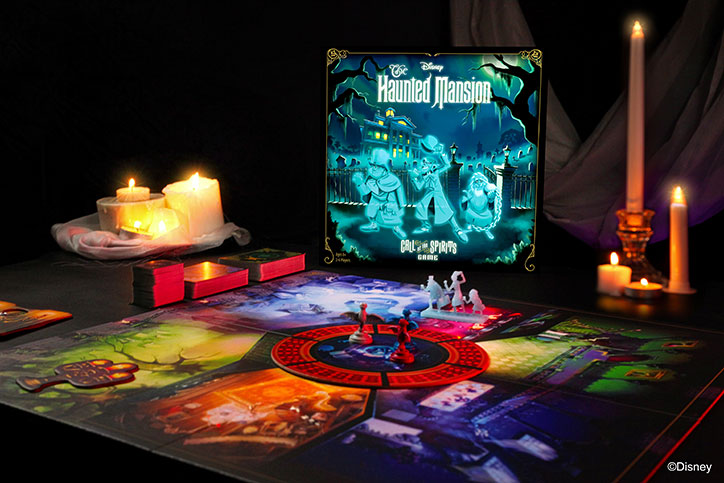 Disney Haunted Mansion: Call of the Spirits Game:
DESCRIPTION: Explore the rooms of the iconic ghost-infested Haunted Mansion from the Disney films and theme parks as you make your way through ever-changing hallways, a rotating game board, and the eerie feeling of lingering spirits with every turn you take.
WHY IT'LL GIVE YOU CHILLS: This game is a total vibe, and you'll feel like you've been transported directly to the Haunted Mansion ride at Disney. Just make sure the hitchhiking ghosts don't follow you home!
PERFECT FOR: Your Halloween hangout! Pop on a playlist of eerie sounds, grab your trick-or-treat haul, and light some candles to set the perfect vibe for a haunting romp around the game board.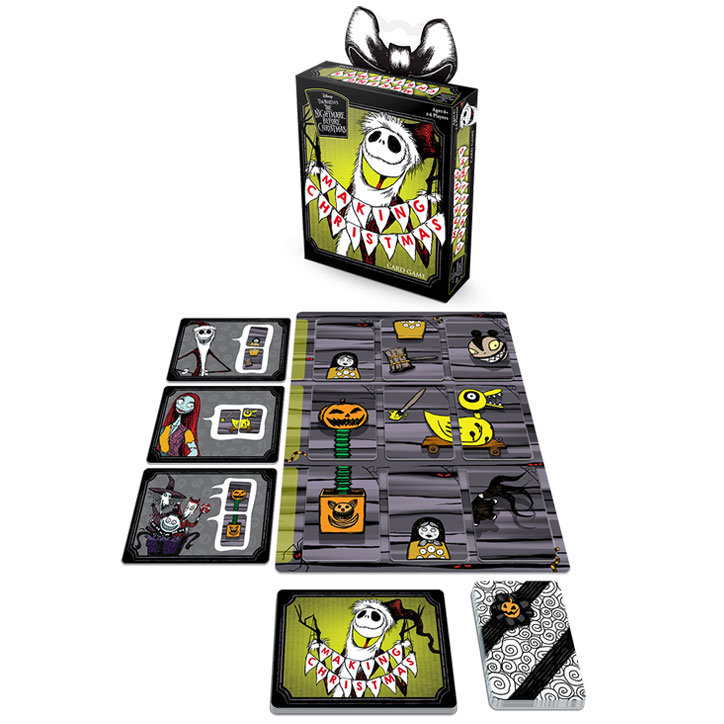 Tim Burton's The Nightmare Before Christmas: Making Christmas:
DESCRIPTION: You won't have to kidnap Sandy Claws to put your own twist on Christmas this year. In this quick card game, you'll join Jack Skellington and the gang to help make spooky toys for him to take on his sleigh! Swap toy pieces on the workbench to assemble the gifts into the iconic toys from the Nightmare Before Christmas movie, like Vampire Teddy.
WHY IT'LL GIVE YOU CHILLS: The fast-paced fun is sure to send chills down your spine and you make combos and piece together toy parts into perfect presents. Don't forget to put the movie on in the background while you play!
PERFECT FOR: Halloween, Christmas, or BOTH! Up to 6 players can join, so it's perfect for this time of year where there's always lots of people around.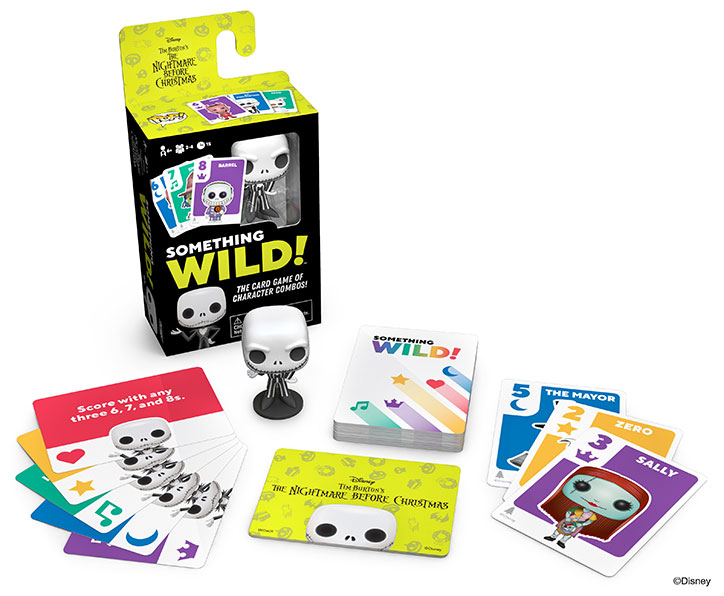 Something Wild! The Nightmare Before Christmas:
DESCRIPTION: If Rummy, UNO, and your favorite strategy card game combined to form one big card game, it would be Something Wild! Play colored and numbered character cards to make matched sets and combos. Snag the character figure's special power to get you closer to a win, but keep a keen eye out, as it's always on the move!
WHY IT'LL GIVE YOU CHILLS: You'll feel like you've stepped directly into Halloween Town with cards featuring Jack, Sally, Zero, and more. Something Wild! is will bring extra thrills and excitement because there's a theme for every type of fan. Whether you're a Star Wars stan or a Toy Story fangirl you can collect and combine sets to build out your own super WILD version of the game.
PERFECT FOR: Whenever, wherever. Whether it's family game night, a birthday sleepover, or just a rainy Saturday, Something Wild! is great for any time of year. Plus, it's the perfect size to stash in your backpack and take on the go, including the Nightmare Before Christmas Loungefly mini-backpack we're giving you a chance to WIN below!
Spooky Funko Games Giveaway: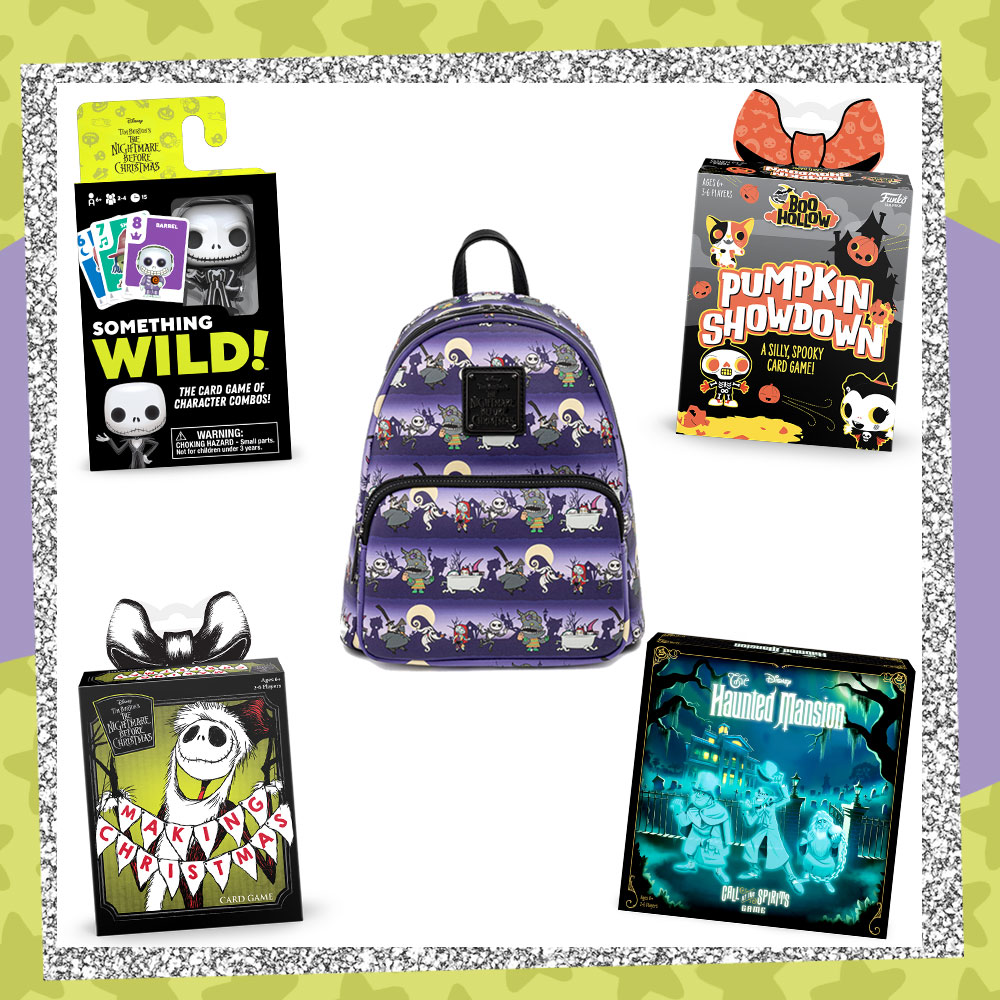 WHAT DO I WIN?:
ONE lucky winner will receive a Spooky Funko Games Prize Pack that includes:
– ONE (1) Boo Hollow: Pumpkin Showdown Card Game
– ONE (1) Disney Haunted Mansion: Call of the Spirits game
– ONE (1) Tim Burton's The Nightmare Before Christmas: Making Christmas game
– ONE (1) Something Wild! The Nightmare Before Christmas game
– ONE (1) Disney The Nightmare Before Christmas Halloween Line Mini Backpack from Loungefly
Prizes generously provided by Funko Games and Loungefly.
HOW DO I ENTER?:
Grab a parent or guardian and have them fill out the form below by October 15, 2021 at 11:59pm ET.
Giveaway runs from 10/01/21 at 03:00 pm ET through 10/15/21 at 11:59 pm. Open to US residents ONLY. Be sure to read the fully detailed rules HERE before entering.
THIS GIVEAWAY HAS ENDED AND THE WINNER HAS BEEN CONTACTED.
You must be 18 or older to enter. Please, only ONE entry per person. If selected as a winner, we will provide your parent/guardian with an affidavit to confirm that you are a valid winner who has permission to win. They will be REQUIRED to sign and return the affidavit to YAYOMG! to claim your prize. Prizes will not be mailed out without signed parental consent.
Need Fall inspo? Your fav stars are dishing on all things pumpkin spice, fall fashion, and autumn activities in our newest SOUND OFF series! Or snag some new books in our Fall Reads Giveaway!