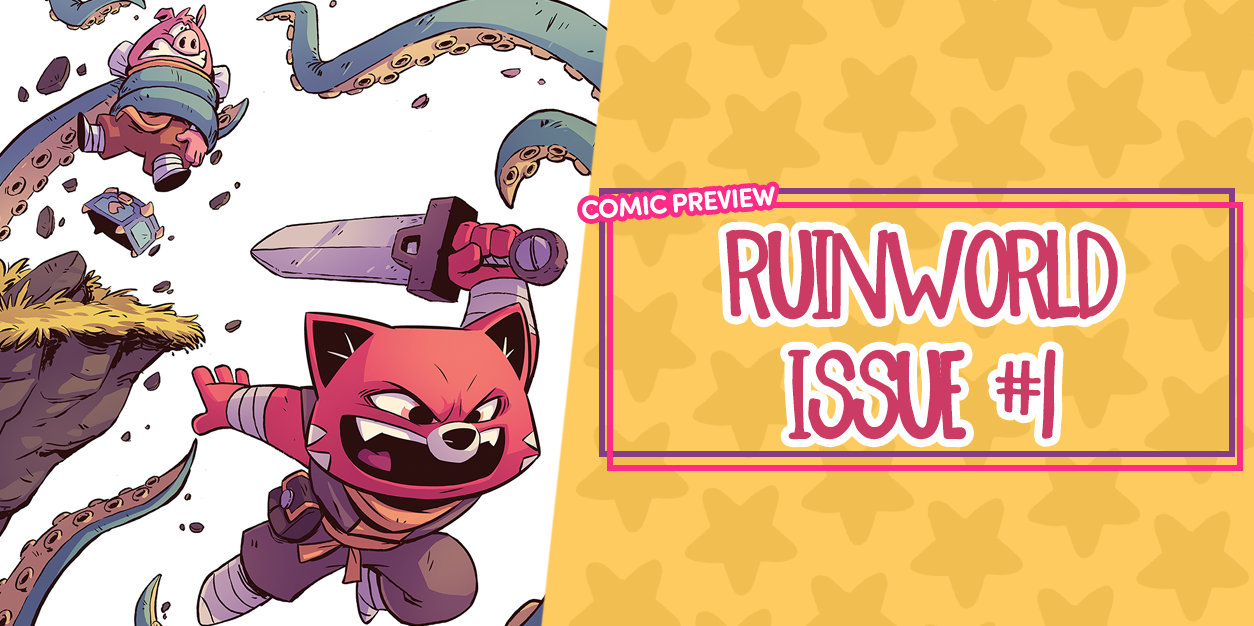 RuinWorld #1: Treasure Hunting and Adventure Mishaps
RuinWorld is a brand new fantasy adventure comic series from creator Derek Laufman. RuinWorld #1 introduces us to Pogo and Rex, two unlikely adventure buddies who discover a map that promises fortune and fame, and then almost immediately lose the map! Even though they have each other's backs and the very best intentions, things constantly backfire and go completely off the rails, making for one entertaining read!
Here's what you can expect from the series:
"Intrepid adventurers Pogo and Rex are on a quest for fame and fortune. Their discovery of a special map leads them on an epic journey through dangers, demons and old enemies. There's one tiny problem—they've already lost the map. Now they'll have to survive the greatest dangers of a world where threats hide behind every corner…if they can find a way to first survive each other's best intentions first!"
RuinWorld is being published by BOOM! Studios under their KaBOOM! imprint as a 5 issue run, however, RuinWorld has been Derek's passion project for quite awhile. He's been building the world, lore, and characters as a webcomic for the past two years, and it really shows when paging through the issue. The characters and story feel extremely detailed, and the world is obviously vibrant and full of history that we can't wait to find out more about. RuinWorld #1 hits comic shops on July 11th, but we've got a preview of the first five pages for you here thanks to our buds at BOOM! Studios! Check it out.
PREVIEW: RuinWorld #1:
It's only been one issue, but we're already pumped to see what happens next! Adventuring alongside Pogo and Rex will surely make for some super fun reading. Getting to know the characters a little deeper, Rex is a more seasoned adventurer who is a little over-confident in his abilities at times, and in this first issue, definitely proves to be a bit grumpy and rough around the edges, making for lots of laugh out loud moments. Pogo is a farmhand who joined Rex on his quest to learn more about the art of adventuring and ruin hunting to follow in the footsteps of his grandfather who was an adventurer himself. He is a bit anxious and isn't quite ready to dive headfirst into exploring just yet, but when Rex pushes him out of his comfort zone and straight into an abandoned Keep to investigate, he steps up to the challenge.
Throughout the next 5 issues of the series, Rex and Pogo will face old enemies, dangerous quests, and hopefully uncover one of the most coveted artifact stashes in all of RuinWorld.
RuinWorld stands completely on its own, but if you need a comparison, we'd say it's all the BFF adventuring from Adventure Time combined with the snarkiness and mishaps of Guardians of the Galaxy all rolled into one. The perfect comic for anyone who loves Legend of Zelda, Dungeons and Dragons, or watching two friends hilariously bicker their entire way through a quest. It's a truly fun read that we'd recommend for both comic lovers and newcomers alike.
RuinWorld #1
Publisher: KaBOOM!, an imprint of BOOM! Studios
Writer: Derek Laufman
Artist: Derek Laufman
Cover Artists:
Main Cover: Derek Laufman
Variant Cover: Sean Galloway
Letterer: Warren Montgomery
Price: $3.99
Synopsis:
Writer/Artist Derek Laufman (Adventure Time Comics) brings his new original series to life at BOOM! Studios.

Intrepid adventurers Pogo and Rex are on a quest for fame and fortune. Their discovery of a special map leads them on an epic journey through dangers, demons and old enemies. Just one problem—they've already lost the map.

An all-ages comic about fun, friendship and screaming in the face of danger, perfect for fans of Adventure Time and The Adventure Zone.
Need more awesome comics in your life? Look no further, we've got you covered!