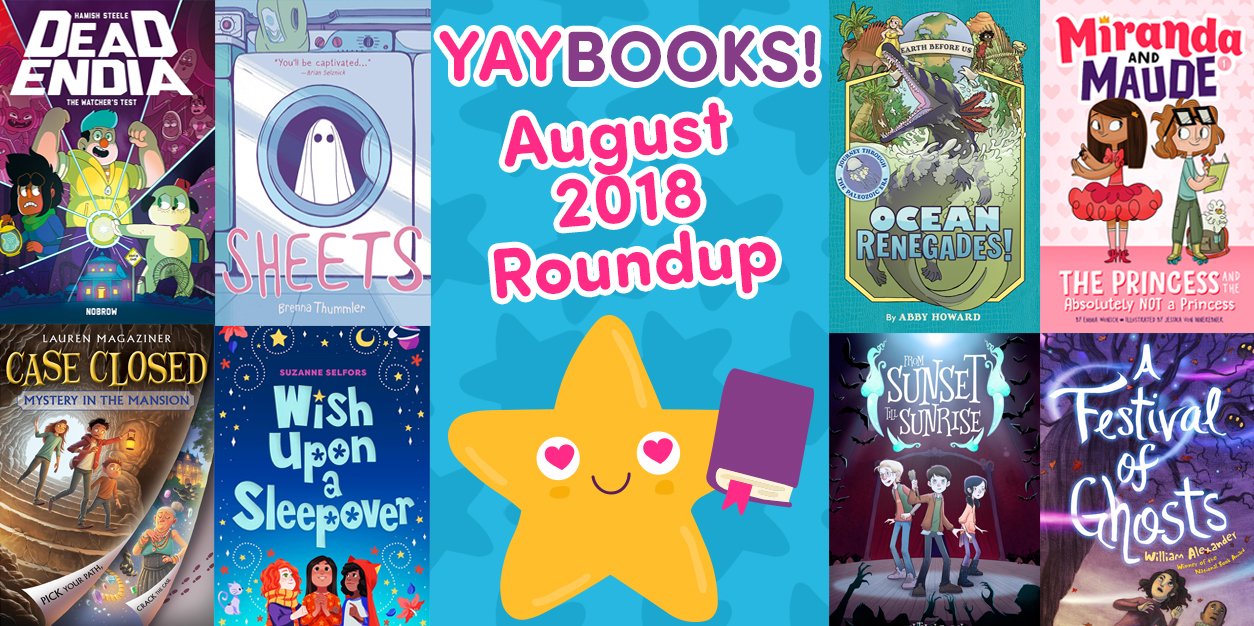 YAYBOOKS! August 2018 Roundup
What better way to soak up the few remaining weeks of Summer freedom by curling up on a park bench with a new pile of books and a refreshing lemonade? This month's YAYBOOKS! Roundup features over 30 brand new middle grade books and graphic novels you're not going to want to miss! If you're already back at school, stash one in your backpack to read during a free period or for an upcoming book report.
As always, we're helping celebrate lots of these new releases in the form of author interviews, fun facts, and more! We can't wait to show you what we have lined up this month. Scroll through the list below to see which books and authors we're spotlighting this month and don't forget to make a list of all your favs to pick up the next time you're at the library or bookstore.
YAYBOOKS! August 2018 Roundup: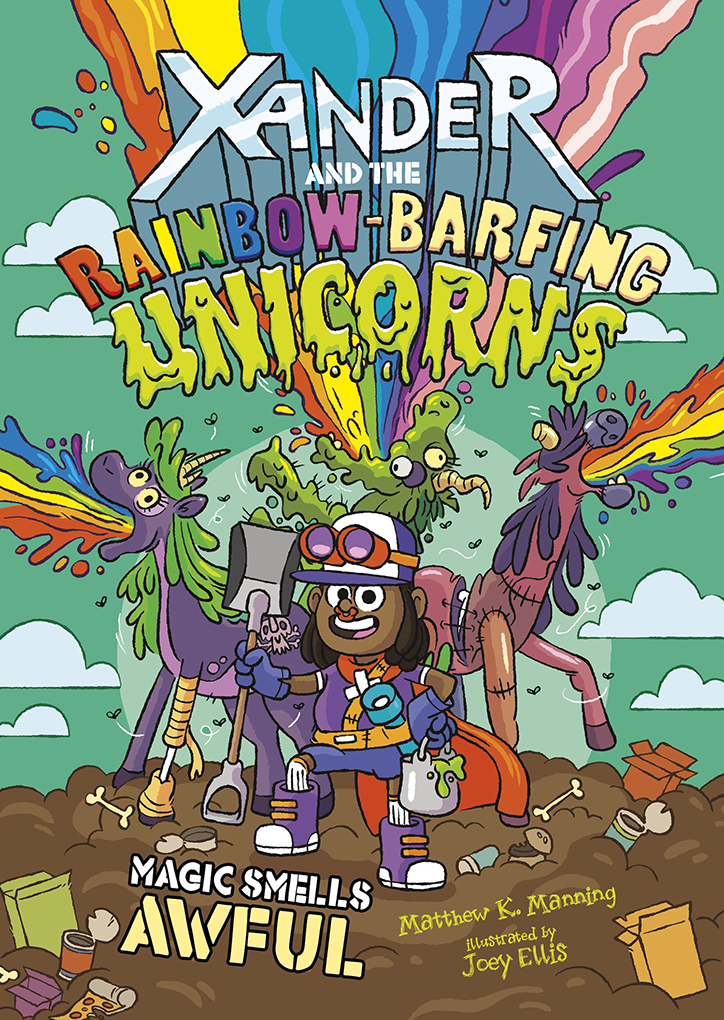 Xander and the Rainbow-Barfing Unicorns: Magic Smells Awful
Author: Matthew K. Manning
Illustrator: Joey Ellis
Publisher: Stone Arch Books
Date: August 1
SYNOPSIS:
Xander Stone didn't believe in unicorns — until one puked on him! In this adventure, twelve-year-old Xander first meets the Rainbow-Barfing Unicorns — stinky, zombielike, upchucking creatures from the magical world of Pegasia. They've been banished to Earth for, well, being stinky, zombielike, upchucking creatures. However, Earth presents them with a great danger: HUMANS. Luckily, the dashing, naively heroic Xander vows to protect them and their disgusting secret at all costs.
If you like this one, you'll be excited to know that all 4 books in this series are now available!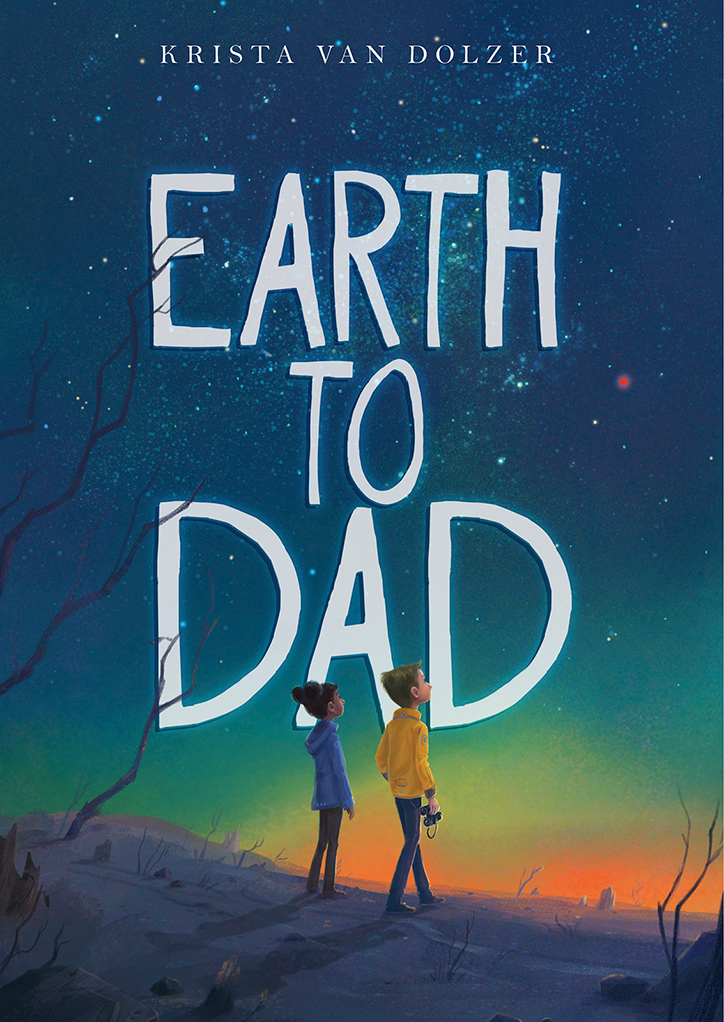 Earth to Dad
Author: Krista Van Dolzer
Publisher: Capstone
Date: August 1
SYNOPSIS:
Eleven-year-old Jameson O'Malley's dad is on Mars. The only way to see him, other than squinting into the night sky, is through the JICC – short for Jameson's Interplanetary Communication Console. Jameson thought the JICC would help shorten the millions of miles that stretch between Base Ripley and Mars, but he's is starting to realize no transmission can replace his real, actual father. When a new family moves onto Base Ripley, Jameson makes an unlikely friend in Astra Primm, daughter of the country's leading climatologist, who died in an explosion on Mars. But as Jameson's friendship with Astra grows stronger, he begins to notice the flaws in his own family. Mom is growing distant, and something is wrong with Dad. He's not sending transmissions as frequently as he used to, and when he does there are bags under his eyes. Jameson begins to realize there's more to the story than he knows – and plenty people aren't telling him. Determined to learn the truth and discover what happened to their parents, Jameson and Astra embark on a journey exploring life, loss, and friendship that will take them to the edge of their universe.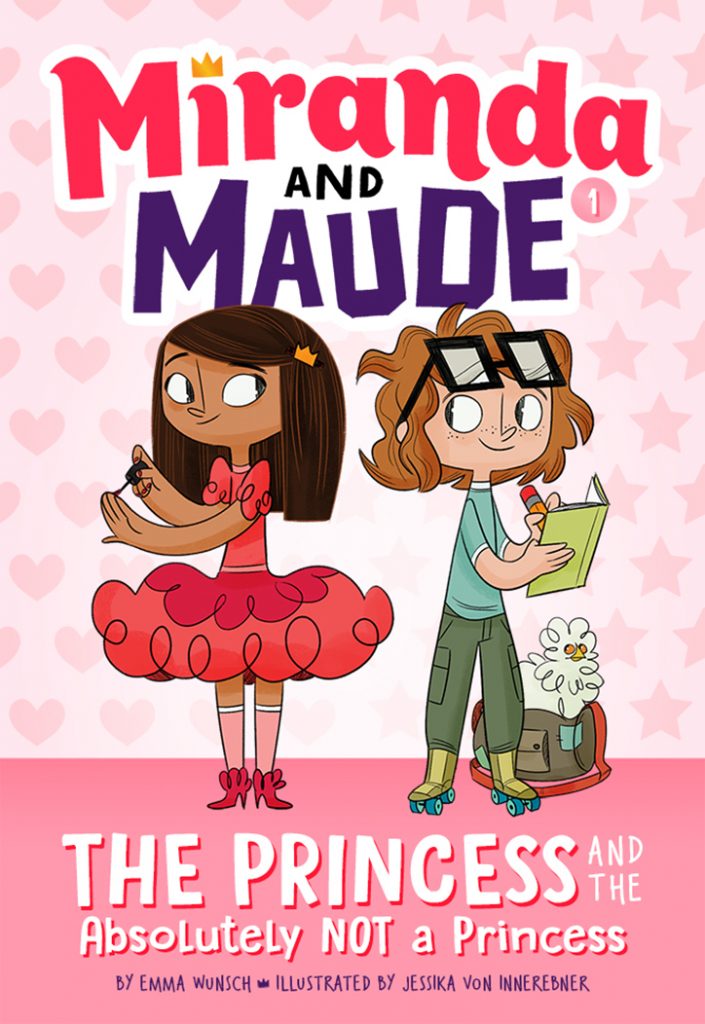 Miranda and Maude: The Princess and the Absolutely Not a Princess
Author: Emma Wunsch
Illustrator: Jessika Von Innerebner
Publisher: Amulet Books
Date: August 7
YAYOMG!:
We're doing something a little different than usual to celebrate this adorable new series. Author Emma Wunsch and Illustrator Jessika Von Innerebner are stopping by YAYOMG! on August 7th to interview EACH OTHER! They'll be asking each other all sorts of questions about how Miranda and Maude's story came to be!
SYNOPSIS:
Princess Miranda does not want to go to school. She wants to shoe shop, plan parties, and decorate the castle.
Maude cannot wait for school. She loves rules and social justice and getting good grades. She also loves hard-boiled eggs, much to Miranda's dismay.
When a tense first week of school results in Maude getting excluded from the Royal Birthday Party, Maude decides she's found her first fight for social justice: a birthday boycott.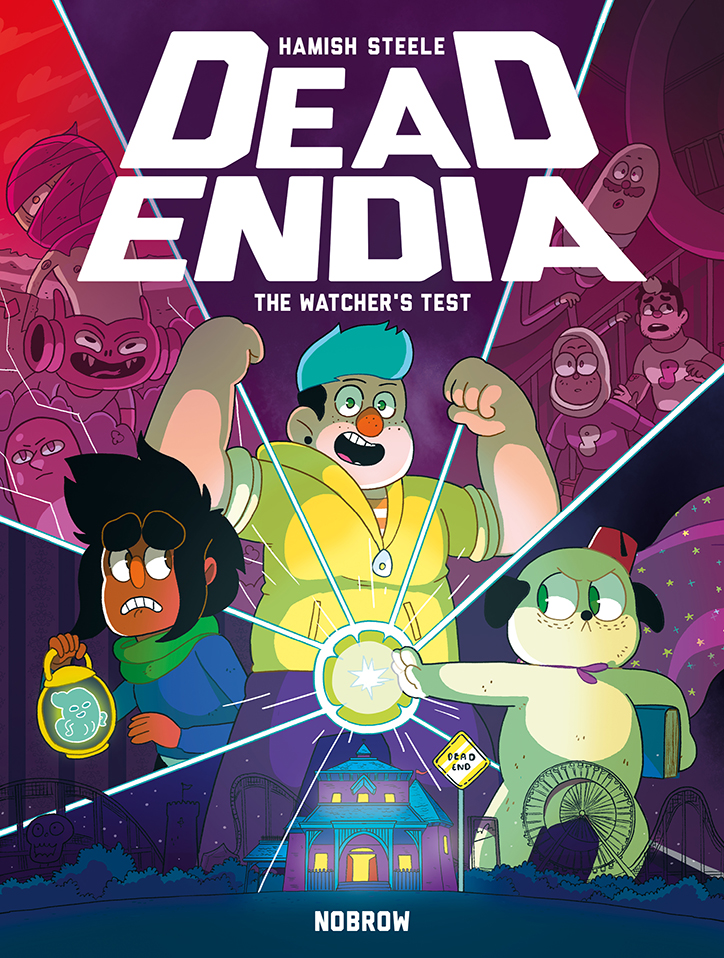 DeadEndia: The Watcher's Test
Author: Hamish Steele
Publisher: Nobrow
Date: August 7
SYNOPSIS:
Barney and his best friend Norma are just trying to get by and keep their jobs, but working at the Dead End theme park also means battling demonic forces, time traveling wizards, and scariest of all–their love lives!
Follow the lives of this diverse group of employees of a haunted house, which may or may not also serve as a portal to hell, in this hilarious and moving graphic novel, complete with talking pugs, vengeful ghosts, and LBGTQIA love!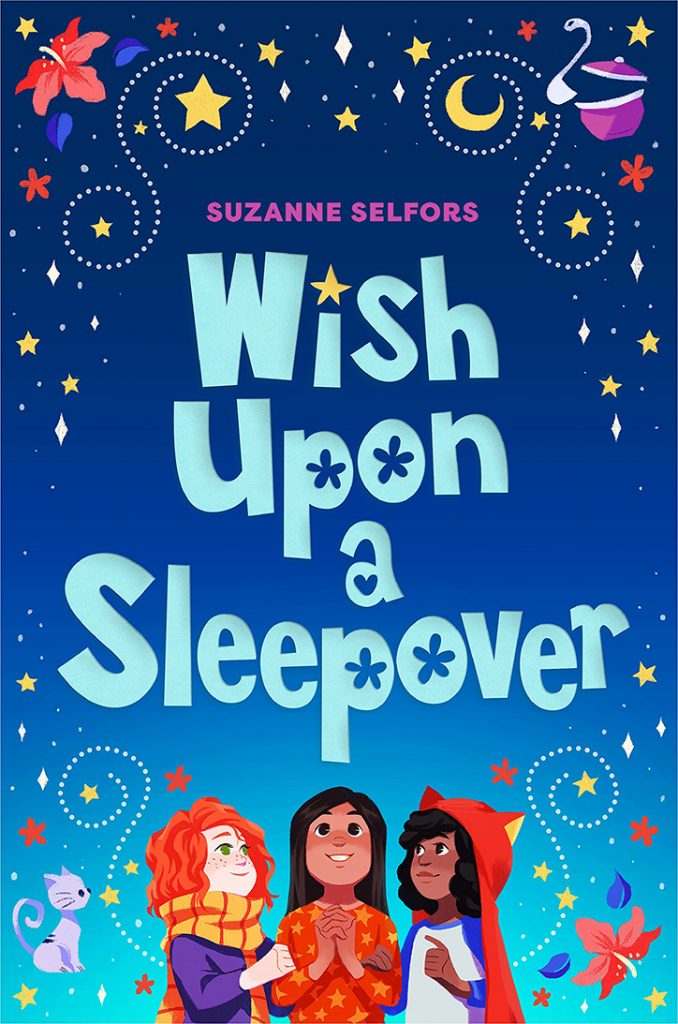 Wish Upon a Sleepover
Author: Suzanne Selfors
Publisher: Imprint
Date: August 7
SYNOPSIS:
Five misfits. One magical wish.
Bestselling author Suzanne Selfors brings heart and humor to this middle grade novel about a group of misfits who find true friendship where they least expect it.
Leilani dreams of being friends with the most popular girls in her class—the Haileys—who are always throwing awesome themed sleepovers. She devises a master plan: throw her own sleepover of the century and invite them!
When Tutu, her grandmother, accidentally mails Leilani's invitations to the DO NOT INVITE list, the best sleepover in the history of the world becomes the worst. Instead of the Haileys, the only guests are the three kids Leilani definitely did not want to show up: the neighbor who never speaks, the girl who draws mean pictures of her, and her farting older cousin. At least her best friend August will be there.
Leilani and her guests decide to make Tutu's recipe for Sleepover Soup, which requires each of them to collect one ingredient that has significant meaning in their lives. They embark on a scavenger hunt that reveals unexpected surprises. What Leilani finds is not what she wanted, but it might just be even better.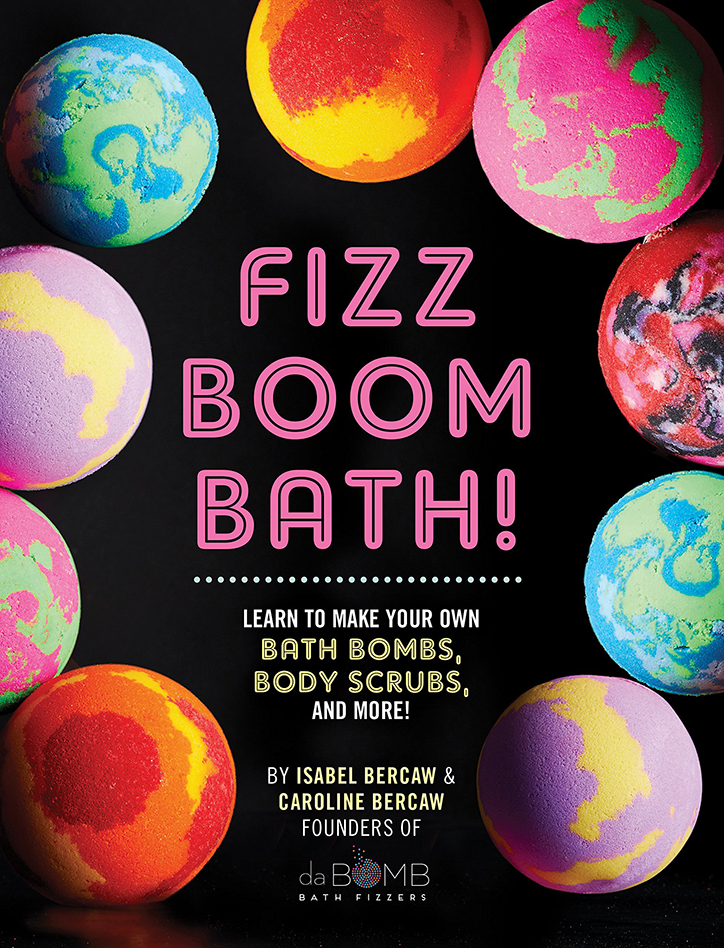 Fizz Boom Bath!: Learn How to Make Your Own Bath Bombs, Body Scrubs, and More!
Authors: Isabel Bercaw and Caroline Bercaw
Publisher: Rock Point
Date: August 7
YAYOMG!:
Isabel and Caroline Bercaw, the sisterpreneurs behind Da Bomb Bath Fizzers are releasing a book! It's full of great DIY tips and recipes so you can create lots of fizzy bath bombs, exfoliating scrubs, and more! We had the pleasure of chatting with Isabel and Caroline not too long ago, check out their interview here!
SYNOPSIS:
From fizzers to scrubs, masks to soaps, bubble bars to shower melts, Fizz Boom Bath! is your how-to source on all things bath-time beauty.
Have you ever found yourself staring longingly at a table full of scrumptious-looking bath bombs, shower melts, or lotion bars for sale and thought, "Gee, it would be fun to make these at home, but where the heck would I begin?!" Teenage "sisterpreneurs" and creators of Da Bomb Bath Fizzers are here to take the mystery out of bath and body recipes and give you all the tools you need to crown yourself Archbishop of Bathtopia.
Isabel and Caroline will hold your hand every step of the way—and then exfoliate it with some sugar scrub when they're finished! This book will teach you how to create all kinds of delightful, natural, homemade bath treats. Fizzers, scrubs, masks, soaps, bubble bars—Fizz Boom Bath! has you covered.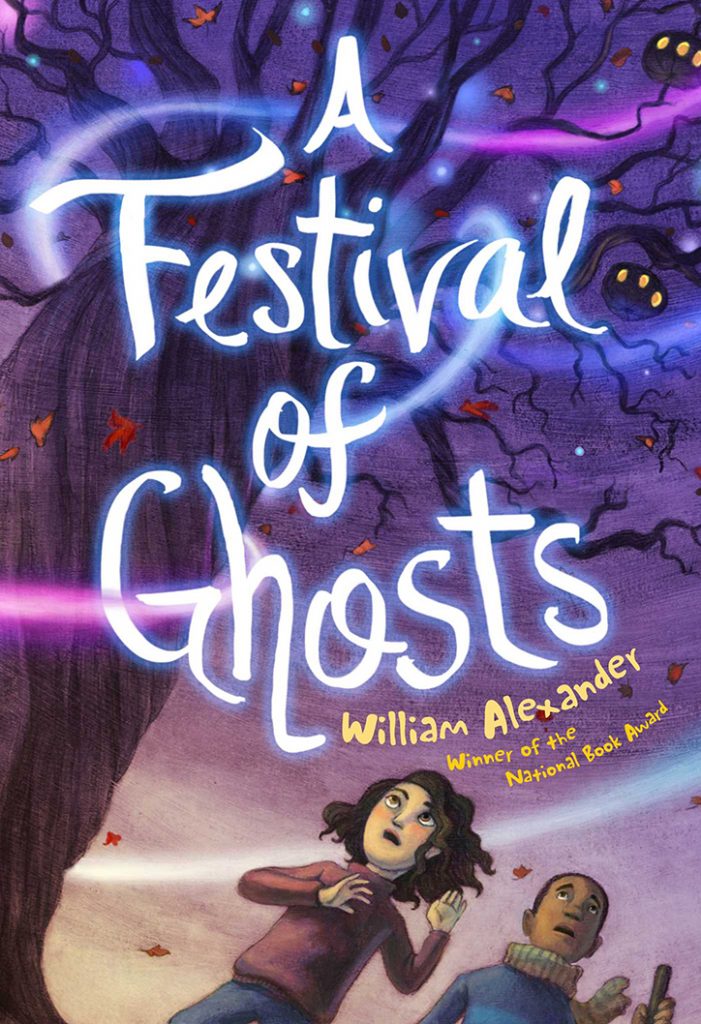 A Festival of Ghosts
Author: William Alexander
Illustrator: Kelly Murphy
Publisher: Margaret K. McElderry Books
Date: August 7
SYNOPSIS:
National Book Award winner William Alexander conjures up a spooky adventure full of excitement in this entertaining sequel to A Properly Unhaunted Place.
Rosa Ramona Diaz, the ghost appeasing assistant librarian, has unleashed all the ghosts who were previously shut out of the small town of Ingot. Now ghosts are everywhere, and the town's living residents are either learning to cope or trying to do the one thing no one can successfully do—banish the ghosts.
At school, something supernatural is stealing kids' voices and leaving them speechless. And it's Rosa's job to solve the mystery and set things right. Meanwhile, her best friend Jasper is dealing with what remains of the Renaissance Festival, where ghosts from Ingot's past are now battling it out with the ghosts of the Renaissance re-enactors. And Rosa is experiencing a haunting of her own—could her father's ghost have followed her here?
Somehow Rosa and Jasper are going to have to find a way to bring Ingot back to normal—in a world where the living are now residing side-by-side with the dearly departed.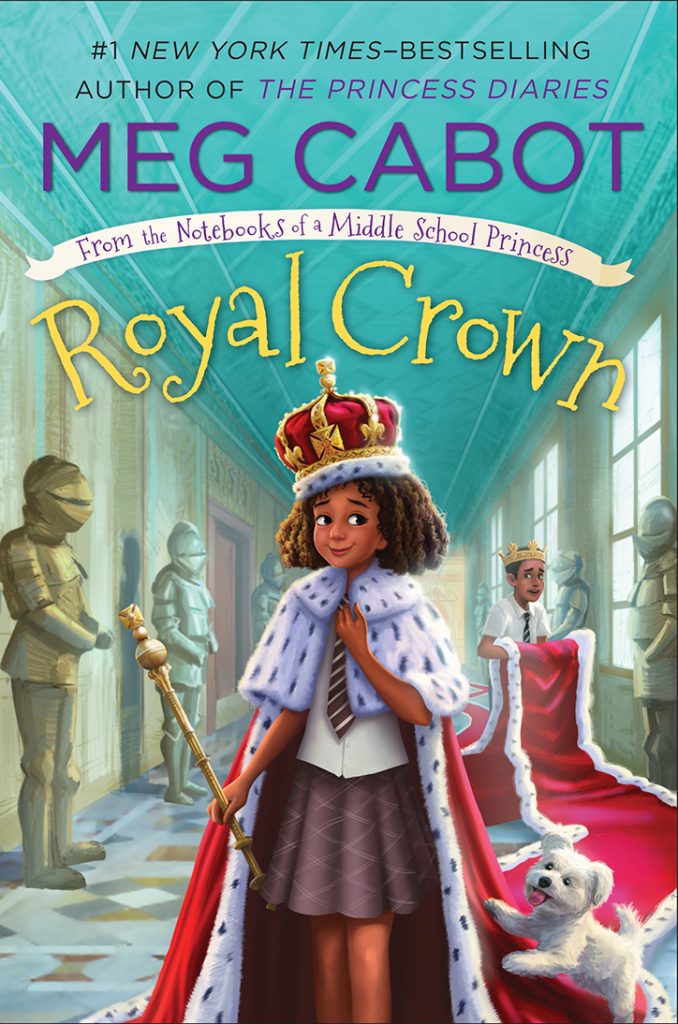 From the Notebooks of a Middle School Princess: Royal Crown
Author: Meg Cabot
Publisher: Feiwel & Friends
Date: August 7
SYNOPSIS:
It's the first coronation of a female monarch of Genovia in 200 years, and Her Royal Highness, Princess Olivia Grace Clarisse Mignonette Harrison, is giving you the inside scoop in this newest (illustrated!) diary from New York Times–bestselling author and illustrator Meg Cabot!
Olivia Grace Clarisse Mignonette Harrison should be having fun. Her best friend is visiting from America, her sister's royal coronation is only three days away (the first coronation of a female ruler in two centuries), and she's even got a new boyfriend who is actually a very smart and charming prince!
But it's hard to celebrate when her royal cousins are scheming to take over the throne. And with everyone running around, Olivia and her friends have been saddled with royal babysitting duties. Then, to make matters worse, Olivia's snobby cousin Luisa insists on gossiping about her, especially about things that should be personal . . . it's none of her business whether Prince Khalil and Olivia have kissed or not!
When did growing up royal get so complicated?!?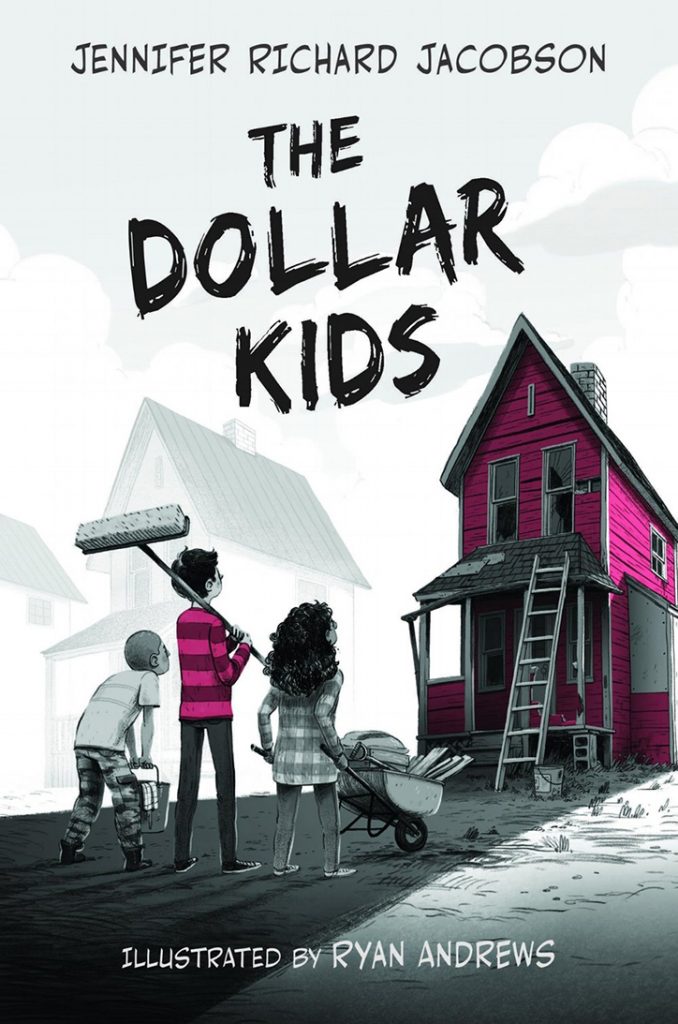 The Dollar Kids
Author: Jennifer Richard Jacobson
Illustrator: Ryan Andrews
Publisher: Candlewick Press
Date: August 7
SYNOPSIS:
When a family buys a house in a struggling town for just one dollar, they're hoping to start over — but have they traded one set of problems for another?
Twelve-year-old Lowen Grover, a budding comic-book artist, is still reeling from the shooting death of his friend Abe when he stumbles across an article about a former mill town giving away homes for just one dollar. It not only seems like the perfect escape from Flintlock and all of the awful memories associated with the city, but an opportunity for his mum to run her very own business. Fortunately, his family is willing to give it a try. But is the Dollar Program too good to be true? The homes are in horrible shape, and the locals are less than welcoming. Will Millville and the dollar house be the answer to the Grovers' troubles? Or will they find they've traded one set of problems for another? From the author of Small as an Elephant and Paper Things comes a heart-tugging novel about guilt and grief, family and friendship, and, above all, community.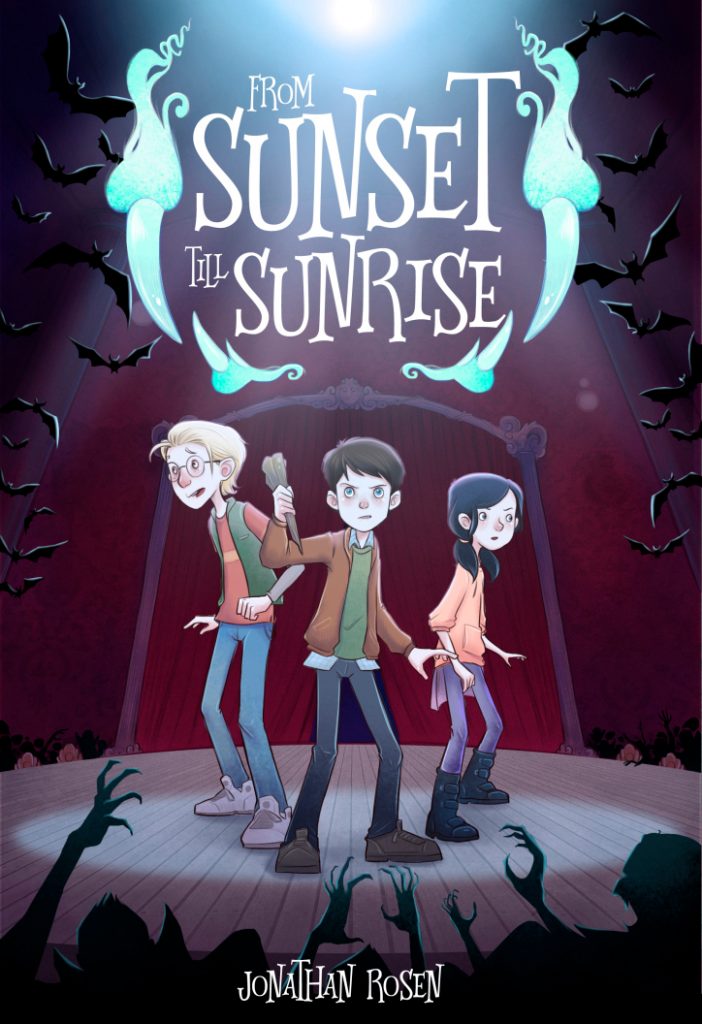 From Sunset till Sunrise
Author: Jonathan Rosen
Publisher: Sky Pony Press
Date: August 7
SYNOPSIS:
Devin Dexter and his cousin Tommy just saved the city of Gravesend from the menace of magical, malicious Cuddle Bunnies brought to life by the warlock, Herb. But there's no rest for the wicked, as a new mysterious neighbor moves in across the street. At night. With a coffin. Tommy immediately jumps to conclusions as he thinks this can only mean one thing: Vampires.
Devin isn't so quick to believe, as he is struck by the neighbor's daughter, a girl his age. Even though Tommy points out that they have never seen her during the day. Yet when she invites him to a dance at her school—the Nosfer Academy of Talented Understudies—how can Devin say no? Tommy, though, realizes that this is an opportunity. After tackling a wizard last winter, surely they can protect Gravesend from some measly vampires, right?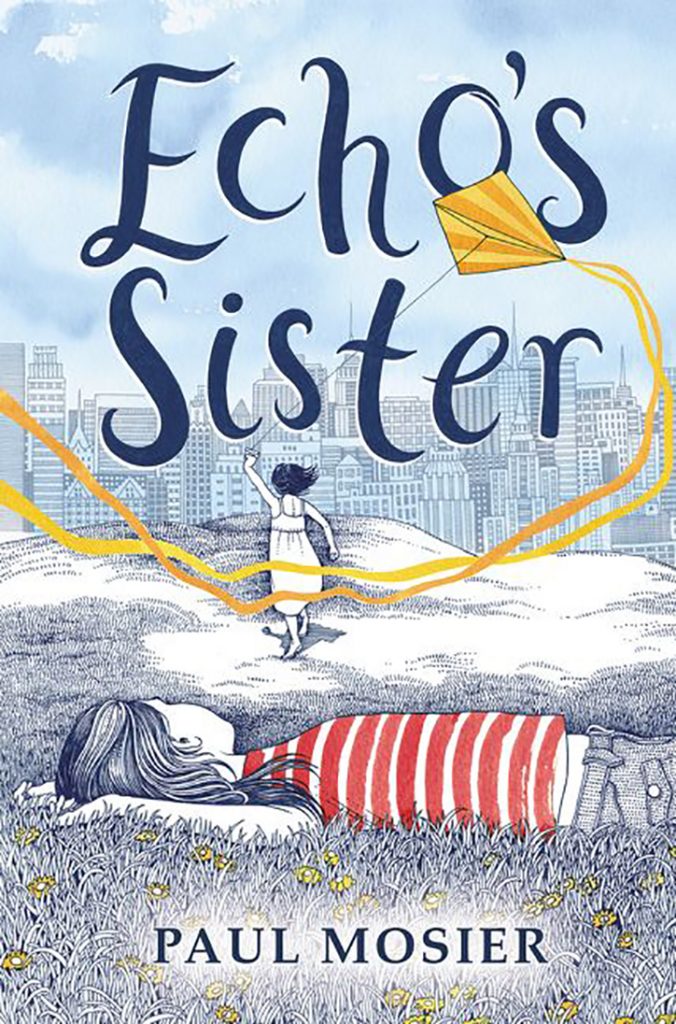 Echo's Sister
Author: Paul Mosier
Publisher: HarperCollins Children's Books
Date: August 7
SYNOPSIS:
From critically acclaimed author Paul Mosier, a Publishers Weekly Flying Start, comes a stunning story about the beauty of family, the power of community, and ultimately the strength of the human spirit.
Twelve-year-old El has planned on making her first week at a new school fantastic. She won't go by her given name, Laughter. She'll sit in the back of the classroom where she can make new friends. She won't even have time to think about all the fun her old friends are having without her. Everything will be great.
But when her dad picks her up after school and tells her that her younger sister, Echo, has a life-threatening illness, her world is suddenly turned upside down. And with her parents now pressed for time and money, El feels lost and powerless.
Then she befriends Octavius, the only other kid in school who gets what she's going through. As El begins to adjust to her new life, she soon finds that maybe a little hope and a lot of love can overcome any obstacle.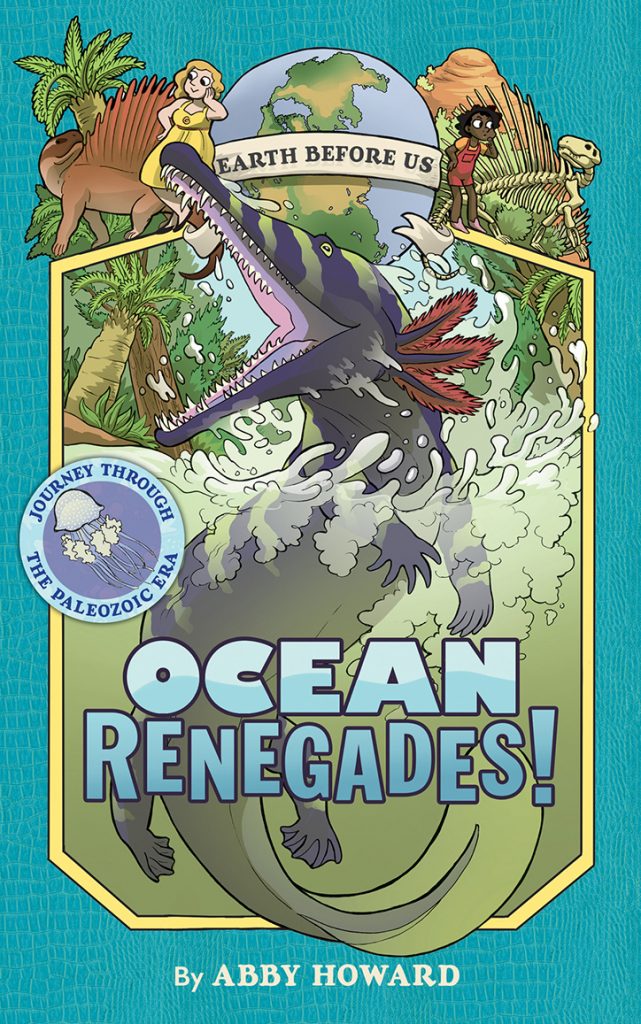 Ocean Renegades!: Journey Through the Paleozoic Era
Author: Abby Howard
Publisher: Amulet Books
Date: August 14
YAYOMG!:
Get excited! Abby Howard put together a special, EXCLUSIVE comic peek into her new graphic novel, Ocean Renegades!: Journey Through the Paleozoic Era for our YAYOMG! readers. Be sure to check back on August 14th!
SYNOPSIS:
When Ronnie's parents go on a business trip and leave her with Miss Lernin for the week, Ronnie is sure she's in for a big, dinosaur-size adventure. After all, her last trip with Miss Lernin involved real-life dinosaurs! So, when they end up at the aquarium's jellyfish exhibit, Ronnie is confused. Surely jellyfish aren't as cool as dinosaurs, right? Wrong! Determined to show Ronnie just how interesting prehistoric life was before the age of the dinosaurs, Miss Lernin takes her back in time to the six parts of the Paleozoic era to study the earliest lifeforms on Earth, and how many left the ocean for life on land.

Case Closed: Mystery in the Mansion
Author: Lauren Magaziner
Publisher: Katherine Tegen Books
Date: August 14
SYNOPSIS:
Carlos Serrano has never solved a mystery in his life. And he's counting on you to solve his first one.
On the morning of a big investigation that would save her failing detective agency, Carlos's mom gets sick with a nasty flu. But Las Pistas Detective Agency can't afford to lose this case, or they will close down for sure. That's where Carlos—and you—come in.
With the help of his best friend Eliza and her wild little brother Frank, Carlos takes over the investigation. The mystery involves an eccentric local millionaire, who starts receiving death threats. It appears someone wants to get their hands on a buried fortune. However, their search for the culprit is complicated by tricky riddles, cagey suspects, hidden secrets, and dozens of impossible choices. They need your help!
In this hilarious, interactive, and puzzle-filled adventure, YOU pick which suspects to interview, which questions to ask, and which clues to follow. Can you help Carlos and his friends figure out who's sending the death threats, find a lost treasure, and save Las Pistas Detective Agency? Or will it be case closed? You pick the path, you crack the case!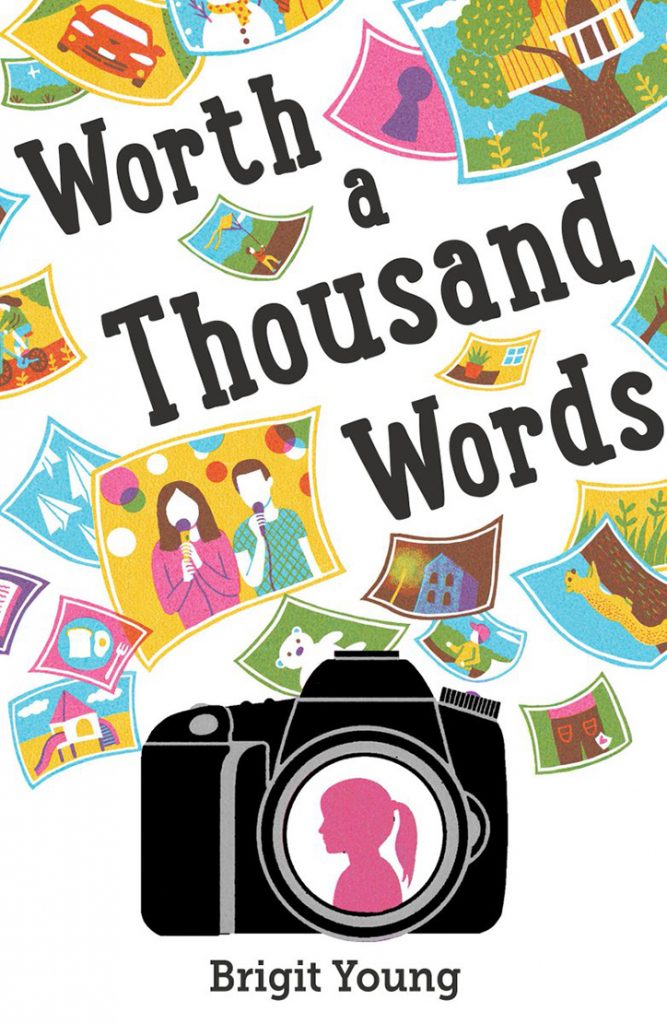 Worth a Thousand Words
Author: Brigit Young
Publisher: Roaring Brook Press
Date: August 14
SYNOPSIS:
Whether it's earrings, homework, or love notes, Tillie "Lost and Found" Green and her camera can find any lost thing—until a search for a missing person forces her to step out from behind the lens.
Ever since a car accident left Tillie Green with lasting painful injuries, she's hidden behind her camera. Through the lenses, she watches her family and classmates, tracking down misplaced items and spotting the small details that tell a much bigger story than the one people usually see. But she isn't prepared for class clown Jake Hausmann's request: to find his father. In a matter of days, Tillie goes from silent observer to one half of a detective duo, searching for clues to the mystery of Jake's dad's disappearance. When the truth isn't what Jake wants it to be, and taking photographs starts exposing people's secrets, Tillie has to decide what—and who—is truly important to her.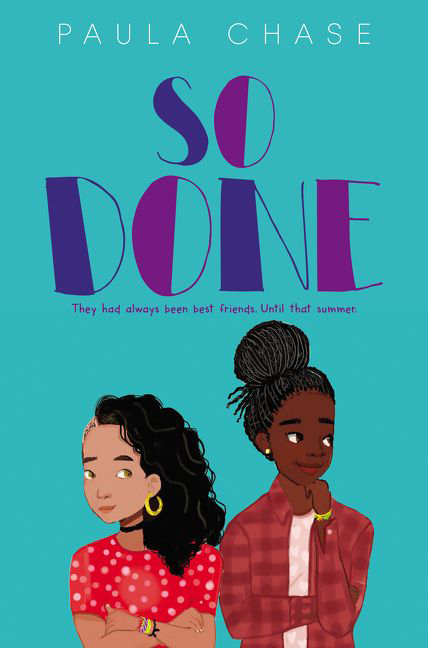 So Done
Author: Paula Chase
Publisher: Greenwillow Books
Date: August 14
SYNOPSIS:
When best friends Tai and Mila are reunited after a summer apart, their friendship threatens to combust from the pressure of secrets, middle school, and the looming dance auditions for a new talented-and-gifted program.
Fans of Renée Watson's Piecing Me Together will love this memorable story about a complex friendship between two very different African American girls—and the importance of speaking up.
Jamila Phillips and Tai Johnson have been inseparable since they were toddlers, having grown up across the street from each other in Pirates Cove, a low-income housing project. As summer comes to an end, Tai can't wait for Mila to return from spending a month with her aunt in the suburbs. But both girls are grappling with secrets, and when Mila returns she's more focused on her upcoming dance auditions than hanging out with Tai.
Paula Chase explores complex issues that affect many young teens, and So Done offers a powerful message about speaking up. Full of ballet, basketball, family, and daily life in Pirates Cove, this memorable novel is for fans of Ali Benjamin's The Thing About Jellyfish and Jason Reynolds's Ghost.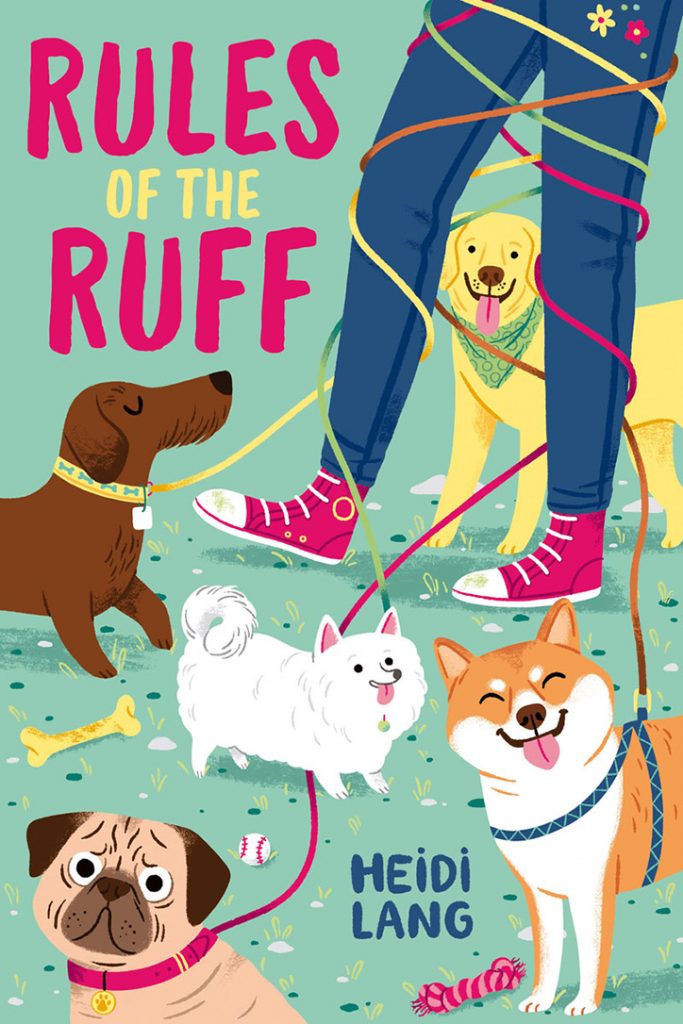 Rules of the Ruff
Author: Heidi Lang
Publisher: Amulet Books
Date: August 14
SYNOPSIS:
Twelve-year-old Jessie is in for a long summer at her aunt and uncle's house. Her cousin Ann has a snotty new best friend, which leaves Jessie all alone. But Jessie is industrious, and—not content with being ignored all summer—she convinces Wes, a grouchy neighborhood dog walker, to take her on as his apprentice.
Sure, dog walking turns out to be harder than she expected, but she has Wes's dog-walking code, the Rules of the Ruff, to guide her, and soon she's wrangling her very own pack. But when a charismatic rival dog walker moves to town, she quickly snatches up most of Wes's business—and Jessie decides she isn't going to take this defeat with her tail between her legs.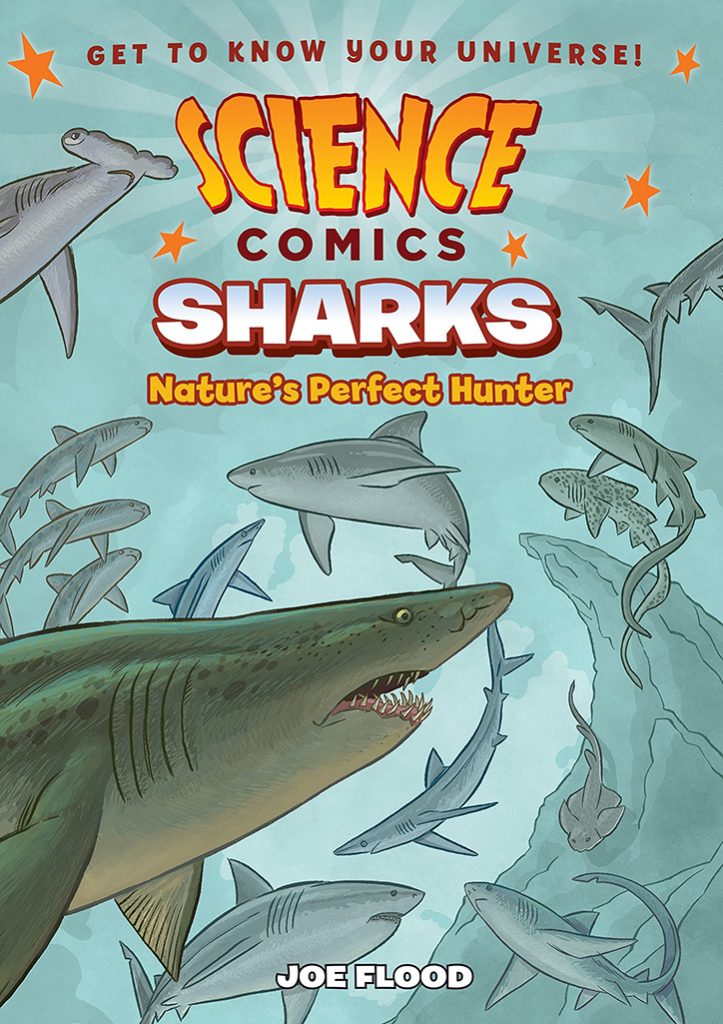 Science Comics: Sharks: Nature's Perfect Hunter
Author: Joe Flood
Publisher: First Second
Date: August 17
SYNOPSIS:
For over 400 million years, sharks have been the ocean's top predator! They're vital to our ecosystem, but their importance is often overshadowed by our own fear—even though they hardly ever threaten humans.
Dive in for an intimate look at the dynamic hammerhead, infamous great white, primordial megalodon, and the gentle nurse shark, the rare species that will let a scuba diver pet them! This book is filled to the gills with jaw-dropping illustrations and razor-sharp facts that shed light on these fascinating creatures of the deep, including their undersea terrain, cunning adaptability, and staggering variety.
Every volume of Science Comics offers a complete introduction to a particular topic—dinosaurs, coral reefs, the solar system, volcanoes, bats, flying machines, and more. These gorgeously illustrated graphic novels offer wildly entertaining views of their subjects. Whether you're a fourth grader doing a natural science unit at school or a thirty-year-old with a secret passion for airplanes, these books are for you!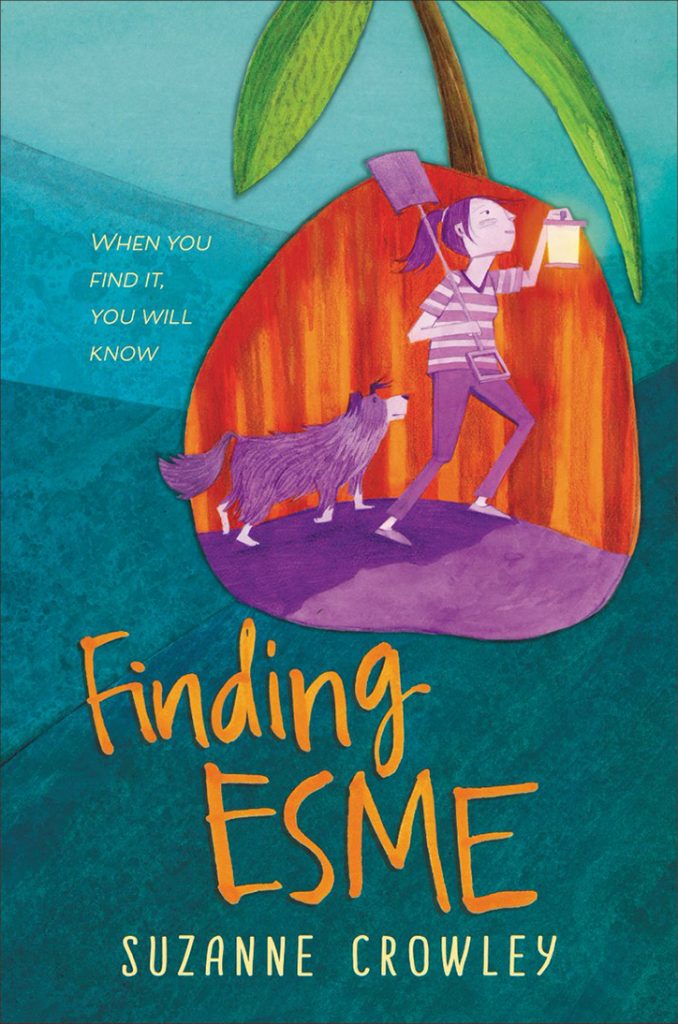 Finding Esme
Author: Suzanne Crowley
Publisher: Greenwillow Books
Date: August 14
SYNOPSIS:
Twelve-year-old Esme's life changes when she discovers dinosaur bones on her family's peach farm in Texas.
Fans of Wendy Maas and Lynda Mullaly Hunt will love this perfectly pitched story about friendship, family, and loss from Suzanne Crowley, the acclaimed author of The Very Ordered Existence of Merilee Marvelous.
After her grandfather died from a heart attack while driving his tractor, Esme has avoided returning to the spot where he lost his life. But when she follows her little brother, Bo, up the hill while chasing fireflies, she makes an incredible discovery—dinosaur bones peeking out from underneath the abandoned tractor.
Esme sees the bones as a message from her grandfather; a connection beyond the grave. But when word gets out that Peach Hollow Farm is hiding something valuable, reporters, researchers, and neighbors arrive in droves. Esme must find a way to understand who has her best interests at heart—especially as the memories of her grandfather begin to slip away.
From acclaimed author Suzanne Crowley, this engaging adventure set on a Texas peach farm is just right for fans of Rebecca Stead and Ann M. Martin.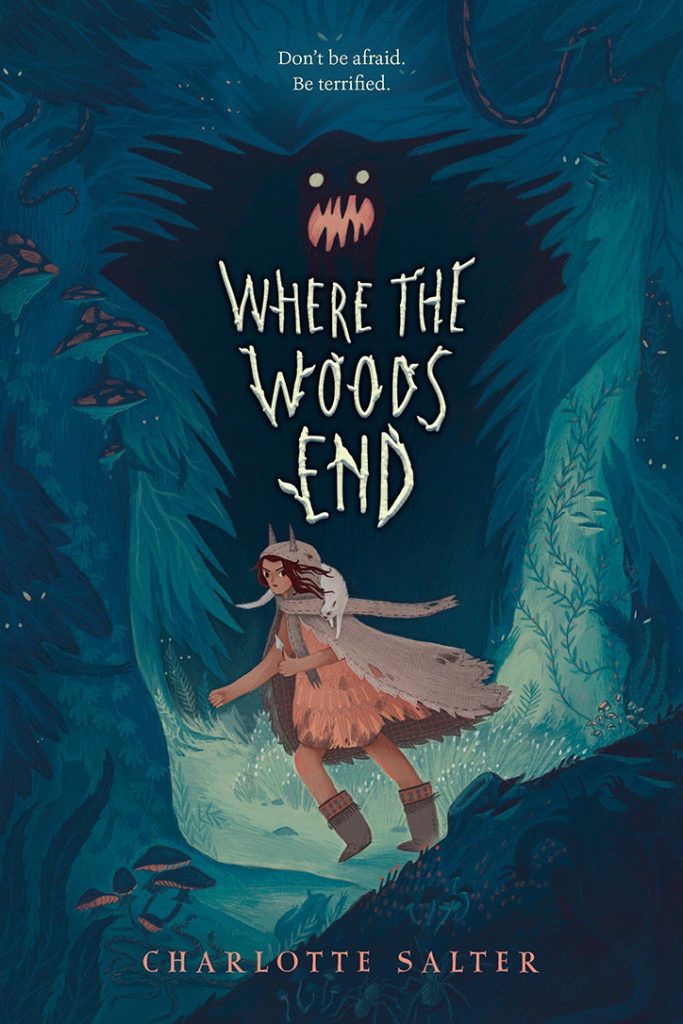 Where the Woods End
Author: Charlotte Salter
Publisher: Dial Books for Young Readers
Date: August 14
SYNOPSIS:
In a forest filled with treacherous beasts, the thing to be most afraid of is closer than you think in this middle grade horror fantasy.
Kestrel, a young huntress, lives in a seemingly endless forest crawling with dangerous beasts. But the most dangerous beasts of all are the Grabbers—beings that are born when you are and stalk you throughout your life, waiting for the perfect moment to snatch and eat you. No one has ever defeated their Grabber once attacked, and those that die from accidents or other creatures are considered "lucky." Kestrel has been tasked by her mother, a powerful and controlling spell-caster, to hunt down the Grabbers in an effort to protect their village in the forest. Accompanied by Pippit, a hilariously bloodthirsty weasel, she hones her skills as she searches for a way out of the forest–and away from the judgmental villagers who despise her. But her own Grabber is creeping ever closer, and nothing in this forest is what it seems… including her mother's true motivations.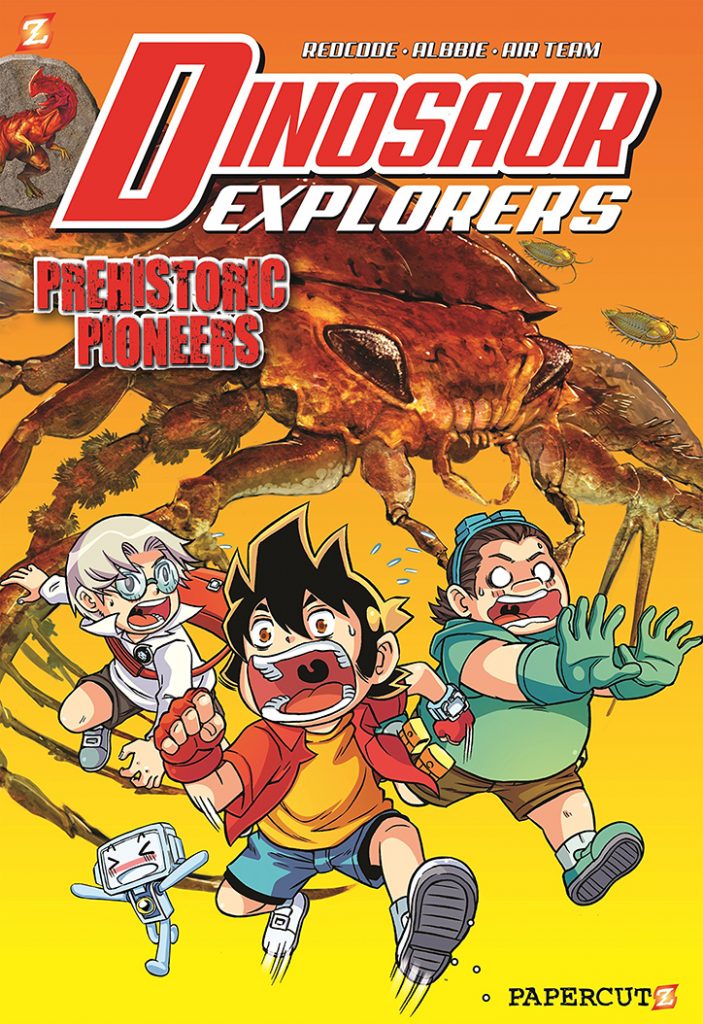 Dinosaur Explorers: Prehistoric Pioneers
Creators: Redcode, NEED THE REST
Publisher: Papercutz
Date: August 14
SYNOPSIS:
Trapped in the Precambrian Era 570 million years ago by an earthquake, the Dinosaur Explorers find themselves in a fix- by needing a bigger fix for their time machine! Under the guidance of Dr. Da Vinci, his assistant, Diana, and Starz, their helpful tiny robot, Rain, Emily, Sean, and Stone must now face the challenge of finding electricity in an era where humans don't exist yet! And to make matters worse, the locals don"t take kindly to the Dinosaur Explorers! Witness all the wonders of our world"s past with these PREHISTORIC PIONEERS!
Volume 2, Puttering in the Paleozoic hits bookstores on August 14th as well, so you can get a double dose of dinosaur fun!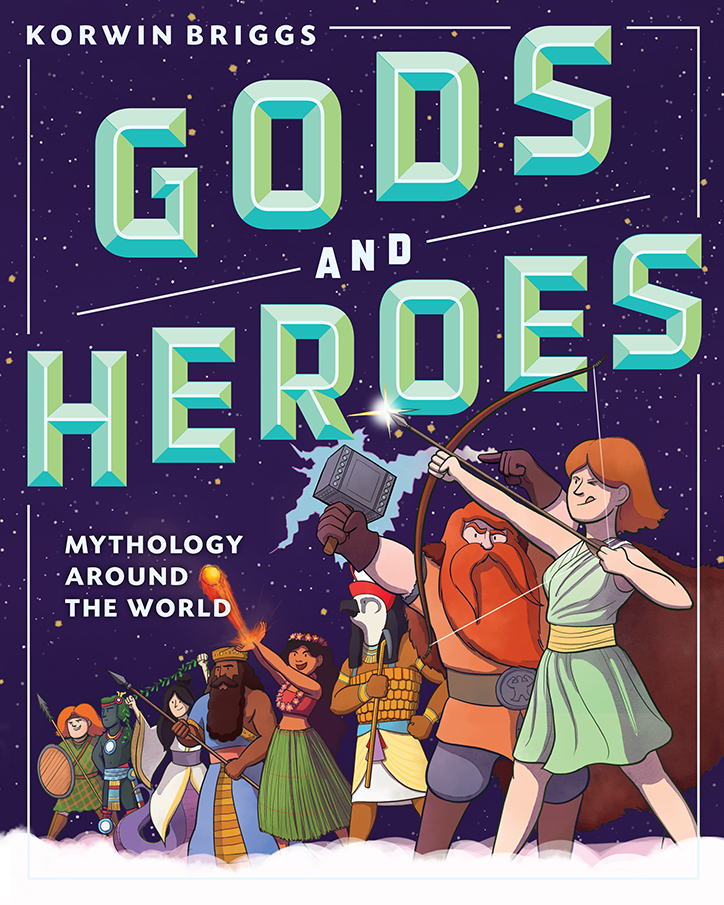 Gods and Heroes: Mythology Around the World
Author: Korwin Briggs
Publisher: Workman Publishing
Date: August 21
YAYOMG!:
We're giving YOU a peek into some of the female goddesses and heroes featured in Gods and Heroes: Mythology Around the World! Be sure to check back on August 21 to get to know more about these incredible ladies and all the other amazing characters, myths, and legends you'll find waiting for you within the pages of this awesome book.
SYNOPSIS:
Meet the Original Superheroes.
Before there was Batman, Wonder Woman, or Black Panther…there was Indra, Hindu king of gods, who battled a fearsome snake to save the world from drought. Athena, the powerful Greek goddess of wisdom who could decide the fate of battles before they even began. Okuninushi, the Japanese hero who defeated eighty brothers to become king and then traded it all for a chance at immortality.
Featuring more than 70 characters from 23 cultures around the world, this A-to-Z encyclopedia of mythology is a who's who of powerful gods and goddesses, warriors and kings, enchanted creatures and earthshaking giants whose stories have been passed down since the beginning of time—and are now given fresh life for a new generation of young readers.
Plus, You'll Learn All About:
Dragons: The Hydra, St. George's Dragon, and the Australian Rainbow Snake
Giants: Grendel, Balor of the Evuil Eye, Polyphemus, and the Purusha with the thousand heads
Monsters: Manticore, Sphinx, Minotaur, Thunderbird, and Echidne, mother of the Nemean lion that nearly killed Heracles
Underworlds: Travel to Hades, Valhalla, and the Elysian Fields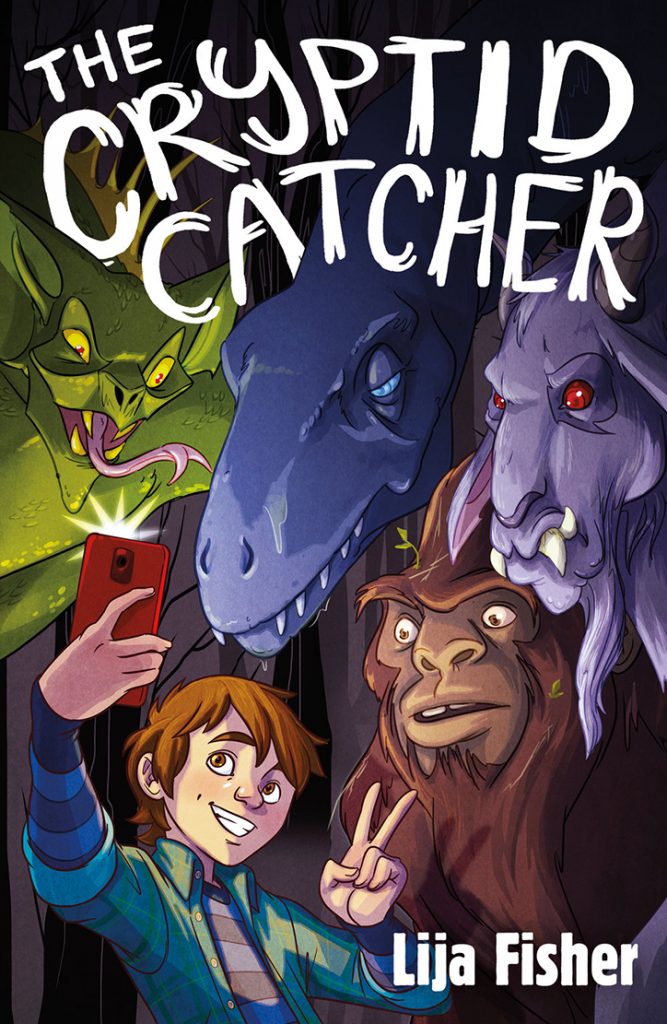 The Cryptid Catcher
Author: Lija Fisher
Publisher: Farrar, Straus, and Giroux
Date: August 21
SYNOPSIS:
The Cryptid Catcher is the first book in a monstrously fun middle-grade duology by Lija Fisher about a boy who inherits a job hunting legendary creatures.
After Clivo Wren's archaeologist father dies mysteriously, the newly orphaned thirteen-year-old finds out the truth: his dad was no archaeologist. He was actually a cryptid catcher, known for finding elusive beasts like the bloodsucking chupacabra. His goal: discover the one extraordinary cryptid whose blood grants immortality—before the knowledge falls into the wrong hands.
The mission remains unfinished, and now there's only one person who can take the renowned cryptid catcher's place: Clivo. He may not know the first thing about monster hunting, but he's willing to give it a try—because anything beats staying home with his salsa-crazy aunt and her neurotic cats.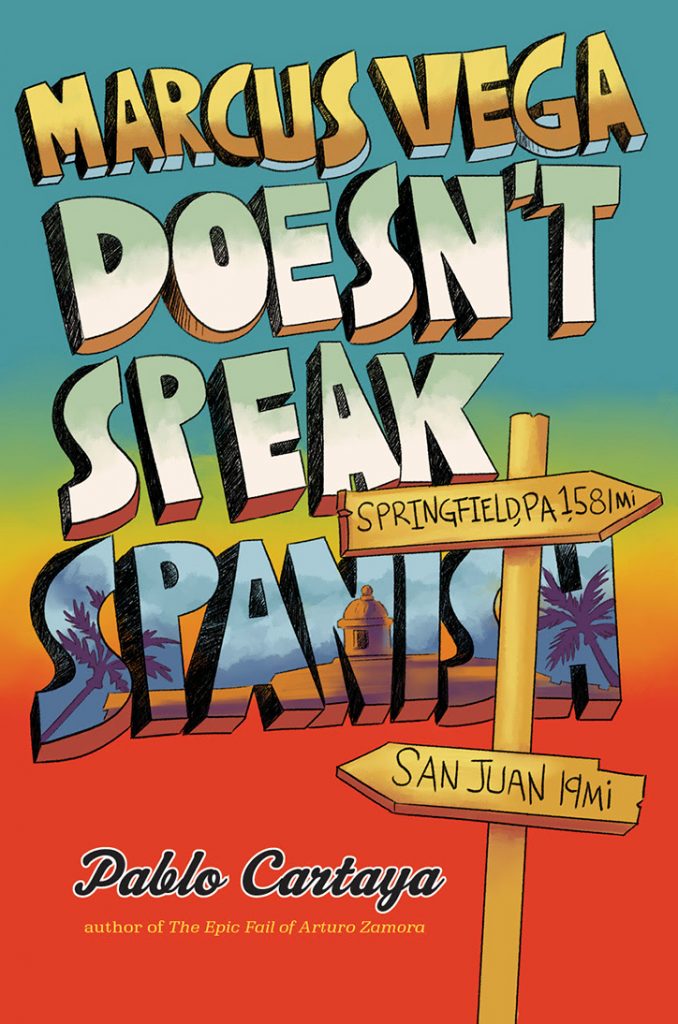 Marcus Vega Doesn't Speak Spanish
Author: Pablo Cartaya
Publisher: Viking Books for Young Readers
Date: August 21
SYNOPSIS:
Marcus Vega is six feet tall, 180 pounds, and the owner of a premature mustache. When you look like this and you're only in the eighth grade, you're both a threat and a target. Marcus knows what classmates and teachers see when they look at him: a monster.
But appearances are deceiving. At home, Marcus is a devoted brother. And he finds ways to earn cash to contribute to his family's rainy day fund. His mom works long hours and his dad walked out ten years ago—someone has to pick up the slack.
After a fight at school leaves him facing suspension, Marcus and his family decide to hit the reset button and regroup for a week in Puerto Rico. Marcus is more interested in finding his father, though, who is somewhere on the island. Through a series of misadventures that take Marcus all over Puerto Rico in search of the elusive Mr. Vega, Marcus meets a colorful cast of characters who show him the many faces of fatherhood. And he even learns a bit of Spanish along the way.
Marcus Vega Doesn't Speak Spanish is a novel about discovering home and identity in uncharted landscapes.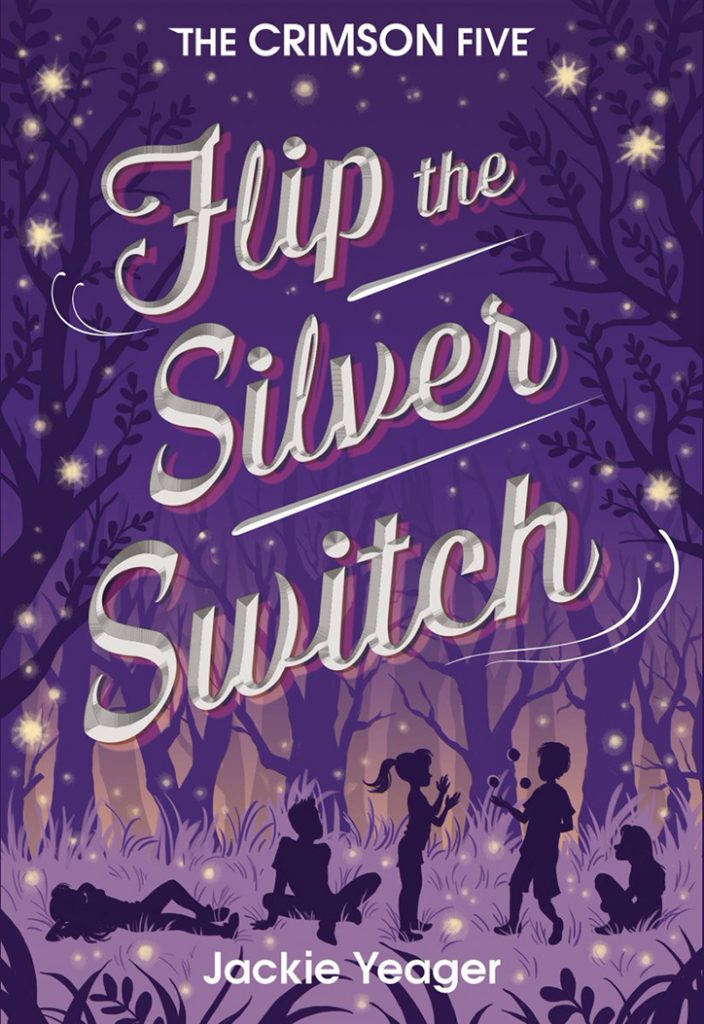 The Crimson Five: Flip the Silver Switch
Author: Jackie Yeager
Publisher: Amberjack Publishing
Date: August 21
SYNOPSIS:
Be Curious. Be Creative. Be Collaborative. Be Colorful. Be Courageous.
Fresh off their summer at Camp Piedmont, The Crimson Five kids are together again, headed for the Piedmont Global Championships. This time, Kia and her New York teammates travel to Quebec where they're challenged to solve a new mind-bending task against 99 international teams. But at the Universite de Creativite, they discover a world where inventions like Thought Translation Machines and Clothes Copiers aren't the only secrets kept.
While Kia, Ander, Mare, Jax, and Jillian attempt to create a life-changing invention in just two weeks, they're faced with information that could alter the course of the Global Championships and force their team out of the competition. With their newfound friendship at stake, they realize that staying in Quebec and solving the Global task will require something more than just skill and imagination.
The team must focus and unite like never before to solve their hardest task yet if they have any chance of winning a coveted spot on the year-long Swirl and Spark Creativity Tour and keeping their team together.
The Crimson Five are together again.
Because sometimes it takes a whole team to help you see things clearly.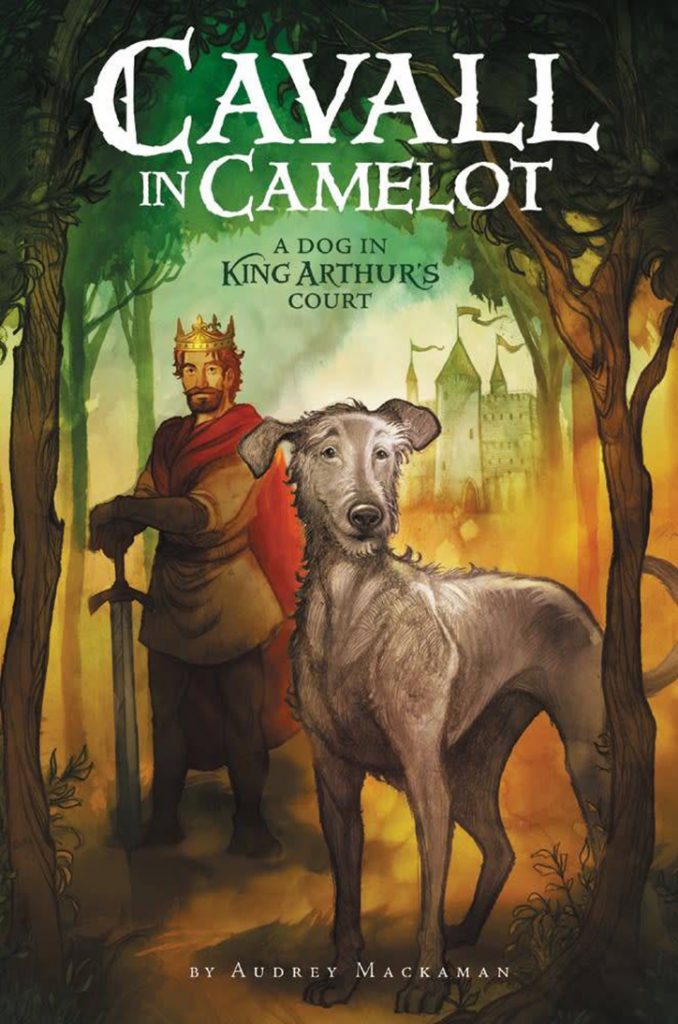 Cavall in Camelot: A Dog in King Arthur's Court
Author: Audrey Mackaman
Publisher: HarperCollins Children's Books
Date: August 21
SYNOPSIS:
From a debut author, this exciting first book in a duology is a classic middle grade adventure set in Camelot, told from the point of view of King Arthur's favorite dog! Perfect for fans of Redwall and Survivors.
Meet Cavall the dog in this classic middle grade adventure set in Camelot, told from the point of view of King Arthur's dog!
When Cavall and his brother Glessic leave the comfort of their simple barn to join the lavish court of Camelot, Cavall wants nothing more than to prove he's a good dog to the great knights and dogs of the castle—especially to King Arthur. But Gless says only the best dogs are worthy of greatness, and Cavall has never been as strong, brave, or fast as his brother.
Meanwhile, malevolent forces lurk in Camelot, and Cavall must figure out how to protect his person. To make matters worse, Arthur's mysterious nightmares are getting worse, threatening to shake his grip on reality and undermine his authority as king. To fight back against the dangers of the dream world, Cavall will need help from some loyal hounds and the enchanting, sometimes frightening creatures that call themselves the fay. He will have to prove that not only can he be a good dog for his person but that he is capable of a greatness all his own.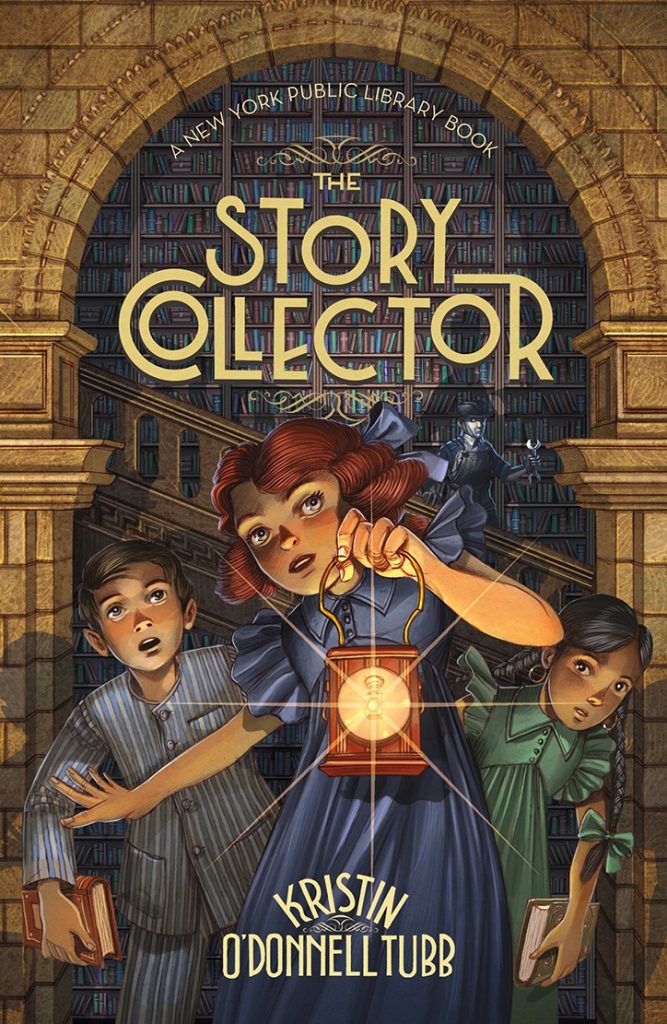 The Story Collector: A New York Public Library Book
Author: Kristin O'Donnell Tubb
Publisher: Henry Holt & Company
Date: August 28
YAYOMG!:
The Story Collector is basically a bookworm's dream come true! Who wouldn't want to have an adventure within the walls of the iconic and historic New York Public Library? Author Kristine O'Donnell Tubb will be dropping by YAYOMG! to share a few Fun Facts about this wonderful book!
SYNOPSIS:
"For every book lover who fantasized about getting locked in the library overnight, The Story Collector is a dream come true!" —New York Times-bestselling author Alan Gratz
The Mixed-Up Files of Mrs. Basil E. Frankweiler meets Harriet the Spy in this middle-grade historical fiction novel inspired by the real life of Viviani Joffre Fedeler, born and raised in the New York Public Library.
Eleven-year-old Viviani Fedeler has spent her whole life in the New York Public Library. She knows every room by heart, except the ones her father keeps locked. When Viviani becomes convinced that the library is haunted, new girl Merit Mubarak makes fun of her. So Viviani decides to play a harmless little prank, roping her older brothers and best friend Eva to help out.
But what begins as a joke quickly gets out of hand, and soon Viviani and her friends have to solve two big mysteries: Is the Library truly haunted? And what happened to the expensive new stamp collection? It's up to Viviani, Eva, and Merit (reluctantly) to findout.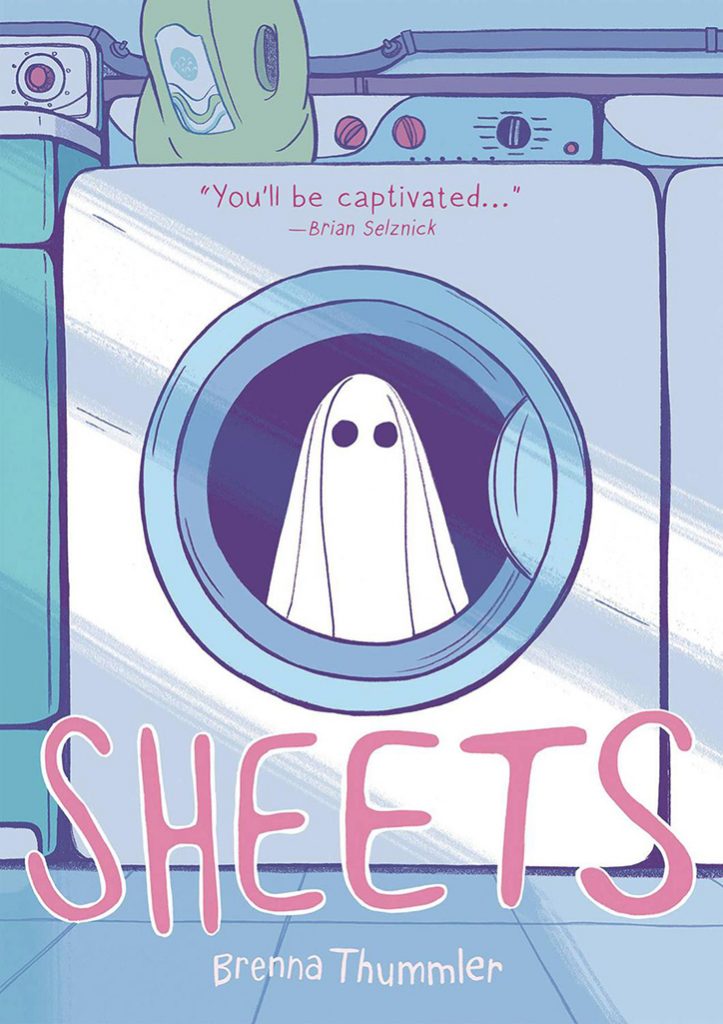 Sheets
Author: Brenna Thummler
Publisher: Lion Forge
Date: August 28
SYNOPSIS:
Marjorie Glatt feels like a ghost. A practical thirteen year old in charge of the family laundry business, her daily routine features unforgiving customers, unbearable P.E. classes, and the fastidious Mr. Saubertuck who is committed to destroying everything she's worked for.
Wendell is a ghost. A boy who lost his life much too young, his daily routine features ineffective death therapy, a sheet-dependent identity, and a dangerous need to seek purpose in the forbidden human world.
When their worlds collide, Marjorie is confronted by unexplainable disasters as Wendell transforms Glatt's Laundry into his midnight playground, appearing as a mere sheet during the day. While Wendell attempts to create a new afterlife for himself, he unknowingly sabotages the life that Marjorie is struggling to maintain.
Sheets illustrates the determination of a young girl to fight, even when all parts of her world seem to be conspiring against her. It proves that second chances are possible whether life feels over or life is over. But above all, it is a story of the forgiveness and unlikely friendship that can only transpire inside a haunted laundromat.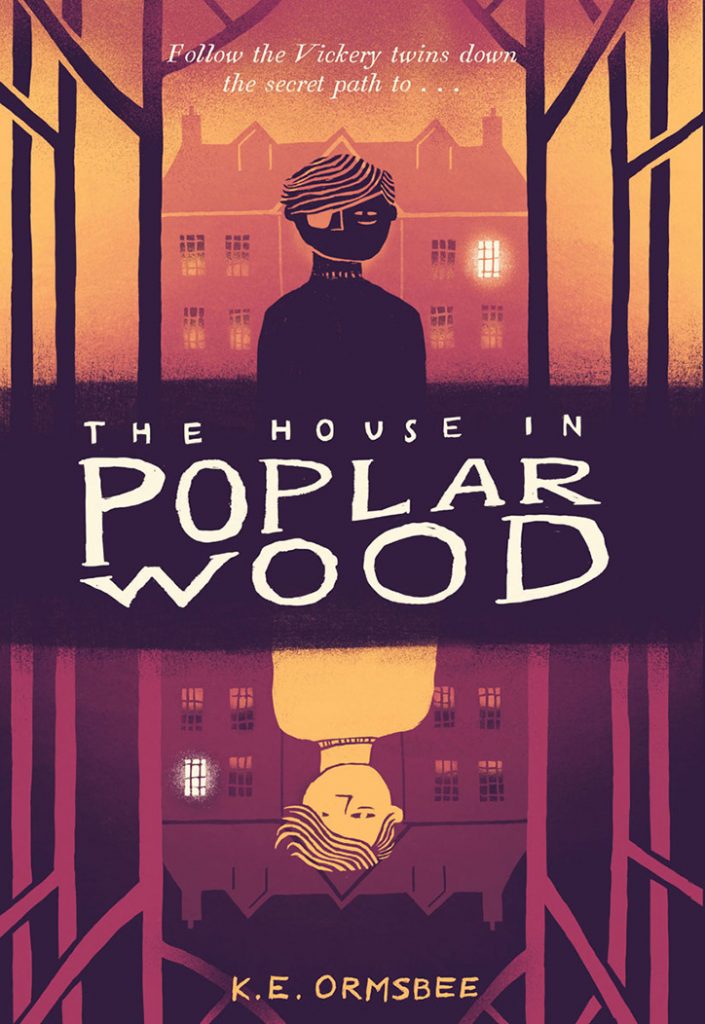 The House in Poplar Wood
Author: K.E. Ormsbee
Publisher: Chronicle Books
Date: August 28
SYNOPSIS:
For as long as the Vickery twins can remember, they've only ever been able to leave the house together once a year, on Halloween. The rest of the year, Lee and his mother serve Memory, while Felix and his father assist Death. This is the Agreement.
But one Halloween, Gretchen Whipple smashes her way into their lives. Her bargain is simple: If the twins help her solve the murder of local girl Essie Hasting, she'll help them break the Agreement. The more the three investigate, however, the more they realize that something's gone terribly wrong in their town. Death is on the loose, and if history repeats itself, Essie's might not be the last murder in Poplar Wood.
Simultaneously heartwarming and delightfully spooky, The House in Poplar Wood is the story about a boy's desire to be free, a girl's desire to make a difference, and a family's desire to be together again.

Wonderland: A Novel
Author: Barbara O'Connor
Publisher: Farrar, Straus, and Giroux
Date: August 28
SYNOPSIS:
From Barbara O'Connor, the beloved author of Wish, comes a big-hearted story about the meaning of friendship, the challenges of growing up, and one lovable runaway dog.
Mavis Jeeter is fearless and bold, but she has never lived in one place long enough to have a real best friend. Her flighty mother has uprooted them again to another new home and taken a job as a housekeeper for the Tully family. Mavis wants this home to be permanent—which means finding herself a best friend.
Rose Tully is a worrier who feels like she doesn't quite fit in with the other girls in her neighborhood. Her closest friend is Mr. Duffy, but he hasn't been himself since his dog died. Rose may have to break a few of her mother's many rules to help Mr. Duffy—and find someone who really understands her.
Henry has run away from home, but he craves kindness and comfort—and doesn't know where to look for them.
When Mavis and Rose hatch a scheme to find Mr. Duffy a new dog, their lives and Henry's intersect—and they all come to find friendship in places they never expected.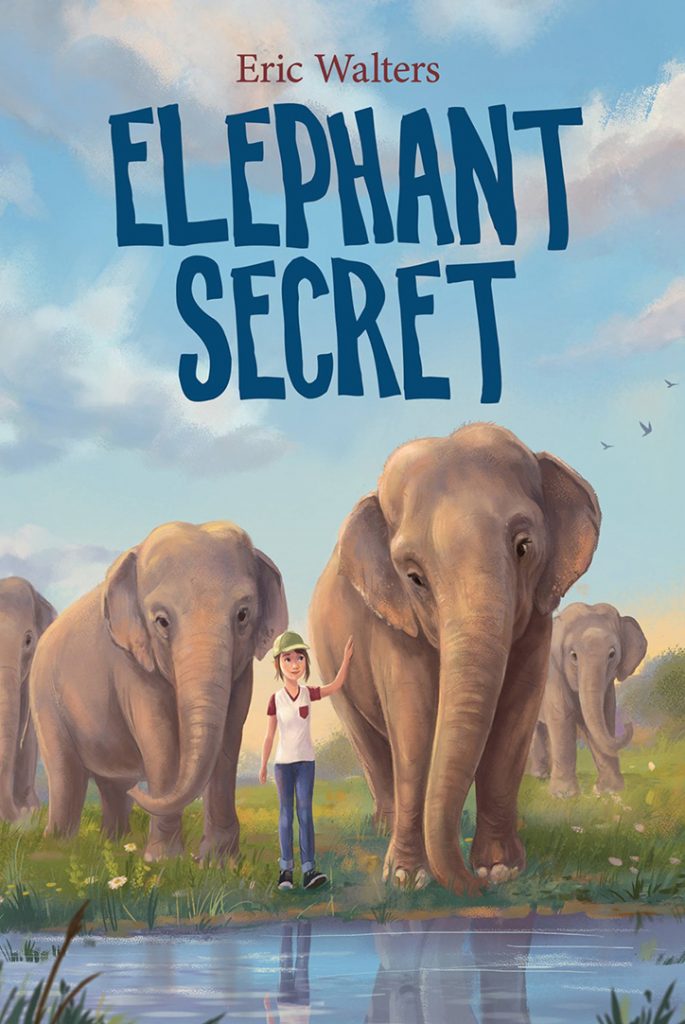 Elephant Secret
Author: Eric Walters
Publisher: Clarion Books
Date: August 28
SYNOPSIS:
We Bought a Zoo meets Jurassic Park in a gripping story featuring the evergreen appeal of human-animal friendships and set in an elephant sanctuary, about a thirteen-year-old girl, a cast of elephants, and a surprising new arrival—a woolly mammoth.
Sam was born and raised in an elephant sanctuary. When a beloved elephant dies giving birth, Sam develops a connection with baby Woolly—who isn't actually an elephant but was cloned from woolly mammoth DNA. And the billionaire genius behind the cloning experiment will stop at nothing to protect his investment. Smart, determined, and loving, Sam stands up to this powerful adversary to protect the sanctuary and her herd. In the best tradition of child-animal friendship stories, Elephant Secret explores the strong and complex bond between Sam and her elephants while offering a fascinating, authentic glimpse into elephant—and human—behavior.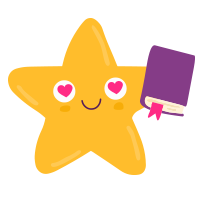 If you're like us and can never have enough books, check out our July YAYBOOKS! Roundup for even more amazing reads!