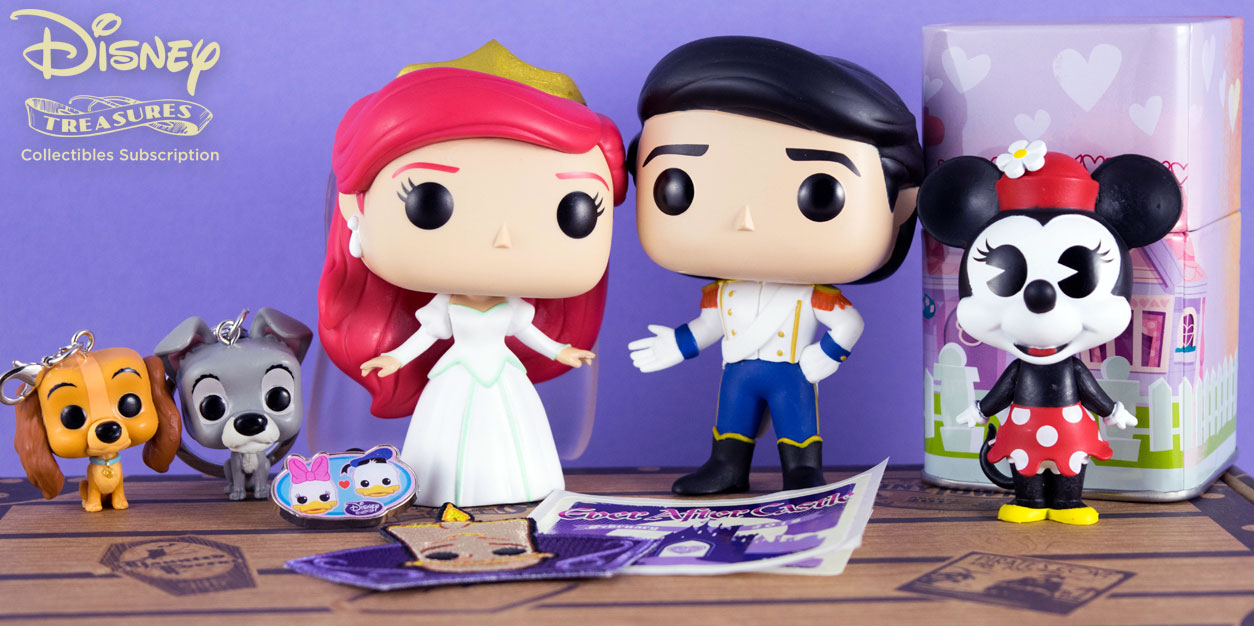 Celebrate Timeless Disney Romances with the Disney Treasures: Ever After Castle Box
It seems like just yesterday we were telling you all about the brand new Funko Disney Treasures subscription, and here we are unboxing the second to last box! It's been one seriously magical toy-centric adventure, but it's time to find out what Ever After Castle has to offer. This box celebrates the many Disney romances throughout history.
Since we've reached the end of this year's journey, there isn't an X marking the next location on the map of the inside of the box. Speaking of maps, there was no treasure map included in this box either. We really looked forward to those maps because they featured lots of concept designs, Disney facts, and behind the scenes info about how Funko and Disney worked together to create all of these great items. Ever After Castle was meant to be the final box of the first year, but Funko recently announced that the subscription will be coming to an end – sort of. Thankfully, the journey isn't entirely over! Funko Disney Treasures sets sail again this April for one final box. (More on that below.) Before we get ahead of ourselves dreaming about what's to come, let's take a look at what subscribers received in the Ever After Castle box.
Funko Disney Treasures Ever After Castle Unboxing: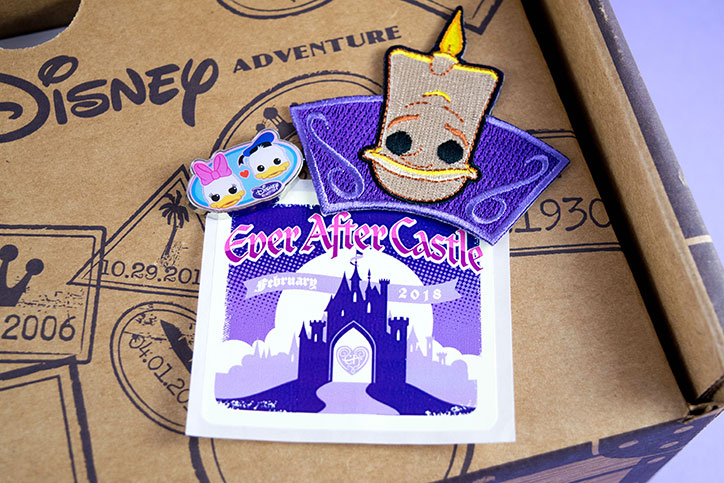 Lumiere Patch, Donald and Daisy Pin, and Ever After Castle Sticker:
The final patch, pin, and sticker of the year! Is there anyone in the Disney universe who believes in love more than Lumiere? If it wasn't for him leading Cogsworth, Fifi, and the rest of the castle staff to get them together, Belle and the Beast might not have ever seen their Happily Ever After. His patch is hands-down our favorite from the first year of this subscription. The Donald and Daisy pin is super cute as well!
When the subscription began, Funko mentioned that a larger, final patch would be shipping with the last box that would fit in the middle of all the other patches. They didn't include these items in our box, but they just announced that these items will ship out within a month of your annual renewal date, so anyone who's a subscriber should receive their items soon. This special patch was intended to be bigger than the rest and fit in the middle if you laid the other patches around it as a frame. There is also supposed to be another exclusive item for Pioneer subscribers (people who signed up for the annual plan starting with the very first box). We'll definitely snap a pic for our Instagram when we receive these items so you can see them.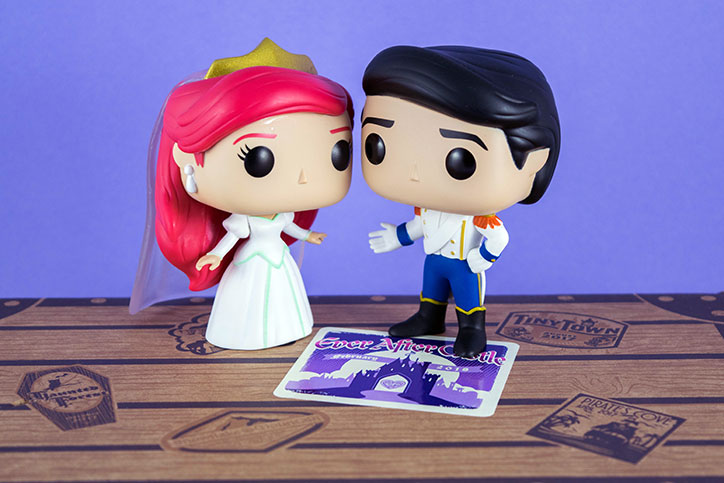 Ariel and Eric POP! Vinyl 2-Pack:
YOU GUYS. After years and years of fans begging for these POP! figures, they finally exist! Ariel in her wedding dress! Prince Eric looking all dapper in his tuxedo. Together. IN ONE BOX. How amazing are these?! Ariel has always been one of our favorite Disney Princesses, but it wasn't until we opened these figures that it really hit us – Ariel is a DOUBLE PRINCESS.
Think about it: She's the daughter of King Triton, aka a princess down under the sea. Then she marries Prince Eric, making her princess to…where does Prince Eric rule over, anyway? (Besides our hearts)? Double Princess all the way!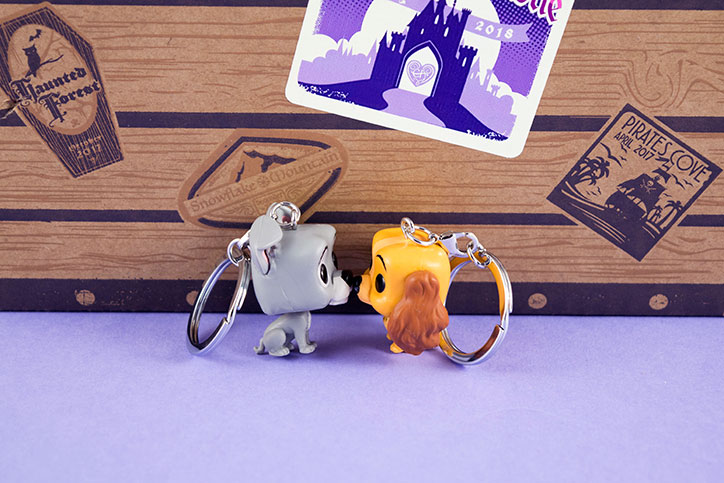 Lady and the Tramp Pocket POP! Keychains 2-Pack:
Sometimes while unboxing and snapping pics, we'll make notes to ourselves to remember when we're writing everything up. The note we jotted down for the Lady and the Tramp keychains pretty much says it all: "THEY HAVE MAGNETIC NOSES SO THEY CAN SMOOCH!" Gift one of these keychains to your crush, your best friend, or just keep them both for yourself because you're worth it.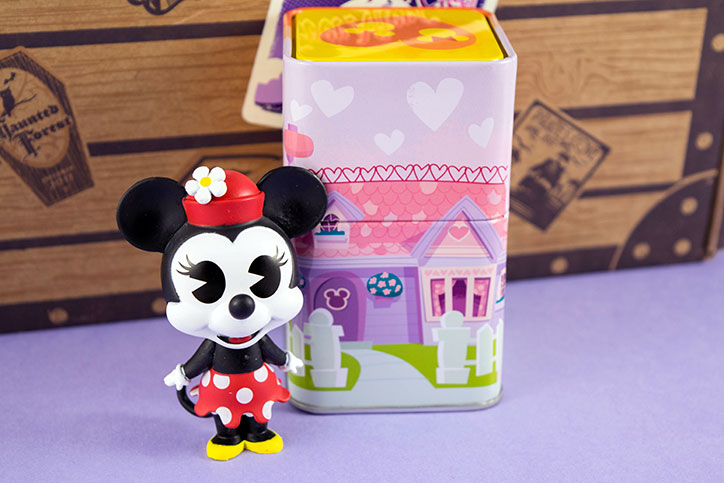 Minnie Mouse Mystery Mini and Collectible Tin:
On the outside, this Mini Tin features beautiful artwork of Mickey and Minnie's houses from Toontown inside the Disney Parks. Inside you'll find a seriously adorable Minnie Mouse figure. A mini Minnie!
Overall we really loved the first year of this subscription and will definitely be picking up the upcoming boxes after they make the switch to retail. One thing on our wishlist? More Pixar. Disney has a vast library of beloved characters both old a new to choose from on it's own, but adding in more of the Disney/Pixar universe would make us very happy. With Coco winning a million awards and Incredibles 2 on the way, there's a pretty good chance of seeing some of these characters brought to life as Disney Treasures exclusives. It would also be amazing to see a box of loveable Disney sidekicks because there's just so many!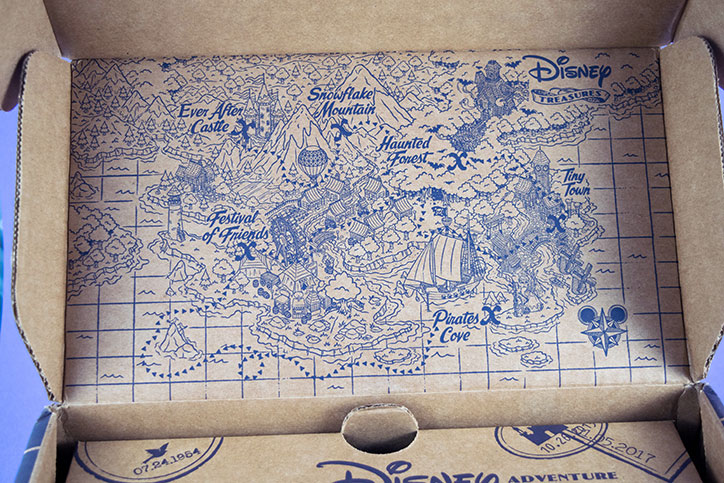 So – more on the big announcement. Funko announced that they will be discontinuing Disney Treasures as a subscription service. Instead, they're partnering with a currently un-announced retailer to make the boxes available in stores. Keep an eye on the Funko blog or their social accounts for this announcement. Funko has done a bunch of great Disney exclusives with Hot Topic, including the new Disney Diamond Collection, so that's our guess as to who might be picking up this box. We're sure they'll announce it soon!
There is one more box shipping out in April. According to the website, the theme is Adventures and will contain "Heroic and beloved characters from epic Disney adventures delivered to your door." Usually by now, Funko has released a preview video or at least a silhouette image of the upcoming POP!, but no such luck yet. This box is a one-off, and only past and current Disney Treasures subscribers are eligible to purchase it. We ordered ours, and we'll have an unboxing for you guys when it arrives this April. So excited to see what's inside!
Looking for the perfect subscription box to sign up for? Here are a few of our favorites.