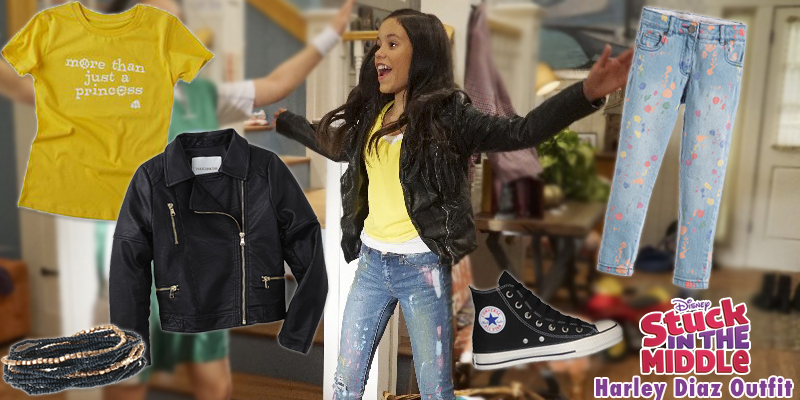 Stuck in the Middle Style Series: Harley Diaz Outfit
Stuck in the Middle finally premieres tonight, and in typical Disney Channel fashion, the outfits on the show are totally on point. (Honestly, has there ever been a Disney Channel show that didn't have you wishing you could jump through the screen and go rolling around the wardrobe closet?) Stuck in the Middle stars Harley Diaz, the middle child struggling to find her place in her super big family. Having 6 siblings isn't exactly easy, but being an engineering rockstar, inventor extraordinaire, and overall totally awesome chick, Harley finds unique and interesting ways to keep her family together, stand out from her brothers and sisters, and make her 13 year old life the best it can be.
Harley totally kicks butt, and that's why she's the first up in our Stuck in the Middle Style Series! Here's how you can put together a Harley Diaz outfit of your own.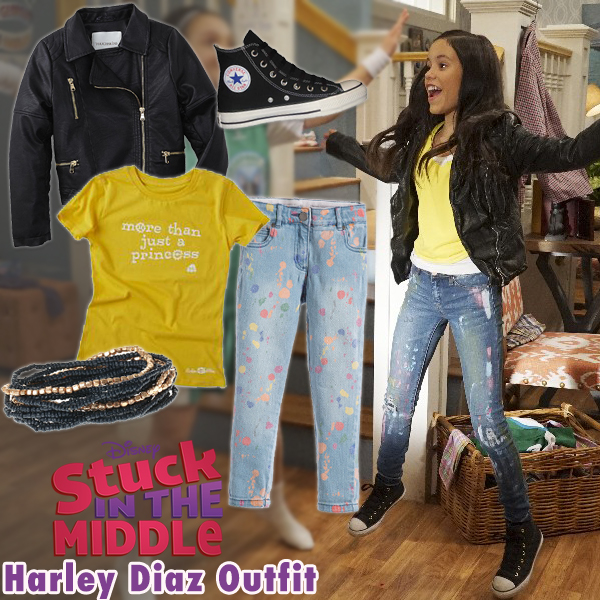 Harley is creative, cool, and like the rest of us – just trying to get by. Being the middle child isn't easy, but she's learned how to use her creative spirit and fun inventions to spice up her life and stand out in her family. Despite being full of hand me downs, Harley's wardrobe is actually pretty rad. She's equal parts girly and funky, and she manages to let her personality totally shine through. For our lookbook, we recreated Harley's first episode outfit. To get Harley's style, you'll need some awesome paint splattered jeans, some high top converse, and a leather jacket. Add in a brightly colored tee or tank (we chose a Goldie Blox tee, since their "More than Just a Princess" message totally fits Harley's life as a female inventor), and you're ready to take on everything from your big science project to your big, crazy family!

For more ideas on how to rock a
Harley Diaz outfit
, check out the gallery above. We picked lots of awesome tops, bottoms, accessories, and shoes that we think
Harley
would totally wear. From robot necklaces to plaid jeans to bright colors – we've got you covered! Stay tuned for the rest of our
Stuck in the Middle
style series, coming soon! For more style inspiration, check out our other lookbooks by clicking
here!