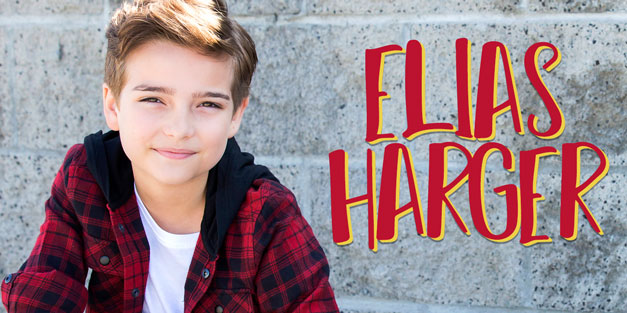 Elias Harger Shares What it's Like to Work on Fuller House
If you're a fan of Fuller House, you probably recognize Elias Harger as Max Fuller, one of DJ Tanner-Fuller's three sons. Like his character Max, Elias is totally adorable, beaming with energy, and always making people laugh. He's very accomplished for his 10 years, landing a huge role as one of the most beloved new characters in the Full House universe, but he's also a typical 10-year-old kid who just loves to have fun.
Elias graciously chatted with YAYOMG! about what it's like to work alongside the Tanner family, what he likes to do for fun, and the super cool way he spent his 10th birthday.
Get to Know Elias Harger:
What is it like to work alongside the iconic Tanner family on Fuller House?
ELIAS HARGER: It's a lot of fun getting to see the family dynamics between the legacy cast. You can really tell they all have real affection for each other. It was easy for me to join this family because everyone is so welcoming and sweet.
What is your favorite thing about working on the show?
ELIAS: It's very hard to list one favorite thing, but if I had to choose, I would say that a lot of time it doesn't even feel like work because we have so much fun together.
Do you have anything in common with your character Max?
ELIAS: Yes. In many ways Max and I have similar personality traits. We are both very energetic and imaginative, and we both have 'Uni' as our favorite stuffed animal. One thing that's really nice about Max is he's a very relatable character.
When you're not busy on set, what do you like to do for fun?
ELIAS: I like to build Legos and watch Stranger Things. I also like writing my own stories, playing piano, swimming and skiing. I spend a lot of time playing with my brother and sister, too.
Aside from acting, do you have any dreams or goals for the future?
ELIAS: I feel very fortunate to have done as much as I have in my life at only 10-years-old. I hope that whatever the future brings, I continue to do the things I love.
You recently turned 10! (October 22) How did you celebrate the big day?
ELIAS: My family surprised me with a trip to the Magic Castle. The Magic Castle is the home of an exclusive club for magicians, where they can go to practice their crafts. We saw magic shows and ate a really nice dinner.
What is something you are really good at? What's something you're not so good at that you'd like to improve?
ELIAS: I am an artistic person, and I love to build things with my hands. So far, my creations have been mostly made out of cardboard, but I'd like to learn how to do woodworking. I like to write stories and draw pictures, too. I'm not the greatest cook, so I'd like to improve on that.
Can't wait to see Elias come to life as Max Fuller once again? There's not much longer to wait!
Fuller House returns to Netflix on December 22nd, just in time for a holiday break binge-sesh! We're looking forward to see how the rest of season 3 plays out, but we're even more excited for more adorable Max and Rose moments.
Get to know even more of your favorite celebrities by reading our other interviews. Click here!
Photo Credit: Leslie Bryce, @eliasharger