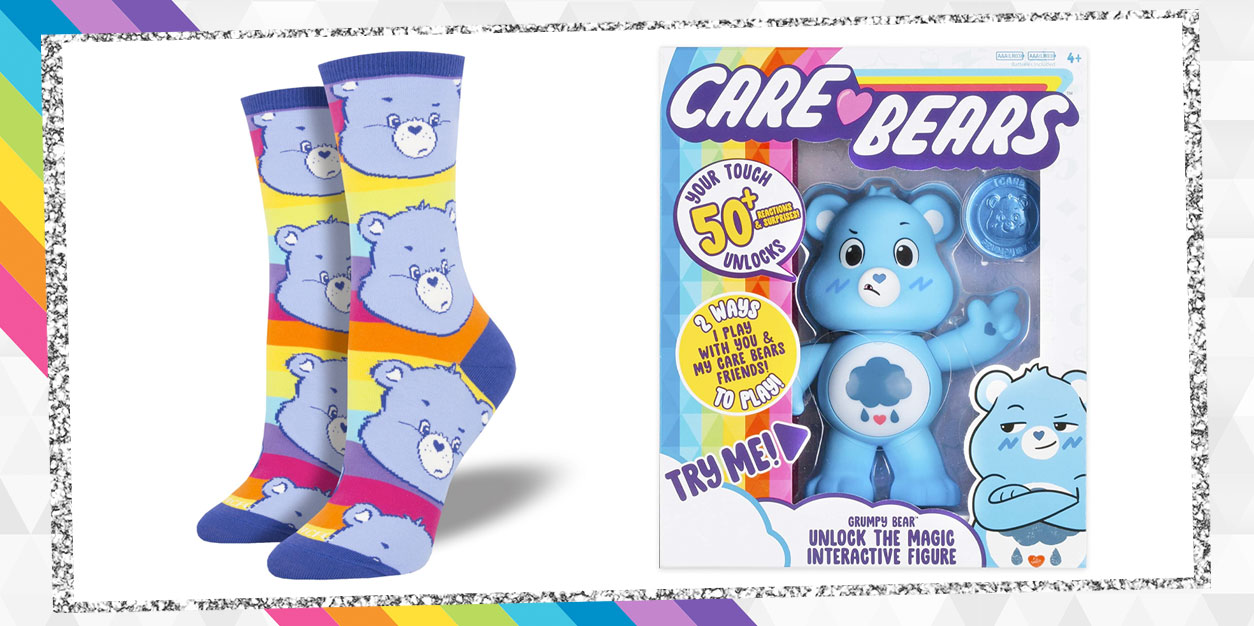 Turn Your Frown Upside Down With This Exclusive Grumpy Bear Box GIVEAWAY!
NOTE: We teamed up with Basic Fun for this Care Bears Bear of the Month Giveaway as a part of their #CareOutLoud campaign. Each month Basic Fun creates an exclusive Bear of the Month influencer box filled with super cute Care Bears products. All opinions are our own; we were under no obligation to give a positive review. Giveaway prizes provided by Basic Fun.
Grumpy Bear is the star of this month's Care Bears Bear of the Month Box giveaway, and he's here to help you embrace all of your moods – even your bad ones!
Grumpy Bear is the team mechanic and builder of the Cloudseeker. Even though he's a worrywart and sometimes a little grumpy, he actually has a really big heart that he loves to share with all his pals!
Want to win this super cute stash of Care Bears stuff? We partnered with Basic Fun to give away one of their EXCLUSIVE Bear of the Month boxes each month! These boxes are typically reserved for toy influencers and unboxers, but we're giving YOU a chance to win! Want to enter? Have an adult fill out the form below!
Care Bears Bear of the Month – Grumpy Bear: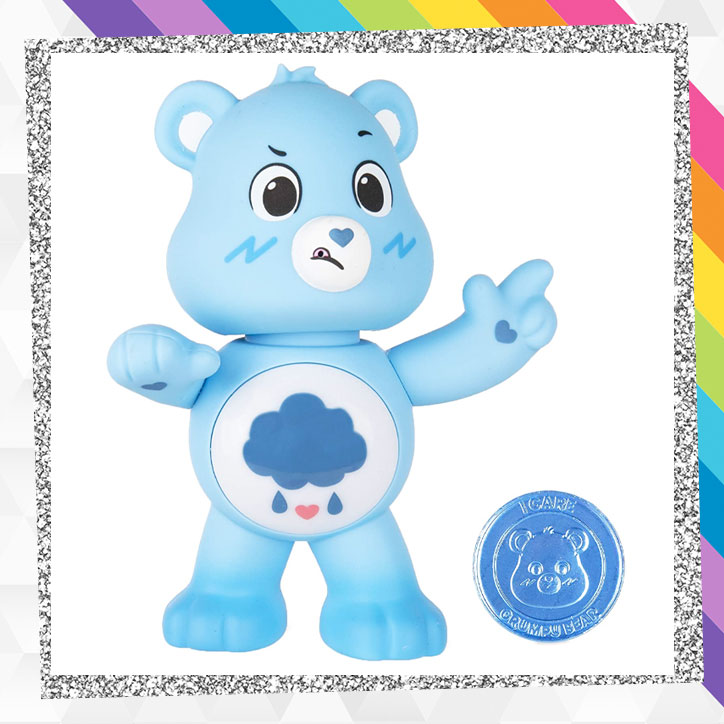 Grumpy Bear Unlock the Magic Interactive Figure:
Care Bears are all about friendship, and these interactive figures are the cutest way to play with your favorite characters!
When you're feeling blue, bond with Grumpy Bear one-on-one by touching his nose, paws, and belly to unlock the magic and over 50 reactions and surprises. Each Care Bears figure can sing songs, tell funny jokes, share their feelings, and even ask for high fives – they're sure to turn your frown upside down!
If you have one of the six other Care Bears figures, they can all interact with each other, so you'll definitely want to bring the squad together for a group hang!
Each of these vibrant toys comes with a colorful Care Coin for collecting and sharing. They're a perfect way to show a friend how much you care or keep them as a reminder to always spread kindness wherever you go!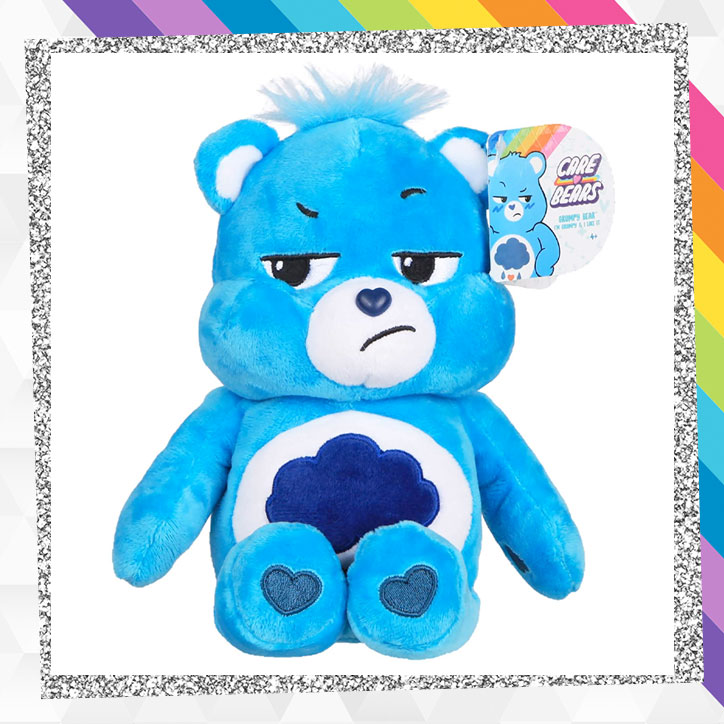 Grumpy Bear Bean Plush:
These colorful plush are the perfect way to collect all your Care Bears favs! Grumpy Bear will be there after a rough day to accept all of your snuggles and remind you that it's okay to feel grumpy, sad, or mad sometimes. Feel those feels!
Express yourself by collecting the ones that best represent YOU! Their optimism and good vibes are sure to bring smiles wherever you go! Each Care Bear has a unique belly badge that represents their personality.
Can't decide which one you like best? Collect them all for a rainbow of friendship, positivity, and caring!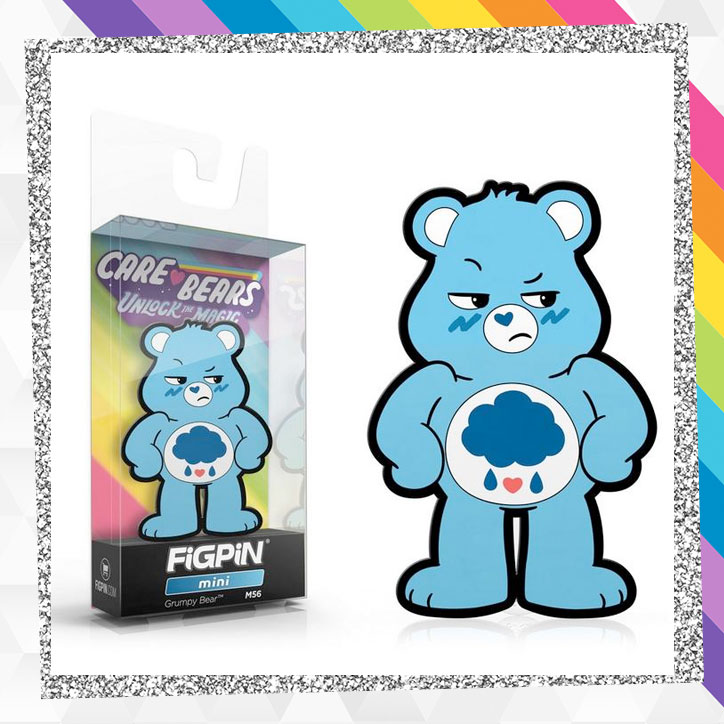 Grumpy Bear FiGPiN Mini:
FiGPiNs are one of our favorite things to collect! They're part enamel pin, part collectible figure, and they've teamed up with Care Bears for a collection of adorable FiGPiN Minis!
Wear your care by pinning Grumpy Bear on your backpack or jacket, or use the stand to display your collection on your shelf. Use them to express your mood and show the world exactly how you're feeling!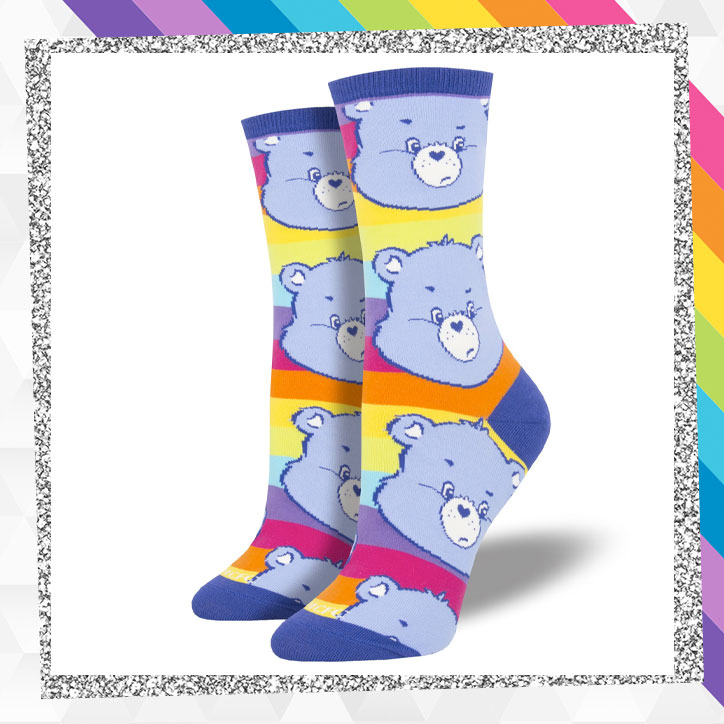 Care Bears Grumpy Bear Socks:
When you're feeling down, nothing feels better than getting comfy in your favorite pajamas and indulging in a bit of self-care. Snuggle up in these Grumpy Bear socks to add even more coziness to your at home spa-day, binge-watch marathon, or baking sesh. These colorful socks feature the vintage style Grumpy Bear so you can rock retro vibes for #ThrowbackThursday.
There are lots of other super cute styles to collect, so you can rock a different Care Bear each day of the week!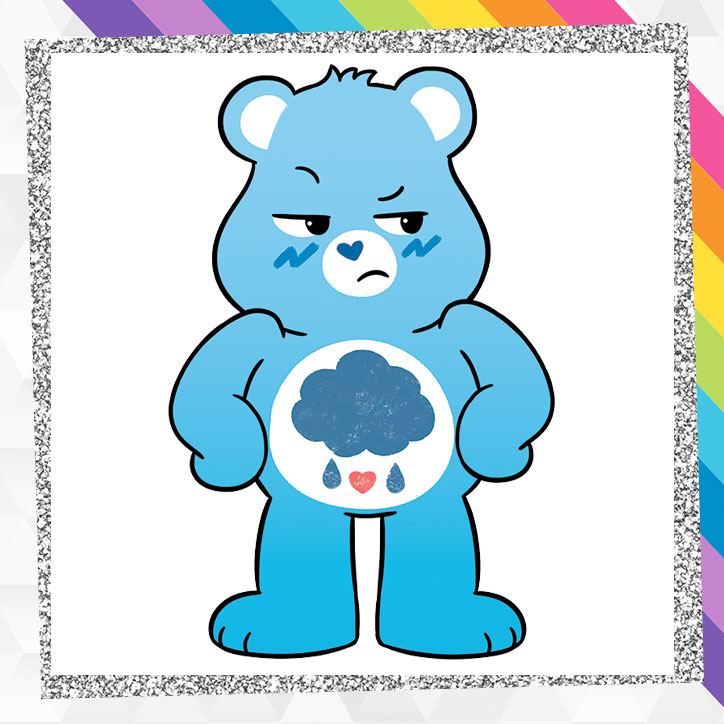 Adorable Extras:
In addition to all the awesome stuff we mentioned above, Basic Fun has included some extra adorable swag in this Bear of the Month box to help you tap into your love of all things Care Bears!
You'll find a Grumpy Bear pin, three extra Care Coins and three colorful Care Bears envelopes so that you can share your care with your besties! You'll also get an exclusive first look at a super cute Grumpy Bear hat that can't be found in stores yet!
Care Bears Bear of the Month Giveaway – Grumpy Bear: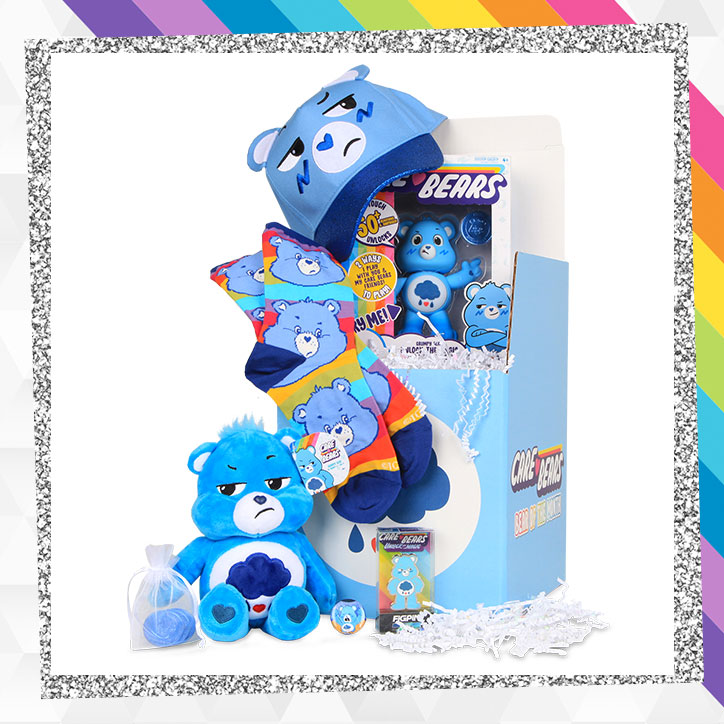 WHAT DO I WIN?:
ONE lucky winner will receive a Care Bears Bear of the Month Box that includes:
– ONE (1) Care Bears Interactive Figure (Grumpy Bear)
– ONE (1) Care Bears Bean Plush (Grumpy Bear)
– ONE (1) Care Bears: Unlock the Magic FiGPiN (Grumpy Bear)
– ONE (1) Pair of Care Bears Grumpy Bear Socks
– ONE (1) Grumpy Bear Hat
– A few fun extras: Three (3) Care Coins, and three (3) pre-stamped envelopes, and a Grumpy Bear pin
*Prizes generously provided by Basic Fun!
HOW DO I ENTER?:
Grab a parent or guardian and have them fill out the form below by December 7, 2020 at 11:59pm ET.
Giveaway runs from 11/30/20 at 12:00 pm ET through 12/07/20 at 11:59 pm. Open to US residents ONLY. Be sure to read the fully detailed rules HERE before entering.
THIS GIVEAWAY HAS ENDED AND THE WINNER HAS BEEN CONTACTED.
You must be 18 or older to enter. Please, only ONE entry per person. If selected as a winner, we will provide your parent/guardian with an affidavit to confirm that you are a valid winner who has permission to win. They will be REQUIRED to sign and return the affidavit to YAYOMG! to claim your prize. Prizes will not be mailed out without signed parental consent.
Looking for even more free stuff? Head on over to our Holly Jolly Giveaways where we're giving away a new prize pack every single day until December 4th!