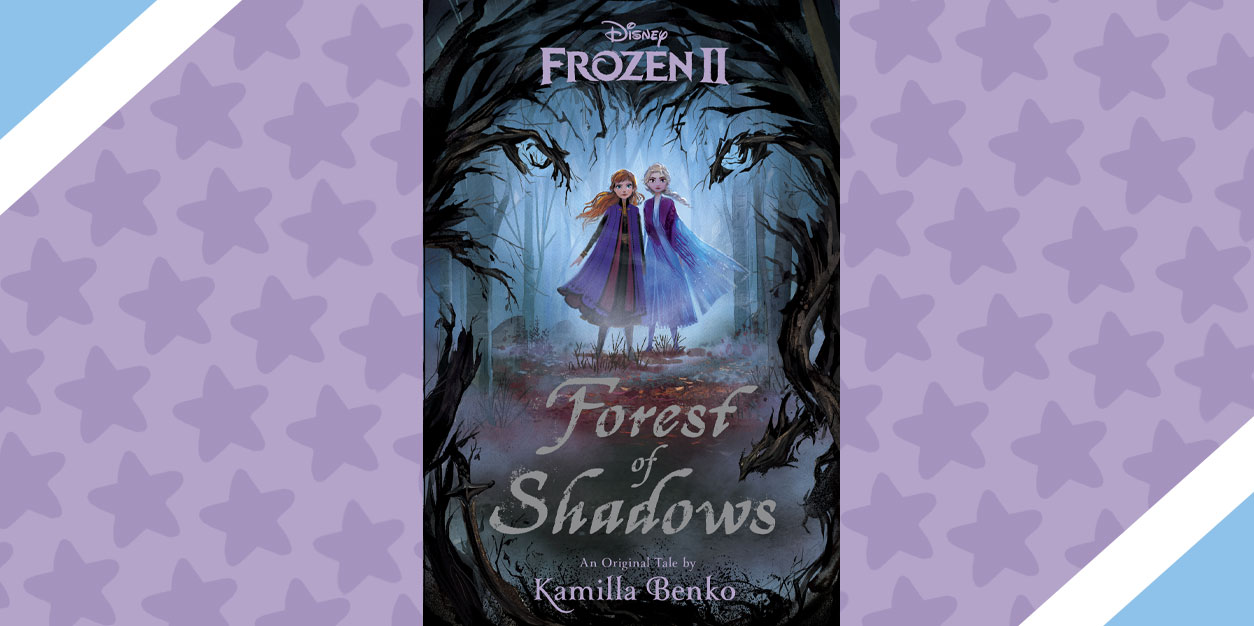 Frozen 2: Forest of Shadows Interview with Author Kamilla Benko
If you're like us, you've probably seen Frozen about a million times, and are impatiently awaiting the arrival of Frozen 2 on Digital and Blu-Ray next month. What could possibly be more magical than re-living the excitement, adventure, and sisterly love over and over again? How about a brand new story, revealing what really went down between Frozen and Frozen 2? In Frozen 2: Forest of Shadows, author Kamilla Benko takes readers back to Arendelle for a brand new adventure!
Picking up about a month before the events of Frozen 2, things aren't quite as magical as you might expect. While their sisterly bond may be everlasting, the girls have drifted apart a bit. Elsa's duties as Queen have kept her extremely busy, and Anna is left feeling a bit insecure, hoping to reconnect and prove herself to her older sister. As Elsa is about to set sail for a journey around the world, a mysterious sickness comes over Arendelle, leaving both the people and animals in a deep sleep. Anna knows this is her time to show Elsa that she can step in and help out – but after a spell gone wrong brings a dark dream to reality, will these strong sisters be able to save the day?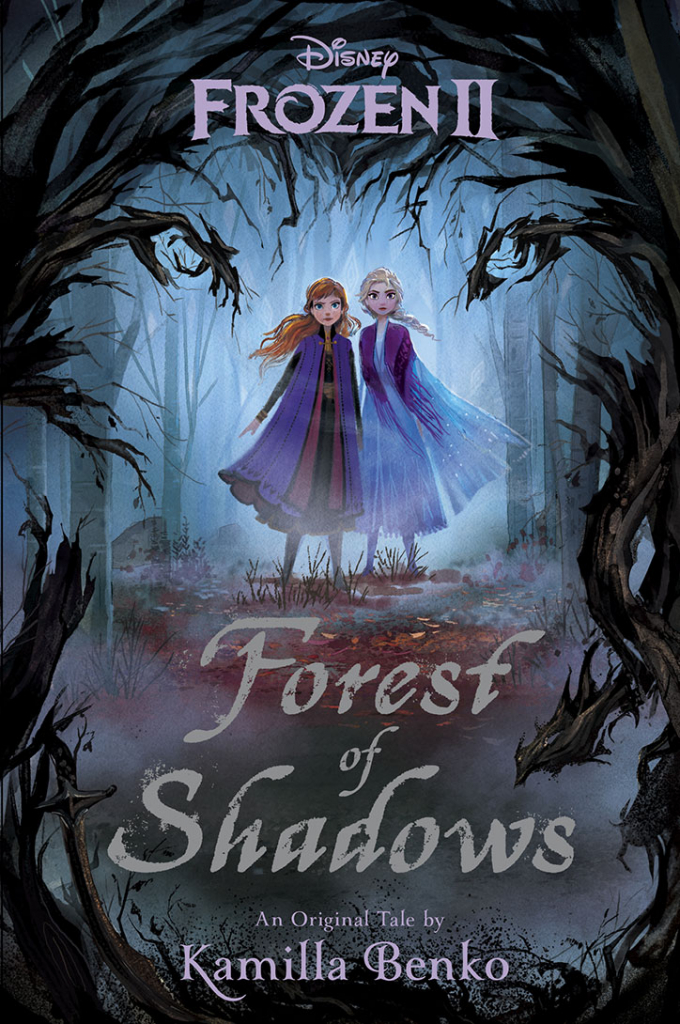 Anna of Arendelle wants nothing more than to be helpful to her older sister, Elsa. But as far as Anna can see, ever since Elsa's coronation, her sister has been doing just fine without her. And now, Elsa will be setting sail for a grand tour of the world–leaving Anna behind. But a mysterious sickness strikes Arendelle, and Elsa's tour is delayed, giving Anna the perfect opportunity to finally help. When Anna discovers a secret room in the castle and incants a magic spell, she hopes it will make her dream of curing the sickness come true. Instead, a more sinister dream comes to life.
An original middle grade novel bridging the epic adventure of Frozen with the upcoming Walt Disney Animation Studios film Frozen 2.
Frozen 2: Forest of Shadows
AUTHOR: Kamilla Benko
ILLUSTRATOR: Grace Lee
PUBLISHER: Disney Press
DATE: October 4, 2019
Frozen 2: Forest of Shadows is as alluring and heartwarming as the films, bringing the story to life in a whole new way. There are secrets to uncover, new characters to meet, and of course, the familiarity of all the characters you've grown to love. It's an action-packed adventure from start to finish, filled with courage, magic, and even a bit of darkness. We think it's an absolute MUST READ for all Frozen fans looking to spend some time back in the enchanting and mysterious depths of Arendelle.
We had the pleasure of chatting with author Kamilla Benko about what it was like to write within the world of Frozen, why she loves writing fantasy stories, and her advice for aspiring young authors! In need of a copy?
Kamilla Benko on Frozen 2: Forest of Shadows: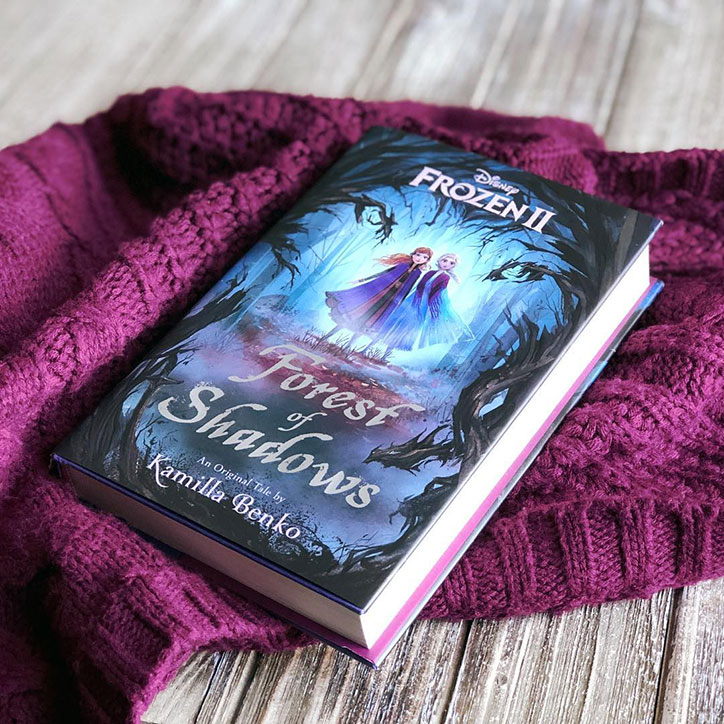 Tell us a little about Frozen 2: Forest of Shadows and what readers can expect from the story.

KAMILLA BENKO: I'd be delighted! Forest of Shadows is a 'midquel' story and takes place about three years after Frozen and one month before Frozen II.

It's a special glimpse into the sisters' world, and what Arendelle looks like under Queen Elsa's reign and how Anna feels about the kingdom, her sister, and herself. Anna's childhood of family secrets and separation had a huge impact on her, and this story delves into that. Readers can expect a lot Easter eggs, an expanded history of Arendelle, never-before-revealed character backstories, and, of course, lots and lots of ice and magic!
If you had to select one quote from Forest of Shadows to dazzle a potential reader to pick up your book, which one would you choose?

KAMILLA: "Our love is worthy of the great myths. Us, the royal sisters of Arendelle."
What was it like getting to play around in the Frozen universe?

KAMILLA: An absolute dream! I absolutely love the sisters and their world, so when I was invited to write a new tale about Anna and Elsa, I wanted to do these incredible characters justice. I researched a ton of Scandinavian myths, folklore and sagas, and listened to many interviews by the actors to get the voices just right. I was always in great hands, though, because there was a lot of collaboration between the publishing and filmmaking sides as I wrote this book. It was really special to be able to ask the directors and producers for their feedback on Forest of Shadows and to have direct access to their character insights.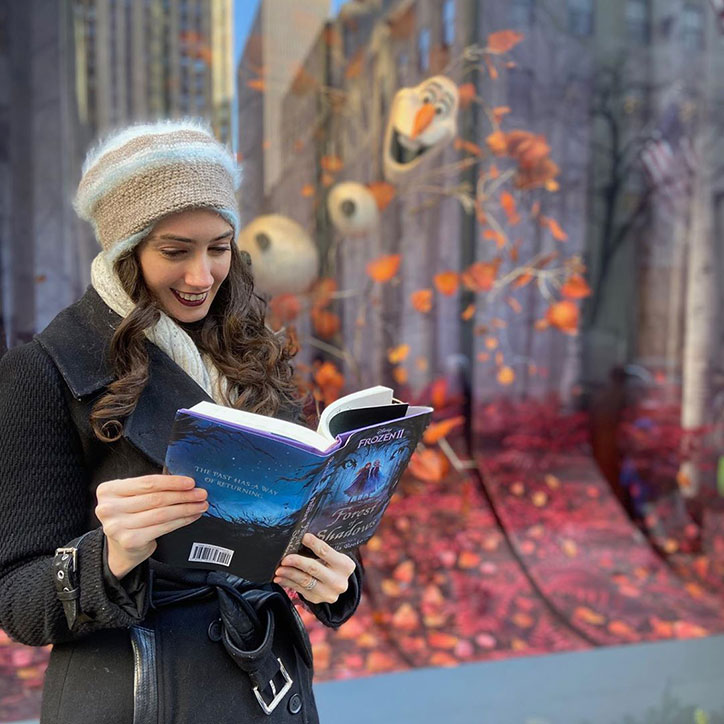 Do you have a favorite song from the films?

KAMILLA: I have many favorites, but I think my favorite, favorite, is Do You Want to Build a Snowman? I love it because the song encapsulates the sisters' deep love and care for each other, even when separated by doors and years and secrets.
You also write the enchanting Unicorn Quest series. What do you love most about writing such magical fantasy stories?

KAMILLA: In fantasy, everything — the mistakes, the consequences, the villains, the danger — is always more. This means you can magnify real world fears to an extreme, and it's always easier to catch details when something is bigger. In this way, fantasy stories are a safe place to explore your deepest fears and learn how to conquer them. And while the fear might be greater in a fantasy book, so too is the joy, the wonder, and the victory.
What are a few of your favorite middle grade reads?

KAMILLA: I have so many! If you're looking for magic in our world, read Love Sugar Magic: A Dash of Trouble by Anna Meriano, which is about a family of five sisters who run a magical bakery. If you want something adventurous and thrilling, I recommend Tracey Baptiste's The Jumbies, featuring Caribbean mermaids. And last but not least, if you want to escape to another world entirely, read The Princess Academy by Shannon Hale, a fairy tale-esque story about a girl determined to change her world for the better.
Tell us a little bit about how you write your books. Do you have a favorite place to write, a special writing snack, etc?

KAMILLA: I write my books everywhere! In my apartment, in the park, in cafes, in museums, in airports and on trains . . . basically anywhere I can bring a laptop is a place I write. I try very hard not to need anything special — like a cup of coffee or a specific candle — in order to work, because I know I would become like Goldilocks and start making excuses for why I can't write possibly write today.

That said, I really love to write with music in the background, but it has to be instrumental or sung in a language I don't speak, because if I'm not careful, I'll accidently type down the lyrics. (And yes, I always use a laptop, because my handwriting is bad, I sometimes can't read it later!)
What is the most rewarding part of being an author? What is the most challenging?

KAMILLA: The most rewarding part is when readers reach out to say that they understood exactly what I meant by some description or feeling — because they've had that exact thought or feeling, too. It makes the whole world a little cozier and me feel a little less alone. The most challenging part is starting! There's nothing more intimidating than a blank page with nothing on it.
What advice can you share with aspiring young authors?

KAMILLA: Read! Read and read and read. Read everything and anything, from nonfiction to science fiction to fantasy to biography. When you feed your brain lots of information, it will start combining and connecting all these new ideas into even newer ideas — ideas that only you can write.

Also, if you don't like reading, trying listening to a book instead! That absolutely counts, and it's really helpful in learning the rhythm of a sentence. When I write something, I always read it out loud to make sure it sounds right.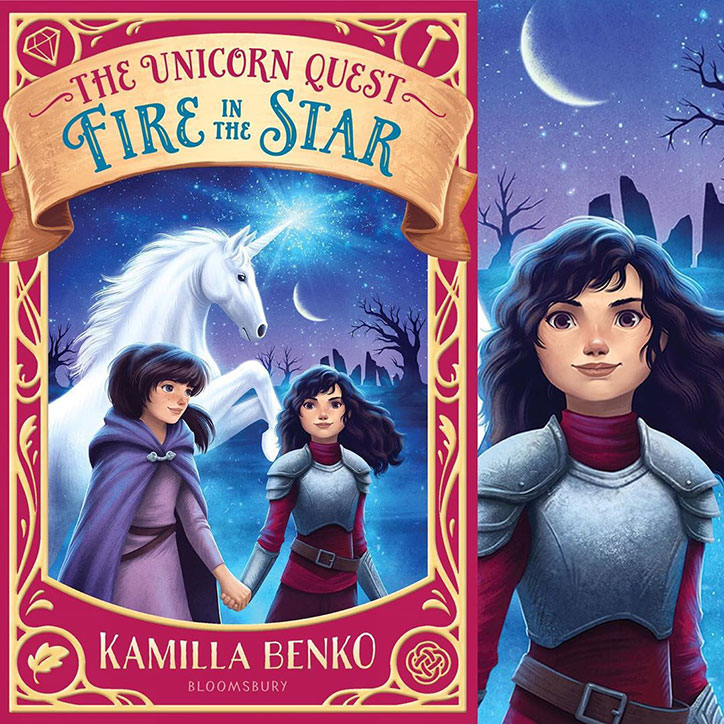 My next book, The Unicorn Quest: Fire in the Star comes out February 18, 2020! It's the third book in an epic adventure about sisters, a world where all magic is done through art, and, of course, unicorns! I have two upcoming events:
Sunday, February 16, 2020
Unicorn Quest: Fire in the Star Launch Party
3pm @ McNally Jackson – Seaport
4 Fulton St, New York, NY 10038
Saturday, March 7, 2020
Southwest Florida Reading Festival
10am – 4pm @ Fort Myers Regional Library Campus
2450 First St, Fort Myers, FL
Love reading stories set within your favorite worlds? We think you'll love Diana: Princess of the Amazons, a new graphic novel about what life was like for Wonder Woman growing up!