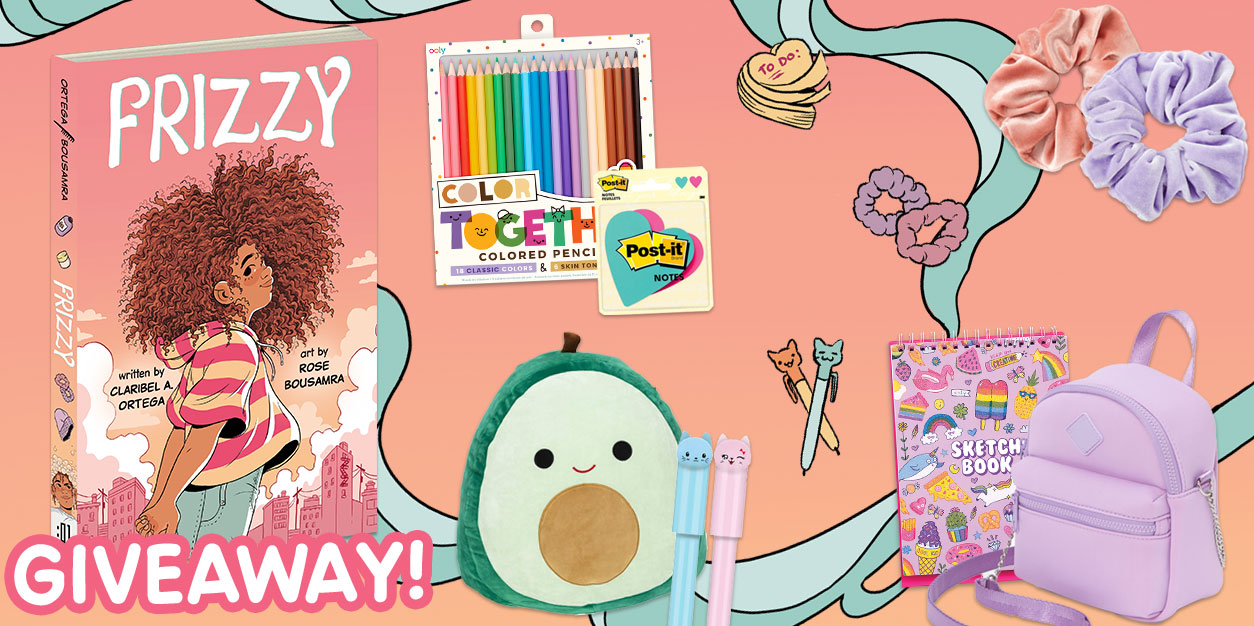 Embrace Your Curly Hair Power in Frizzy + GIVEAWAY!
NOTE: This post is sponsored by Macmillan.
Marlene would love nothing more than to spend her Sundays curled up in her comfiest avocado pajamas, doodling away in her sketchbook or hanging out with her BFF Camila. It's the weekend after all – aren't weekends supposed to be fun and relaxing?
In Frizzy, the new graphic novel from Claribel A. Ortega and Rose Bousamra, Sundays are Marlene's most dreaded day of the week. Every week her mom drags her to the salon for a wash day to have her curly hair cleaned and straightened so she can "look her best," but Marlene would rather be anywhere else. It takes hours of treatments (and pain) to tame her hair, and she doesn't understand why her curls don't seem to be good enough. From the women at the salon to her Dominican family members, it seems like everyone always sides with her mom about how her hair should be, leaving Marlene wondering if they're right.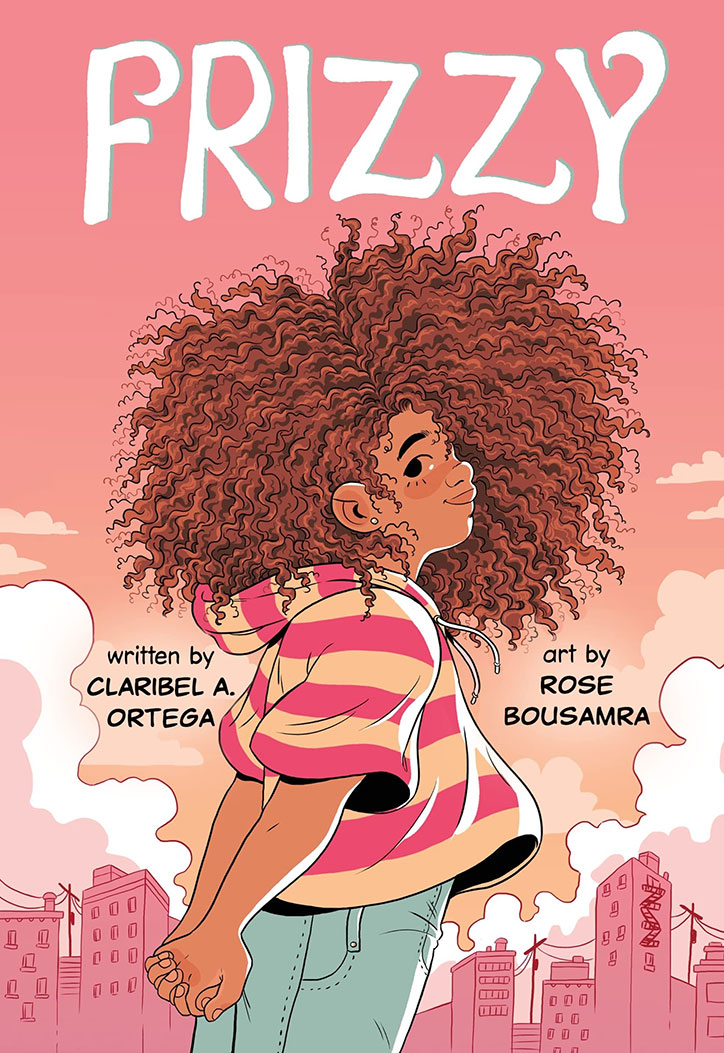 A middle grade graphic novel about Marlene, a young girl who stops straightening her hair and embraces her natural curls.
Marlene loves three things: books, her cool Tía Ruby and hanging out with her best friend Camila. But according to her mother, Paola, the only thing she needs to focus on is school and "growing up." That means straightening her hair every weekend so she could have "presentable", "good hair".
But Marlene hates being in the salon and doesn't understand why her curls are not considered pretty by those around her. With a few hiccups, a dash of embarrassment, and the much-needed help of Camila and Tia Ruby—she slowly starts a journey to learn to appreciate and proudly wear her curly hair.
Frizzy
AUTHOR: Claribel A. Ortega
ILLUSTRATOR: Rose Bousamra
PUBLISHER: First Second
DATE: October 18, 2022
Inspired by a convo with Camila and a tutorial by a beauty YouTuber, Marlene decides to take control and show her mom once and for all that her hair isn't just good enough, it's a part of who she is and she's proud of her curls. When her plan backfires in a big way and her mom gets mad, she feels stuck. How can she explain how she feels when it seems like it always causes an argument? Thankfully, an eye-opening afternoon with her cool Tía Ruby changes everything, and Marlene begins her journey to embrace her natural hair and show the world who she truly is!
Marlene loves her curls, but she's more than just her hair – she's also smart, a talented artist, a gamer, and a loyal bestie! Want to get to know her better? Thanks to our friends at Macmillan, we're giving you a sneak peek into this amazing, relatable read and what Marlene keeps stashed in her backpack.
Now that you know all about Marlene, we're helping you twin with her in the best way! We teamed up with our besties at Macmillan for a fantastic Frizzy giveaway! ONE lucky winner will receive a copy of the book and a prize pack inspired by the items in Marlene's backpack.
Ready to enter? Grab your favorite adult and have them enter below for your chance to WIN!
Frizzy Giveaway: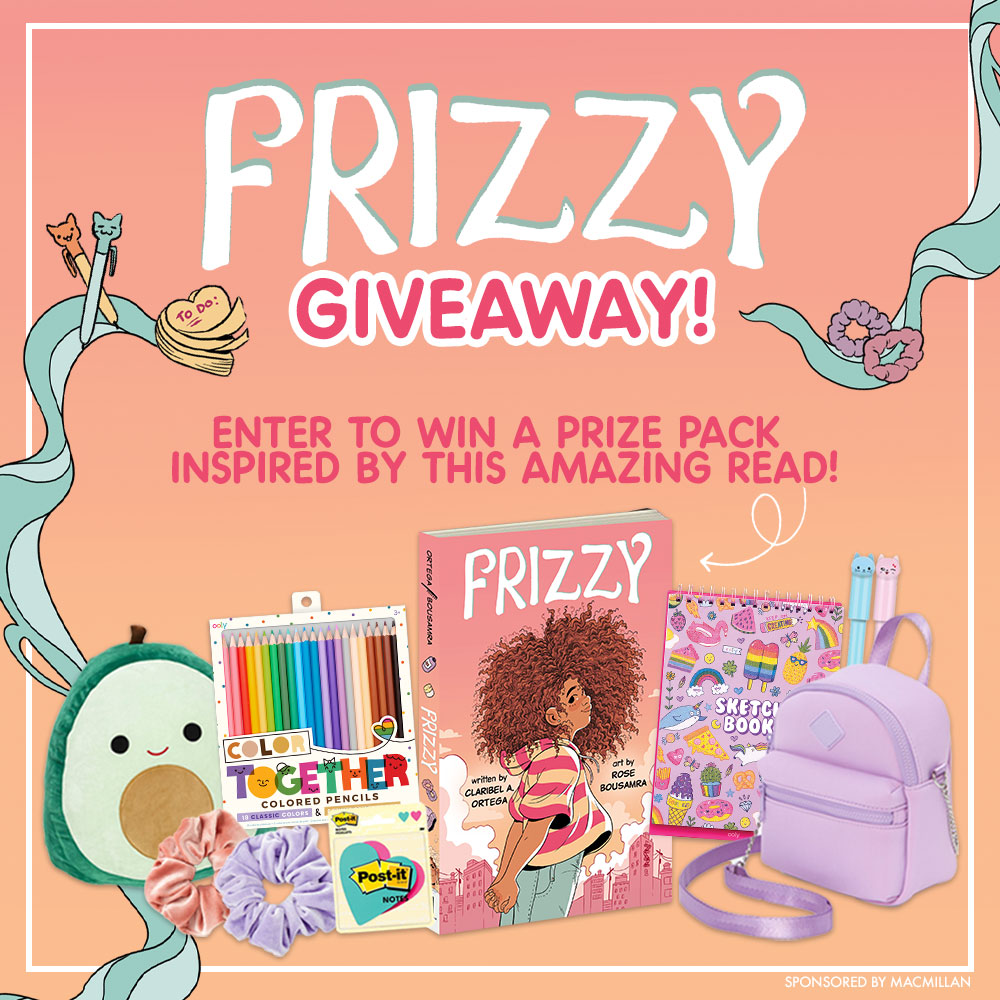 WHAT DO I WIN?:
ONE (1) lucky winner will receive a Frizzy Prize Pack that includes:
– ONE (1) copy of Frizzy by Claribel A. Ortega & Rose Bousamra
– TWO (2) Medium Velvet Hair Scrunchies (Periwinkle & Blush) from Claire's
– ONE (1) Mini Backpack Crossbody Bag (Lavender) from Claire's
– ONE (1) pack of Heart Shaped Sticky Notes from Post-It
– ONE (1) set of Colors Together Colored Pencils (24 pack) from OOLY
– ONE (1) Sketch & Show Standing Sketchbook from OOLY
– ONE (1) pack of Cat Gel Pens (12 pack)
– ONE (1) Austin the Avocado Squishmallow from Kellytoy
*Prizes provided by Macmillan and YAYOMG!
HOW DO I ENTER?:
Grab a parent or guardian and have them fill out the form below by November 18, 2022 at 11:59pm ET.
Giveaway runs from 10/18/22 at 10:00 am ET through 11/18/22 at 11:59 pm. Open to US residents ONLY. Be sure to read the fully detailed rules HERE before entering.
THIS GIVEAWAY HAS ENDED AND THE WINNER HAS BEEN CONTACTED.
You must be 18 or older to enter. Please, only ONE entry per person. If selected as a winner, we will provide your parent/guardian with an affidavit to confirm that you are a valid winner who has permission to win. They will be REQUIRED to sign and return the affidavit to YAYOMG! to claim your prize. Prizes will not be mailed out without signed parental consent.
Discover more Frizzy fun:
✨ Need a little advice? We're dishing on the life lessons we learned while reading Frizzy! CLICK HERE!
? Ready to get reading? Frizzy is now available from Macmillan.