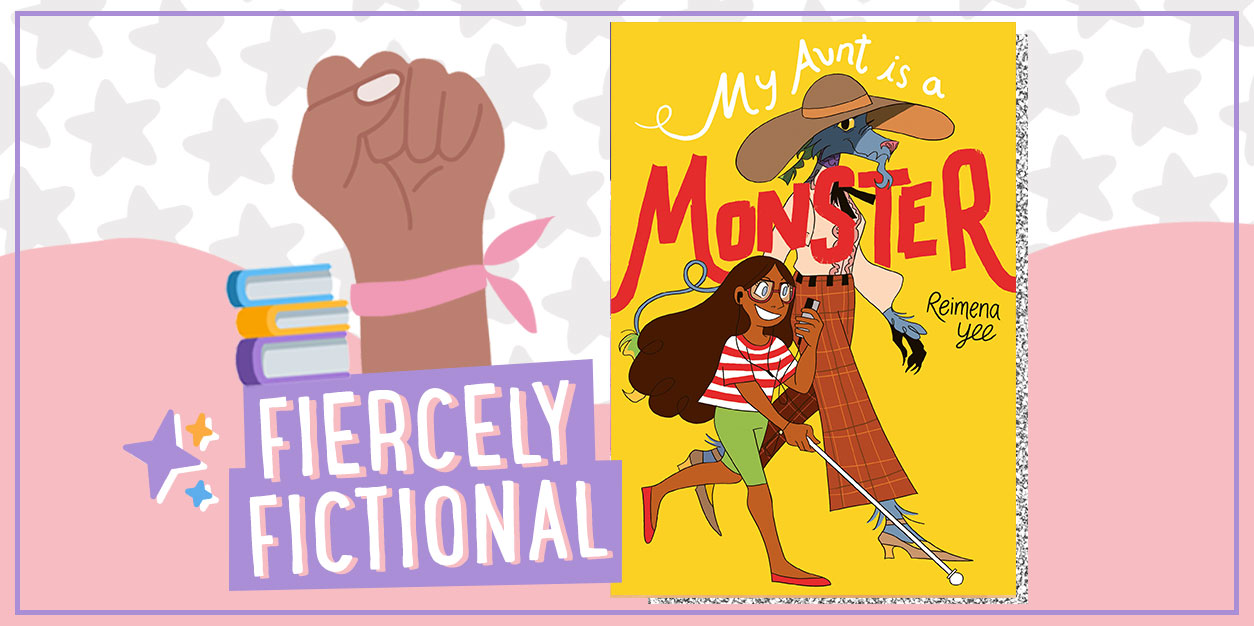 FIERCELY FICTIONAL: My Aunt is a Monster
FIERCELY FICTIONAL is all about celebrating fierce, inspiring fictional girls we know you'll love. To us, "fierce" isn't just about slaying dragons or solving mysteries. It's about breaking free from your comfort zone, discovering your confidence, fighting for what you believe in, & discovering your emotional strength. Any girl can shine bright & be fierce, & in this series, we'll be connecting you with a new fiercely fictional character every month!
FIERCELY FICTIONAL is back, and today we're introducing you to the wondrous world of My Aunt is a Monster by Reimena Yee.
All her life, Safia Haziz has grown up surrounded by stories. Raised in a bookstore by parents who loved reading to her, it's always been easy for Safia to get lost in fictional adventures. She's always dreamed of having an adventure of her own, but being blind, she's always relied on her audiobooks and boundless imagination to take her to places far, far away. But that's all about to change.
After her parents pass away, Safia is heartbroken and lonely, and is taken in by her mysterious and eccentric Aunt Walteranne Hakim Whimsy aka Lady Whimsy, the World's Greatest Adventurer, who happens to be hiding a major secret. After being cursed and transformed into a monster on her most recent adventure, Lady Whimsy was forced into retirement and has been hiding away from the world. Since Safia can't see her, she has no idea that her long-lost aunt and new caretaker is actually a monster!
My Aunt is a Monster: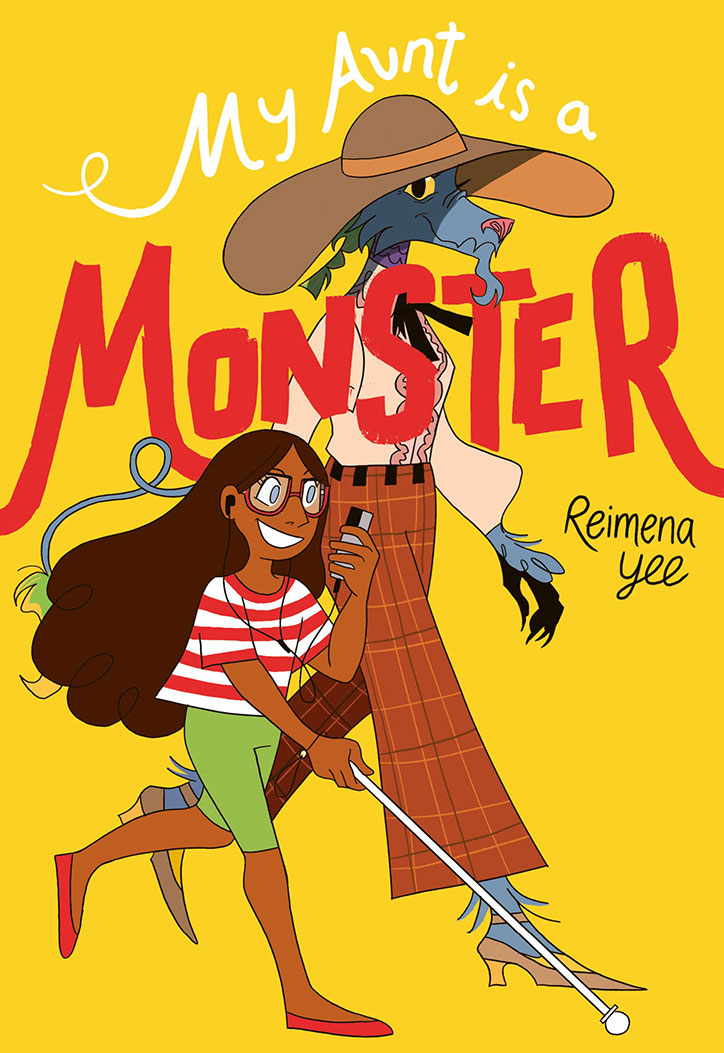 Curses! Adventures! And drama! Oh my! Safia might not be able to see the world, but that doesn't mean she can't experience it to the fullest as she finds herself on her very first adventure! This is a contemporary fantasy middle-grade graphic novel about discovering what you are truly capable of.
Safia thought that being blind meant she would only get to go on adventures through her audiobooks. This all changes when she goes to live with a distant and mysterious aunt, Lady Whimsy, who takes Safia on the journey of a lifetime!
While the reclusive Lady Whimsy stops an old rival from uncovering the truth behind her disappearance, Safia experiences parts of the world she had only dreamed about. But when an unlikely group of chaotic agents comes after Whimsy, Safia is forced to confront the adventure head-on. For the first time in her life, Safia is the hero of her own story, and she must do what she can to save the day.
And maybe find some friends along the way.
Reimena Yee returns with an all-new graphic novel filled with action, magic, and family. My Aunt Is a Monster explores how anybody can do anything as long as they are given the chance and have the right people behind them.
My Aunt is a Monster
AUTHOR: Reimena Yee
PUBLISHER: Random House Children's Books
DATE: October 25, 2022
When the return of her nemesis hits the news, Safia convinces Lady Whimsy that she MUST come out of retirement – take her along for the ride! Together they embark on an extraordinary adventure, and Safia finally experiences the places she's only ever read about, like luxurious cruise ships and magical jungles. But when Lady Whimsy disappears, and Safia is left alone, she'll have to use her instincts and the lessons she's learned from her favorite books to become the hero of her own story and discover that sometimes endings can become beginnings.
We adore Safia's endless sense of wonder, determination, and of course her love of books! This thrilling graphic novel will take you to all the places you've only dreamed of through gorgeous artwork and Safia's detailed descriptions of every taste, smell, and sensation she experiences throughout the story. Think this sounds like your kind of read? You're in luck! Author Reimena Yee is here to take you beyond the pages of My Aunt is a Monster by sharing the 5 reasons she thinks Safia is totally fierce!
Five Reasons We Think Safia is Totally Fierce:

She is a dreamer:
Safia's lifelong dream is to travel the world and become an adventurer – just like the characters in her favorite books. She finally gets her chance when she is adopted by her mysterious and reclusive aunt, Lady Whimsy, who used to be the World's Greatest Adventurer.
When an opportunity for an adventure of a lifetime arrives via a troubling newspaper article, Safia seizes the chance to tag along with her aunt… and turns her dream into reality!
She opens her heart to the world's wonders:
Just like her aunt, Safia is a lover of all the strange and wondrous things in the world. Food, cultural experiences, natural wonders, crafts… you name it, she's down for it.
Nothing is boring to Safia, and she will go out of her way to seek any new wonder out to experience it for herself, and keep a record of it in her audiobook.

She is an avid reader & soon-to-be writer:
Safia's entire life is stories: from the bedtime tales told by her bookseller parents to the wild real-world exploits of her aunt and nanny to the audiobooks that she listens to constantly.
She loves books so much, it's not surprising that she eventually answers the call to become a storyteller herself.

She is not afraid to speak up when she is hurt:
Safia is shameless about speaking up when she is hurt, whether it's with a trusted friend or against the person who caused the pain. When she finds out that her aunt and nanny are keeping secrets from her, she goes to her new friend Hebe to talk it out and come up with a plan.
Later, when she gets a chance to confront Lady Whimsy about it, she is not afraid to show her anger and call her aunt out on the dishonesty.

Stands up to her friend for what is right:
Safia has a strong personal sense of what is right and wrong and she will even stand up to her friends. When Safia realizes her aunt is a literal monster (and is causing destruction to everything out of panic), Safia refuses Hebe's offer to abandon the situation and instead bravely runs off to comfort her aunt.
After Safia discovers that Hebe is actually part of a villainous organization, Safia points out the harms that Hebe hasn't considered.
?Want some new fictional favs? Catch up on our FIERCELY FICTIONAL series and get to know even more fierce fictional characters!