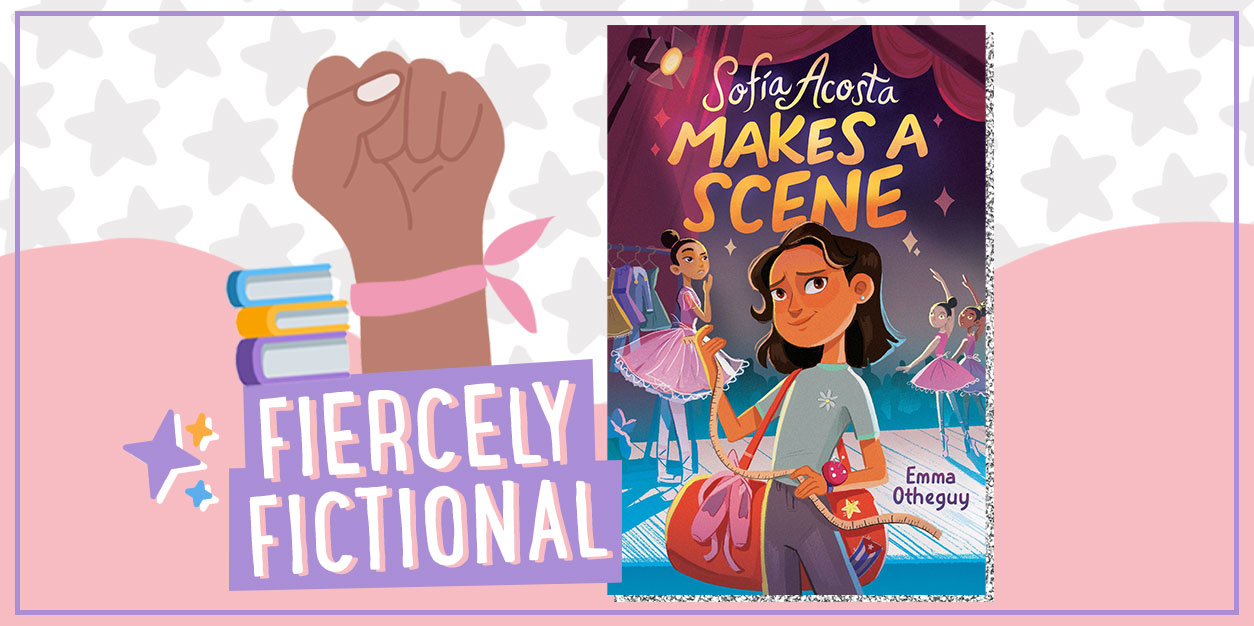 FIERCELY FICTIONAL: Sofía Acosta Makes a Scene
FIERCELY FICTIONAL is all about celebrating fierce, inspiring fictional girls we know you'll love. To us, "fierce" isn't just about slaying dragons or solving mysteries. It's about breaking free from your comfort zone, discovering your confidence, fighting for what you believe in, & discovering your emotional strength. Any girl can shine bright & be fierce, & in this series, we'll be connecting you with a new fiercely fictional character every month!
Readers, get excited! FIERCELY FICTIONAL is back, and this time, we've got an extra special spotlight for you! Not only are we shining a light on a fierce new character for you to love, author Emma Otheguy has given YAYOMG! a special peek into her empowering new book, Sofía Acosta Makes a Scene!
Sofía is a Cuban-American girl from a ballet-obsessed family who moved to New York after she was born. Trained by a prestigious prima ballerina, when they dance, they're poised and graceful as they glide across the stage with ease – but ballet doesn't come quite as naturally to Sofía. She feels the pressure to perform as flawlessly as her family in order to fit in, but it's just not her thing and she worries that she's letting them down. She's much more interested in the glitter and the costumes and believes that costumes set the scene and tell a story just as important as the choreography, She's fiercely creative, and we loved reading about her passion for costuming!
Why You'll Love This Read: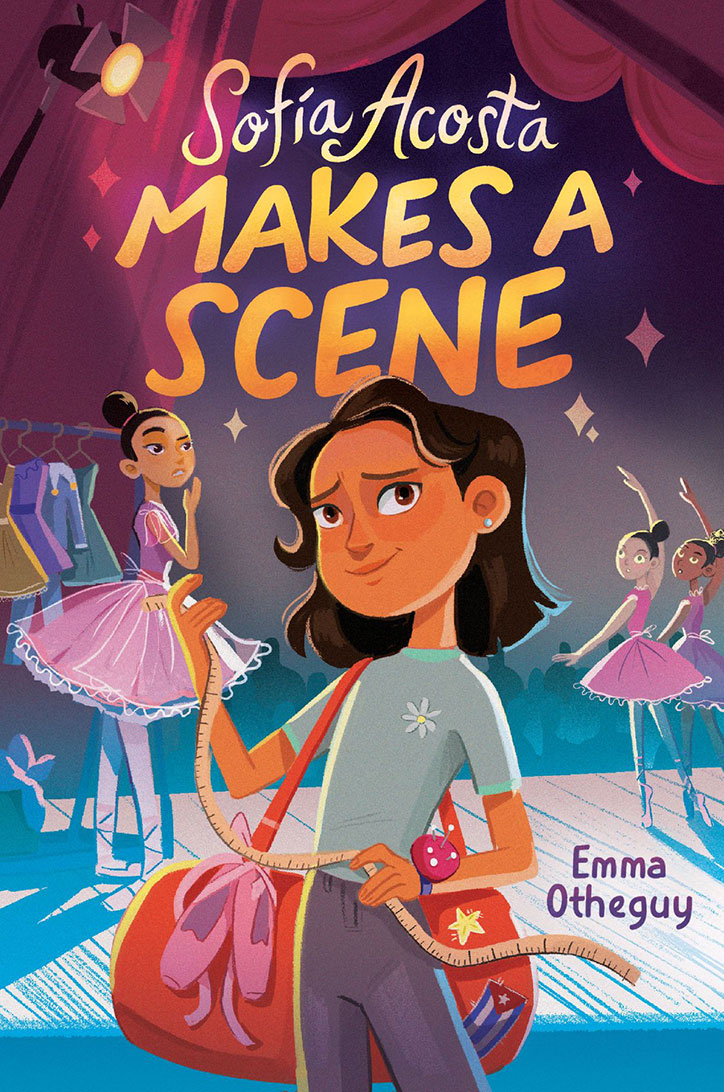 A poignant, coming of age story about a Cuban-American girl trying to figure out where she belongs–both in her ballet-loving family and the wider world. Perfect for fans of Front Desk and Merci Suárez Changes Gears.
It's a good thing Sofía Acosta loves dreaming up costumes, because otherwise she's a ballet disaster—unlike her parents, who danced under prima ballerina Alicia Alonso before immigrating to the suburbs of New York. Luckily, when the Acostas host their dancer friends from Cuba for a special performance with the American Ballet Theatre, Sofía learns there's more than dance holding her family together. Between swapping stories about Cuba and sharing holiday celebrations, the Acostas have never been more of a team.
Then Sofía finds out about the dancers' secret plans to defect to the United States, and makes a serious mistake—she confides in her best friend, only to discover that Tricia doesn't want "outsiders" moving to their community. Now Sofía wonders what the other neighbors in her tight-knit suburban town really think of immigrant families like hers. Sofía doesn't want to make a scene, but if she doesn't speak up, how will she figure out if her family really belongs?
Sofía Acosta Makes a Scene
AUTHOR: Emma Otheguy
PUBLISHER: Knopf Books for Young Readers
DATE: January 25, 2022
After spending time with some of her parent's dancer friends from Cuba, Sofía learns so much about her family, their heritage, and who she is outside of the dance studio. Knowing more about where she comes from makes Sofía feel more connected to her family, but it puts a rift between her and her bestie, who doesn't understand why being Cuban is so important to her. Sofía quickly realizes that it's not just Tricia who doesn't get it – many people in her tight-knit suburban community view immigrants as "outsiders", which sparks the confidence and activist inside of her that she didn't know existed.
Inspired to show her community that immigrants bring something special to the neighborhood, Sofía causes a little good trouble, helps shine a light on an important housing project in her community, and discovers just how amazing she can be! Want to get to know more about Sofía and why we know you'll think she's totally fierce? Keep on reading as author Emma Otheguy dishes the deets on this inspiring read!
Five Reasons We Think Sofía Acosta is Totally Fierce:

She's Got a Killer Eye & Can DIY It ALL:
Rhinestones, sequins, and ribbons are Sofía's know-how!
She's always finding ways to jazz up everything from clothing to school projects. She puts her talents to good use at her local ballet school, helping her neighbor Mrs. Lewis with the costumes for the school's production of The Nutcracker. She adds new trim to the Party Scene dresses and sews sparkling embellishments onto her big sister Regina's Dewdrop costume.

She Sticks Up for Her Brother & Sister:
When other kids tell Regina that she only got cast in Dewdrop because she's Latina, Sofía is furious. Even though Sofía feels jealous of Regina's big ballet successes, she tells her friends how talented and hard-working Regina is, and makes sure her costume is perfect for Opening Night.
Sofía doesn't leave her little brother Manuel behind either. She walks him home from school every day, and she comforts him when she finds out that his teacher has been teasing him by using mock Spanish in class.
It's hard for Sofía that Regina and Manuel both get leading roles in ballet while she struggles to keep a rhythm, but she doesn't let envy stop her from supporting them.

She Knows When to Quit:
Perseverance is important, but not if it means you can't be true to yourself. Everyone in Sofía's family is a ballet dancer, and it takes Sofía a long time to realize she would rather be doing crafts or playing catch with her friends than practicing steps in a sweaty dance studio.
Sofía will always love the magic of watching a story unfold onstage and the glitter of a beautiful set or costume, but she doesn't want to be onstage herself. Once she finds the inner strength to tell her family that, she's free to do all the things she really loves—and to just be a kid!

She's an Advocate for New Housing & Immigration:
Sofía loves her friends and neighbors in the small (fictional) town of Pine Hill, so it's a shock when she learns that some of them don't support immigrants and newcomers to their community.
When Sofía's family friends Yolanda and Álvaro come from Cuba, people in Pine Hill make fun of their accents, and when Álvaro gets offered a job with American Ballet Theatre, they even say that he's taking a job from a U.S. dancer. As a child of immigrants herself, Sofía isn't happy with what she's hearing.
Together with her friend Laurita, Sofía educates her neighbors on the value of immigrants and advocates for a new housing development that will make their community more affordable and welcoming for new families!

She's a Proud Latina:
Sofía loves telling stories about her family, learning about her parents' journey to the United States, and sharing her culture with others. Her dad wakes her up singing the Cuban national anthem, and her favorite food is her mother's black beans and rice. Sofía is a native bilingual and moves freely between speaking English and Spanish to help Yolanda and Álvaro navigate life in the United States.
Being Latina isn't always easy, but Sofía celebrates her identity whenever she can!
In need of even more reads? Check out the rest of our FIERCELY FICTIONAL series here! We spotlight a new character every month to keep your shelves stacked with fierce reads!