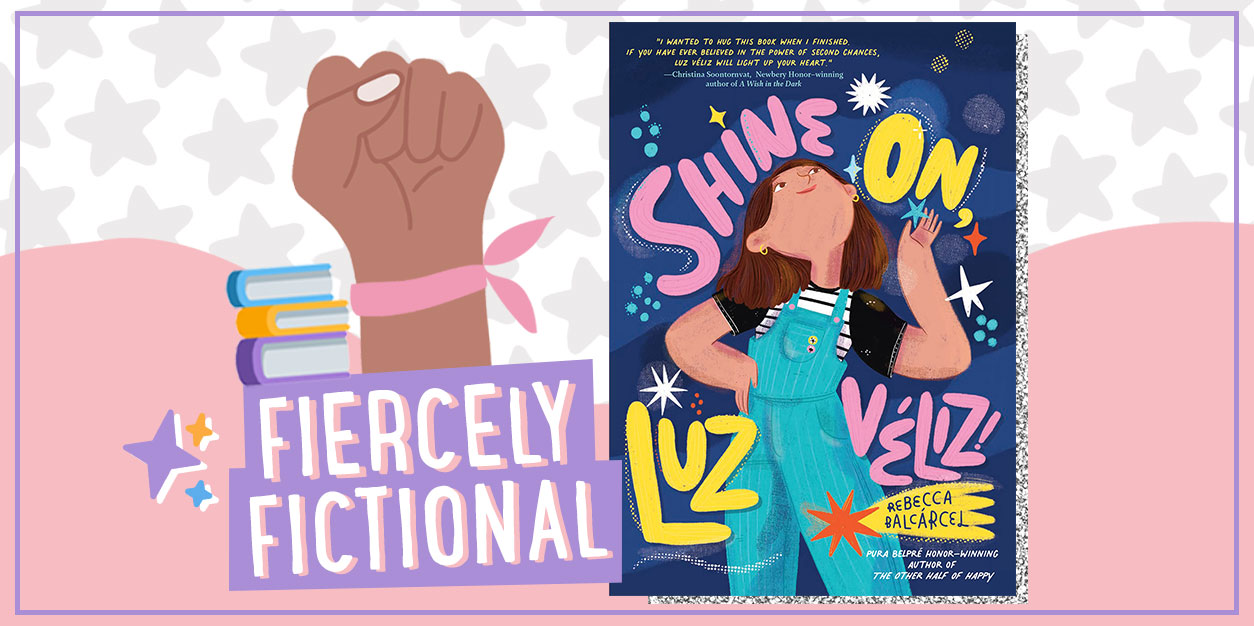 FIERCELY FICTIONAL: Shine On, Luz Véliz
FIERCELY FICTIONAL is all about celebrating fierce, inspiring fictional girls we know you'll love. To us, "fierce" isn't just about slaying dragons or solving mysteries. It's about breaking free from your comfort zone, discovering your confidence, fighting for what you believe in, & discovering your emotional strength. Any girl can shine bright & be fierce, & in this series, we'll be connecting you with a new fiercely fictional character every month!
In this edition of FIERCELY FICTIONAL, we're introducing you to Luz Véliz, a soccer player turned STEM superstar who's doing her best to manage it all – just like you! If your fictional idols are girls like Merci Suárez, Zoe Washington, & Mia Tang, you'll totally LOVE Shine On Luz Véliz!
Luz has always known her thing – she's great on the field and her family couldn't be more supportive of her soccer successes. But after an accident on the field halts her soccer season, she's not really sure what she'll do next or who she even is without the one thing she was truly good at. Even her dad starts treating her differently, and all Luz wants is to make her family proud.
Shine On Luz Véliz: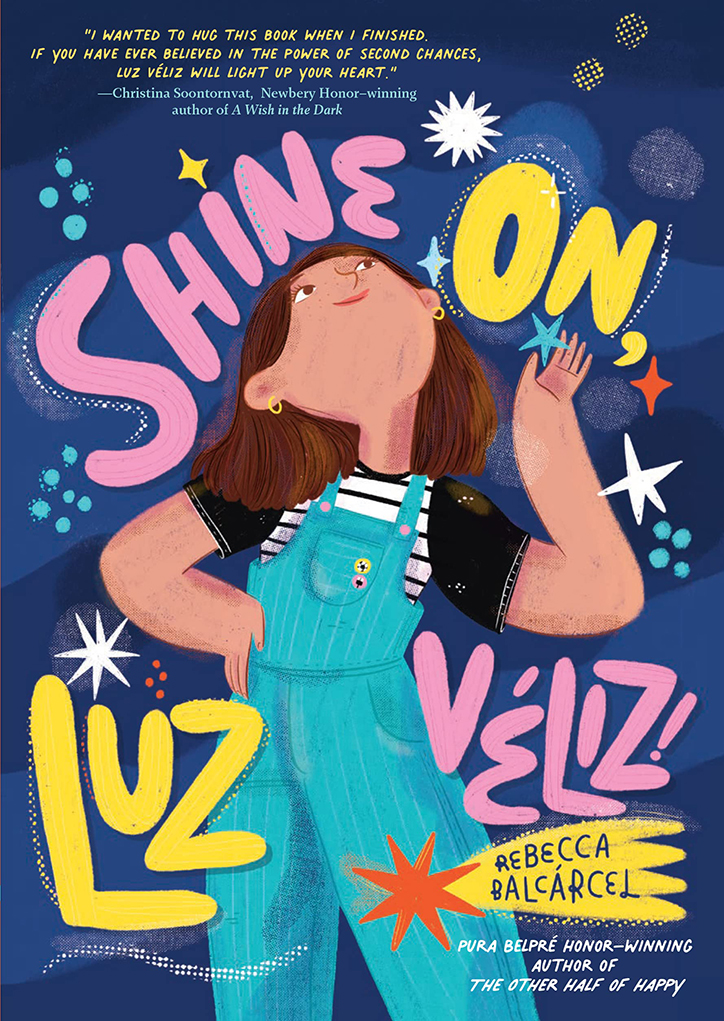 A beautiful coming-of-age story for fans of Front Desk and Merci Suárez Changes Gears, this book celebrates identity, language, heritage, family, and the determination to follow one's own inner light.
Have you ever been the best at something . . . only to lose it all?
Luz Véliz is a soccer star-or rather, she was a soccer star. With her serious knee injury, it's unlikely she'll be back on the field anytime soon. But without soccer, who is she? Even her dad treats her differently now—like he doesn't know her or, worse, like he doesn't even like her. When Luz discovers she has a knack for coding, it feels like a lifeline to a better self. If she can just ace the May Showcase, she'll not only skip a level in her coding courses and impress Ms. Freeman and intriguing, brilliant Trevor—she'll have her parents cheering her on from the sidelines, just the way she likes it.
But something—someone—is about to enter the Vélizes' life. And when Solana arrives, nothing will be the same, ever again.
Unforgettable characters, family drama, and dauntless determination illuminate Luz's journey as she summons her inner strength and learns to accept others and embrace the enduring connection of family. Through it all, Luz's light is a constant—a guide for others, a path forward through the dark, and an ineffable celebration of her own eternal self.
This is the second novel by Pure Belpré Honor winner Rebecca Balcárcel!
Shine On, Luz Véliz
AUTHOR: Rebecca Balcárcel
PUBLISHER: Chronicle Books
DATE: May 3, 2022
To make matters worse, the sister she didn't know she had isn't just a surprise she has to handle emotionally – she's literally moving from her home in Guatemala into Luz's bedroom! Thankfully, Luz discovers a love of coding which gives her a second chance to shine on while she figures out the rest.
We adored Luz and we just know she's going to become one of your new fictional favs. Her struggles are oh-so-relatable and the way she handles all the major life changes that are thrown at her is nothing less than fierce. But don't take our word for it – Shine On Luz Véliz author Rebecca Balcárcel is here to share all the reasons she thinks Luz is totally fierce!
Five Reasons We Think Luz Véliz is Totally Fierce:

She Doesn't Give Up On Herself:
When a soccer injury pulls Luz off the field, she's not sure who she is anymore. She's used to being The Athlete and her dad being The Coach. Now that's all gone. But Luz is determined to find a way to shine. When she peeks in on a robotics class, she's captivated. One robot follows a painted line and another gathers ping-pong balls — all programmed by kids.
Switching from sports star to computer kid seems like a leap, but the more Luz learns about coding and electronics, the more she loves it. She's not just one thing after all, and her life of shining is definitely not over. It's just starting!

She Opens Her Heart to a New Definition of Family:
Luz has been an only child her whole life, the center of her parents' world. She loves to make them proud.
But when her father reveals that he has another daughter in Guatemala, Luz's world turns upside-down. When he announces that this other daughter is moving in and sharing Luz's room, her world dissolves to dust.
Luz digs deep to find the courage to share her home, share her parents, and become a real sister. As her heart opens, she finds that her new sister can even be a friend.

She Values Elders:
Hanging out with an old guy who uses a cane may not sound like a teen's dream, but Luz knows that the man they call Gadget Grandpa is full of knowledge and surprises! Mr. Mac has the coolest garage this side of Silicon Valley, and he shows her how coding works, first by teaching her a classic computer language, BASIC, and then by showing her Scratch.
From posters of famous scientists to carpentry projects like a giant Jenga, Mr. Mac's garage is an almost-magical maker-space. Far from being on the sidelines, Mr. Mac is the forward on Luz's team!

When She's Wrong, She Makes it Right:
Luz likes to be proud of herself and make her parents cheer, but sometimes she messes up. When she meets immigrant girls at school, she dismisses them. Since they are still learning English, she doesn't see them as friend-material; she doesn't take them seriously. Her own sister is an immigrant and so is her dad, but she still underestimates them.
When Luz learns about a sudden deportation, families' fears of separation, and violence faced by her sister in Guatemala, she starts to understand. When she takes a deep look at her own behavior, Luz knows she has to apologize. It's harder than scoring a goal or coding a program, but Luz takes it on.

She Sets Big Goals:
Even though she's a complete newbie, Luz jumps into robotics and coding with both feet. She sees what the experienced kids are doing and sets herself a challenge: learn so much before the school year ends that she can skip into the advanced class next year.
To get to the class of her dreams, she'll have to produce a stunning project in only eight weeks! She joins Robotics Club, gets pointers from her new friend, and dives into coding lessons with Mr. Mac. The teacher doubts she can do it in time, but Luz knows how to train and work hard. She's got this!
In need of even more reads starring fierce girls? Check out the rest of our FIERCELY FICTIONAL series here!