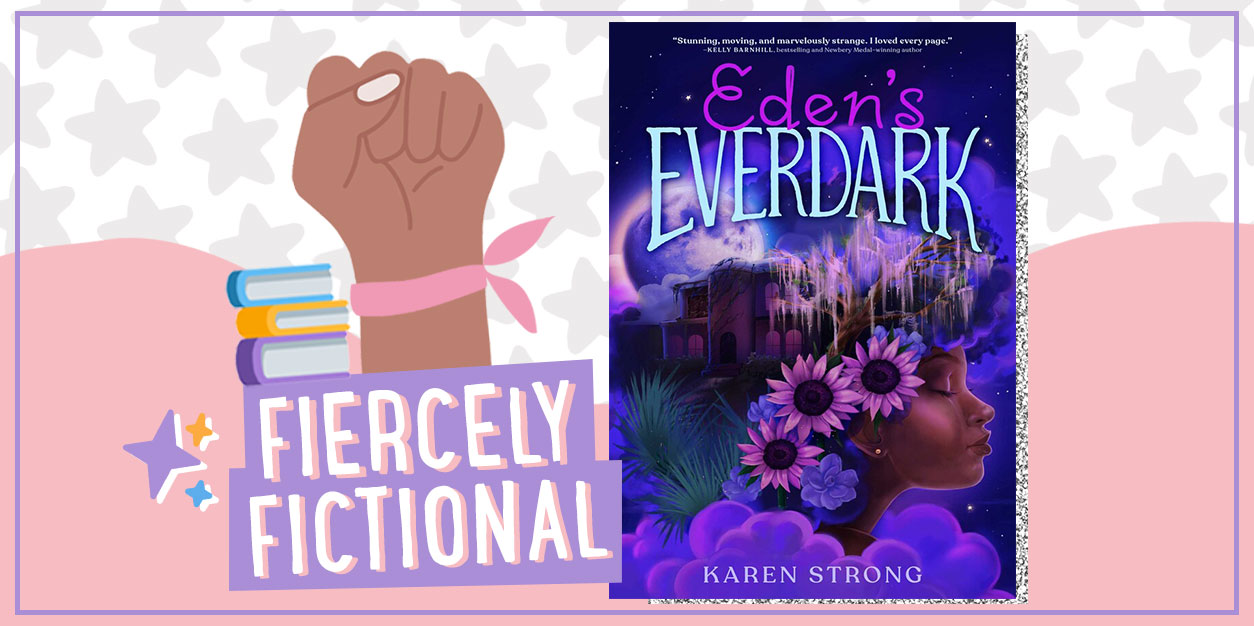 FIERCELY FICTIONAL: Eden's Everdark
FIERCELY FICTIONAL is all about celebrating fierce, inspiring fictional girls we know you'll love. To us, "fierce" isn't just about slaying dragons or solving mysteries. It's about breaking free from your comfort zone, discovering your confidence, fighting for what you believe in, & discovering your emotional strength. Any girl can shine bright & be fierce, & in this series, we'll be connecting you with a new fiercely fictional character every month!
In this edition of FIERCELY FICTIONAL, we're introducing you to Eden Leopold from Eden's Everdark, an eerie and mystical story by Karen Strong about a young girl coming to terms with the loss of her mother.
While mourning the loss of her mother, Eden and her father make a trip to Safina Island, where her mother grew up, to reconnect with some of her mother's family and begin the healing process. Eden mostly only knows this side of the family through shared stories and birthday cards from years past, but after being greeted with love and warmth, she's excited to get to know them. While staying in her mother's childhood room, she discovers her old sketchbooks stashed away in the closet. Most are filled with beautiful nature drawings and other artwork that makes Eden feel more connected to her past. But one of the sketchbooks has drawings of a strange place called the Everdark, filled with eerie vine-covered mansions, terrifying creatures, and a witch who is equally beautiful and haunting.
Eden's Everdark: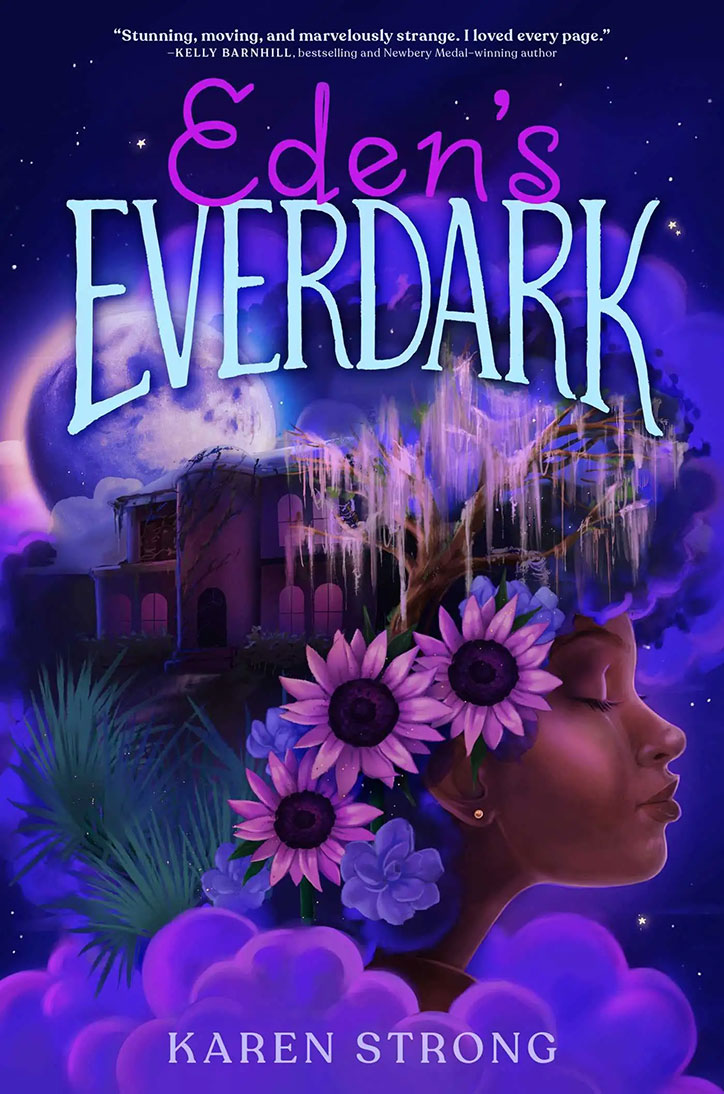 Hailed by Newbery winner Kelly Barnhill as "stunning, moving, and marvelously strange," this tale of a young girl who stumbles into a magical realm ruled by a wicked witch is a haunting and ultimately uplifting middle grade novel about grief, family, and decades-old magic.
Still grieving the loss of her mother, Eden visits Safina Island, her ancestral home, as a healing balm. But when she discovers an old sketchbook that belonged to her mother, she's haunted by the images she sees drawn there. A creepy mansion covered with roots and leaves. A monstrous dog with dagger-sharp teeth. And a tall woman with wind-blown hair and long, sharp nails who is as beautiful as she is terrifying.
Days later, exploring the island alone, Eden follows a black cat through a rift in the bright day. She stumbles into Everdark, a parallel world where the sun never rises, where spirits linger between death and the afterlife, and where everything from her mother's drawings is all too real—especially the Witch of Everdark, who wants to make Eden her eternal daughter.
Can Eden find a way to defeat the witch's magic? Or will she remain trapped in Everdark forever?
Eden's Everdark
AUTHOR: Karen Strong
PUBLISHER: Simon & Schuster Books for Young Readers
DATE: September 6, 2022
After looking through these sketches, Eden feels drawn to this dark spirit world and begins dreaming about it at night when she goes to sleep. One day while exploring the island alone, she follows a black cat through a portal and finds herself trapped in the Everdark – along with all the terrifying things found within the pages of her mother's sketchbook. To find her way back, Eden must discover her inner magic and take down the evil witch before she's trapped in the Everdark forever.
We love this haunting, heartfelt, and magical tale about overcoming grief and standing on your own, and watching Eden discover that she is so much braver than she realizes. We loved learning about her family's Southern roots and history intertwined with the spooky parallel world of the Everdark that left us turning page after page, desperate to find out what happens next.
We know Eden's adventure will have you on the edge of your seat, so we asked author Karen Strong to share a little more about Eden's Everdark! She put together a list of all the reasons she thinks Eden is totally fierce so you can get to know more about this amazing new read.
Five Reasons We Think Eden Leopold is Totally Fierce:

She knows the importance of family:
Although Eden hasn't officially met her mother's side of the family—except through the annual birthday cards and gifts from her great-aunt Susanna—she wants to experience the shared love and fellowship with these relatives. Eden knows that visiting Safina Island is the best way to connect to her family's Georgia sea island culture and learn everything she can about its deep history.
She understands the importance of keeping the legacy of her mother's birthplace from fading away.

She's brave and fearless:
When Eden finds herself trapped in the spiritual world of Everdark with a beautiful and terrifying witch, she doesn't give up. She explores the witch's mansion for avenues of escape and uses her resourcefulness to uncover helpful clues. Eden is determined to find her way back to the world of the living before it's too late.
As a captured girl in a strange and frightening world, Eden never lets go of her courage.

She seeks out alliances:
Everdark is a spiritual world of eternal night and no place for a living girl. Now more than ever, Eden must find a way to seek friends in the spirits who dwell in this darkness. Eden understands that she'll have to work with others if she wants return to Safina Island and be reunited with her family. 
She knows that creating strong alliances with the dead can help her defeat the Witch of Everdark.

She believes she can make a difference:
The spirits of Everdark endure a miserable existence under the witch's cruel reign. Eden uses her empathy and kindness to connect with these spirits and discovers as a living girl she may be able to bring an end to their suffering. She knows that sometimes it only takes one person to spark change in an unfair world. 
Eden still believes that she can be a light in the darkness.

She's realistic about her grief:
With her mother's death, Eden knows that life will never be the same. The grief of this loss will always be with her. Although time can provide some healing, Eden understands that grief doesn't have an expiration date, and she should never feel guilty about her emotions. She knows that it's okay to be sad, but she also knows that the memory of her mother will always be with her. 
Eden realizes that she can embrace the sadness along with the joy.
Is your bookshelf in need of even more girl power? Catch up on our FIERCELY FICTIONAL series!