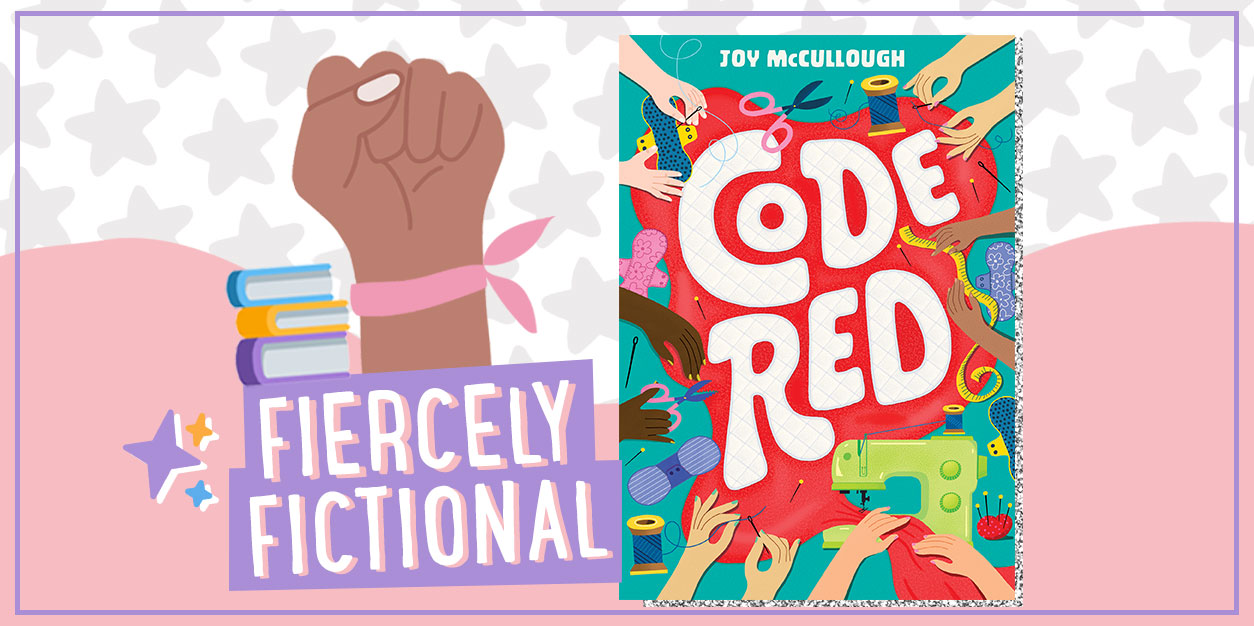 FIERCELY FICTIONAL: Code Red
FIERCELY FICTIONAL is all about celebrating fierce, inspiring fictional girls we know you'll love. To us, "fierce" isn't just about slaying dragons or solving mysteries. It's about breaking free from your comfort zone, discovering your confidence, fighting for what you believe in, & discovering your emotional strength. Any girl can shine bright & be fierce, & in this series, we'll connect you with a new fiercely fictional character every month!
FIERCELY FICTIONAL is back, and we're featuring an empowering tween gymnast turned activist, Eden, from Code Red by Joy McCullough.
In this fierce read, we meet Eden when she's at her worst. After spending her entire life doing gymnastics and working towards her dream of winning an Olympic medal, a growth spurt and an accident change everything for her. Not only can she no longer do gymnastics, she feels lost without the goal she's been working towards. Pair that with a pilot dad and a CEO mom who isn't always around, Eden has never felt more alone.
That is, until a bullying incident at school results in an unlikely friendship with a girl named Maribel that opens her eyes to a brand new passion. After meeting Maribel and volunteering at her family's food bank, Eden learns a lot about the world and meets a new group of friends who teach her about poverty and the struggles that low-income families face when it comes to periods. Menstrual inequality soon becomes Eden's new passion, and she works together with her new friends to sew reusable pads to donate, advocate for people facing menstrual inequity, and does everything she can to help fight for legislation to require access to free access to period products.
Code Red: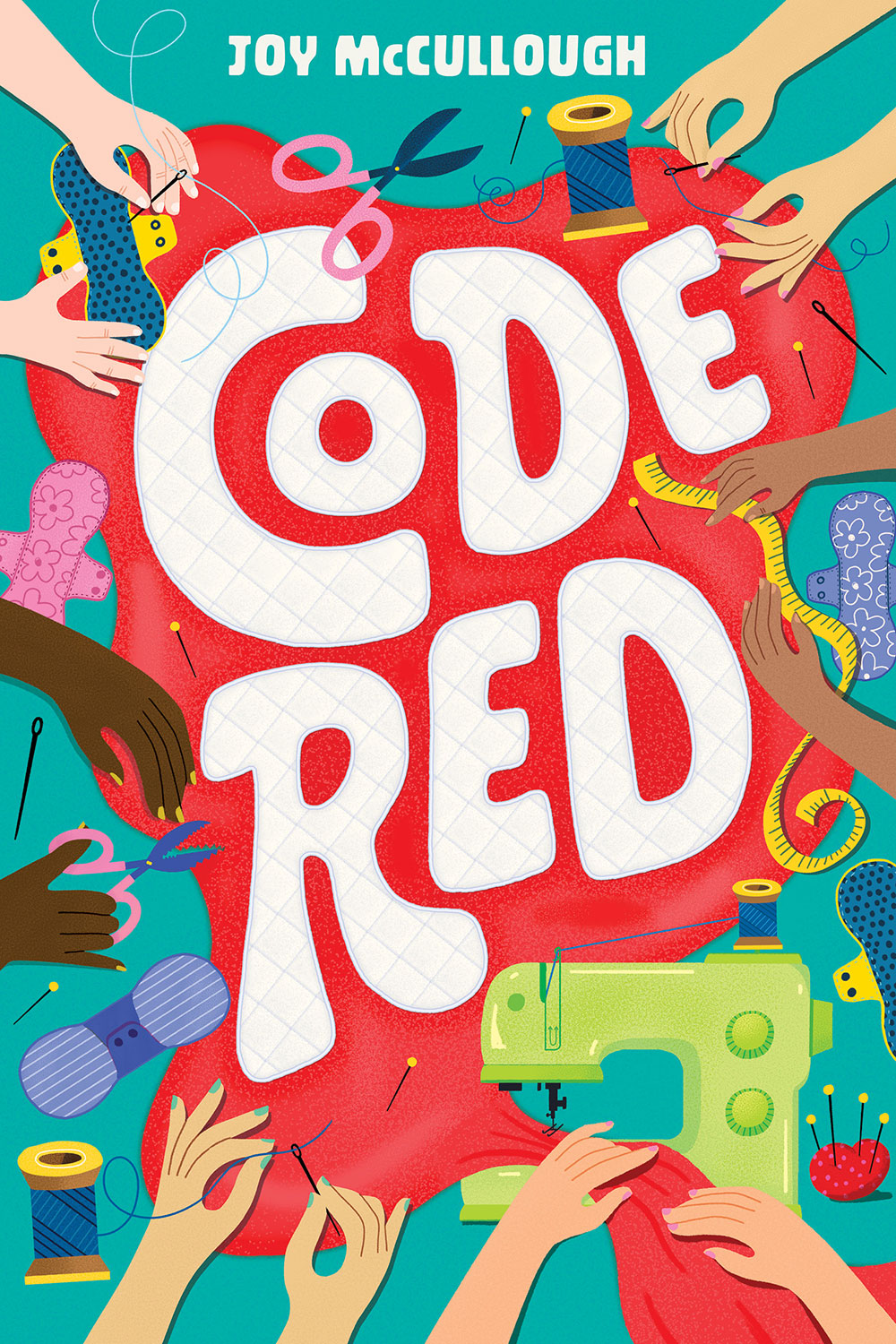 In the spirit of Judy Blume, this empowering and heartfelt middle grade novel celebrates finding yourself, making new friends, and standing up for what's right as a girl becomes involved in menstrual activism.
Ever since a career-ending injury, former elite gymnast Eden has been feeling lost. To add insult to actual injury, her mom has been invited to present at her middle school's career day, which would be fine except Mom's company produces period products like pads and tampons. Having the whole school hear about it is total humiliation. And when Eden gets into a fight with a boy who won't stop mocking her for it, she and her classmate Maribel both end up getting suspended.
Mom's corporate executive job means she doesn't have time to look after Eden while she's suspended, so Eden is sent to volunteer at the food bank Maribel's mom runs. There, she meets new friends who open her eyes to period poverty, the struggle that low-income people with periods have trying to afford menstrual products. Eden even meets a boy who gets periods. Witnessing how people fight for fair treatment inspires Eden to join the advocacy work.
But sewing pads to donate and pushing for free access to period products puts Eden at odds with her mom. Even so, Eden's determined to hold onto the one thing that's ignited her passion and drive since gymnastics. Can she stand her ground and make a real difference?
Code Red
AUTHOR: Joy McCullough
PUBLISHER: Atheneum Books for Young Readers
DATE: June 13, 2023
In finding this new interest, Eden finds herself and learns so much about the world around her – but her new passion puts her relationship with her mom in an awkward place. Her mom came from very little and is a self-made success story…as the CEO of MySecret, a company that sells period products. No spoilers, though! You'll have to read it for yourself to see how it all goes down.
We're excited to share that Code Red author Joy McCullough is here to give you a peek beyond the pages and is dishing on the reasons she thinks Eden is totally fierce!
Five Reasons We Think Eden is Totally Fierce:

She tries new things:
Gymnastics is Eden's whole world…until it isn't. After an injury forces her to stop doing gymnastics, suddenly she has nothing but time and nowhere to channel all her drive. She's never done anything but gymnastics, and all her friends are still busy at the gym. But when new opportunities arise, she says yes.
Volunteer with Marisol at a food bank? Okay. Attend Skye's lacrosse game? Sure. Use those new-found sewing skills to make costumes for the school musical? Why not? Soon Eden's life is filled to bursting again with new friends and new interests.

She keeps fighting to reach her goals:
An elite gymnast knows how to work extremely hard toward a goal. Even though Eden's no longer focused on making it to the Olympics, she still has a strong drive to make goals and achieve them.
When she learns that some people who menstruate can't afford the basic supplies they need, she sets out to do something about it. She learns to sew reusable pads and donates them to an organization that gets them to people in need. And when she learns that the schools in Washington state are required to supply menstrual products to their students, but aren't given the money to do so, she organizes all her friends to help her do something about it too.

She thinks for herself:
Eden's mom feels threatened by her new friends. She doesn't like their politics and worries they're turning Eden against her. But Eden feels strongly about injustice, and the things she can do to try to make a change in her corner of the world. When her mom tries to forbid Eden from seeing these new friends, Eden has to find the balance of respecting her mom and doing what she believes in.

She apologizes when she messes up:
Feeling passionate about changing the world for the better is admirable. But sometimes we can push so hard that we don't realize we're trampling over other people on our way to what we want. Eden makes a few mistakes along the way. But when she realizes she's messed up, she apologizes and does what she can to make it right. When that doesn't fix everything right away, she gives space to the people who need it.
She understands that just because someone accepts an apology doesn't mean they're ready for everything to go back to how it was before.

She thinks big:
Eden and her friends are gathering signatures to try to get an initiative on the ballot (with the help of an eighteen-year-old big sister who's legally allowed to do that). But they need a LOT of signatures. When it looks like they'll never be able to do it in time, Eden comes up with a big idea to spread the word. She knows you definitely can't guarantee when something will go viral, but she also knows you'll never stick that tumbling pass if you don't try!
📚Need another fierce read to add to your shelf after Code Red? Catch up on our FIERCELY FICTIONAL series!