Backpack Haul: An EXCLUSIVE Emmie & Friends Minicomic
NOTE: This post is sponsored by HarperCollins.
Becoming Brianna has finally arrived! The highly anticipated fourth book in the Emmie & Friends series is out today from HarperCollins, and it brings the middle school drama like never before!
This time, the story focuses on Brianna, Emmie's super smart BFF. On the outside, Brianna seems like she has it all together – she works hard, studies hard, and is the perfect balance of assertive and organized. She's a total go-getter! But we all know that middle school is full of challenges, and so is getting ready for your bat mitzvah!
National bestselling author Terri Libenson returns with another endearing, relatable story of friendship and finding confidence. Perfect for fans of Raina Telgemeier and Jennifer L. Holm.
Middle school is full of challenges.
Everyone knows how much brainy Bri likes the spotlight (not). So why did she ever agree to something that forces her to learn a new language, give a speech, help organize a party, and juggle drama at school and home?! As the big event inches closer, Bri wonders if it's all worth it. . . .
Told in alternating past and present chapters, Bri's heartwarming story unfolds over the eight months leading up to her bat mitzvah—as well as over the course of the big day itself.
Becoming Brianna
AUTHOR: Terri Libenson
PUBLISHER: Balzer + Bray
DATE: May 5, 2020
Becoming Brianna is told through alternating chapters detailing past and present timelines as Brianna preps for the most important day of her life so far – her bat mitzvah. She's not a fan of being in the spotlight, so planning for an event where she'll have to give a speech in front of all her friends and family isn't exactly on her bucket list. To make things worse, she's juggling all the party prep with some serious drama, at home and at school. As the big day gets closer, Brianna's feeling overwhelmed and starts to wonder if it's even worth it at all.
EXCLUSIVE Emmie & Friends Minicomic – Backpack Haul:
Since the Emmie & Friends girls are super relatable, we're always looking for more ways to get to know our favorite characters. In an exclusive minicomic created by author Terri Libenson, Emmie, Jaime, and Brianna are giving YOU a sneak peek into their backpacks! Find out what they're stashing in their bags to get to know them better than ever.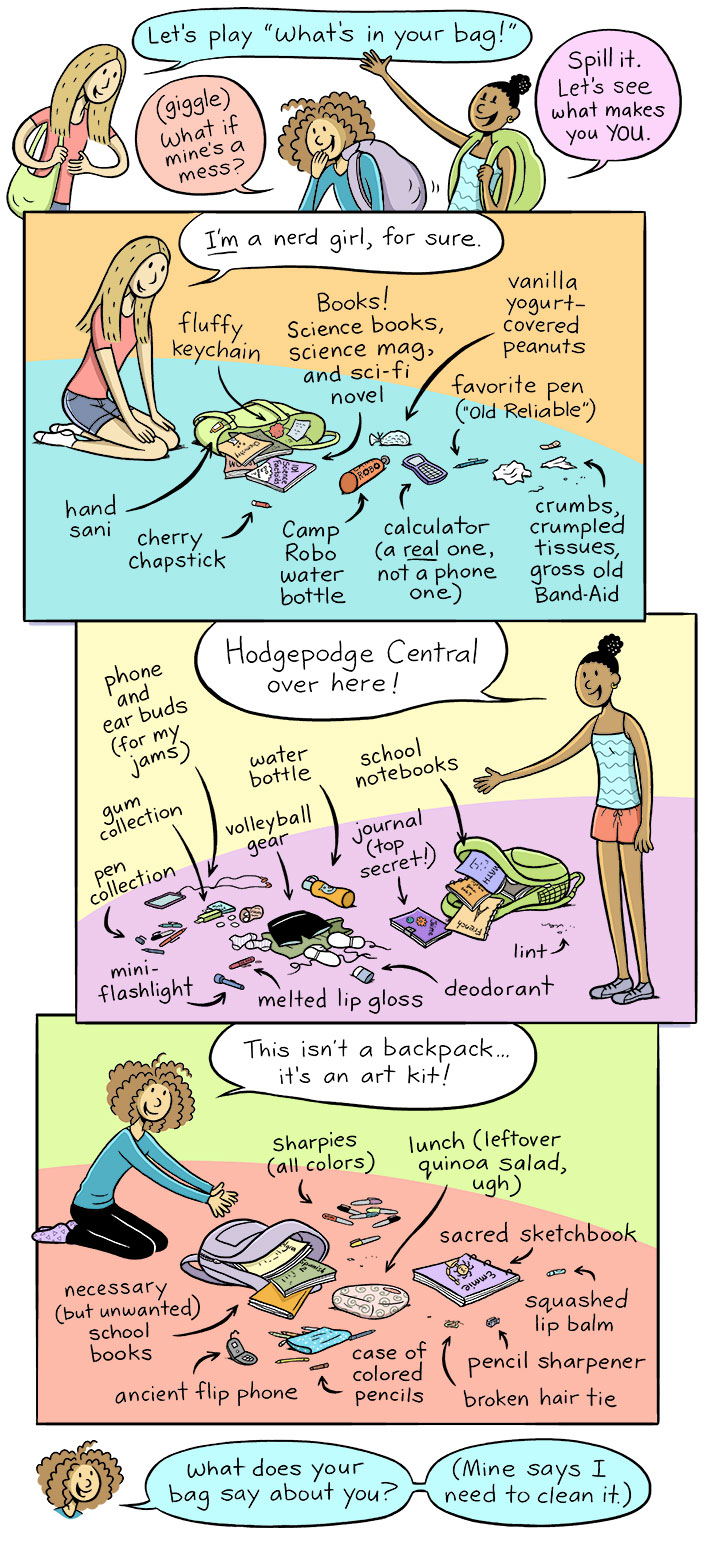 As you can see, the contents of your bag are kind of like a window to the soul. What does your bag say about you? Now that you've seen inside their backpacks, find out which character you relate to most by taking our Emmie & Friends quiz!