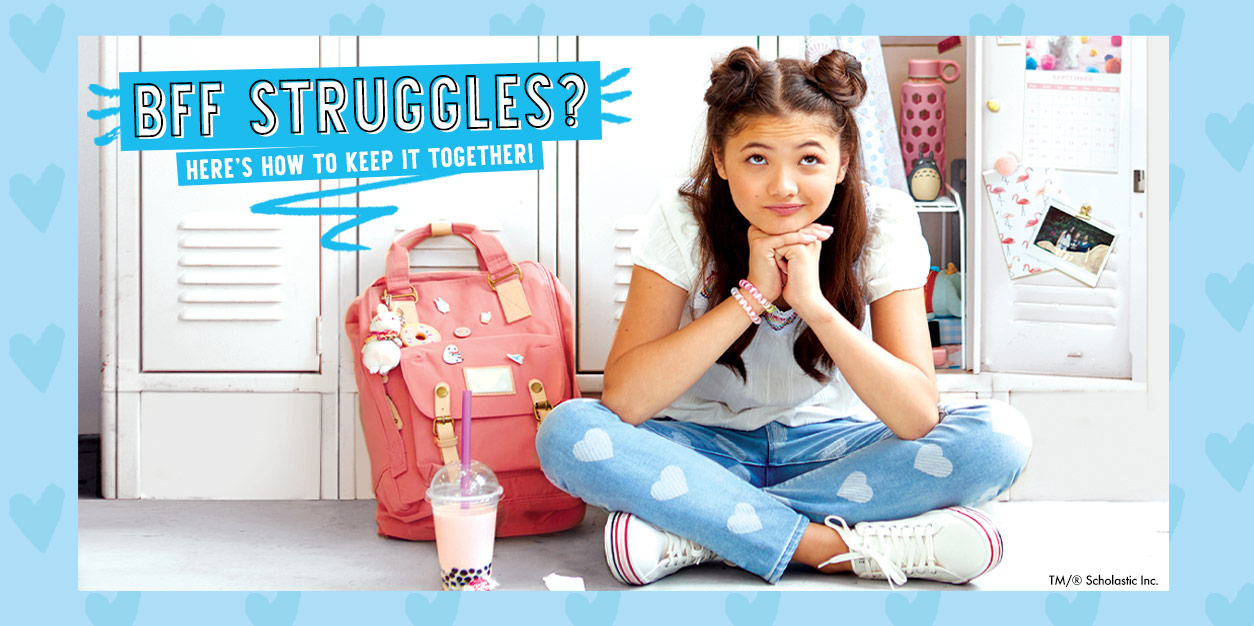 Here's How to Keep It Together Through Your BFF Struggles
NOTE: This post is sponsored by Scholastic.
When you're part of a close-knit group of friends, everything you do together feels like an exciting adventure. From staying up all night at a sleepover watching your favorite movies to swapping secrets in your endless group texts, the bond you make with your besties feels like it will last forever.
That's why when a rift comes between you and your BFFs, it can feel life-shattering. If you've ever been through a friend fight, you'll be able to relate to the struggles in Debbi Michiko Florence's new novel, Keep It Together, Keiko Carter.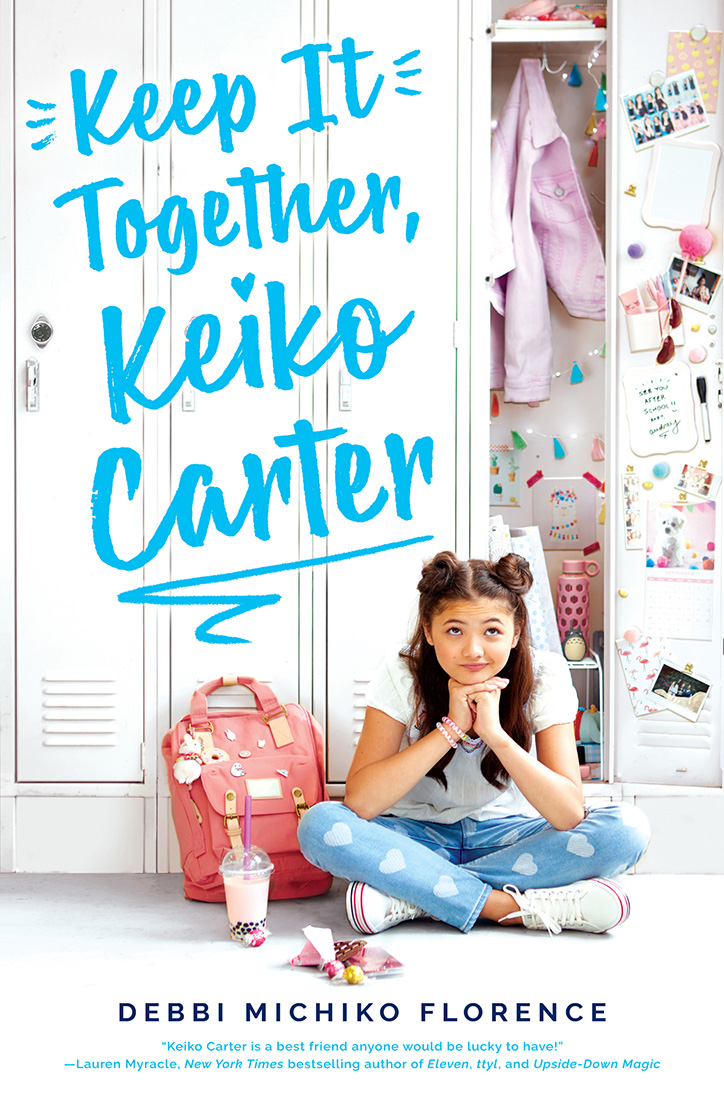 Seventh grade is supposed to be a game changer. And Keiko thinks she's got it covered, especially with Audrey and Jenna by her side to shop for a new look, pick out a prime lunch spot, and even hit up that cute new bubble tea place after school. Her trio is ready to tackle life as they always have… together.
But when Audrey decides they need boyfriends before Fall Ball, it looks like things may be changing in all the wrong ways. Jenna is sick of caving in to Audrey's demands, and soon Keiko's besties are barely talking, leaving her caught in the middle. While she's been dreaming about triple-dates, first kisses, and a boy she really shouldn't have a crush on, the friendship she's always thought was rock-solid is beginning to crumble.
Keiko feels pulled in two directions. Should she try to help her friends — even if it means losing one of them — or follow her heart? When it comes to flirting, friendships, and fallouts, how is Keiko supposed to keep it all together?
Keep It Together, Keiko Carter
AUTHOR: Debbi Michiko Florence
PUBLISHER: Scholastic
DATE: May 5, 2020
In this story of friendship drama and first crushes, thirteen-year-old Keiko Carter is ready to take on the seventh grade with her lifelong besties by her side. She's looking forward to laughing over bubble tea, joining after school clubs, and navigating middle school life together. But when boys are added to the mix and her friends start fighting, Keiko is left caught in the middle, trying to please everyone and fix her once rock-solid friendships.
Will Keiko be able to keep it together? You'll have to read the book to find out, but we're here to dish out some advice based on the BFF struggles found in the story. Here's how you can navigate friend drama when it comes your way.
Here's How to Keep It Together Through Your BFF Struggles

Out of Control:
In Keep It Together, Keiko Carter, Keiko starts to notice that her once close friend Audrey is becoming more of a frenemy. She's not fun to be around and has become controlling and judgemental, leaving Keiko and Jenna feeling hurt.
After an argument with Audrey leaves her feeling down, Keiko branches out and spends time reconnecting with her other friends. Playing basketball with Carter and walking to class with Jenna gives her the space she needs to realize that hanging out with your friends is supposed to feel gooey and warm, like melty chocolate. It's not supposed to be a constant source of drama.
When a friendship turns toxic, it can be hard to keep it together, especially when you're feeling hurt. When you find yourself in this situation, carve out a little space for me-time and reflection. Grab your favorite comforting treat and be honest with yourself about how your friendship is making you feel. If your bond feels broken or it's stressing you out, it might be time to take a step back.
It can be hard to distance yourself from someone you've been close with for so long, but what's most important is your happiness. Surround yourself with true friends who make you feel great!

Drifting Apart:
Drifting from a friendship that once felt unbreakable is never easy, especially if there's been a lot of drama recently. For many of us, our besties are more like family, or even soulmates, so when things start to fall apart, it can hurt as much as a broken heart.
For Keiko, the friendship that once reminded her of the highest quality chocolate is starting to feel a bit crumbly. She tried her best to stay connected to Jenna and Audrey, but when Audrey joins the dance committee and Jenna joins the school newspaper, Keiko realizes that they might not be as close this year after all.
Our shared interests bond us together as friends, so watching as your BFF finds their own interests or a new friend group can hurt – and that's perfectly okay! You're allowed to feel sad, but try not to let it get the best of you. Instead, talk to your friend about how you're feeling. Sometimes situations like this can be mended with a cup of spicy hot cocoa and a heart to heart. Spending some quality time together remembering why you were so close in the first place. Let them know that you value their friendship and listen to how they're feeling too.
Growing up means growing and changing, and that's okay. Just because you join different after school activities doesn't mean that you and your BFFs can't make time for each other. It's natural to want to try new things and explore new opportunities – it just means your friendships might require a little extra effort. Try meeting at your lockers before school, finding a special place to sit together at lunch, or plan a weekend each month to have a sleepover!

Stuck in the Middle:
Despite their lifelong bond, Keiko starts to feel stuck in the middle of Audrey and Jenna's drama, and it's really starting to weigh on her happiness. Jenna and Audrey have always had their differences, but it never seemed to matter. As Keiko puts it in the book, "I was the one who overlapped them, the intersection of two circles on a Venn diagram."
Keiko is the peacemaker of their group, doing everything she can to make sure everyone is happy. Unfortunately, this sometimes means pushing her own feelings aside in the name of avoiding conflict. She likes everything to feel smooth and sweet, like a square of her favorite chocolate. Keiko desperately wants her threesome to stay close, but lately, it's been harder and harder to be the glue that holds their group together. If you can relate to this friendship struggle, take comfort in the fact that you're not alone.
When your friends start to fight, it can feel like the weight of the world is on your shoulders. The good news is, it's not your job to keep the peace between your friends, at least, not in a way that makes you feel bad. Friendship is about compromise, but if you're the only one who ever makes sacrifices to keep your friends happy, then something isn't right.
If your friends are in a fight, it's up to them to work things out. You can suggest that they sit down and talk things over, but all the pressure shouldn't lie on you to mend their relationship. While they figure things out, focus your energy on something that makes you feel good. For Keiko, it was the rush of playing basketball, but for you might be joining the school play or watching old movies. Do your thing and shine bright!
Now that you know how to navigate a friend fight, be sure to check out Keep it Together, Keiko Carter, out today from Scholastic!