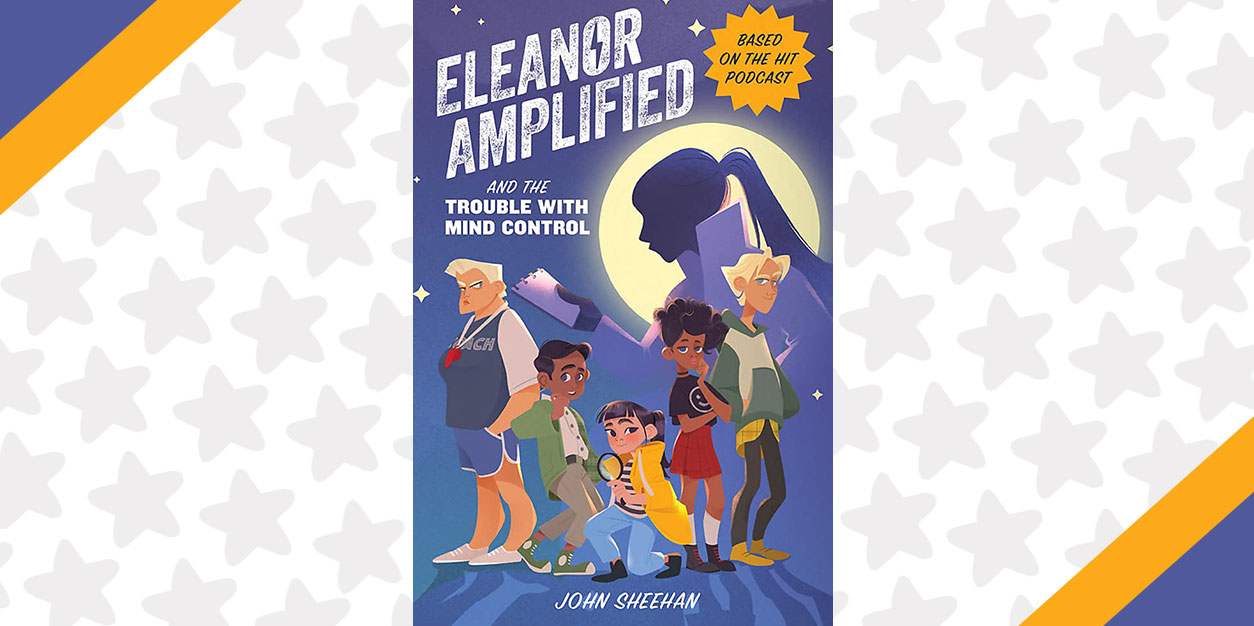 Eleanor Amplified: Eleanor & Miku Share Their Top Tips for Getting the Scoop
On the hit podcast Eleanor Amplified, Eleanor is the best of the best at what she does. A skilled investigative reporter who'll do anything to get the story, putting her perceptive observation skills to the test through whatever dangerous situations may come her way.
Even if you've never heard the podcast, you'll be super excited to get to follow Eleanor's adventures as they come to life in a brand new series of books! The first, Eleanor Amplified and the Trouble With Mind Control, is out today, written by Eleanor Amplified creator, John Sheehan, where Eleanor is going undercover and heading to the halls of Brighton Middle School where super fan and budding reporter Miku needs her help exposing brainwashing and corruption. Miku knows there's something suspicious going on behind the scenes of the school's new lunch program and ZipTap learning systems, but she can't do it alone, so she sends in an anonymous tip to Eleanor's radio show.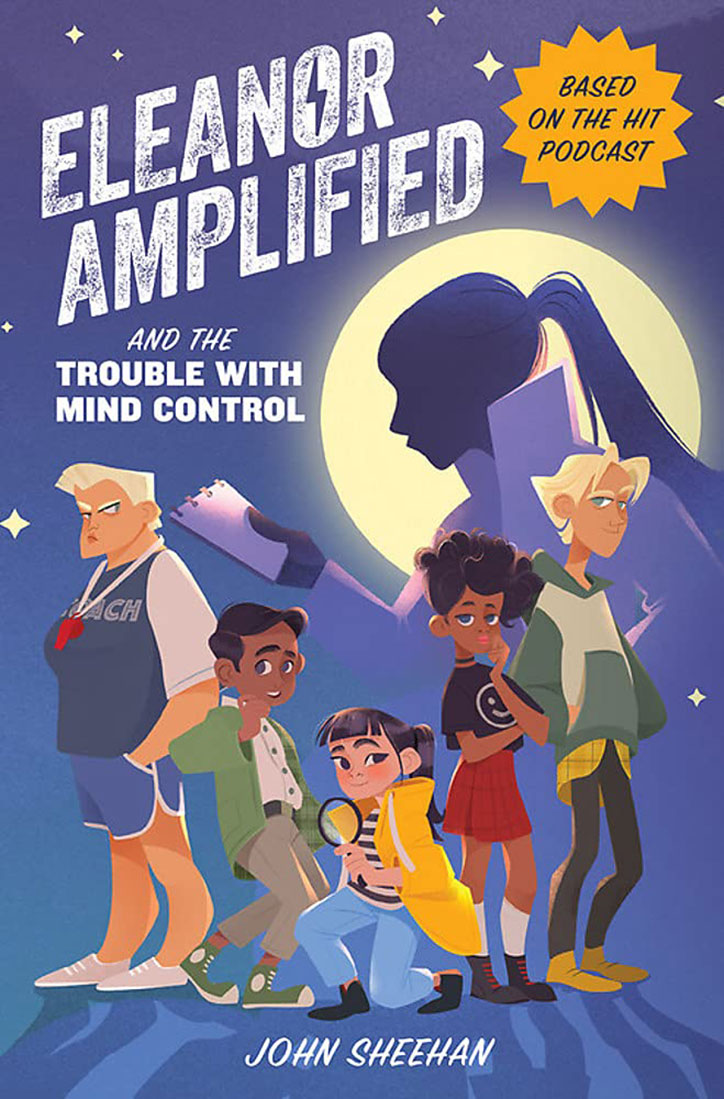 Based on the popular children's podcast, follow Eleanor Amplified as she teams up with middle school reporter Miku to get the scoop and save the day!
Join world-renowned investigative reporter Eleanor Amplified as she goes undercover to help a student reporter and fan, Miku Tangeroa, expose the corruption at her middle school. Together they discover that the new organic lunch program and tech-based learning systems are doing more harm than good and might actually be part of an evil plot that might put all of Union City in danger. Can Eleanor, Miku, and their friends get to the bottom of these suspicious events in time? Just who is behind SmartFüdz and the Mesmerosin Extractor? Will Eleanor survive the hallways—and students—of Brighton Middle School? Find out in the latest adventure of Eleanor Amplified!
With radio-drama like action, outrageous villains, and a tough, intelligent female protagonist to boot, readers follow Eleanor and Miku as they foil devious plots and outwit crafty villains, all in pursuit of the big story. Written by John Sheehan, the creator of the popular podcast Eleanor Amplified, this entertaining and informative book, like the podcast, is intended to spark laughter and conversation, while preparing kids to appreciate journalism and make smart media choices in the future. With the help of Eleanor and Miku, readers can use this novel as inspiration to go out and find the next big scoop for themselves!
Eleanor Amplified and the Trouble with Mind Control
AUTHORS: John Sheehan
PUBLISHER: Running Press Kids
DATE: September 7, 2021
Eleanor is skeptical at first – does a middle school mystery really need the help of a world-renowned journalist? But as things start to unfold, nothing is quite as it seems, and Eleanor, Miku, and her friends come face to face with crafty villains, sticky situations and must partner up and put their skills to the test to save the day.
Filled with girl power, mystery, and adventure, we can't resist this exciting series, and we know you'll love it too! That's why we asked Eleanor and Miku to share some of their best tips for getting the scoop and trusting your instincts. Written by author John Sheehan, their advice is sure to help inspire your own investigative adventures – read them below!
Eleanor's Tips for Getting the Whole Story:
In her latest adventure, Eleanor Amplified and the Trouble with Mind Control, Eleanor teams up with a young newspaper reporter to get to the bottom of the strange and troublesome events happening at Brighton Middle School. Eleanor is a professional reporter with her own radio show, years of experience, and a talent for nabbing bad guys, and while Miku is still a rookie sleuth, she's got a lot of heart and an instinct for digging up a good lead. Together they'll use their skills as reporters, and a little help from their friends, to discover the clues that'll lead them to their big scoop.
Here are a few tips and rules that Eleanor and Miku used on their adventure and that you can use to be the best reporter you can be:
Get the lay of the land:
If you're conducting field research, that is, possibly investigating a suspicious location, you don't want to be taken by surprise. A good way to prepare is to do some research before going in, which means, using a time-tested tool of the trade: the stakeout.
Be prepared to wait around a while when you're staking out the scene. Wear comfy shoes and a warm jacket, and have patience. It is key that you take your time and don't barge into a dangerous situation. The last thing you want is to find yourself in, say, a mysterious warehouse filled with exotic organisms, sci-fi-ish machinery, and a human-munching cabbage. Believe me, that would be no good.
Don't trust your eyes, trust your instincts:
A good reporter can smell a scam like an overripe cabbage. If something seems weird, sounds strange, or smells fishy, then trust your instincts and be on your guard. The bad guys will often try to disguise themselves or distract you. In fact, this one time I came face-to-face with a real mad-scientist type and he tried to use the old fake nose routine on me!
However, not only was his disguise as plain as the plastic nose on his face, but his actions were an even more obvious tip that he wasn't really who he said he was. Speaking of instincts, know when to trust yours, and when to listen to someone else's.
Always take notes:
When getting the whole story, you'll meet people and they'll tell you things. Write those things down! Notebooks are great, and in fact, as a radio reporter, I use a tape recorder to get sources on the record. At least I used to, until it was damaged in an explosion.
Anyway, it's important to collect facts, document your clues, and meet the people involved. When I was investigating Brighton Middle School, I needed all kinds of evidence to crack the case: computer files, scientific test results, even taped confessions! But at first, I didn't even know where to begin, which is why it's extra important to…
Be open minded:
Sometimes your closest ally isn't who you'd expect. Normally, I only trust my producer, Barry or my boss, Mr. Richman. However, on occasion, someone you'd never expect comes into the picture and can be the one that blows a story wide open.
That's what happened to me with a seventh-grader named Miku Tangeroa and, looking back on it, I don't know if I would have gotten to the bottom of everything without her help.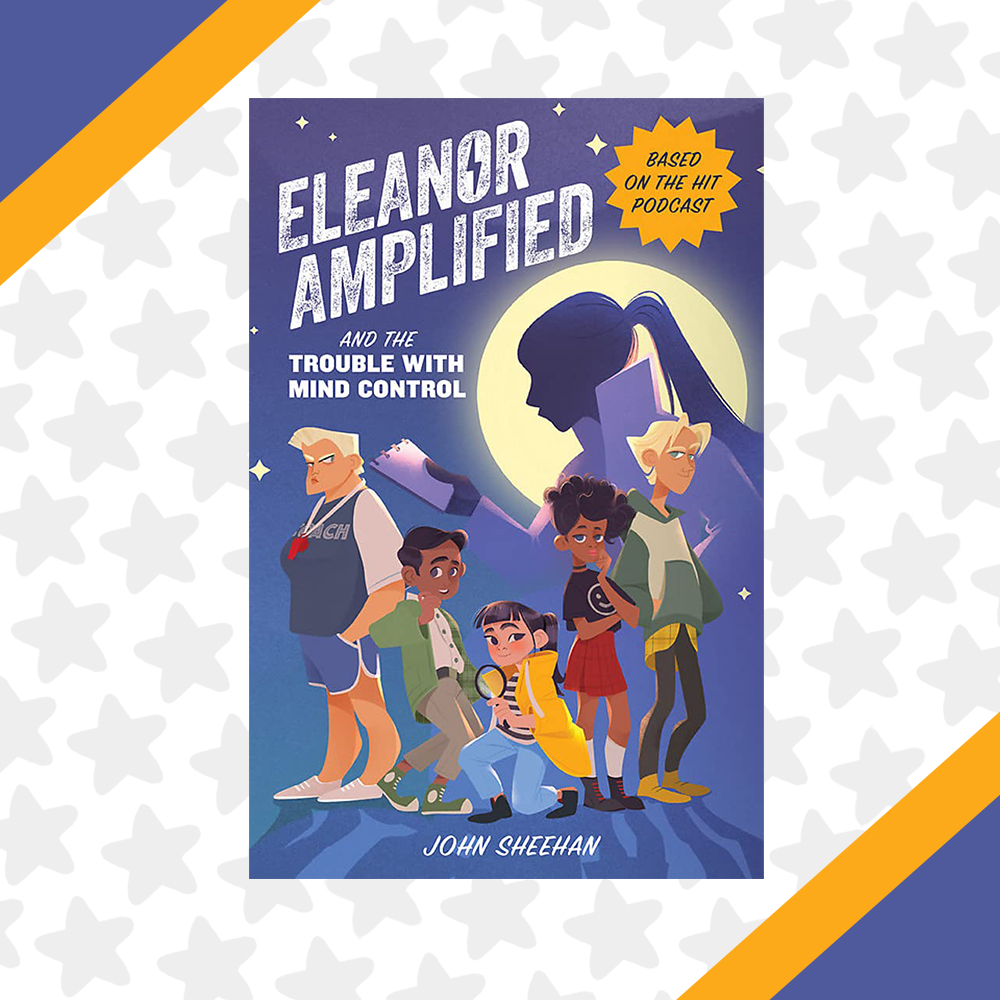 Miku's Rules for Getting the Scoop:
Don't be afraid to ask for help:
There had been something weird, sinister even, going on at Brighton Middle School for months but, no matter what I tried, nothing seemed to help. I knew I had to do something—the new principal was bringing in new tech and VR classes that were making students meaner, even my best friend!—but I knew I needed help. After all, I may be the best reporter at Brighton Middle, but some mysteries are even over my head. So, I called my role model, someone I'd never met, but knew could handle this kind of mystery: Eleanor Amplified.
Your friends have your back:
I run the Brighton Beacon, the school newspaper, with my two best friends Tessa and Raji. And thank goodness because, without them, the paper wouldn't even exist! Not only do they help with running the paper, but they are always there to cheer me up or offer a new idea. There's also Mr. Okafor; he's our faculty advisor and English teacher. He definitely believes in us, and thinks we're right to challenge the school administration, even though he can't say it.
Trying to find clues is tough enough, so it helps when you've got friends who can watch out for you, especially when you have to…
Stand up for yourself:
Sometimes it means holding your head up in the hallway even though bullies are whispering behind your back. And sometimes it means literally standing up to someone (who used to be your best friend) in actual gladiatorial combat. Well, virtual gladiatorial combat. It's complicated, but there's this virtual reality game that all the students at Brighton love to play and it's sort of like really intense dodgeball, but with, like bazooka-balls, and it can get very competitive.
Anyway, when you're a reporter, things can get competitive when certain people want to stop you from uncovering the truth, but, you have to believe in your work and your story. Even when it feels like no one is listening, believe me, there are always people out there who want to know the truth, so don't give up!
Give people a second chance:
I'm not saying it is someone in particular, it could be anyone. But, you know, sometimes someone deserves another chance.
In need of even more girl power icons in your life? Get to know Tess Romero, star of Diary of a Future President in our Shimmering Star Spotlight!