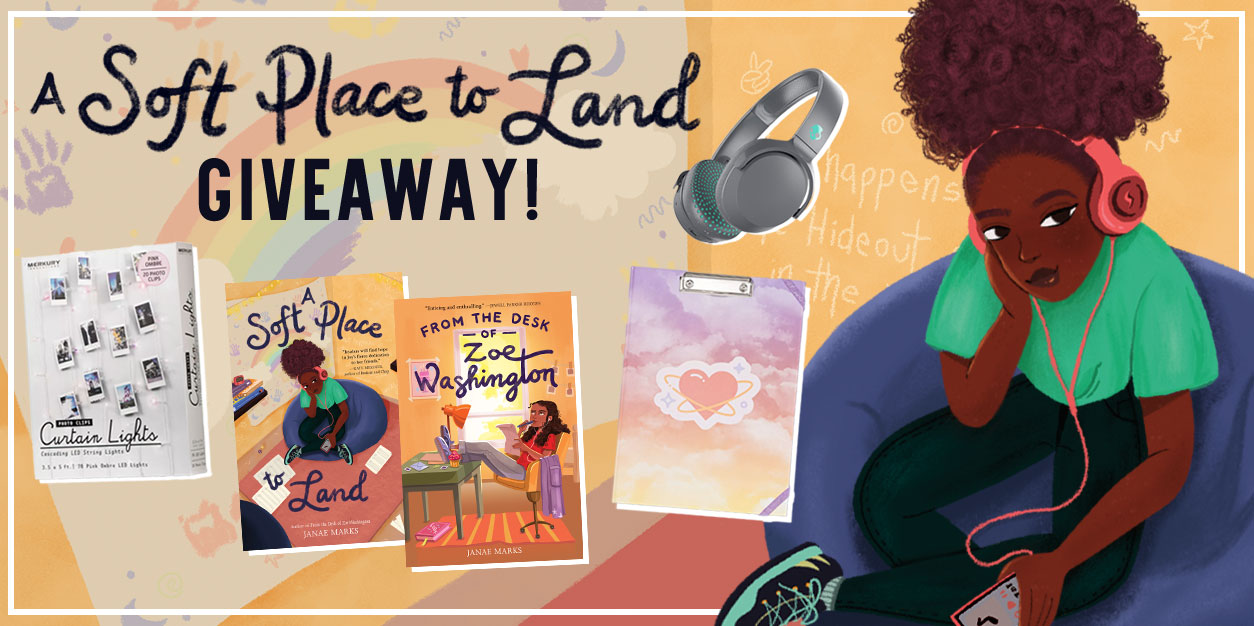 Discover Secret Hideouts and Mysterious Friendships in A Soft Place to Land + GIVEAWAY!
NOTE: This post is sponsored by HarperCollins.
If you've ever felt like your life was turned upside down, or as if you didn't have a space to call your own, Joy Taylor can totally relate.
In A Soft Place to Land, Joy feels at home in the house she grew up in and is at her best while playing piano, pursuing her dream of becoming a film score composer. But when her dad loses his job and the family is forced to move across town, home becomes a cramped apartment where she's forced to share a bunk bed with her little sister and say goodbye to her piano lessons. Suddenly, home doesn't feel like home at all. It's a big adjustment for everyone, and with her parents constantly arguing, Joy wishes she had a space of her own.
After meeting Nora, her new movie-obsessed neighbor with her own tough home life and filmmaking dreams, she gets introduced to the Hideout – a cozy hideaway in their building that only kids know about. Joy loves being able to escape to the Hideout when she needs a break and one day she spots a message on the wall from someone who seems like they truly understand what she's going through. Joy starts exchanging messages with this anonymous writer, feeling seen in knowing that she's not alone. After they stop writing back, Joy begins to worry and tries to figure out who they are so she can help them. While trying to figure out the identity of the mystery writer, Joy is also determined to take piano lessons again and starts up a neighborhood dog walking business with Nora. They love their newfound independence, but when a dog goes missing, Joy knows that she'll need to ask for help.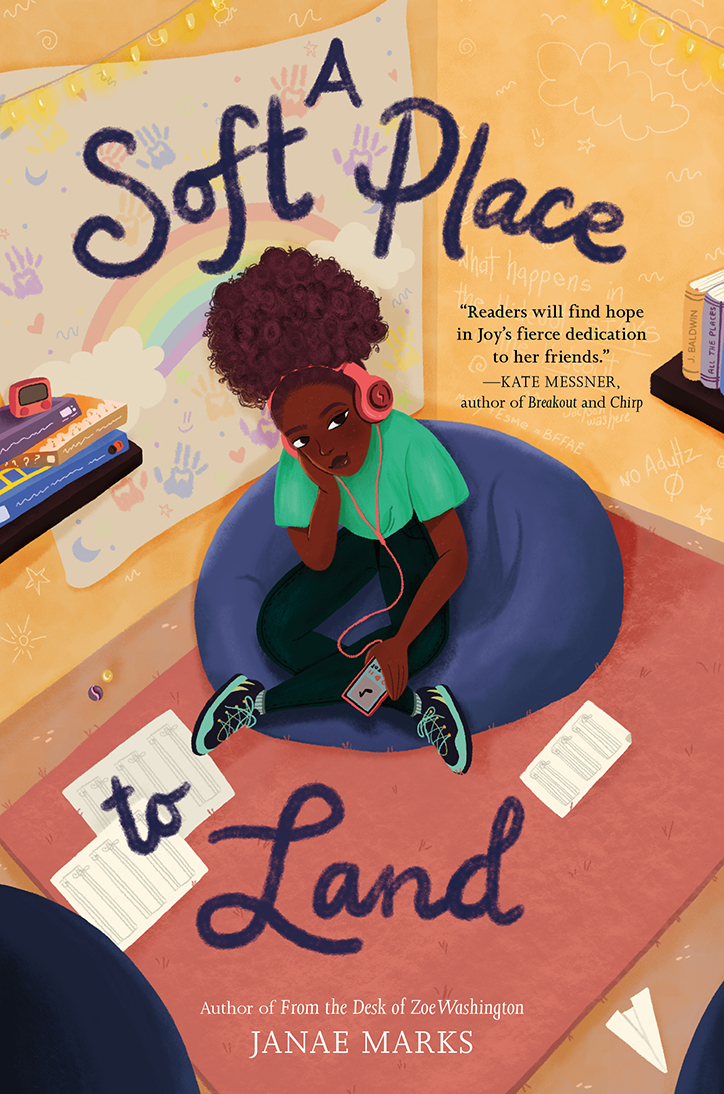 In this compelling and heartfelt mystery story, Janae Marks—author of the critically acclaimed bestselling From the Desk of Zoe Washington—follows a young girl reshaping her meaning of home. Perfect for fans of Erin Entrada Kelly and Rebecca Stead.

Joy Taylor has always believed home is the house she lived in her entire life. But then her dad lost his job, and suddenly, home becomes a tiny apartment with thin walls, shared bedrooms, and a place for tense arguments between Mom and Dad. Hardest of all, Joy doesn't have her music to escape through anymore. Without enough funds, her dreams of becoming a great pianist—and one day, a film score composer—have been put on hold.
A friendly new neighbor her age lets Joy in on the complex's best-kept secret: the Hideout, a cozy refuge that only the kids know about. And it's in this little hideaway that Joy starts exchanging secret messages with another kid in the building who also seems to be struggling, until—abruptly, they stop writing back. What if they're in trouble?
Joy is determined to find out who this mystery writer is, fast, but between trying to raise funds for her music lessons, keeping on a brave face for her little sister, and worrying about her parents' marriage, Joy isn't sure how to keep her own head above water.
A Soft Place to Land
AUTHORS: Janae Marks
PUBLISHER: Katherine Tegen Books
DATE: September 14, 2021
If you're an avid reader like us, you probably recognize Janae Marks as the author of another amazing read, From the Desk of Zoe Washington. Even though these books aren't connected, we think Zoe and Joy would be instant besties. They're both extremely curious, passionate, loyal girls with big dreams and even bigger hearts. We think they'd love kicking back in the Hideout listening to music or using Zoe's baking skills to invent new cupcake flavors together. We're totally inspired by their independence and girl power – and we think you will be too!

That's why we teamed up with our friends at HarperCollins for a giveaway inspired by both of these incredible reads! In addition to copies of both A Soft Place to Land and From the Desk of Zoe Washington, one lucky winner will receive a pair of headphones, inspired by Joy's love of music, photo clip string lights so you can decorate your own hideout, and an adorable clipfolio, perfect for writing letters like Zoe or swapping secrets like Joy! Ready to enter? Grab your favorite adult and have them enter below for your chance to WIN!
A Soft Place to Land Giveaway: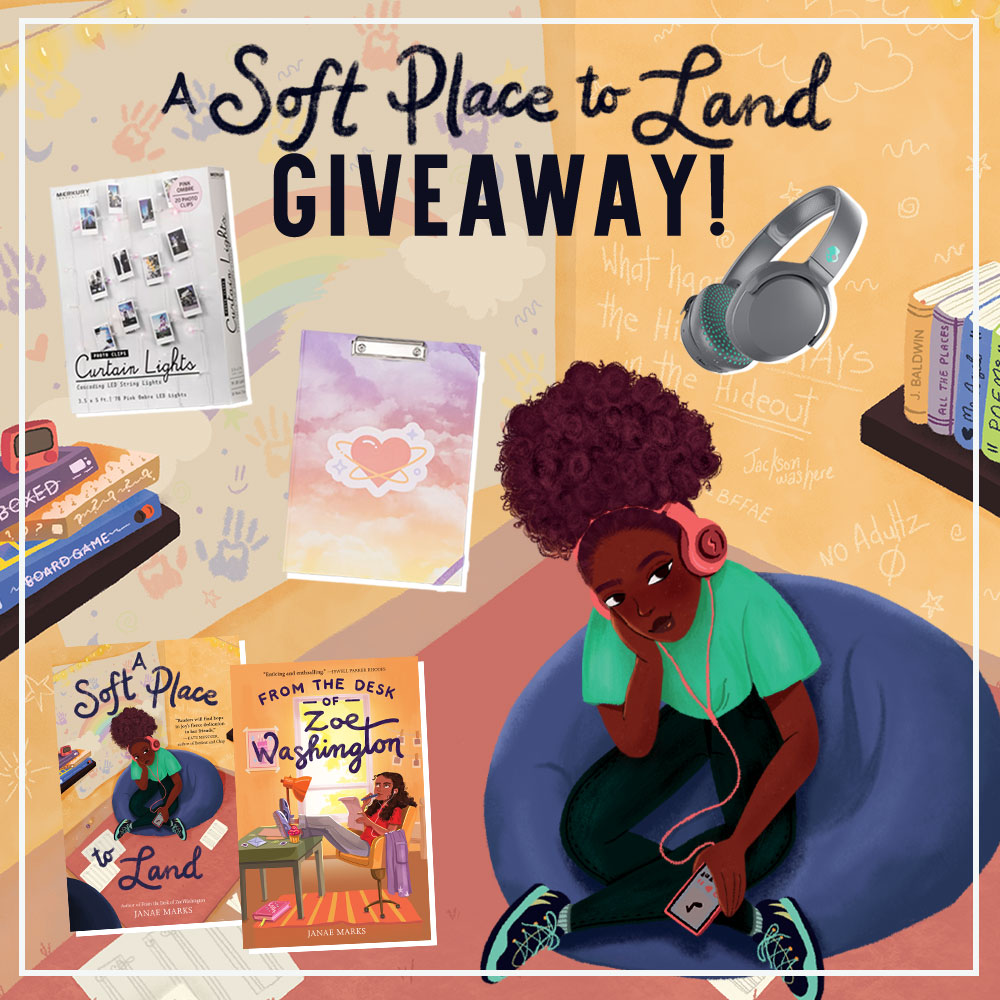 WHAT DO I WIN?:
– ONE (1) copy of A Soft Place to Land by Janae Marks
– ONE (1) copy of From the Desk of Zoe Washington by Janae Marks
– ONE (1) pair of Riff Wireless Headphones from SkullCandy
– ONE (1) set of Pink Ombre Photo Clip String Lights from Merkury Innovations
– ONE (1) Heart Clipfolio from More Than Magic
*Prizes provided by HarperCollins & YAYOMG!
HOW DO I ENTER?:
Grab a parent or guardian and have them fill out the form below by October 14, 2021 at 11:59pm ET.
Giveaway runs from 09/14/21 at 10:00 am ET through 10/14/21 at 11:59 pm. Open to US residents ONLY. Be sure to read the fully detailed rules HERE before entering.
THIS GIVEAWAY HAS ENDED AND THE WINNER HAS BEEN CONTACTED.
You must be 18 or older to enter. Please, only ONE entry per person. If selected as a winner, we will provide your parent/guardian with an affidavit to confirm that you are a valid winner who has permission to win. They will be REQUIRED to sign and return the affidavit to YAYOMG! to claim your prize. Prizes will not be mailed out without signed parental consent.
Can't wait to cozy up with this amazing story of new friendships, family struggles, and paving your own path? A Soft Place to Land is now available from HarperCollins!